What's in a name?
"What's in a name? ... A rose by any other name would wither and die."
-- My Favorite Year
In the dog days of 1969, a ballplayer named Dick Allen (but who was still being called Richie Allen) rather suddenly scratched out a word in the infield dirt. This was a few days after he had been suspended by the Philadelphia Phillies for failing to show up for a doubleheader. He was playing first base, and he had a little time on his hands, and he scraped the word "COKE" with his cleats, so large that everybody in Connie Mack Stadium could read it.
This, it should be said, was on one of the many days when Philadelphia fans were taking particular relish in booing him. It was 1969, so by then, fans booed him every day (that is when they were not writing angry letters to the newspaper about him). He had taken to wearing a batting helmet throughout games, even when in the field and on the bench, because it made him feel safer. Anyway, some days were louder than others, and this was one of the deafening days. Allen raked out his one-word message.
COKE? What did it even mean? Was it a drug reference? Was it a call for a refreshing drink? Did he want to buy the world one?
In his next at-bat, Dick Allen smashed a home run over the Coke sign.
Allen wrote several words in the days after that. Once he wrote "STOP." Another time, he wrote, "BOO." He wrote "GONE," and everybody knew that's what he wanted, to be gone from Philadelphia, and he wrote "WHY" and everybody understood that one too. One time he wrote "OCT 2," which was the last day of the season and, he believed, his last game playing for the Phillies, his last time having to endure a city's fury.
The words became a thing for a short while, a little routine for Dick Allen to scrape his feelings into the dirt. But, as you might imagine, it all became an embarrassment for baseball commissioner Bowie Kuhn, who spent roughly 47 percent of his time as commissioner being embarrassed about something or other in the game. Kuhn and National League president Warren Giles called and ordered Dick Allen to stop writing those words:
That night, Dick Allen scratched out another word. He wrote: "NO."
* * *
Dick Allen was controversial. He was many things in his blazing and checkered 15-year career, so many things. He was a fearsome hitter and a maligned fielder and, at one point, the highest-paid player in baseball. He was officially the MVP, and unofficially the most hated man in baseball. He has been called brilliant, selfish, egotistical, misunderstood, a misanthrope, a charmer, a free-spirit, a jerk, a con-man, a team player, a maverick, a mystery, a Hall of Famer, a non-Hall of Famer and a genius -- he was often called several of these contradictory things by the very same people.
Above all, Dick Allen was controversial.
"How do you handle Dick Allen?" his manager, Gene Mauch, asked. "Play him, fine him, play him again."
"Closest thing to being a perfect ballplayer that I have ever seen," Luis Aparicio called him.
"The man is undaunted," Reggie Jackson said.
"I wouldn't touch him with a 10-foot pole," Oakland Athletics owner Charlie O. Finley said (eight days before signing him).
"I think Dick probably hits the ball harder than anyone in the world," Boog Powell said.
"I would pick Richie, all-around, over Clemente, Aaron or Mays," Cookie Rojas said.
"He had no enemies," pitcher Wilbur Wood said.
"He danced by his own song," Carlos May said.
"I believe God Almighty hisself would have trouble handling Richie Allen," his onetime interim manager George Myatt said.
"Don't talk to me about being handled," Allen hisself said. "You know what Wilt [Chamberlain] said about that: 'Animals are handled. Not men.'"
* * *
You can't explain a man like Dick Allen, not well enough, but any effort must start with the times. He arrived in Philadelphia in 1963, when the Phillies and the city were not yet ready for an African-American baseball superstar. They certainly were not ready for Dick Allen.
John Kennedy became the first African American to play for the Philadelphia Phillies just six years earlier, in 1957. The Boston Red Sox of Tom Yawkey have justifiably been torched by history for being the last team in baseball to integrate, but Bob Carpenter's Phillies were at least as bad. They were the last team in the National League to integrate.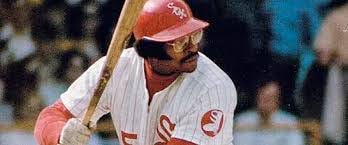 Looking back, their refusal to sign a black player was sad and grotesque and utterly self-destructive. The Whiz Kid Phillies of 1950 won the pennant, thrilling the city, and then as the rest of the league brought in the greatest influx of talent in the game's history -- Mays, Aaron, the Robinsons (Jackie and Frank), Campanella, Newk, Banks, etc. -- the Phillies preferred collapse to integration.
And the Philadelphia newspapers -- well, shamefully, the newspapers were almost entirely silent about the whole thing.
"It will be reported to the point of boredom that John Kennedy, the youngster from Jacksonville, Fla., will be the first Negro to grace the Phillies lineup," a clearly disgusted Don Daniels wrote in the Philadelphia Inquirer in the spring of '57.
He was wrong on so many levels. Kennedy never did grace the Phillies lineup. And his journey wasn't reported to the point of boredom. Heck, it wasn't reported on at all. Kennedy was a 30-year-old former Negro leaguer who claimed to be 22 so he could get a chance. He started off hot enough that spring that the Phillies felt pressure to play him and get the NAACP and everybody else off their backs. Even the seemingly shameless Bob Carpenter must have felt some shame; Heck, Jackie Robinson had JUST RETIRED and the Phillies had not yet played an African American.
History -- or something like history -- was made on April 22, 1957, 10 years to the day after the Phillies' Ben Chapman had made a different kind of history by showering racist taunts on Jackie Robinson.*
*That day -- revisited in the movie 42 -- pushed Robinson as far as any day in his baseball career. He remembered thinking: "To hell with the patient black freak I was supposed to create. I could throw down my bat, stride over to the Phillies dugout, grab one of those white sons of bitches and smash his teeth with my despised black fist. Then I could walk away."

Kennedy entered his first game as a pinch-runner, and he was pulled at the end of the inning. He was on the field for perhaps two minutes. The Philadelphia Phillies broke the color line with a player who neither batted nor played in the field. That tells you most of what you need to know.
Not one word of the moment was recorded in the "reported-to-the-point-of-boredom" Philadelphia Inquirer. That tells you the rest.
Two days later, Kennedy became the first African-American to actually bat for the Phillies. This, too, was done against the team's will. The Phillies had put him in the game as a pinch-runner again, with the intention of pulling him at the end of the inning. But then the Phillies batted around, forcing Philadelphia to left Kennedy bat. He grounded to shortstop.
This too was completely ignored by the newspapers.
Kennedy got just one more big league at-bat. It was in the 15th inning of a game against the Reds, after the Phillies had run out of players. Days later, he was sent down to the minor leagues, never to return, and that was the quote-unquote "integration" of the Philadelphia Phillies. They did not play another African American player for three years.
And it was during that three-year lull that the team paid $60,000 -- the largest signing bonus given to an African American player up to that time -- to an athletic phenom from Wampum, Pa., named Dick Allen.
* * *
The Phillies tried to get rid of Dick Allen before he ever got started. He was an absurdly talented athlete, no one would argue that. He could perform such an array of basketball aerials that fans came from 50 miles around to watch him fly and dunk (Allen was only 5-foot-11). And he hit baseballs so hard that Frank Lucchesi -- a manager, like most managers, who rarely saw eye-to-eye with Allen -- called him the greatest young power hitter he ever saw.
Still, the Phillies did not protect Allen for the 1962 expansion draft.
The Mets did not take him -- they figured SOMETHING had to be wrong with the guy if the Phillies didn't protect him -- and so the Phillies were stuck with the greatest young power hitter in the game. They sent him to Williamsport, where he hit .329/.409/.548 with 62 extra base hits in 132 games.
Allen promptly asked for a $50-a-week raise.
The Phillies responded by threatening to keep him in the minors in 1963 if he persisted in nagging them about money.
Allen persisted. And the Phillies sent him to Little Rock.
The Arkansas Travelers -- the Triple-A baseball team in Little Rock -- had only just been re-formed. They had folded in 1961, along with the entire Southern Association. The league disbanded rather than integrate.
The Southern Association had survived 15 years of segregation because it featured some of the biggest cities in the South -- the Atlanta Crackers, Birmingham Barons, Memphis Chickasaws, Nashville Volunteers, Chattanooga Lookouts, etc. -- and baseball had long been a huge part of the Southern identity. But going into 1961, it no longer made any sense for Major League Baseball to associate with segregationists.
---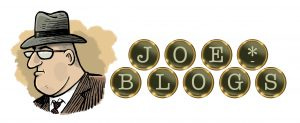 This is a free JoeBlogs preview. To become a member, click here.
---
So the league broke apart, sending teams scattered into the wind. Little Rock didn't have a baseball team in 1962. But the next year, with the promise that they would welcome black ballplayers, the integrated Arkansas Travelers were reborn. It was only six years after the governor, Orval Faubus, send in the state national guard to block nine African American students from entering Little Rock's Central High School.
Dick Allen was the man sent to integrate Little Rock baseball.
On Opening Day, Orval Faubus threw out the first pitch. And outside the stadium, a white supremacist group picketed while holding up signs that screamed, "Conspiracy at Little Rock to Negro-Ize Travelers Baseball Team."
Allen spoke often about the treatment he received in Little Rock. He talked about the racist notes left on his car window, the vicious things people would shout at him, the fear he felt about being seen around town. Some have pointed out the inconsistencies in his memory (Allen is pretty famous for offering different accounts of different things) and others who were there have said he overstated things. But what would others really know about such things? And is there any real doubt that he faced racism in Little Rock in 1963? The experience scarred Dick Allen.
When he arrived in Philadelphia late that year, he talked about his joy of being back above the Mason-Dixon line and his excitement about being a major leaguer. He announced his intention of becoming a star.
He was surprised to find that everybody was calling him "Richie."
* * *
In 1964, Allen had one of the greatest rookie seasons in baseball history. He hit .318/.382/.557 and led the league in runs, (125), triples (13) and total bases (352). For most of the year -- almost all of it, in fact -- he seemed to be leading the Phillies to their first pennant since 1950. The city was electrified by the team and poured into Connie Mack Stadium in record numbers.
And they booed the hell out of Dick Allen.
Why? Well, it was Philadelphia, where booing is lifeblood, but there was something else happening, something more personal. Allen was out of position. In order to get him into the lineup, the Phillies put him at third base, and he made errors. Lots of errors. By a more modern reading of defense, Allen probably held his own at the position -- he had good range and actually finished third in the league in assists.
But he made those 41 errors, and errors were the only defensive stat anybody knew about in 1964, and they booed him repeatedly and loudly and unmercifully.
Was it just his defense that sparked the boos? No. In late August, one of the first race riots of the civil rights era broke out in North Philadelphia, all around Connie Mack Stadium. Allen, of course, had nothing at all to do with this -- the riots were set off by a clash between police and an African American woman driver who had been pulled over for speeding -- but when the Phillies returned to town, the boos for Allen noticeably intensified.
And then there was a story in Sports Illustrated quoting him saying that he didn't care if he won the Rookie of the Year. "Let them put up $1,000," Allen said, "and it would be worthwhile."
"Boo Birds of Unhappiness Find Nest In Allen's Glove," was the headline of an Inquirer story. Race was not mentioned in it.
"I'm confused," his manager, Gene Mauch, told reporters. "I just don't understand it. I guess when people have exceptional talent, they are expected to be exceptional every minute of the day. And the perfect player hasn't been born yet."
"I don't pay any attention," Allen said. "They pay to get into the park. They can do what they want."
But this was something new, something just a little bit different from anything that had happened in the past. A vocal part of the city was outwardly hostile toward a rookie having one of the greatest seasons in the team's history. And, again, the newspaper columnists were mostly silent. It took a few comments from opposing players and letters to the editor to point out just how absurd and awful it all was.
"This is my town," Houston Colts outfielder and Philly native Al Spangler said, "but the fans are bush league. How can they boo a guy who may be the most valuable player in the league?"
"The kid is in his first year in the majors, and you know how it will affect him," Colts pitcher Hal Woodeshick added.
"There are many in our fair city who pose as baseball fans," a William J. Kafin wrote to the Inquirer. "They are imposters. They boo Richie Allen. This is comparable to the French booing Joan of Arc."
In the final two weeks of the 1964 season, the Phillies famously blew the pennant. For that, there were Philly boos for everyone, but especially for Dick Allen.
One year later, Allen had his famous fight with teammate Frank Thomas. The details leading up to the fight are vague, the general order of events are clear. Thomas clearly racially insulted Allen, Allen clearly followed with a punch, Thomas clearly responded by hitting Allen with a bat. The specifics have been argued about for 50 years.
The Phillies released Thomas immediately and then forbade Allen from talking about it in the press. This combination gave Thomas an open microphone to share his side of the story, which he did with relish. Philadelphia largely accepted Thomas' viewpoint and blamed Allen for the whole thing. The boos and taunts took on an even higher order of fury after that.
Allen was hitting .341/.426/.570 and seemed like an MVP candidate when the fight happened. He hit .271/.332/.432 the rest of the way, and his relationship with the team, the city and baseball was forever shattered.
* * *
Bill James tries, in most cases, to stay out of Hall of Fame debates, because he knows that his words can have an outsized effect. He's not wrong. There are those who believe that Bill has singlehandedly kept Dick Allen out of the Hall of Fame.
That isn't right. Dick Allen had been passed over by the Baseball Writers of America again and again before Bill James wrote his now famous/infamous assessment of Allen in his book The Politics of Glory. And when Bill wrote those words, in fact, they were hardly contentious or disputed. People had been writing stuff like it about Dick Allen for 30 years.
But because he's Bill James -- and because he tends to cut through the BS in his writing -- his words have survived and are now at the heart of the Hall of Fame debate surrounding Allen:
"Dick Allen was at war with the world. It is painful to be at war with the world, and I feel for him. It's not his fault entirely ... but that's not the issue. Allen was a jerk; that's not the issue either. There are lots of jerks in the Hall of Fame, white and black. There are irresponsible people in the Hall of Fame, and there are alcoholics in the Hall of Fame. That's not the issue.

"He did more to keep his teams from winning than anybody who ever played major league baseball. And if that's a Hall of Famer, I'm a lug nut."
Bill doubled down in The New Bill James Historical Abstract, listing Allen as one of the four biggest horse's asses to ever play baseball (two are in the Hall of Fame: Ty Cobb and Rogers Hornsby) and calling him the second most controversial player in baseball history behind Hornsby.
It's pretty harsh stuff, especially in the immediate aftermath of me telling you all of those rotten things that Dick Allen had to endure as a young man, but again ... everybody said stuff like that about Allen for years. He was controversial. There are so many stories -- about him missing games, showing up the park drunk and high, caring entirely about money -- and it's hard to know which ones are true, which ones are exaggerated and which ones are just made up.
Let me tell you the bizarre story of how his career ended, and maybe that can sum up the Dick Allen experience.
In 1977, Allen was 35 years old and clearly near the end. He had played for the Cardinals, Dodgers, White Sox and (yes) the Phillies again since leaving Philadelphia the first time after the 1969 season. He was fantastic in Chicago, winning the MVP award in 1972 (the year he appeared on the cover of Sports Illustarted juggling baseballs and smoking a cigarette). His career OPS+ at that moment was 158, the same as Hank Greenberg, ahead of Henry Aaron and Willie Mays and and Joltin' Joe DiMaggio.
Even so, baseball was sick of him, and he was sick of baseball and it seemed like everybody had enough of each other. There was a free-agent draft that year. Only one team even put in a bid for Allen.
And that was Charlie O. Finley's Oakland Athletics.
Charlie Finley was controversial too -- like Allen, it was his defining feature. There are even more Finley stories than there are Allen stories. "If you stand up and be counted," Finley told reporters, "if you tell it like it is, if you have any red blood in your veins, then you're controversial, I'm proud of the fact that I'm controversial, and I ain't beginning to change."
Finley, at that particular moment, was in the middle of an all-out war with baseball fuddy-duddy Bowie Kuhn. At different times that year, he called Kuhn "the village idiot," "the nation's idiot" and "an idiot with a God complex." Finley cared only about sticking it to Kuhn, and he figured that signing Dick Allen would annoy the heck out of the commissioner. He was right.
The Finley-Allen negotiations were exactly what you might expect. Finley announced that he had a handshake agreement with Allen before they had even talked. Allen didn't announce anything, because he couldn't be found. Days passed, and nothing happened, and then a seemingly outraged Finley pulled the deal.
"There's an old song," he told reporters, "'Sitting All Alone by the Telephone, Waitin' for it to Ring.' Well, I'm sure as hell not waiting any longer. I couldn't care less where he is."
Allen was on his horse farm. While Finley fiddled, White Sox owner Bill Veeck (controversial, himself) tried to sneak in. He sent Larry Doby to talk Allen into returning for a one-year, $200,000 deal.
"He just stared at me amusingly," Doby remembered. "He then told me, 'I don't move from this farm for less than a million and a half dollars and only a three-year deal."
He might as well have asked for Excalibur. Dick Allen was done. And nine days later, Allen showed up unannounced at Oakland's spring training facility in Mesa, where he and Finley held a press conference to announce a one-year deal.
"He's kind of like me," Allen said of Finley, "a great phantom."
The phantoms got along beautifully for a time. Allen came out of spring training hitting hot; for a month he hit .300 and averaged an RBI per game. The A's, who everyone expected to be absolutely terrible, were in first place. Finley couldn't stop babbling about how much he loved Dick Allen.
Sure, there were a few quirks along the way, there were always quirks when it came to Dick Allen. There was the time, for instance, when Oakland manager Jack McKeon wrote in Allen as designated hitter for the second game of a doubleheader against the Twins.
That was a non-starter. Allen had started as a DH one time in his career -- May 16, 1973. He went 3 for 4 with a home run. He hated it so much he promised that he would never do it again.
"I can't take it," he said of the position. "You hit, it's over, sit down. You get stiff, you run in the tunnel to get loose. You smoke cigarette after cigarette, drink 19 cups of coffee. Get your heart beating again, hit again, sit back down ... no. Not for me."
So after McKeon wrote him in, Allen corrected him: "No way, I'm not a DH, I play first or I don't play." When McKeon came back with his patented, "Hey, I'm the manager around here," spiel, Allen countered by saying that he had it in his contract with Finley that he would never be forced to DH. McKeon checked this out (it did check out) and, defeated, pinch-hit Jerry Tabb and gave Allen the game off.
McKeon understood what all managers had come to understand -- as long as Dick Allen was hitting, he could do whatever he wanted.
But then something changed. Allen stopped hitting. He hit .195 in May with one homer, and June was going even worse. McKeon sensed an opportunity to assert himself, and he began pulling Allen from games in the late innings.
When Allen complained to the press (as he was known to do), everyone rushed to Finley to see which side he would land on. Charlie O. boldly took McKeon's side. "You know, if I didn't like the way he was running the club, I'd fire him," he said.
Less than two weeks later, Finley fired McKeon.
"I asked him what I had done wrong," a shell-shocked McKeon said. "And he didn't say anthing."
Allen made his last controversial play just a few days later. He left the dugout and went to take a shower in the sixth inning of the A's-White Sox game. This time it wasn't the manager who caught him. It was Finley himself. And he was incensed. He suspended Allen without pay.
"I don't care if he ever shows up again," Finley ranted. "I was trying to show the world I could work with him, but I found out I was like the rest of the suckers. If he doesn't like it he can take a hike."
Allen took a hike. He never showed up again, even leaving his old clothes just hanging in his locker. Finley tried to get him to come back to no avail. Finley tried to trade him to the Cubs, who made a big public showing of saying they had no interest (leading to a wave "Cubs Reject Allen" headlines).
Allen sent a polite letter to the A's saying he was retiring from baseball for the year but might go play in Japan in 1978.
He didn't go to Japan. He didn't go anywhere. He just disappeared. In his last big-league at-bat, Dick Allen pinch hit for Tony Armas with his team down 4-1. He struck out against a pitcher named Francisco Barrios. And, like that, one of the most feared hitters and controversial men to ever play baseball was gone, leaving behind 351 homers, a .534 slugging percentage and a thousand arguments about what all of it meant.
* * *
Many people have come along to counter what Bill James wrote about Dick Allen in the mid-1990s. One of those people is Craig Wright. He went out and interviewed dozens of Allen's former teammates and managers and found that, almost without exception, they loved and/or respected Allen.
"A good man," Gene Mauch said.
"A team player," Chuck Tanner said.
"I admired him," Danny Ozark said.
Others have uncovered stories of Allen's kindness or the way he guided young players or the passion he showed between the foul lines. "Everybody liked Dick Allen," Ron Santo said.
"He would come to the ballpark every day and give it his all," his old Philadelphia teammate John Herrnstein told Graham Womack.
In time, Bill has become a part of the story, a place I know he isn't comfortable being, but it's undeniable ... you rarely see a Dick Allen story these days that does not refer (either angrily or enthusiastically) to Bill's "did more to keep his teams from winning" scouting report.
Allen's impact on his teams is not the point of this, but I don't see how Dick Allen prevented his teams from winning. He was not a member of many talented teams; there are no "Oh, they would have won the pennant if not for Allen's negativity" teams that I can find. I have no doubt that his antics were disruptive, but his bat was a pretty good equalizer, and at every point of his controversial career it was noted that he was very well-liked by teammates. Looking back, Allen's teams sure seem to win and lose about what you would expect.
But it's hard to know about any of that.
Really, it's hard to know anything at all about Dick Allen. Every now and again, something would leak out about him (usually against his will), something that didn't fit into the ringing narrative of selfishness and anger and aloofness and alcoholism. And it would just sit there.
In 1977, for instance, a Phillies scout named John Ogden suffered a massive stroke. And Dick Allen was the man by his bedside. Ogden, a journeyman pitcher just after Deadball and a longtime baseball man, had signed Allen and had been his confidant, his conscience and his father figure ever since. "He is my best friend," Allen had said of Ogden in the mid-1960s, and so it was to the very end.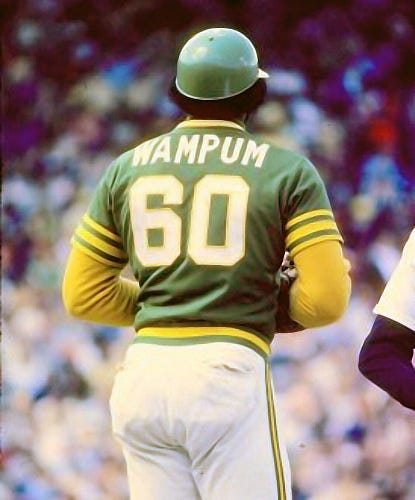 There would be other stories about Allen befriending a child or about his love of horses or something else, something that just didn't fit, something sweet. Allen even forgave Frank Thomas, and the two developed something of a friendship in their later years, exchanging Christmas cards.
He disliked much of the press but he was eminently quotable -- sort of Yogi-like even.
On Astroturf: "If a horse can't eat it, I don't want to play on it."
On getting old: "Your body is like a bar of soap; the more you use it, the more it wears down."
On his versatility: "I can play anywhere, except Philadelphia."
On contract disputes: "They would say, 'Look at what baseball has done for you.' And I'd say, 'Yeah, it's made a terrible guy of me. People who don't even know me see me on the street and say they don't like me.'"
On getting into the Hall of Fame: "They had to damn near hold court to decide whether Satchel Paige got in -- I'm not too interested in that Hall of Fame."
Because he was Dick Allen, nobody quite knew what to do with any of that.
Now, at last, let's talk about the name.
His name is Richard Anthony Allen, and throughout his childhood he went by several versions -- Dick, mostly, but also Rich and nicknames like Sleepy. In the minor leagues, he was generally known as Dick Allen.
When he got to Philadelphia, his was suddenly Richie Allen.
He made it clear, right from the start, that he did not want to be Richie Allen. In his very first interviews, he complained repeatedly about name. " I don't know how the Richie tihing started," he told one reporter. "My name is Richard and they called me Dick in the minors."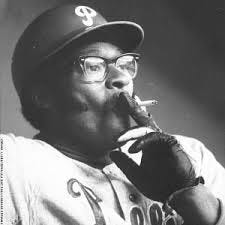 "I am not Richie," he told another. "I am not 10 years old. I am a 22-year-old man, and Richie is not a man's name."
"I don't like being called Richie," he told another. "I'd like to be called Dick."
"People who call me 'Richie' are people who don't want to see me as anything but a baseball player," he told another. "They don't want to see me as a complex man, to take me seriously.."
These quotes and more appeared in stories all over the country ... stories that still insisted on actually calling him Richie Allen. Looking back, that's kind of shocking. Why wouldn't they just call the man what he wanted to be called? In an Associated Press story that was published nationwide, the author conceded the Richie Allen name came about because "somewhere along the line, the Phillies goofed."
But that story too referred to him as Richie Allen.
Some say he was called Richie to harken back to Phillies star Richie Ashburn. That doesn't ring true.
Others say the Phillies called him Richie to make him seem less threatening. That does ring true.
But the larger point is, there was nothing Dick Allen could do about it. He had been named. He was Richie Allen on his baseball cards. He was referred to as Richie Allen exclusively in the Philly newspapers. Players called him Richie. Announcers called him Richie. The fans and the booers alike called him Richie.
It wasn't until after he left Philadelphia that he finally got the world to stop calling him Richie ... and even then it wasn't easy. The Topps Baseball Card Company would only meet him halfway at first; they called him Rich for a couple of years. Columnists constantly mocked his desire to be called Dick Allen and would call him "Richie (Call me Dick) Allen" or "Richie-um-Dick Allen."
This essay began with Shakespeare's question: What's in a name?
I think of Roberto Clemente, a proud Puerto Rican who for years saw his name in print as "Bob Clemente," until he demanded that they call him by his real name.
I think of Henry Aaron, from Mobile Ala., quiet, unassuming but driven to succeed, walking through crowds of people shouting "Hank!" and not even hearing them because "Hank" was not his name."
I think of Dick Allen, booed from the start, determined to be his own man, troubled in his own ways, forced to hear himself called Richie Allen because someone on the Phillies goofed and nobody cared enough to correct the error. Did it burn him? Did he feel a small bubble of anger when they called him Richie?
Like with everything else, the answer is unclear. In 1973, Dick Allen had a bracelet made that said "RICHIE." By this time, he had imposed his will and changed his name; everybody called him Dick Allen. Still, he wore the Richie bracelet.
What did that bracelet represent to him?
"Dick Allen is not a common species," his manager Chuck Tanner once said. "He has a very fragile temperament like most artists or geniuses."
I like that. Dick Allen was not a common species; he was a turbulent artist who cracked baseballs and drank too much and fought for the last penny and never gave in and was indeed at war with the world. Well, he would tell you, the world started it.
And the image of him that lingers, the one that comes closest to saying it all, is that of a game in 1969, when booing Richie Allen was religion in Philadelphia, and he quietly scratched out that one word in the infield dirt: "NO."