Ballot 19: Jorge Posada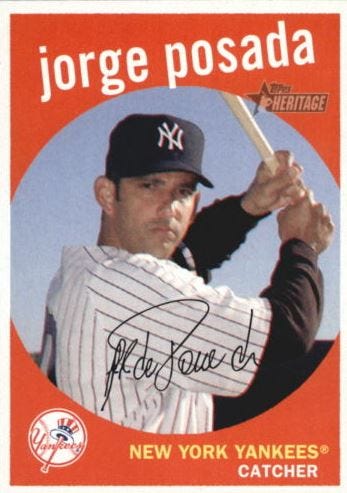 Jorge Posada
Played 17 years for one team
Five-time all-star caught for four World Series champs. 42.7 WAR, 17.3 WAA
Pro argument: Excellent offensive catcher who was a staple for dominant Yankees.
Con argument: Does not line up favorably against Hall of Fame catchers.
Deserves to be in Hall?: Not quite.
Will get elected this year?: No
Will ever get elected?: 5-10% chance.
* * *
There are six catchers in the Baseball Hall of Fame who played their entire career after World War II. Ivan Rodriguez should soon get elected -- maybe even this year on his first ballot. That would make seven.
1. Johnny Bench
2. Yogi Berra
3. Roy Campanella
4. Gary Carter
5. Carlton Fisk
6. Mike Piazza
7. Ivan Rodriguez (provisionally)
Now, you could argue pretty persuasively that seven catchers over the last 70 years is not enough. That's only one per decade (with the potential elections in the future of active players like Buster Posey, Yadier Molina and Joe Mauer).
Is one per decade enough? Depends on your point of view. You could argue that outstanding catchers like Ted Simmons, Bill Freehan, Gene Tenace, Thurman Munson, Joe Torre (the player), Elston Howard and others deserved more consideration.There were, at times, ripples of momentum for Munson and Torre, but they did not lead to much.
But this is our current standard for Hall of Fame catchers: Bench, Berra, Campy, Carter, Pudge, Piazza and probably Pudge 2.0. Let's face it: They are all superheroes. And even some of those guys needed to wait to get in -- Bench was the only one of the six to get elected on first ballot.
What made them all so great? Well, all of them could really hit. And most of them were fantastic defenders. Only Piazza was regarded as a less-than-stellar catcher, and he was the best hitter of them all. Bench and Berra are Top 50 players all time, regardless of position, and the other four are viable candidates for the Top 100.
So, you ask: Does Jorge Posada belong in the Hall of Fame?
And the answer is: Maybe ... but he doesn't belong in THIS Hall of Fame.
This is the part of the Hall of Fame everyone instinctively understands but few consciously consider -- Hall of Fame standards are not permanent and they are not well planned out. They shift and bend and tilt with every election. Every yea or nay choice of the writers and veteran's committees sets the Hall of Fame line.
When you elect an Ozzie Smith, for instance, you open the door for electing someone substantially because of their great defense. When you elect a Sandy Koufax or Kirby Puckett, you open the door for electing someone with a great career cut short by injury.
These don't necessarily become precedents -- Omar Vizquel will not necessarily get elected because of Ozzie; Johan Santana will not necessarily get elected because of Sandy. But those doors were opened once and, as such, might be opened again. Fans of Gary Sheffield or Vlad Guerrero can point to Jim Rice. Fans of Lee Smith or Trevor Hoffman can point to Bruce Sutter.
But catcher ... there's really nowhere to point.
The voters have stubbornly kept the catcher door slammed shut.
I'm not saying this is bad ... the only bad Hall of Fame standards, in my view, are the inconsistent ones. A catcher's career is difficult to judge. It will inevitably be shorter than other careers. The wear and tear -- both mentally and physically -- is overwhelming. In many instances, the manager leans on the catcher to lead the team in ways that are easily seen and completely mysterious.
So you can't just fall back on numbers or awards. Look, Mike Piazza is the greatest hitting catcher ever, most would agree. He created 1,378 runs, which is a lot of runs.
But would his offense be enough if he played, say, first base? Well, among thosse who created more: Will Clark, Lou Whitaker, Kenny Lofton, Dave Parker, John Olerud, Dwight Evans, Harold Baines, Rusty Staub, Brian Giles, Bernie Williams, Paul Konerko, Chili Davis, Jason Giambi, Johnny Damon, Carlos Delgado, Mark Grace ...
That's not a fair list, of course -- Piazza was a much better hitter than most of the people on it. But it's still just a partial list of the non-Hall of Famers who created more runs than Piazza. On this year's ballot, Edgar Martinez, Gary Sheffield, Manny Ramirez and Larry Walker were all probably about as good as Piazza at the plate with Vlad Guerrero not far behind.
But, of course, the assumption is that if Piazza HAD played first base or left field, his career would have been longer and he would have hit more. No catcher has 3,000 hits. No catcher has 500 home runs. No catcher has 10,000 at-bats. It's plain HARDER to hit when you're a catcher. Johnny Bench, in my view, is the greatest catcher in baseball history. As a hitter, he and George Foster were about the same.
Then this is like saying that, as pure singers, Bob Dylan and Steve Winwood were about the same. It may or may not be true, but it isn't the point.
The Hall of Fame standards before World War II were a bit different. Roger Bresnahan and Ray Schalk are in the Hall of Fame because of their defense and the innovations they helped develop. Ernie Lombardi was not a good catcher -- he might be the slowest player in baseball history -- but man could he hit. Mickey Cochrane's career was short, and he also was not a great defensive catcher, but he also could crush the ball. Rick Ferrell is also in the Hall of Fame for some reason too.
Now, though, the standards eliminate all but the obvious choices. Amazing defensive catchers like Bob Boone and Jim Sundberg have never come close to the Hall of Fame. Terrific offensive catchers like the aforementioned Simmons and Tenace and Munson have never come all that close either. A wonderful two-way player like Bill Freehan, no. You need to hit, you need to field and you need to have a lengthy career at least as far as a catcher goes. Your career can leave no doubt at all in the voters' minds.
Is that the way it should be? There would be those who would say that catcher is the one position where the voters have gotten it EXACTLY RIGHT by keeping the standards extremely high and not allowing borderline candidates in. Others would say that the voters underrate the massive contribution of catchers. Either way, this is the whirlwind that Jorge Posada enters now. He certainly won't get close to election this year, but I would not be surprised to see him get 10-15% of the vote and stay on the ballot for a good while. He will be a fascinating test case study.
* * *
There is a story about Jorge Posada that has always bugged me. I think I first read it in Tom Verducci's excellent profile of Posada in Sports Illustrated back in 2001, but I've seen it many places. You might know that Posada's father, Jorge Luis de Posada, basically raised his son to be a ballplayer. He had played baseball (and numerous other sports) in Cuba and lost his chance to play in the Major Leagues when Fidel Castro came into power. Jorge Luis' cousin Leo played for a time with the Kansas City A's.
The relationship between Jorge Luis and his son Jorge was, well, complicated and tense. Jorge spends several chapters in his book The Journey Home exploring how hard his father was on him and how difficult it was for him to understand their relationship. Jorge Luis had escaped Castro's Cuba, and he intended to toughen up his son for a tough world. Jorge tells one story of boxing with his father and unleashing a clean shot to the ribs, knocking the air out of his father's lungs. It's unclear what lesson he took from that.
In any case, there is no question that Jorge Luis was the driving force in Jorge's baseball life. He used to pull young Jorge off basketball courts because he thought any sport besides baseball (and cycling) was a waste of time. He forced Jorge to learn how to switch-hit. He gave Jorge numerous Mister Miyagi type tasks -- paint this wall that doesn't need painting, level our backyard that is already leveled -- to strengthen him for baseball. And he served as Jorge's agent and singular advisor -- when the Yankees selected Posada in the 43rd round in the 1989 draft, Jorge Luis understood that this was not the time to sign.*
*Another pretty fair player, Jason Giambi, was selected by Milwaukee two picks after Posada; he also did not sign.
The Yankees kept an eye on Posada as he went to Calhoun Community College in Decatur, Alabama (a place where Jorge would say he first felt real racism) and drafted him in the 24th round in the 1990 draft. Players in the 24th round rarely make it but as the story goes Jorge Luis de Posada -- who had spent quite a bit of time as a Major League scout and so understood the business -- cut a special deal for his son.
"As a 24th-round draft pick in 1990," Verducci wrote, "Posada was such an uncertain prospect that he signed with the Yankees only after his father had extracted a promise from New York not to cut him in the first three seasons in the farm system."
This story, as mentioned, has been told often. Jorge Posada was a no-hit, no-field second baseman in Oneonta, NY his first year, but given those three years his father had secured for him, he developed into a catcher. There are not many stories of a second baseman becoming a catcher -- it was not an easy transition. But by the time he reached his third year, Jorge had developed into a real prospect, enough of one that many (including Jorge Luis) wondered why he was not the Yankees starting catcher over the light hitting Joe Girardi in 1996, 1997 and much of 1998.
Posada had his first 500-at-bat season in 2000, at the age of 28, and he hit .287/.417/.527 with 107 walks, 28 homers, 92 runs and 86 RBIs. It was his first of four straight All-Star seasons. His best year was probably 2003 when he hit 30 homers, drove in 101, but it also could have been 2007 when he hit .338 with 40 doubles. He had seven seasons where he created 80-plus runs -- only Simmons, Piazza and Cochrane among catchers had more. He had three seasons where he created 100-plus runs, same as Berra and Dickey, one more than Carter or Fisk. For a catcher, Posada could really hit.
How good was he defensively? This is a point of contention. He never won a Gold Glove, and no one ever really talked about him being of Gold Glove quality. He twice led the league in passed balls and twice led catchers in errors, and despite his strong arm base stealers ran on him. But he was the regular catcher for four World Series winning teams and two more pennant winners. He forcefully caught some of the best pitchers of his day -- nobody ever questioned Posada's passion or toughness.
So, really, his Hall of Fame case probably revolves at least somewhat around his defense and leadership and how people choose to view those things. WAR ranks him just slightly above Piazza defensively. Posada was certainly not the hitter that Piazza was. You have to give him a lot of points for defense and leadership to get him into the Hall of Fame. There's a decent chance that, over the years, he will get those points.
But back to that story about Jorge Luis convincing the Yankees to not cut Jorge for three years. It never made any sense to me. What leverage would a 24th round pick have to get a three-year commitment from the Yankees? I figured that for the story to be true Jorge Luis must have been so respected by the Yankees -- and in baseball in general -- that they gave that committment as a sign of esteem.
Turns out though -- if Jorge Posada's autobiography is to be believed -- the story just isn't true. His father WANTED to get the three-year commitment but ...
Posada wrote: "My dad wanted to do something to make it more difficult for the Yankees to release me if I didn't impress them from the get-go. ... He fell short of his own goal. He wanted them to guarantee they'd give me three years in the organization. That's basically unheard of, especially for a guy drafted as low as I was.
"For their part, the Yankees did stick with standard operating procedure. They weren't going to guarantee anything other than that I'd join the more than 1,200 guys drafted and be given a shot. What I did with that shot was up to me -- not even my dad could do anything to influence that."