Yankee Minute Makeup
If you have ever heard the PosCast, you know that Mike Schur and I do a segment called The Yankee Minute. In this segment — which never lasts only a minute and is rarely held at an hour — Mike and I fanatically whine about the Yankees and how they are the worst.
What you might not know is that Mike and I basically do the Yankee minute every single night (with former Yankee Brandon McCarthy laughing at us along the way). See, this loathing of the Yankees comes from an honest place for both of us. Mike's connection is more direct; he grew up a Red Sox fan whose sporting life was continuously terrorized by the Yankees.
I grew up in Cleveland, meanwhile, which would not seem to have that straight-line rivalry with the Yankees. It did once, back in the 1950s, but (believe it or not) that's before I was born. In my childhood, we Clevelanders looked at the Yankees much in the same way that we looked at New York in general — like street urchins dressed in rags standing out in the cold and pressing our noses up against the restaurant window while the moneyed society people dined on prime rib and lobster.
The New York jealousy thing was real. I will always remember when the Cleveland Plain Dealer began a city-enthusiasm campaign with bumper stickers and buttons:
Cleveland, you see, was a plum!

And why, you may ask, was Cleveland a plum? Right. Because New York was an apple.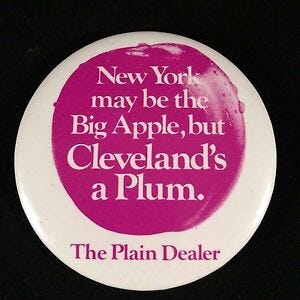 The plum thing didn't stick, but it's true we wanted to be New York back then.
And, oh, did we want the Tribe to be the Yankees. We dreamed about it. Sometimes it felt so close. The 1977 Yankees won the World Series with what seemed a bunch of Cleveland guys. Graig Nettles had played for the Tribe. Chris Chambliss had played for the Tribe. Lou Piniella, Dick Tidrow … Thurman Munson was from Akron. Anyway, it felt like a deep connection in those days, like we were only a couple of trades away from trading spots with the Yankees.
Then, the city still had not recovered from trading Roger Maris away before he became Roger Maris. For the Yankees. Obviously.
Anyway, Mike and I didn't do a Yankee Minute on last week's PosCast because, well, I don't know why. We kind of forgot. That's the sort of podcast we're running.
But, let's be honest: We are in DESPERATE need of a Yankee minute.
Here's why:
The New York Yankees have now hit 64 home runs in August.
I realize that without context, that number sort of just dangles there. Is that a lot? Is that a little? This is one of my big beefs with broadcasters who throw out statistics without giving even the slightest sense of what they mean.
So, I'll tell you what it means: Sixty-four homers in a month is A LOT.
No, it's more than you're thinking.
Sixty-four homers is six more than any team has ever hit in a single month.
And, perhaps most importantly, the Yankees still have four games left in this month. They're already the first team to hit 60 homers in a month. And they will almost certainly become the first team to hit 70 homers in a month. Eighty homers is unlikely but not out of the question.
Before this madness, the record for most homers in a month was 58, set by Baltimore back in that nutty juiced ball May of 1987 (and tied by Seattle in in May of 1999). This Yankees team will likely smash the previous record by 25%. It's crazy.
And it's even crazier HOW the Yankees did it. But we'll get to that in a second.
First, you should know, only 10 teams in baseball history have averaged two homers or more per game over a full month:
2019 Yankees, August, 2.44 HR/G

2000 Cardinals, April, 2.2 HR/G

2019 Twins, July, 2.17 HR/G

1999 Mariners, May, 2.15 HR/G

2018 Dodgers, June, 2.12 HR/G

2006 Braves, July, 2.08 HR/G

1987 Orioles, May, 2.07 HR/G

2003 Red Sox, July, 2.03 HR/G

2019 Braves, June, and 2016 Orioles, June, 2 HR/G
The Yankees, as you can see, are closer to two and a half homers. So the Yankees really are doing something pretty insane here.
But let's get to the point: They are doing it WITHOUT Giancarlo Stanton. They are doing it WITHOUT Edwin Encarnacion. They are doing it WITHOUT Aaron Hicks, Miguel Andujar or even the Yankee Minute's favorite villain Luke Voit. The Yankees are hitting more home runs, by far, than any team in the history of the game and they are doing it with a bunch of understudies. It's one of the craziest things in baseball history.
Here is how their 64 homers break down:
— Gleyber Torres has hit 13 home runs. The Yankees got Gleyber Torres in a trade deadline deal with the Chicago Cubs for closer Aroldis Chapman. And then, after the season ended, the Yankees just signed Aroldis Chapman right back. Because the Yankees are the worst.
— Mike Ford has hit seven home runs.
— Gio … I'm sorry, wait a minute, let's go back to that last one for a minute. Who in the hell is Mike Ford? I don't even know what to say … what is even happening here? Mike Ford? This guy played ball at Princeton; he was good there — he was the first player in Ivy League history to be name conference player AND pitcher of the year. And that cool. He was, however, not drafted by a single team and last I heard there were 2,493,473 rounds in the baseball draft.*
*Needs to be fact-checked.
He signed with the Yankees as an undrafted free agent, was taken by Seattle in the Rule 5 draft in 2017, was returned to the Yankees, where he posted a thoroughly uninteresting .760 OPS in Scranton/Wilkes-Barre as a 25-year-old first baseman.
Then the Yankees needed him because the aforementioned Luke Voit got hurt, and he has those seven homers this month, and in the last two weeks he's hitting .367/.400/.800, and this stuff ONLY seems to happen for the Yankees.
— Gio Ursh … no, wait, can I just reiterate that this stuff only seems to happen for the Yankees. I mean, Mike Ford? I'm sure he's an amazing guy, and he's a feel good story, but how do the Yankees keep doing this? What black magic is in those pinstripes?
— Gio Urshela has seven home runs. The fact that there is someone named Gio Urshela, and that he has kicked around baseball, and that he is now basically Chipper Jones because he joined the Yankees, should be the craziest story in the world. But it's old news already. I mean, Mike Ford has come along.
— D.J. LeMahieu has seven home runs. Remember the good old days when everyone thought D.J. LeMahieu was merely a Coors Field creation. He won that batting title in 2016 by hitting .391 at home and everyone said, "Ah, he's not that good," and as a hitter he really wasn't that good (92 career OPS+ but a sensational fielder).
Then he came to New York, put on a Yankees uniform and now he's Roberto Alomar or something. He's hitting 33 points better and slugging 125 points higher than he did when he was with the Rockies in that crazy hitters ballpark. He has hit more home runs this month than he hit all year for the Rockies in 2014 or 2015.
— Didi Gregorius has six home runs. Do you see what I'm getting at here? The Yankees came into the year with the all-time record for homers hit in a season. They set that record last year and their top five home run hitters were Stanton, Andujar, Hicks, Judge and Didi.
I'm only now getting to Didi. Forget the injured guys, we haven't even gotten to Aaron Judge.
— Mike Tauchman has five home runs. I don't even know what to say.
— Aaron Judge and Gary Sanchez also have five home runs. These guys are afterthoughts on this team.
— Cameron Maybin has three home runs because of course he does.
— Kyle Higashioka, Brett Gardner and Austin Romine have two home runs each.
That's 64. And it's enough to get me thinking about walking back into the sea.