Wahoo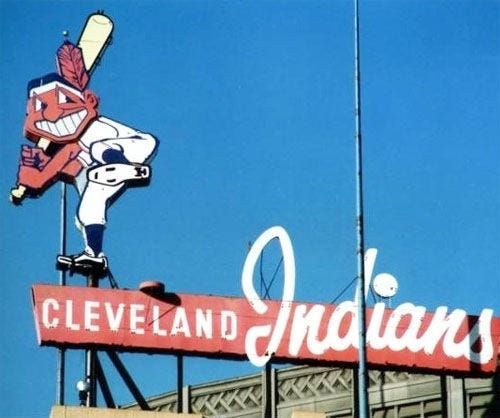 When I was a kid in Cleveland, there was an enormous Chief Wahoo sign on top of Cleveland Municipal Stadium. The sign was of Wahoo swinging the bat -- his left leg was up in the air like he was Josh Donaldson -- and below him it said CLEVELAND in all capital letters and Indians in cursive script.
I cannot even begin to describe how deeply I adored that sign.
Well, what did I know then about the history of Native Americans or the racism endured? All I knew was that sign meant baseball … that red-faced Chief Wahoo signaled that we were close to the ballpark, close to first pitch, and the anticipation was overwhelming. It got to the point where catching a glimpse of Chief Wahoo's smile, no matter what time of year, triggered all those happy baseball feelings. It could be dead of winter, snow covering the grass, slush in the streets, the sky as gray as sadness, and I'd see Wahoo and everything would warm up for a moment.
Look there's Chief Wahoo. Opening Day cannot be too far away.
I started this blog in 2007 … the third post I wrote, after two days of bland promotion for my new book, was about how it was time for Cleveland to get rid of Chief Wahoo. It was long past time. The logo was an embarrassment and discredit to the game. I wrote of the baffling and controversial history of the Cleveland Indians name, the less baffling but still controversial history of the Chief Wahoo logo, and came to only conclusion: Get rid of it. I have written some version of that story dozens and dozens of times since.
On Monday, finally, the Tribe announced that they would retire Wahoo as Cleveland's official logo starting in 2019.
This is obviously the right thing to do; Wahoo is a grotesque caricature of a great American people and it is blatantly offensive. That is not what a baseball mascot is supposed to be. Wahoo is a relic from another, less enlightened time when Native Americans were often the focus of such insensitivities -- throughout the 1930s and 1940s there was a comic strip called "Big Chief Wahoo," which featured a naive "Injun" who said things like "Look. There. Horse." There was a time when people found that stuff hilarious. That time is gone.
"The logo is no longer appropriate for on-field use in Major League Baseball," commissioner Rob Manfred said, and in a few words he got the theme precisely right.
And yet, Cleveland.com is running a poll asking people if they would rather #DropTheChief or #KeepTheChief. As of mid-afternoon, #KeepTheChief was winning 90-10. There have been a counterwave since and the numbers have tightened, though #KeepTheChief still leads convincingly.
It is easy to see that split as a fight over political correctness or a sign of the contentious political landscape that divides us, and, yes, there's probably some of that. But there's some of this too: Chief Wahoo, for more than a half century, represented baseball in Northeast Ohio. It was the only Cleveland baseball logo (other than the marvelous crooked C). Chief Wahoo meant Rocky Colavito and Sudden Sam McDowell, Luis Tiant and the first African American manager in baseball history Frank Robinson, Brook Jacoby and Cory Snyder and Joe Carter and the lost hope of the 1980s, Jim Thome and Albert Belle and Manny Ramirez and the extraordinary hitting of the 1990s, Corey Kluber and Frankie Lindor and Terry Francona and the joyous baseball game of the last couple of years.
We didn't choose the logo. It was passed on to us when we were young, and it got into our minds and hearts as baseball fans. We didn't think racist thoughts when we saw it. We thought about how Rick Waits needed step up if the Tribe was going to contend. We didn't see it as a symbol of the mistreatment and dehumanizing of Native Americans. We saw it and thought that maybe Sports Illustrated should have looked at Cleveland's pitching staff before picking them to win the American League in 1987.
That is to say, there are deep emotions tied up with Wahoo, involuntary emotions surrounding first baseball games, emotions concerning fathers and daughters, mothers and sons, peanuts and fireworks. Yes, absolutely, no question about it, they should have gotten rid of Wahoo decades ago. But they didn't. And so we connected with the logo. Yes, they are doing the right thing by getting rid of him now, absolutely, no question about it. That doesn't mean people who are sad about it are without compassion or sensitivity.
"The Cleveland Indians," my friend Scott Raab wrote, "have a heritage to be proud of when it comes to sports and race. Larry Doby, Satchel Paige, Bill Veeck, Frank Robinson … they could have built a Doby statue before Thome's, dumped the name and the cartoon and embraced that heritage by recognizing the reality, which has been clear for many years, that Chief Wahoo is, plain and simple, a relic of genocide."
You ask: What does Scott Raab know?
I'll tell you: Scott has a Chief Wahoo tattoo on his arm. He got in 1994 when Cleveland was in the midst of its most thrilling season in 40 years.
Wahoo had to go, it was inevitable, it was justice. And now what? Some will cheer. Some will angrily rebel, buy up Wahoo gear, wear it in defiance to make whatever point they want to make. More will move on, admit that (agree or disagree) Chief Wahoo had expired as a viable logo, and forget all about it while buying up merchandise with Cleveland's new logo and the new look.
And a few of us will celebrate this long overdue day … but maybe we will quietly admit to ourselves that Chief Wahoo still sparks a bit of that childhood feeling. Is it OK to feel a little bit nostalgic about losing something that you grew to despise? I don't know the answer to that but sometimes nostalgia comes whether you like it or not.