Two homers: Record Day
We made it, the Major League record, 30 days in a row with a two-homer game
The late and great magician Ricky Jay used to do something really fun. He would have a dozen or so people in the audience pick a different card. Then he would find each those cards in the most delightful and surprising way.
You can see the performance here in his television special, Ricky Jay and his 52 Assistants. The whole show is wonderful, but if you want to see just the amazing card findings, you can jump to 23:28.
So, what, is the point here to awkwardly tell a magic story as a pitiful excuse to mention — because I don't know that I've mentioned this before — that I wrote a book about Harry Houdini and wonder that comes out October 22?
No. Well, OK, yes, but also no.
The point is that right before Ricky Jay would find the cards, he would say this: "Actually I have to confess at this point during the show every evening, I wonder what it would be like if I didn't find those cards. … Just a thought."
And I must confess that Tuesday night, when the all-time record for consecutive days with a two homer game was broken, I wondered what it would be like if I just didn't write about it. What would happen if I just pretended that I had never started this series and never mentioned any of this again?
Just a thought.
Three different players had multi-homer games on Tuesday. That makes 30 days in a row that somebody, anybody, hit two or more home runs in a game. That's the big league record. And there's no end in sight.
I keep calling this "a record," but is it really? See, it's something nobody ever counted before. I suspect that if I had not started writing about this, nobody would have counted this time either. It's only a record because some goofball counted.
That is one of the fascinating things about records — it's only a record if we count it. I've often thought that one of the most cherished records in baseball, Joe DiMaggio's 56-game hitting streak, is kind of a random thing. Consecutive days with a hit? That's a pretty weird thing to count.
Consecutive days with a hit: A record.
Consecutive games where a pitcher broke a bat: Not a record.
Why not? Because haven't counted that. I imagine the record WOULD belong to Mariano Rivera who seemed to break two bats a night when his cutter was buzzing its loudest. But we didn't count when Ryan or Gibson or Koufax or Feller were pitching. And so it isn't a record.*
*This turns sad when you consider all those lost records from the Negro Leagues. Wouldn't you love to go back in time and actually count just how many home runs Josh Gibson hit, how many strikeouts Satchel Paige had, how many stolen bases for Cool Papa Bell. We can guess, but we don't know, we can't know, and that's just a little bit heartbreaking.
I started counting this two-homer thing because I subscribe to Baseball Reference's Stathead Newsletter (and you should too!). Every morning when the email arrived I looked at "Yesterday's Top Performers," to see if a player hit two homers. It was just this thing I did. And then I started counting days. And then I realized that there was a streak going on. And then, at Day 19 of this endless streak, I started writing about it.
And that led us here: Day 30, the longest such streak in the long history of baseball.
And, like Ricky Jay, I have to confess …
---
— OK, so I had never heard of this Will Smith before. I've obviously heard of Will Smith, the American actor, rapper and media personality (according to Wikipedia). I've heard of Bill Smith, who was briefly the Twins GM and Willie Smith, a basketball player who briefly played for the Cleveland Cavaliers and Billy Ray Smith, the Chargers defensive end, and Barkin' Bill Smith, the blues singer. I'm well aware of the other baseball Will Smith, the pitcher who started his career with Kansas City and this year made the All-Star team as a Giants reliever.
But Will Smith, the Dodgers guy who crushed my spirit — he was the first player to hit two homers on Tuesday — no, I had missed him.
That's on me: This Will Smith is not obscure. He was a first round pick by the Dodgers in 2016. He was a Top 100 prospect before the year began. He has been up and down a couple of times this year.
And he's been absolutely CRUSHING the ball. Since being called up the last time on July 27, this Will Smith is hitting .356/.392/.911 with six doubles and seven homers in 14 games.
That's just what these already amazing Dodgers needed, a 23-year-old catcher who is also Lou Gehrig.
Today's crazy homer stat: The Dodgers hit six home runs in their 15-1 shellacking of Miami. That was the 21st time this year that a team has hit six or more home runs in a game … and, yes, that's a record. The previous record had been 18 games set back in 2003.
In 1992, 1984, 1982, 1973 and several other seasons, exactly ZERO teams hit six home runs in a game. Just so we understand what's happening.
— OK, good on ya Tom Murphy. I can't be mad at you. Yes, you are a backup catcher, and you hit two home runs last SEASON and, yes, you just hit two home runs to contribute to this streak that will never, ever, ever end.
But, I mean … THIS:
That cartwheel just about made this whole series worthwhile. Just about.
— The Phillies brought back the legend, Charlie Manuel, to be batting coach. This has nothing to do with the home run series but I bring it up because my dear friend, the wonderful actress Ellen Adair, does this wonderful thing — when her Phillies do something, she sometimes posts a photo of herself making a face that best represents her feelings. I love this so much that I have now begun to hound her for Ellen Faces on every moment. The minute the Manuel news went public, I demanded an Ellen Face. And, as always, she delivered.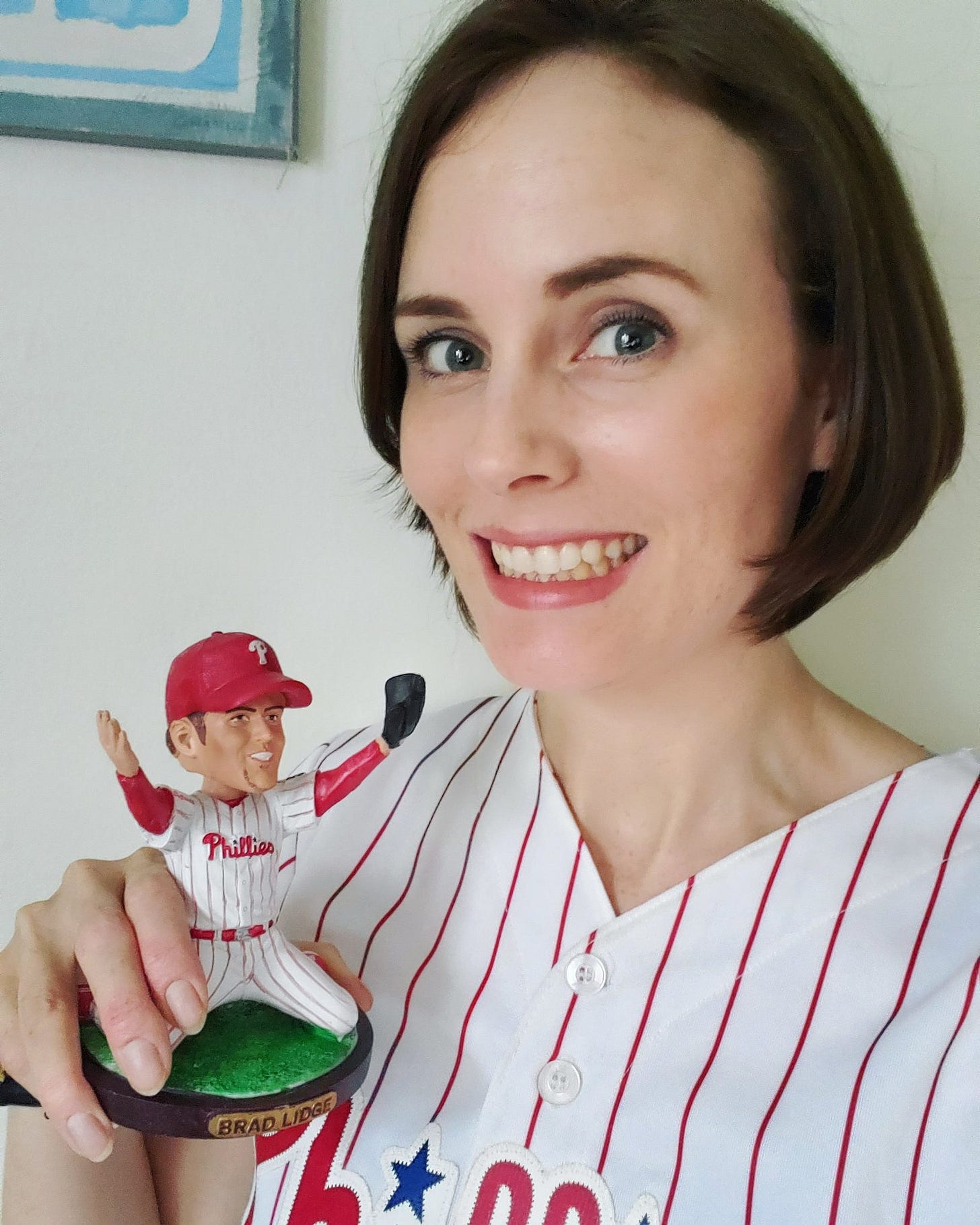 — The third Kyle Seager home run on Tuesday was so ridiculous that … well, let's see it in pictures.
Here's the pitch: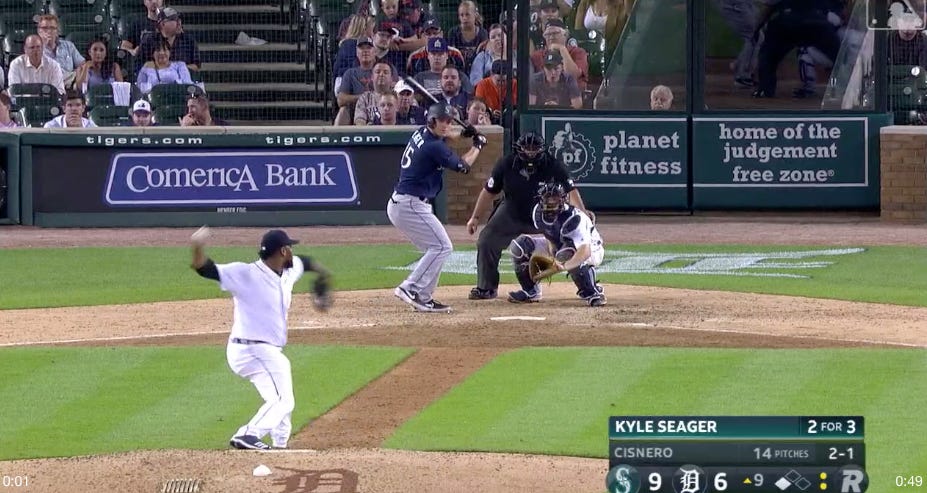 Here's the swing: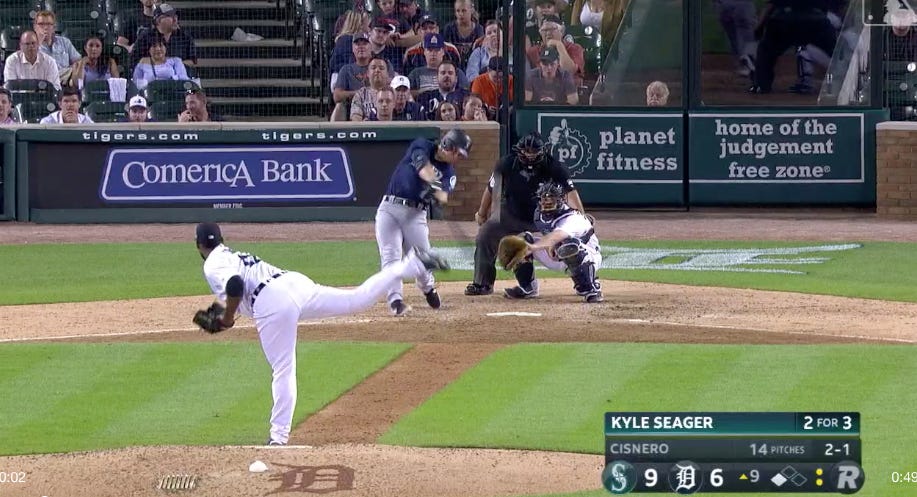 Pop-up, right? It's 98.4 exit velocity, 32 degree launch angle, ball carried 363 feet the other way. Well let's see what happens! Looks like Tigers centerfielder Niko Goodrum and leftfielder Brandon Dixon are there on the warning track to make the play. It's Goodrum's ball!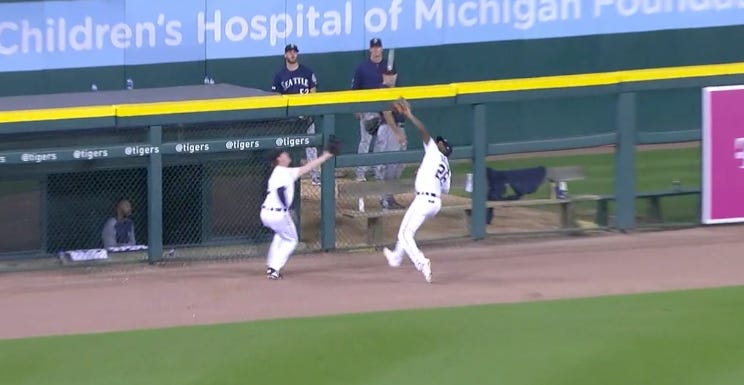 Wait, what is this madness?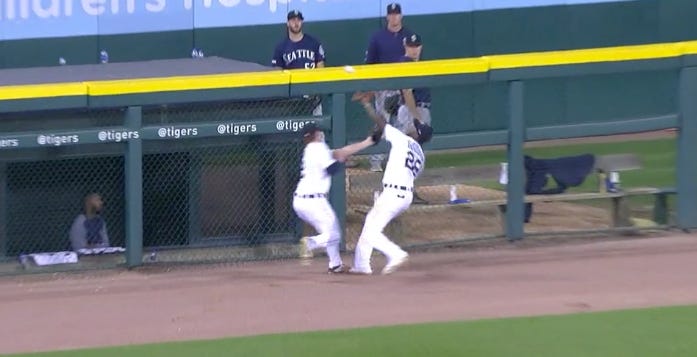 You've got to be kidding me.
Um: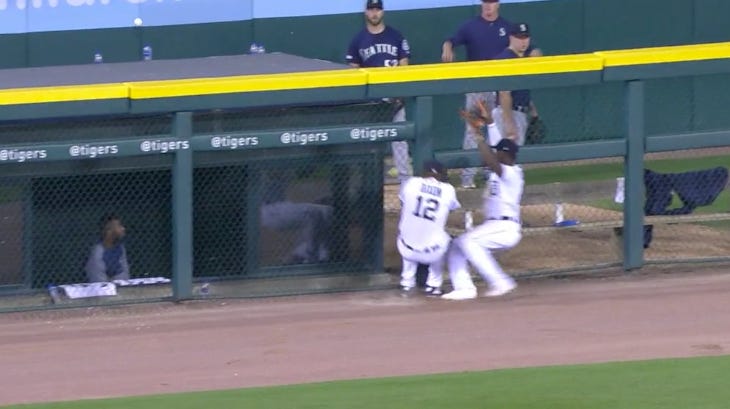 And here's where the story ends: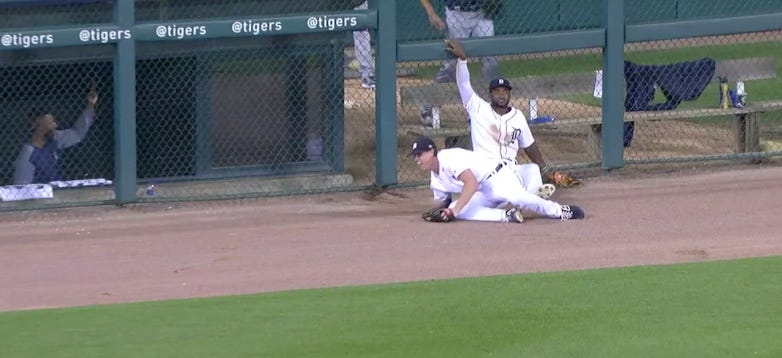 Kyle Seager is the sixth different player to hit three home runs in a game during the streak. We call these three-homer games Mookies after three-homer maven Mookie Betts. This was Seager's first Mookie.
---
Brilliant reader in England Alan Clements believes we should have a name for two-homer games as well. He suggests calling them "Hanks" after Hank Greenberg who has the record for most two-homer games in a season (he had 11 two-homer games in 1938). I'm not opposed, though I will say that saying some player had a Hank doesn't quite feel right.
One other option — while Hank Greenberg does hold the record alone for two-homer games, he is tied with Sammy Sosa for most games in a season with TWO OR MORE home runs. So we could call these games Hankosas.
I'll leave it to you to decide in the comments.
---
For those of you who are reading this series for the first time — well, hey, I had to make the record-breaking-day free — thank you and welcome and glad you are here. This is basically what we do here at JoeBlogs. I write absurd blog posts, many about baseball, some about other stuff like who the real villain in A Few Good Men. They are streams of consciousness, littered with all the typos and broken thoughts you might expect from steams of consciousness. This is raw and unadulterated nonsense. I don't know if that's much of a sales pitch, but if this sounds like your kind of thing, hey, here's the subscribe button.