Tito
Let's be honest: What you want in a manager of your favorite team is someone who wins. It doesn't need to go too much deeper than that.
Yes, of course, you would prefer it if your team's manager or coach has a vivid personality -- funny, outrageous, thoughtful, loyal, loony, whatever you like. Bears' fans famously loved their Mike Ditka with his tough football history and boss mustache and in-your-face approach to life. Spurs fans surely love Gregg Popovich, his refusal to tolerate foolishness always on display along with a passionate insistence on playing the game right.
And, of course, Patriots fans mostly love Bill Belichick, not in spite of his obvious flaws but because of them, because he buries himself in the game, because he cuts through the nonsense, because he cares so little about others' approval that he wears a hoodie to games, because he's both unromantic and romantic and will do what he needs to do to win.
But really, all of it comes down to that last part, right? Winning. No managers/coaches remain beloved for very long while losing. Cowboys fans adored just about everything about Tom Landry for a quarter century. They weren't as crazy about him at 3-13.
So, yes, you want a winner. But it's even more than that.
Every fan deserves, for at least a while, to have someone like Terry Francona coach or manage their team in the postseason.
There is a lot to like about Tito … including the fact that people call him Tito, like his Dad, who led the American League in doubles while playing for Cleveland in 1960. This has always been one of my favorite ever baseball cards -- that's Terry's father along with Rocky Colavito on the legendary "Power Plus" card from 1960: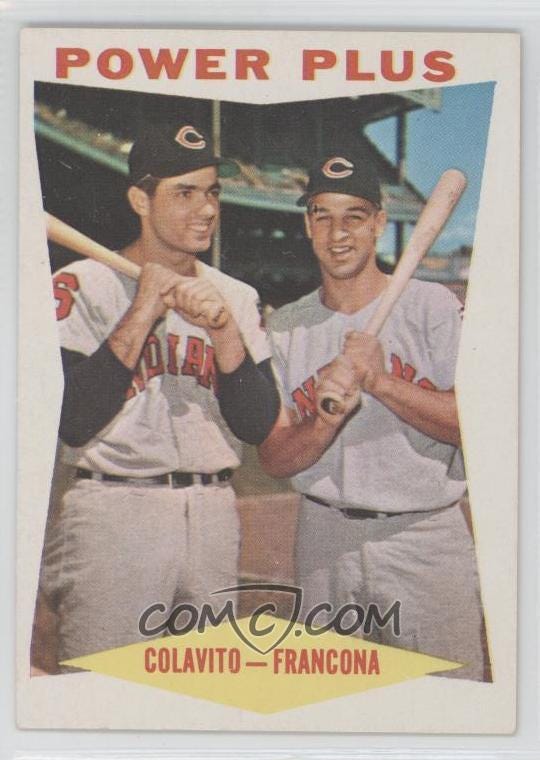 Tito -- and from now on we'll be using that name to refer to Terry himself -- is an extremely likable person. That isn't exactly why you would want him as manager, but it certainly helps. You spend any time with him at all and you wish you could spend more. He's all those things that make people appealing -- he's interesting, occasionally hilarious, thoroughly engaging, loyal to a fault.
He's one of those rare successful people who listens carefully, not because business manuals say leaders should listen but because he's genuinely interested in what another person is saying.
He's one of those rare successful people who craves success but not credit. You probably saw how, after Cleveland took out Toronto in Game 5 of the ALCS, Francona just disappeared from the postgame interview scene for a few minutes.
"Where did you go?" he was asked by a slightly unnerved Turner's Ernie Johnson, who clearly had been looking for him everywhere.
"They deserved to have their own moment," Tito said, and he was talking about Cleveland Indians president Chris Antonetti and GM Mike Chernoff. Francona realized that if he was standing there waiting to be interviewed, Antonetti and Chernoff would get quickly pushed aside the way presidents and GMs always are in such settings. After all, the people want to hear from Tito.
But then Francona left, and with him gone, Antonetti and Chernoff were asked a series of questions until he came back. They got to talk for longer, I suspect, then any president/GM combination in the history of postgame TV interviews. That's Tito in a nutshell.
So all of these are reasons to LIKE Francona. Then again, I could give you many reasons to personally like Buddy Bell or Ray Knight or Tony Pena or a few dozen other engaging managers. Francona has something else.
In the postseason, Tito comes to win.
No, of course, his teams don't always win. He couldn't get things going in Philadelphia at the start of his managerial career. He led the Red Sox to two World Series, yes, but he also managed some postseason failures like the three-game sweeps by the White Sox in 2005 and the Angels in 2009. His first Cleveland team got entirely shut down at home against Tampa Bay in the wildcard game three years ago. The Francona force of personality doesn't always work.
Then again: Nothing ALWAYS works. Managers are not magicians. Nobody should think that the right move always works or that the optimum strategy guarantees anything at all in a short series. Talent ... luck ... timing ... will ... concentration ... the reasons for winning and losing go on and on and on.
But what Tito gets -- and what a surprising number of managers do not -- is that while regular season managing is about balance and trust and (some) strategy and relationships and keeping everyone loose and (mostly) talent, the postseason is something else entirely. I once talked to Tito about regular season managing, and he told a story about how his friend, former Patriots and Chiefs GM Scott Pioli, wandered into the clubhouse in June or July and was annoyed by the loud music and how relaxed everyone looked. Where was the hunger? Where were the game faces?
"I have to tell him all the time, 'Scott, we play 162 of these things,'" Tito said. "It's different in football, where they play one game a week and it is, like sacred. We do this every day. And if we put too much emphasis on one game, if we have too many team meetings, if we get up for every game the way they do in football, it's not going to work."
That's a perfect summation of regular season managing. To be a successful regular season manager -- and it's a hard one -- is to guide a team through the long season, to shorten funks, to ride the good waves as long as you can, to play the long game, to energize and relax players, to stifle problems before they become too large to handle. If you manage a baseball team like a football team, you won't make it out of April.
But the postseason -- that IS football. Every game is sacred. Yo get up for every game. One loss is devastating. It's no wonder that so many managers, even fabulous regular season managers, do not know how to turn on that postseason switch. Buck Showalter is one of the best regular season managers ever. But even now he seems to believe that not pitching his best pitcher, Zach Britton, in a one-game extra-inning playoff loss was the right strategic move. Over a long season, maybe there are sound reasons for that decision. In a win-or-go-home scenario, it's utterly inexplicable.
The truth is, though, that few managers can turn up the volume for the postseason. It's just not in their nature. Joe Torre did. Bobby Cox could not. There are more Bobby Coxes out there than Joe Torres.
Tito is a good regular season manager, but he TRANSFORMS come playoff time. His managing this postseason has been triumphant. This Cleveland team had no business winning anything in these playoffs. They are now without 60% of their starting rotation. They are missing the team's best hitter the last two seasons. They even lost their starting catcher Yan Gomes. Sure, the esteemed Cleveland baseball writer Paul Hoynes took a lot of guff for declaring the season over back on September 17 after Carlos Carrasco broke a bone in his pitching arm, but he was just stating the obvious. How in the heck was THIS team going to win in the playoffs?
Tito went to work. He did not hide from the obvious challenges -- he embraced them. It is like he said to his team: "Look, guys, the only way we can win is if we stick together, do whatever we can to help the team and take a whole bunch of chances."
So they did. Tito didn't throw his ace, Corey Kluber, in Game 1 of the Boston series, choosing instead to give him just a little more time to recover from his own injury issue. He started Trevor Bauer and then brought the dark lord, Andrew Miller, into the fifth inning for the first time in years, and then brought in Brian Shaw, and then brought in Cody Allen. Against all logic, Cleveland hit a bunch of homers and won 5-4.
Then Tito had his ace Kluber rested and healthy for Game 2, and Cleveland won convincingly. That was more or less the series.
It will forever remain a mystery how Cleveland beat the Blue Jays four out of five games with less than half a rotation and the entire team hitting .168 (and scoring a grand total of 12 runs). Once again, Tito managed every game like it was the last game, never worrying about tomorrow, never holding back. He used up his best relievers. He put his best home run hitter, Carlos Santana, in the leadoff spot (where he didn't hit much but DID hit two critical home runs). He sent Kluber out on short rest.The urgency crackled through his team. By comparison, the Blue Jays looked spent.
The worst feeling as a sports fan is when your team loses a big game it could have -- or SHOULD have -- won. Timidity leaves behind scars. You watch your team lose because they went into the prevent defense too early or they left their best reliever on the bench or they were not willing to risk anything to close out the victory ... that's just the worst.
And so, it's just the best when you have a manager like Tito who embraces the big moment and takes big risks. Of course that stuff can blow up in your face too. Cleveland knows that better than most -- one of the most painful losses in Cleveland sports history happened when Sam Rutigliano had Brian Sipe throw the Red Right 88 pass rather than just settling for a nice makeable game-winning field goal.
It cuts both ways. The bottom line is still winning. But winning is especially fun when you have a manager like Tito throwing everything against the wall.