The Zack
The Zack has been fooling me ever since the beginning. I think that's why Opening Day hit me so hard.
On Opening Day, I heard an announcer say that Zack Greinke will turn 36 in November. That just doesn't seem possible. Through the years, I've tried to stay pretty chill about my own aging bones; I never wanted to be one of those "Do you know what milk cost when I was a boy?" people. I've quietly accepted most of the things that come with turning 30, then 40, then 50 ...
But every now and again, something smacks me hard across the face.
For instance, a few years ago a talented wide receiver named Tyler Lockett showed up at Kansas State. I had written a great deal about a couple of other talented Lockett receivers at Kansas State, starting with Kevin, and I said to someone: "Oh, is Tyler Kevin's younger brother?"
At which point, I was told the obvious lie that Tyler is Kevin's SON.
This is not true, I do not care how many sources repeat it, I do not care that Tyler himself says it's true, I will not accept that Tyler Lockett is Kevin's son. When I see Tyler play (he has been one of the NFL's best return-men for the Seahawks for a while now) I think, "Oh, Kevin must be proud of his younger brother," and I will always think that. There is only so much I am willing to accept.
Hearing that The Zack will soon age out of that 18-to-35 check-box hit me even harder. The Zack? Thirty-five years old? Not possible. Thirty-five is, well, 35 is when a "veteran pitcher" becomes a "grizzled veteran." It's about the time when managers talk about your "leadership," and your "professionalism," and how you "help the kids learn how to become big leaguers." Thirty-five is when you start facing hitters who idolized you when they were kids; they will tell reporter that it was an HONOR to face you.
Thirty-five is the age when you see once dominant pitchers get by (or not) with guile, with trickery, with smarts, with (ugh, how I loathe saying the word) vaunted experience.
Zack Greinke at 35? Unimaginable.
And, yet, sure enough, that was a 35-year old Zack Greinke who took the mound on Opening Day against the Dodgers. The Zack was a grizzled veteran trying (and generally failing) to hit corners with 88 mph pitches formally known as fastballs.
It wasn't a surprise, exactly. I've been well aware of the Greinke fastball trends:
2007: 94.8
2010: 93.7
2013: 92.4
2017: 91.0
2018: 90.0
Still, to see The Zack like that ... it just wrong. The Dodgers lit him up. Joc Pederson smashed a double and a homer. In the fateful inning, Cody Bellinger crushed one of the hardest line drive singles you will ever see, and then Enrique Hernandez smashed a home run, then Austin Barnes smashed a home run, then Corey Seager smashed a home run, and then the manager rushed out with a fireproof blanket to get The Zack out of the game.
Yes, it was only one game -- and an Opening Day March game to boot -- and as such, it shouldn't have meant much. But to me, it meant everything because it pointed to the end. The Zack had been fooling me for so long. And now that seemed over.
I first wrote about The Zack when he was 18 years old and the first-round pick of the Kansas City Royals. My first column was about what a mistake it was drafting him. I didn't mean it personally -- I knew almost nothing about The Zack personally -- it's just that it was 2002 when it had become clear that taking a high school pitcher in the first round was like mining fool's gold.
I wrote how, at the time, only two first-round high school pitchers (Dwight Gooden and Rick Sutcliffe) had won the Cy Young Award,* and not one in the history of the draft had a Hall of Fame career (the closest at the time was probably Frank Tanana).
"Picking a high school pitcher is high-risk, high-reward," Royals GM Allard Baird told me after taking Greinke, and I replied "Well, high-risk anyway."
*As it turns out, Greinke helped change the entire narrative about taking a high school pitcher in the first round. In the years since, Greinke, Clayton Kershaw, Chris Carpenter and Blake Snell were all first-round picks out of high school who went on to win Cy Young Awards. And I suspect Greinke will become the first high school first-rounder to be elected to the Hall of Fame, though obviously Kershaw will be elected first-ballot.
Once The Zack began pitching in the minors, though, it was clear that this was a unicorn. At 19, he went to High Class A Wilmington and went 11-1 with a 1.14 ERA, then he did pretty much the same thing at Class AA Wichita. And the thing was he did not do any of this with the blinding fastball that marks breathtaking young prospects. He did it with witchcraft instead, with some blend of control (he didn't walk ANYBODY), command ("Wherever you put the glove, that's where the ball goes," a different phenom, Joe Mauer, said after catching The Zack in the Futures Game) and an innate poker sense about what cards every hitter was holding.
He had a promising start (fourth in the Rookie of the Year balloting) and then a chaotic and dreadful second season (5-17, 5.80 ERA) and then he left baseball to deal with an acute case of social anxiety and the burning question of whether he really wanted to be a big league pitcher. It was no sure thing then that Greinke would ever pitch in the big leagues again. He considered becoming a professional golfer. He considered coming back to baseball but as a shortstop. He considered leaving it all behind.
But he returned and found his way. In 2008, at 24, he quietly became one of the better pitchers in the league. In 2009, at 25, he became the best, winning the Cy Young. That year, I wrote a cover story on him for Sports Illustrated. He refused to pose for the photograph, and so the now-famous cover shows him from the back.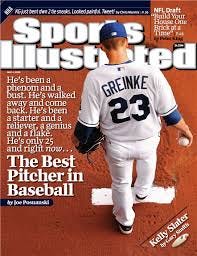 I can't believe that was 10 years ago. But that was 10 years ago.
In those days, I loved covering Greinke games. I would take out my reporter notepad and just scribble down numbers in a vertical row -- these were the radar gun readings of each pitch. It looked like this ...
89
83
93
78
64
94
... and it felt like magic. One of the most memorable moments of my sportswriting career was watching Greinke pitch in the Futures Game. Pitcher after pitcher came in throwing gas -- Rich Harden, Edwin Jackson, Gavin Floyd, Denny Bautista -- they were all trying to hit 100 on the radar gun, and Greinke was the exact opposite. He wanted to see just how SLOW he could throw and still get hitters out. He never threw his fastball harder than 92, and tried mostly to throw in the 80s.
"I could throw 98 mph if I wanted to," he told me then, and he undoubtedly could have. He didn't want to. Who on earth CAN throw 98 mph but doesn't WANT to throw 98 mph? Only The Zack.
The way he figured it (best I can tell -- nobody can claim to fully understand The Zack), lots of pitchers can throw 98. But, he realized, nobody else can add and subtract miles per hour as if raising and lowering the volume on a car radio. "Watch me throw a 50-mph curve," he told teammate Brian Anderson once, and the next inning he went out a threw a 50-mph curve. The best pitchers on earth looked at Zack as if he were a wizard.
And there was so much joy guessing along with him ... and he always fooled me. I never knew what he was going to say next, what he was going to do next, what pitch he was going to throw next. He was utterly unpredictable in every way, and the more you see in sports the more you appreciate those athletes who never stop surprising you.
I think that was the most depressing part of watching Zack pitch on Opening Day: It was all ... so ... familiar. The Zack as an old man? Who wants that story? It is one of the blandest clichés in the sport, the aging pitcher trying to get by on second-hand stuff and pitching wiles and wisps of nostalgia.
I think the nadir of Opening Day happened when Barnes and Seager hit their homers in the same inning. Why? Barnes hit his on an 88 mph change-up. Seager hit his on an 88-mph fastball.
The Master of MPH, the guy who once predicted and then threw a 50-mph curveball, was throwing his fastball and change-up the same speed. This clearly was the end. I felt all those things you feel when it's the end.
I watched Greinke's second start, against San Diego, and I guess he was better but he didn't LOOK any better. Sure, he struck out 10, but he also gave up two bombs to Hunter Renfroe (one when he muscled up to throw an arrow-straight 91-mph fastball). He kept escaping from trouble, and he never seemed to be in control. I didn't feel any better about things.
Then, in his third start, he gave up three straight hits to start the game. Sigh.
And in his next start, he gave up a leadoff homer to Manuel Margo. Sigh.
It's so painful to watch a great player grow old.
But here's the twist. The Zack was pretty good in his last start on Saturday. He pitched six scoreless innings against the Cubs. He gave up just three hits. And I thought: That's nice.
And then I looked at Greinke's season as a whole ... and found something pretty crazy:
The Diamondbacks have won each of his starts since the Opening Day fiasco.
And, in fact, all four of those starts were book definition "quality starts."
And, in fact, in those four starts, The Zack is 3-0 with a 2.81 ERA and a 29-4 strikeout-to-walk ratio.
And, in fact, the league hits .215 against him in those starts.
And, in fact, each one of his starts has been better than the last.
And suddenly, it hit me that even though, yes, his fastball is now in the high 80s, and there isn't much speed difference with his change-up and he's vulnerable to the home run ball and he's closing in on 36 years old, the guy still has something left. He still throws six or seven different pitches (including two different kinds of curveballs), and he still knows what batters don't like, and, you know what? Maybe this isn't the end.
The Zack is still fooling me. Maybe we're not so old yet.