The Unwinnables
First, we bow to the achievement: It is really, really, really hard to go 0-16. The 1980 New Orleans Saints couldn't do it and, apparently, that entire team was coked up. The 1989 Dallas Cowboys couldn't do it even with all the bad mojo that came from Jerry Jones firing Tom Landry. The 1990 New England Patriots -- who played eleven games that they NEVER LED -- couldn't do it. The 1991 Indianapolis Colts couldn't do it even with Jeff George as their quarterback.
The 1996 Jets of Rich Kotite -- when he was fired at the end of the season the New York Post ran a backpage headline that said "End of an Error" -- couldn't do it. The 2000 San Diego Chargers with Ryan Leaf couldn't do it. George Seifert's dreadful 2001 Carolina Panthers could not help but beat Minnesota to kick off their lost season. The 2007 Miami Dolphins started quarterbacks named Cleo Lemon and John Beck and had an atrocious defense but couldn't do it. The 2009 St. Louis Rams under the watchful eye of Steve Spagnuolo seemed to have a great chance to lose them all, but then they faced the Lions.
Even last year's Cleveland Browns, under the steady hand of the Doyen of Defeat, the Lieutenant of Losing, the Maestro of Moral Victories, the Conductor of the William L Overture Hue Jackson could not lose every game in a 16-game season. True, they won only once and mainly because the Chargers kicker Josh Lambo missed two field goals and also the Chargers so clearly didn't care. But this is the point: There's always a game like that. Only the 2008 Detroit Lions, a team for the ages, with a defense only moderately more effective than forfeiting, with an offense run by every retired quarterback from the previous 20 years, only they could pull off 0-16.
These 2017 Browns are, I suspect, better than those Lions. at least in surface ways. This is what makes 0-16 so special. Those Lions gave up, by far, the most yards in the NFL. These Browns actually had a Top 15 defense in yards allowed. Those Lions gave up an obscene 2,744 yards rushing suggesting that they were uncertain about the rules. These Browns gave up 1,000 yards less and were often quite tough against the run. Both offenses stunk, but the Browns offense certainly wasn't any WORSE than that Lions offense. Those Lions lost by less than a touchdown twice; these Browns lost by less than a touchdown five times. Sunday was the fifth.
Yes, I think the 2017 Browns were a better football team than the 2008 Lions.
And that makes their 0-16 achievement more majestic and masterful and impressive. It was a miracle, really.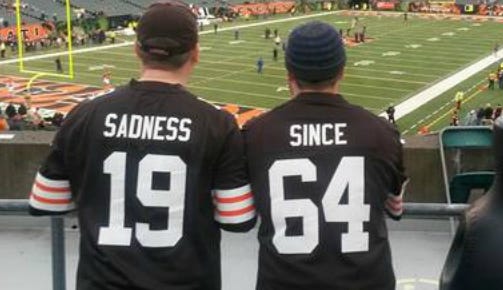 One True Statement
Before last season only nine teams in NFL history had gone 1-15 and only one had gone 0-16. The Browns have done both in consecutive two seasons -- under the same coach. Hue Jackson said after Sunday's game, "I don't think anybody else could have did this," and while it wasn't the most grammatical statement he's ever made, it was probably the truest.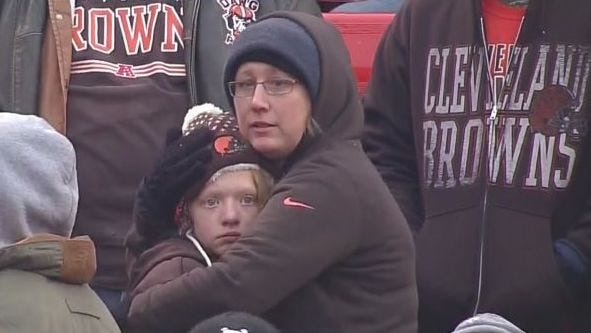 Pretty Tough
Corey Coleman's nickname in college was "Pretty Tough," apparently because whoever came up with it intended the two words to be treated separately. See, Corey Coleman is PRETTY off the field and TOUGH on the field, Pretty Tough or, perhaps better, Pretty/Tough.
Unfortunately, the nickname seems to fit better as a combination of words; it has been a pretty tough NFL career so far. Coleman was the first receiver taken in the 2016 draft, a rare attempt by Cleveland Browns management to use a "draft choice" to "get a player." They must have really liked Coleman to actually take him rather than flipping that pick for a first rounder in 2025 plus a conditional third-round pick the year we lose the war with intellegent apes.
In Coleman's second game as a pro, he caught five passes for 104 yards and two touchdowns, and it seemed like, hey, this might work out. Coleman looked fast and elusive and like a guy who would make big plays for a team that desperately needs them. Then he got hurt and all that ended.
It has been pretty tough ever since. A typical Corey Coleman game these days involves two or three steps:
Step 1: You forget that he's on the team.
Step 2: He commits a holding penalty to remind you.
Step 3 (Optional) He drops a pass.
The third step is optional because the Browns don't always throw him a pass, and even when they do, they don't always throw him a pass good enough to be dropped. But Sunday they did. Sunday -- it happened to be on fourth down, late in the fourth quarter, with the Browns trailing Pittsburgh by four -- Browns quarterback DeShone Kizer had what I would consider his best moment as a professional. The Browns needed two yards for a first down to give themselves a bonafide chance to beat Pittsburgh's second-string, and Kizer dropped back, couldn't find anyone, appeared to be sacked, somehow eluded the tacklers and (this was new) looked up the field to see that Coleman was wide open. He then (this was also new) flipped a sweet little pass on the run.
Coleman flat dropped the ball. This was not new. It was pretty tough.
"That play will be remembered," Hue Jackson said. It probably won't be. The hope is we can forget this whole season.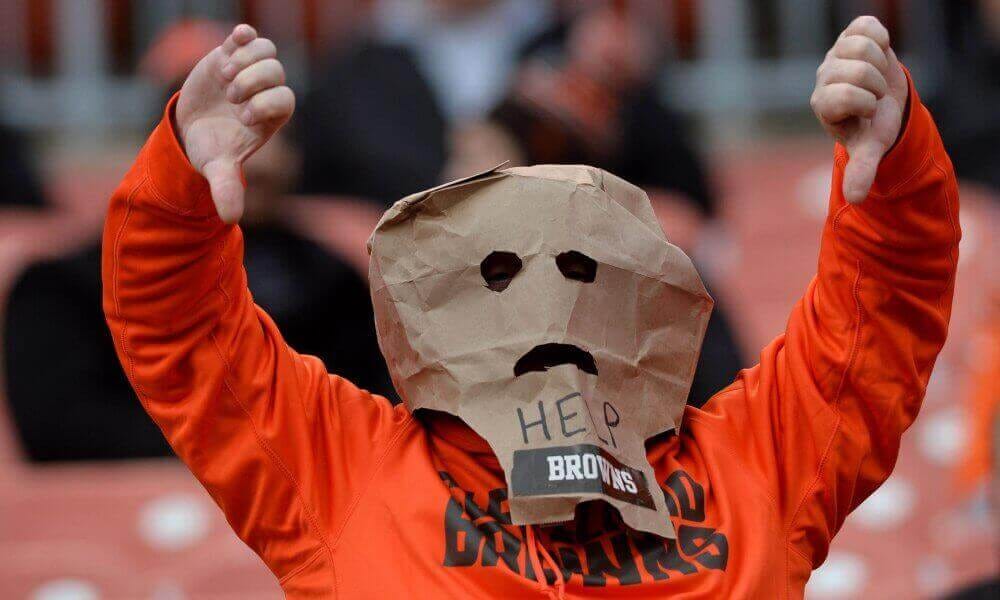 On bullshit
I have been friends with Bill James now for, yikes, I guess it's close to 20 years, and while he has taught me a great many things I would say that the enduring lessons have involved bullshit. I think of our conversations about Derek Jeter's defense -- and why there was this insistence that he was a good defensive shortstop when all evidence seemed to suggest he was not. It wasn't just one defensive metric that showed Jeter to be a poor defender; it was all of them. And the more intelligent and inventive the metrics became, the more clearly they showed his defensive inadequacy.
But people just kept on saying that Jeter was a good defensive shortstop anyway. He won five Gold Gloves. He inspired a million "You can take all your statistics and shove them because I've seen this guy with my OWN EYES ..." soliloquies.
Bill explained the reason to me many different ways but I particularly like this way, from 2007:
"Derek Jeter has a halo effect that would crush concrete. His teams win a lot of games, and he's likable and polite and the media loves him, so any area of performance that is poorly documented or poorly understood -- defense, base-running, clutch-hitting, leadership -- the media will use as a rag to polish Derek Jeter's trophies."
All year, I have known that this "the Browns play hard" bullshit would lead to something impossibly stupid. Week after week after week, announcers and writers and players and especially coach Hue Jackson have told us repeatedly and with absolutely no evidence that the Browns play hard; they have said it so often and with such certainty that it became accepted, not as truth but as something even more dangerous: As PLAUSIBLE.
How hard could the Browns have been playing? They went 1-31 over two seasons. No team in NFL history has ever done that. The defense forced 13 turnovers all year, the lowest total in the NFL. How hard could they have been playing? The Browns offense turned the ball over 41 times, by far the highest total in the NFL. How hard could they have been playing? The Browns consistently committed impossibly stupid penalties -- heck, just on Sunday they jumped offside on a field goal to give up a first down and roughed the passer on a third-down incomplete pass to give up another. How hard could they have been playing?
You could argue that not forcing turnovers or committing incredibly dumb penalties or losing week after week might not directly reflect on how hard the team is actually playing -- but this is precisely the point of bullshit. NOTHING reflects on how hard the team is actually playing. There is no good way, as Bill says, to document or understand it. What does it mean "The team played hard?" How would you know? These are empty calories. This is air. This is bullshit.
There is not one logical reason, not one, to believe that the Browns played hard. Two weeks ago, they played a Chicago team that had long before been eliminated from the playoffs and was also starting a rookie quarterback and was playing for a coach who was considered a dead man walking for weeks -- the Bears sure seemed to PLAY A LOT HARDER THAN THE BROWNS.
This week, they played a Pittsburgh team that did not start a single star player, a team of backups with a guy who basically had never played center snapping the ball, a team that had basically agreed to lose before the game even started -- the Steelers also seemed to PLAY A LOT HARDER THAN THE BROWNS.
That's just the last two weeks.
But people just kept saying this, kept saying it, until it became plausible. Plausible bullshit is the worst. Hey, maybe the Browns are playing hard, despite their unprecedented losing and blatant lack of progress and complete lack of discipline. Why would every announcer say it if it wasn't true?
And plausible bullshit led to Jimmy Haslam, owner of the Cleveland Browns and architect of the worst org chart in NFL history, standing in front of reporters to explain why he is bringing Hue Jackson back to coach next year.
"You could say a lot of things about us this year," he said, "but down to the last minute, two minutes, our guys played hard. And I think the primary job a coach has to do is provide leadership and I think Hue has provided great leadership."
Great leadership. This is where bullshit leads. Also here:
"I don't think anybody could have stayed in this job for two years and been 1-31," Jackson said. "A lot of coaches would have said uncle after last year. I know that. I think you guys do too. I think a lot of guys doing this would have said forget it. I'm not walking out on those players."
Yes, that's right, Hue Jackson doesn't just feel like he deserves to keep the job ... he wants credit for NOT WALKING OUT, like all those other coaches who have quit because the losing simply got too rough, all those coaches I cannot name and neither can you. He wants us to believe that another coach would have walked away from their $5 million NFL head coaching job because they couldn't handle it.
Ah, the power of bullshit.
"Two years ago, Hue Jackson was one of the hottest assistant coaches around," Jimmy Haslam said. "I don't think Hue has lost his magic."
Bullshit.
"Our record is unacceptable and we accept full responsibility for that," Haslam said.
Bullshit.
"Our guys fought hard all year," Jackson said. "We just didn't have enough."
Bullshit.
https://twitter.com/twithersAP/status/947583151123070979
No bullshit.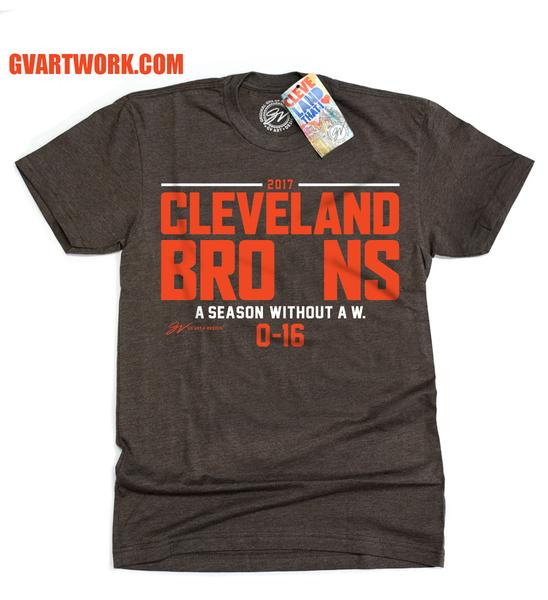 Why we hope
Here's the hardest part of being a diehard fan: Even when your team does impossibly idiotic things, you're stuck rooting for them anyway. It's part of the terrible pact that you never signed. I happened to be born in Cleveland. If I had been born even 60 miles East, I might have been a Pittsburgh Steelers fan and I'd have six Super Bowl trophies dancing in my memory. But I was a Clevelander through and through and when I was seven years old, I was in a bowling alley -- this is absolutely true -- and I heard grown men on my Dad's bowling team arguing whether Mike Phipps or Brian Sipe should be the Browns' quarterback, and I wanted to know what that was all about. I didn't know what I was signing up for; you never really do.
But once you've made the deal with a team like the Cleveland Browns, you can really only do one of two things:
1. Quit
2. Hope
Quitting, as the courageous Hue Jackson has shown, is not really an option, so we seek hope. It isn't easy. The Browns are an absolute mess, and I mean from the top down. They apparently have a system -- this is that org chart I was referring to earlier -- where GM John Dorsey, coach Hue Jackson and draft-pick accumulator Paul DePodesta all report directly to the owner. That's a good way to make sure nothing good ever happens. Everyone with a direct line to the owner, whose expertise is truck stops , leads to drafting Johnny Manziel on the advice of a homeless man, leads to a failure to acquire Jimmy Garoppolo even though they were dying to get him and had 17,000 spare draft pick, leads to the team making a trade before the deadline but forgetting to actually turn it into the league.
This is a system where an owner hires a good football guy like John Dorsey only on the condition that he keep Hue Jackson as his coach.
But what choice do we Browns fans have? We must hope. So we hope that Haslam will reorganize things so that everyone answers to John Dorsey, who is the one football guy in all of this who inspires any faith.
We hope that Dorsey or Haslam or someone convinces or compels Hue Jackson to hire an offensive coordinator because as bad a job as Jackson has done preparing a team to win games, he has proven even worse at putting together the Browns offense.
We hope that the Browns actually take good players with their draft picks this year -- they have the first and fourth pick -- and are active in free agency. Get players, guys. Get good players.
We hope that the Browns not only take a quarterback with the first pick (assuming any quarterback will be willing to come out into the draft and be taken by Cleveland) but that they also overpay for a veteran quarterback, like A.J. McCarron; I'd be fine if they drastically overpaid for a really good one like Alex Smith or Kirk Cousins. This Browns quarterback fiasco has gone on for almost 20 years.
We hope that Hue Jackson -- as bizarre as all of this is -- does flash some of the coaching talents that he showed as an assistant in Cincinnati and even in his one year as head coach in Oakland. This has never been personal; I like Hue Jackson. I think a lot of us like the guy. I don't know that I can name a single good thing he has accomplished as Browns coach, but he's personable, he generally doesn't make excuses (though that part of his game has withered in recent weeks), he has shown in the distant past an ability to build an offense, and the players seem to like him. I agree with Tom Withers; bringing Hue Jackson back defies all reason, but he's coming back anyway. All we can do is hope.
And there are some players to work with. Let me talk actual football for a few paragraphs:
On offense: Josh Gordon returned and if he can stay clean and healthy, he's a big-time player. The offensive line when Joe Thomas returns should be pretty good; the Browns guards Kevin Zeitler and Joel Bitonio are top notch. I suspect the Browns will get a running back to join the versatile Duke Johnson -- Isaiah Crowell has probably complained about not getting the ball enough for the last time -- and another receiver or two. WIth a good quarterback, they could take a step forward.
On defense: Defensive end Myles Garrett made a lot of mistakes -- a LOT of mistakes -- but what a force. Put the perfectly acceptable Emmanuel Ogbah on the other side, fill the middle of that line with Danny Shelton and the super-promising Larry Ogunjobi, and that defensive line has a chance to be special. This, to me, was the best thing that came out of 2017 (not that it was a long list). For the first time in forever, the Browns have a chance to have a unit that is not just good but superior. Build around this defensive line.
The linebackers were pretty dreadful -- everyone sang the praises of middle linebacker Joe Schobert who did make a lot of tackles, but realistically a lot of that was because nobody else did.
The secondary was kind of blah -- the corners seemed fine, and Derrick Kindred was pretty stout at safety. But he had to be because it was a disastrous season for rookie Jabrill Peppers. I don't blame him entirely; I think he's a perfect example of the Browns drafting a player with particular talents and then doing everything in their power to blunt those talents with how they use him. Jabrill Peppers is lost in space (Danger Will Robinson!). Put him out there where has to make open field tackles or has to make quick geometric calculations, and he is entirely helpless. Even armed with this knowledge, Browns defensive coordinator Gregg Williams (who I thought had a very shaky season, but he's coming back too) put Peppers 25 yards off the ball where he had absolutely no chance. Maybe with an offseason to refigure things, Williams will find a place for Peppers, who is fast and dynamic and I dare believe cane be a useful NFL player.
This team COULD turn around fairly quickly. Add a real quarterback, a handful more playmakers, a dash of confidence and a whole lot of administrative competence, and this could happen. Do I believe it will based on what the Browns are doing now? Do I really believe that this group can turn things around?
I'm a Browns fan. What choice do I have?