The Torre Game
On July 21, 1975, Joe Torre came to Shea Stadium believing that his slump, finally, was over. He had just turned 35, three days earlier, and he celebrated by cracking three hits against his former team, the Braves. He needed that. For about a month, he hadn't hit a thing -- .179 with just three extra-base hits -- and people had started whispering. He knew those whispers. He didn't ever want those whispers to be about him.
This wasn't at all what he thought it would be like coming home to New York. But that slump was in the past, he just knew it. Torre got three hits on his birthday and then the two days later, on July 20, he got three more against Houston. He came to the ballpark the next day like he always had before -- ready to make history.
And the Astros had just the right guy on the mound -- Ken Forsch. Torre loved facing Forsch. They had matched up 22 times, and Torre got 10 hits, a .454 average, with five of those hits for extra bases. It was going to be a good night. He could feel it.
He came up in the first inning with Felix Millan on the first base after a single. It was a warm Monday night in New York, 13,000 or so in the stands. The Astros were terrible. The Mets were hovering around .500.
Torre mistimed a slider and bounced it back to Forsch, who began the 4-6-3 double play. Torre kicked himself. "That was a good pitch," he would say. Forsch agreed. "I got away with one there."
Still, he felt good, felt like he was seeing the ball. In the third, he came up again, this time with two runners on -- Del Unser and Millan had both singled. Forsch threw him another slider, a nice pitch to hit, and Torre turned on it. He bounced it to shortstop to begin another double play.
When Torre came up in the sixth, the Mets trailed 6-1 and the crowd was already beginning to scatter. The game was moving at a breakneck pace -- it would last less than two hours -- and it had this meaningless July game vibe about it, like everyone was just going through the motions. When you play 162, there are just days like that. Millan poked an opposite-field single, his third hit of the day. Torre followed, went after another Forsch slider and punched it to the right side, a tailor-made 4-6-3 double play.
"I threw him sliders," Forsch said, "and he just kept hitting them into the ground."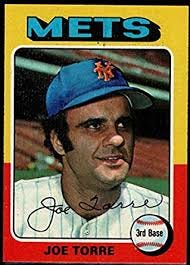 Hitting into three double plays tied the National League record, a record Torre believed that he shared. "I had hit into three double plays before," he told reporters, and they reported that he was one of 19 National Leaguers to have hit into three double plays. But ... I cannot find a record of Torre hitting into three double plays before. He'd hit into two double plays 16 times, but unless it's missing from the Retrosheet Database, he had never before hit into three.
But, well, you know what's coming next.
"Sure, I thought of the record," Torre said of what was going through his mind when he came up in the eighth inning with, yes, Felix Millan on first base. Millan had smacked his fourth hit in a game for the first time that season. "I guess that's what he gets for being hot," Torre said, and then he frowned. "No," he said, "I guess that's what I get for him getting hot."

Forsch threw Torre a slider that caught way too much of the plate and Torre got a good swing at it ... but fouled it off. The next pitch, another slider, was off the plate, Torre would call it the only bad pitch he swung at all night. He grounded it to shortstop for the fourth double play of the day, still the National League record.
"I was anxious to get a hit and send the runners home," Torre said of the historic final at-bat. "The thing on my mind was not to hit into the double play. But if I was REALLY concerned about it, I would have struck out."
Do ballplayers have as much fun at their own expense these days? I don't know the answer to this, I'm just asking. The papers were filled with pretty funny jokes about Torre's four-double-play day. I wonder if that would happen now -- maybe it would.
The five best lines, I think:
Torre on his achievement: "You've got to get lucky. You can't do things like that all by yourself."

Yogi Berra on what it means: "I hit into three double plays once with the Mets. That's what made me quit."

Torre on his legacy: "It's all right. I'll tell my kids I hit four bullets. You can hit into four double plays with four line drives, you know."*

Torre on retirement: "I'm gonna buy a shortstop and put him in my den. At night, when I'm lonely, I'm gonna go downstairs and hit grounders to him."

Tom Seaver on Torre leaving the ballpark: "Might be better if you ride in the trunk of my car."
Sadly, there was no Topps' record-breaker card made for Joe Torre's four-double-play game. That would have been great.
Finally, we should say a few words about Felix Millan. As mentioned, that was the first time in 1975 that he had four hits in a game, and he was erased all four times with Torre double plays. Crazily, though, Millan had another four-hit game five days later (including the game-winning hit). Two days after that he had ANOTHER four-hit game, this time scoring three runs and driving in another three in a victory.
When asked the secret, he smiled. "I'm using Joe Torre's bat," he said.