The Toronto Trio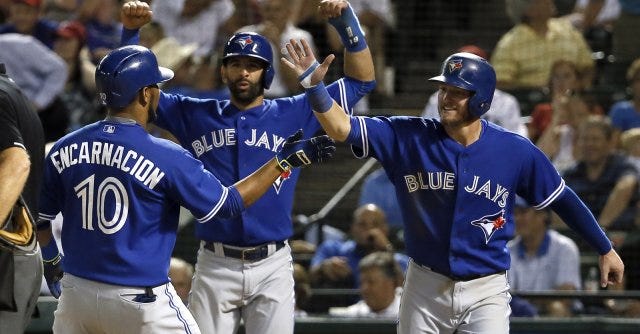 I have some fun with numbers when discussing the incredible years of Josh Donaldson, Edwin Encarnacion and Jose Bautista (DEB!) and again make the case for Duane Kuiper in the Hall of Fame.
To prove this, of course, you can just show the numbers for each of the three. The numbers (entering Thursday) are really good and tell their own story:
Josh Donaldson: .301/.371/.574, 40 doubles, 39 homers, 117 runs, 120 RBIs.
Edwin Encarnacion: .277/.371/.550, 31 doubles, 35 homers, 86 runs, 105 RBIs.
Jose Bautista: .250/.373/.527, 36 homers, 102 walks, 103 runs, 105 RBIs.
Stunning, no? But the trio – let's just call them DEB (Donaldson, Encarnacion, Bautista) — deserves more than that. DEB deserves a statistic it can call its own. I mean, how often does it happen where three players on the same team hit 35 home runs, right? It's crazy; seriously, how often does that even happen? How often?
Well, actually … yeah, how often does that happen?