The Springsteen Song Hall of Fame
Well, you might remember -- and "might" is the key word since I did this a long time ago -- I put up a survey asking people to vote for their favorite Bruce Springsteen songs so that we could start the Bruce Song Hall of Fame. This was a two step process. In the first step, I asked people to nominate songs which led to all sorts of mayhem where songs like "I Hate Bruce Springsteen" and "Jack Morris" were nominated. But about a thousand people participated and I put together a list of the 30 most mentioned Springsteen songs.
The second part involved people voting for their 10 favorite songs on the list, in order. More than 2,000 people voted. I have calculated the results using the accounting firm of PricewaterhouseCoopers or, anyway, my own meager math skills -- 10 points for every first place vote, nine points for every second-place vote, eight points for every third place vote and so on.
And so... without further delay ... here in the first class of songs to be inducted into the Bruce Springsteen Hall of Fame. Induction day date and ceremonies will be announced in the future.
* * *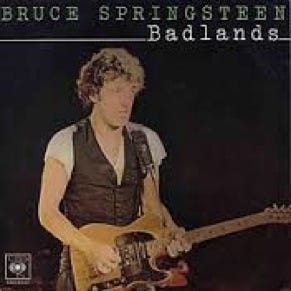 Badlands Released: August 1978 Album: Darkness on the Edge of Town Inspiration: The Animals "Don't Let Me Be Misunderstood."
If you listen to the opening of "Don't Let Me Be Misunderstood," you will note that the song more than inspired "Badlands" -- it practically gave birth to Badlands. Springsteen himself has called "Badlands" grand theft.
I've often thought that "Badlands" is Springsteen's best concert song, which might make it his best song. Darkness is such an enthralling album because so many conflicting emotions were running through Springsteen when he recorded it. It came out three years after Born to Run -- three turbulent years that entirely changed Springsteen's life. Before recording the Born to Run album, Springsteen wanted. What did he want? Everything. Success. Love. Passion. Fun. Escape. Born to Run is all about yearning, about getting out, about that meeting across the river, about loving Wendy with all the madness in his soul.
Darkness, though, is about the disappointments that come after, the petty fights of adulthood, the anticlimax of achieving fame and, well, yeah, the darkness on the edge of town.
The power of "Badlands," I think, is in the lyrics. Man, Springsteen could really write songs then. Every word of "Badlands" is frustration, impotence, anger, every word shouts out this strong but rapidly fading prayer for love and hope to overcome the dreariness and pain. If you listen to the words you find that the narrator is not really hopeful. He's almost at the end of hope.
"Badlands" has one of Springsteen's most famous verses: For the ones who had a notion A notion deep inside That it ain't no sin to be glad you're alive
But what many miss is that's not where the verse ends. The narrator is saying to those who HAD a notion that it ain't no sin to be alive, well, he has a message for them:
I wanna find one face that ain't looking through me I wanna find one place I wanna spit in the face of these badlands.
That doesn't sound like the narrator is approving the message of hope. It sounds like he's still looking for that notion, and he's losing faith that he will ever find that notion that it's no sin to be a alive, become more and more convinced that the notion might be false.
I think, like all great songs, Badlands has grown over the years. If you listen to album version of it, I think it's pretty clear that Springsteen was saying that life's a losing fight, that in the end you can keep pushing the but badlands will never treat anyone good. But if you listen to Springsteen perform the song now -- and the way the crowd sings along -- you get the sense that he has found the faces not looking through him, the places that can raise all of us above the badlands.
* * *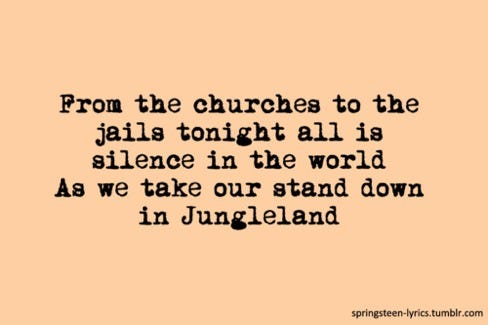 Jungleland
Released: August 1975 Album: Born to Run Inspiration: Perhaps Bob Dylan's "Desolation Row"
I would say the biggest surprise of this Springsteen Hall of Fame first class is that Jungleland beat out many songs that I think are significantly more famous. But I'm thrilled about it. Jungleland, probably more than any other single song, is why I became a Springsteen fan.
I came to Springsteen late -- Born in the USA came out when I was in high school, and I bought the album because everyone bought the album. I liked it well enough, but at that point I saw Springsteen as a pop singer/songwriter, not unlike Elton John or Billy Joel or, Lord help me, Phil Collins. I was almost entirely unaware of his history. He was the guy who pulled the super cute Courtney Cox on stage for Dancing in the Dark. And the guy who looked kind of goofy pitching in "Glory Days."
I probably can't recount the exact order of my Springsteen awakening, but I fear it had something to do with the movie "Eddie and the Cruisers." That movie was on cable more or less 24 hours a day just when we got cable. That really was a pretty terrible movie, but it had something magnetic about it, and I probably saw it 20 times. I remember a friend telling me that it was really kind of a Springsteen ripoff. I'm pretty sure that inspired me to go back and buy "Born to Run," which I loved immediately.
And the most extraordinary part of Born to Run for me was listening to "Jungleland" while reading along the lyrics that were included. I don't think I'd ever done that before -- listen to music and follow the lyrics. Everything about Jungleland felt like a new experience, even though the song was already 10 years old. The imagery was absurdly alive right from the first word ("The rangers had a homecoming/in Harlem late last night"). I still feel all of it. The city lit up by the giant Exxon sign. Kids flashing guitars like switchblades. The local cops as Cherry Tops.
Then you throw in Clarence's gorgeous solo. You throw in Suki Lahav's piercing violin. You throw in the way the song's pace picks up and slows down, comes to a stop, begins again ...
Beneath The city Two hearts beat. Soul engines running through a night so tender
I think I listened to Jungleland a hundred times those first few weeks in trying to unlock how it made me feel. I guess, based on the voting, a lot of people had that reaction.
* * *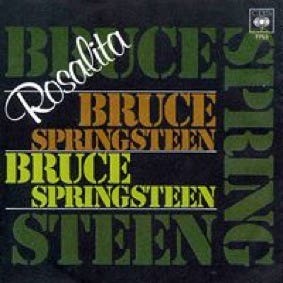 Rosalita (Come Out Tonight)
Released: September 1973 Album: The Wild, the Innocent & the E Street Shuffle Inspiration: Springsteen's Life
I'm not sure what anyone can write about Rosalita that captures the song's joy, its hunger, its optimism and its mischief. I sometimes think of the quirky fun of opening up Russian nesting dolls. You keep opening them thinking, "OK, this is the last one, there's no way they could fit a doll inside this one. And when there is one inside, there's this sweet feeling of surprise and happiness. That's Rosalita. Every time you think the song can't soar any higher, can't be any happier, can't push to 11 ... it blasts off again.
Lately, my kids have been forcing me to watch the X-Men movies; I shouldn't say "forced" because I actually like them a bit. The thing I like most, I think, is seeing these people with super-powers they can't really control. They're indiscriminately shooting lasers all over the place, and they're mistakenly sending people into comas and they're turning stuff into ice by mistake (or is that "Frozen?"). There's some of this in the early Harry Potter too. I'm fascinated by efforts to harness great power.
This is how I've come to think of Springsteen's younger years. I imagine him having imagery and rhymes and thoughts and dreams and music rushing at him nonstop in bold and blue lightning bolts. And he's so young he has absolutely no way to control it or organize it or modify it. "Blinded by the Light" is one of my favorite songs off Bruce's first album for just this reason: It's a mad attack of rhymes and weirdness and desperate ambition and tiny bits of genius.
Rosalita is like that too -- only with more genius. What can you make of this:
My tires were slashed And I almost crashed But the Lord had mercy My machine she's a dud And I'm stuck in the mud Somewhere in the swamps of Jersey Hold on tight Stay up all night Cause Rosie I'm coming on strong By the time we meet The morning light I will hold you in my arms This is just Bruce full of energy, full of lust, full of life, full of himself, full of love, full of fun, full of ambition just unloading everything inside into a song. It's a messy, sweet, funny, powerful song that just crashes over you like a giant wave. You know listen to Rosalita; you are knocked down by it. Bruce has called it the greatest love song he ever wrote. I don't actually agree. He wrote some other amazing love songs -- including the amazing stuff on Tunnel of Love and a couple of songs that will be inducted into the Hall with Rosalita -- but I do think this: He never got closer in a song to what it feels like to be YOUNG and in LOVE. Few have. The Beatles with "I Want to Hold Your Hand." REM's "Nightswimming." I actually put John Cougar Mellencamp's "Jack and Diane" on the list, along with Little Richard's "Tutti Frutti," Ray Charles' "Mess Around," maybe Journey's "Don't Stop Believin'," Prince's "Little Red Corvette," Nirvana's "Smells Like Teen Spirit," and Icicle Works "Birds Fly (Whisper to a Scream"). A lot more but those are a few that come to mind.
Just glad the the record company gave Bruce that big advance.
* * *
Thunder Road
Released: August 1975 Album: Born to Run Inspiration: Roy Orbison's "Only the Lonely."
Everything about Thunder Road is perfect. Absolutely everything. The beginning -- "The screen door slams/Mary's dress waves." The ending -- "I'm pulling out of here to win." The piano. The slow opening. The way the pace picks up. And those beautiful lines.
Roy Orbison singing for the lonely. Hey that's me and I want you only.
You can hide 'neath your covers and study your pain Make crosses from your lovers, throw roses in the rain. Waste your summer praying in vain for a savior to rise from these streets.
There were ghosts in the eyes of all the boys you sent away. They haunt this dusty beach road in the skeleton frames of burned out Chevrolets.
Ghosts in the eyes. Perfect. This is Springsteen's most perfect song, I think. Badlands is the best concert song. Rosalita is the most fun song. The Promise is my favorite. And Thunder Road is the most perfect song.
* * *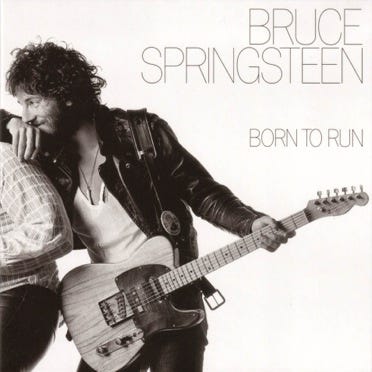 Born to Run
Released: August 1975 Album: Born to Run Inspiration: Rock 'n roll
Born to Run edged out Thunder Road with the most points in our poll, which is no surprise. It is Springsteen's most famous song, his most popular song and, frankly, his anthem.
I've written about Born to Run countless ties and can only think of one more thing to add here. Among the countless things I love about BTR, perhaps the biggest is that Springsteen was unabashedly trying to write the greatest rock song ever. No false modesty. No hidden agendas. He wanted to write the best rock song ever.
I love that. Once when I was in Augusta, Ga., I wrote a column about an inner-city quarterback who had the most fantastic arm you ever saw. He wasn't a great prospect, I guess, and I'm not sure what his grade situation was, and as far I know he never went on to college football. Maybe he did -- I lost track of him. But his coach called me up one day and said, 'Listen, you have to come out here and see this kid throw."
So I went out to the practice and ... it really was staggering. It looked almost like an optical illusion. Every time he threw, it looked like the ball was pulled out his hand by some invisible rope attached to a rocket. I mean: it was stunning. I watched him throw blistering 30- and 40-yard outs with flicks of the wrist, He threw so hard nobody on the team could catch the ball. I saw him throw passes with the ball 70 or 80 yards in air like he was playing catch in the backyard.
He was a nice kid, from what I remember, and I talked to him for a while. I asked how far he could throw the ball. He shrugged and said he didn't know, he never tried to throw it as far as he could. I asked him why not, and he shrugged. "Maybe I'll try sometime," he said. It was strange, and it was something I've thought about a lot since then. I keep thinking that there is something that holds a lot of us back, something that keeps us from ever giving that last ounce of effort, the ounce that we would rather keep for ourselves. I've seen that a lot, I've felt that a lot too -- it's almost like we would rather not know where our limits reach, would rather live with the possibility of missed success than the certainty of intensive failure.
Maybe that doesn't make much sense. The great Richard Ben Cramer, on Ted Williams, wrote: "Few men try for best ever." I think that's right. Springsteen wanted to try. He unleashed every single thing he had inside an effort to write the best rock 'n roll song ever. The result was Born to Run. Rolling Stone, in their Top 500 songs, ranked it the 21st best song ever recorded. Others have it higher. Others have it lower. Whatever the ranking, it was one hell of an effort.