The Poscast Ep. 1 -- We're Back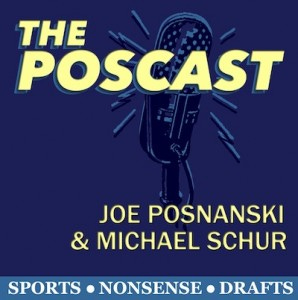 Yes, the Poscast -- despite absolutely 0.0 demand -- is back and clocks in at a mere 55 minutes, our shortest recorded Poscast ever!* Michael Schur is executive producer of Parks & Recreation and Brooklyn Nine-Nine. There were all the usual technical issues . We discuss his absurd good fortune with the Red Sox winning AGAIN, we talk a bit about replay in baseball and we draft sports nicknames, a draft I definitely won.
*Several podcasts were shorter but this was became the recording stopped in the middle.
I'm told by one of the nation's leading podcast experts -- my longtime friend Rob Walch -- that it is now up on iTunes.
And for those of you who don't use iTunes, I think you can download it here.