The Pat Tabler Experience
In 1983, Pat Tabler came to the plate 22 times with the bases loaded. He hit .579 and drove in 25 runs. A year later, he came up 13 more times with the bases loaded and he hit .556 and cracked his first grand slam. One year later, in 1985, he only came up seven times, but he got six hits -- including a double, triple and home run -- and knocked in 15 RBIs.
These 42 plate appearances earned him one of my favorite ever baseball cards -- the Pat Tabler Mr. Clutch Donruss Card of 1986: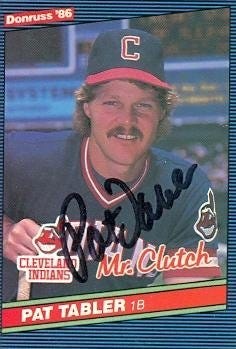 Pat Tabler's glorious numbers with the bases loaded those three years -- for the record, he hit .629, slugged .1029 and drove in 54 RBIs in 35 at-bats -- was one of the joys of my Cleveland Indians childhood. Well, there weren't many joys of my Cleveland Indians childhood. There was Len Barker's perfect game. There was Rick Manning's Gold Glove. There was Joe Charboneau's rookie of the year. There was Duane Kuiper's regular appearance in the fielding portion of "This Week in Baseball." There was Andre Thornton winning comeback player of the year from the Sporting News in 1982, and that was a REAL comeback: Thornton endured personal tragedy (his wife and young daughter died in a car accident in 1977) and injuries (knee injuries kept him out of the entire 1980 season ) and, anyway, simply coming back at all to the Indians in those days took some moral fiber.
Then there was Pat Tabler's Mr. Clutch streak.
I think about Tabler now because of an email sent by Tom Tango referencing a contradiction in my Strat-O-Matic post. On the one hand, I say I don't like the horseshoes on Strat-O cards that reference a players ability to hit in the clutch (I have been told by several people that these were actually added to regulate a player's RBI totals so that they somewhat mirror what happened during the season but it's the same general thing). On the other hand, I say that I did like the fact that Statis Pro gave Matt Alexander a ridiculously awesome card in 1979 when he only had a few plate appearances. "Pick your poison," Tom writes. "Do you want to reflect that card relative to what we observed? Or do you want to reflect the card after removing the ESTIMATED random variation?"
I told Tango that I fully embrace that I'm being inconsistent ... but it's mainly because I was 11 years old when I loved the Matt Alexander card. I think that card was ridiculous but wonderful at that point in my life.
In any case, Tango brought up Pat Tabler and I thought back to a question: How much of what Pat Tabler did those three years was luck and random variation? When I was a kid, I was pretty confident that NONE OF IT was luck. The guy was Mr. Clutch. It said so right on his card. Something came over him when the bases were loaded. True, the year the card came out he hit .200 with the bases loaded, which I recall was talked about quite a bit. It's also true that in 1989, he went 1-for-11 with two double play grounders -- and it seemed that whenever he came up with the bases loaded that year, the radio announcers talked about how he was Mr. Clutch which just accentuated the disappointment.
After all that, I started to go the other way -- maybe it was ALL luck. We all know that seemingly crazy patterns emerge when dealing with the vagaries of probability. If you flip a coin a million times there will be some crazy run by one side -- maybe heads or tails will come up 20 or 25 times in row. If that happened THE FIRST 20 times you flipped the coin, you would be convinced (with reason) that either the coin is tricked up or that you have mastered the art of flipping a coin.
In his whole career, Pat Tabler only came to the plate with the bases loaded only 109 times -- a small percentage of his own career (Tabler had more than 4,300 plate appearances in the Majors) and an almost insignificant percentage of all that plate appearances of all the players in baseball. I wouldn't know how to run the probability, but my guess is that it's well within the standard deviation for SOMEBODY who is already a good hitter to have Pat Tabler numbers with the bases loaded.
But now I'm older ... and I tend to take a more measured view of everything. I suspect that Tabler's great run with the bases loaded (and he hit great again with the bases loaded in 1987 and 1988) was in part randomness but was in part something else, something like confidence.
In my upcoming book, The Secret of Golf, I include golf lessons from Tom Watson and Jack Nicklaus that I think of being a little bit bigger than golf. In quite a few of them, they talk about how instrumental confidence was in their rise to becoming the best golfer in the world. It wasn't false confidence or bravado -- they would visualize a shot and know that they could hit it because they had hit it successfully so many times before in practice, in matches, under pressure, in the big moments. That's what Tom Watson says he was thinking when he chipped in a Pebble Beach: I'm going to chip this in. I've chipped in shots like this many times before.
And I think Pat Tabler got a few hits with the bases loaded and he started to gain that kind of wonderful confidence. Hey the bases are loaded! I love it when the bases are loaded! I get hits when the bases are loaded! That sort of confidence doesn't guarantee anything, of course, and there have been pretty convincing studies about the hot-hand in basketball that show that making your previous three shots doesn't making the fourth shot any more likely to go in. But I do think that if you start off with a good hitter like Pat Tabler, have him succeed with the bases loaded a few times, build his comfort and conviction in that situation ... well, maybe he can't turn into the superhero Mr. Clutch but he can improve his chances just a little.
I guess this comes back to the question of clutch hitting ... For years, announcers and players and analysts and sportswriters jammed the "clutch hitting" narrative down our throats, insisted that certain players had that ability to come through when it mattered and certain players did not. I don't believe that. I am thoroughly convinced that there is no magic switch that turns on or off for hitters in key situations.
But I don't believe that there's nothing at all to performing under pressure. I do believe that confidence, faith, nerve, preparation (both mental and physical) does give an athlete a better shot of succeeding. There's no doubt in my mind that Pat Tabler in those three years didn't FEEL like a statistical anomaly. He felt like a guy who turned on, like Popeye with spinach, every time he came up with the bases loaded. That boost of confidence couldn't turn someone like you or me into Mr. Clutch. But for a player like Pat Tabler, a first-round pick who twice hit .300 in full seasons and reached an All-Star Game, that boost of confidence just might have made a real difference.