The Mysteries of Novak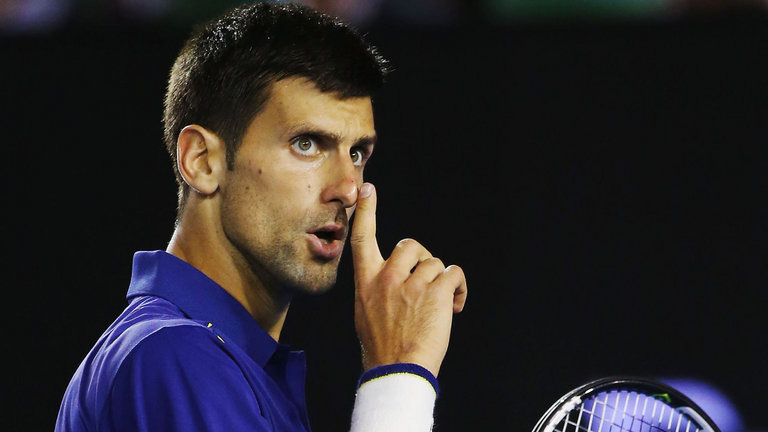 Saturday evening in Rome, Novak Djokovic utterly dismantled a wonderful young player named Dominic Thiem. In case you don't follow tennis too closely, this was kind of a big deal. Djokovic has been something of a mess the last year or so. Well, it was almost exactly a year ago that Djokovic beat Andy Murray in the final of the French Open to do the near impossible — win four Grand Slam titles in a row.
At that precise moment, Djokovic was playing at a level that, as over-the-top as it sounds, might have been unmatched in tennis history. There seemed no way to beat him. He moved the best. He missed the least. He returned serve better than any man ever had. He did the scariest thing of all, he turned an opponent's power inside out. The better the opponent played, it seemed, the greater Novak Djokovic became.
Before the French Open last year, Djokovic breezed in Australia (beating Kei Nishikori, Roger Federer and Andy Murray consecutive, losing just one set along the way). He played in four Masters 1000 tournaments — the biggest non-Grand Slam events of the year — and reached the final in all of them, winning three (Novak's only loss was to Murray in Rome when he looked exhausted). The French Open was his 12th Slam, putting him in the realm of the all-time greats. Take away a quirky five-set loss to Stan Wawrinka in Australia in 2014, and he had reached the semifinals in 23 straight slams.
The greatest of all time — it was there to be chased.
And then, something changed. It was subtle at first. He lost to American Sam Querrey at Wimbledon. Querrey did the one thing that seemed impossible against Djokovic: He overpowered Novak. But, you know, we wrote it off, a fluke. Djokovic did then win another Masters 1000 in Toronto, but there were rumors swirling around that he was having personal issues.
I was there in Rio at the Olympics when he lost in straight sets to Juan Martin del Potro. I have never seen anyone hit forehands like del Potro hit that day. Still, there was something oddly detached about Novak. He had made clear how important the Olympics were to him. And yet he lacked fight. More to the point, he seemed to lack MENTAL fight. One thing that had marked Djokovic through the years was his ability to adjust, to get mad at himself and scream at the people in his box and change shirts and then reinvent himself. He would develop new strategies, try different things until he found something that worked.
But on this day, Djokovic kept just hitting right into del Potro's forehand and kept watching helplessly as the winners whizzed by.
Djokovic reached the final of the U.S. Open — he breezed through an easy draw, getting three walk-over victories — but in that final, he again looked oddly powerless against Wawrinka. The thing about Djokovic's style is that, against the best players, he rarely gets easy points. He doesn't have the 140 mph serve. He doesn't often unleash a del Potro kind of forehand. He's a body puncher, someone who has to work through his opponents, unleash their demons, make them self-destruct, and it takes the most intensive concentration and will. When a Federer or Sampras or even Roddick was just a little bit off, they could cover it because of their immense weapons. But with Djokovic, even one-percent can make all the difference. Djokovic was not 100 percent present in New York.
And then: Blah. He lost to Roberto Bautista Agut in Shangai. He was blown off the court by Marin Cilic in Paris. He lost in straight sets to Andy Murray in London in the ATP Finals.
Then this year: He did beat Murray in Qatar to start off the year, and there were the "Novak is back" thoughts. But he was not back. He was beaten by the 117th ranked player in the world, someone named Denis Istomin, in Australia. The mercurial Nick Kyrgios beat him in straight sets in back-to-back tournaments. He lost to David Goffin for the first time in his career in Monte Carlo, his home. He was no match for Rafa Nadal on the clay in Madrid.
It all seemed so inexplicable. Djokovic seemed fine physically. He would play points, games, even full sets, as the artist formerly known as Novak Djokovic. But then there would be this, well, I began to call them "sleepwalk" moments. They would come at the craziest times. He would be serving on break point, and he would sleepwalk a forehand into the middle of the net. He would get behind a break, and he would sleepwalk the rest of the way, never making any sort of impact on his opponent's serve. He would for no apparent reason sleepwalk an absurd drop shot and miss it badly. He began bouncing the ball nervously and repeatedly when he served, an old habit that haunted him as a younger player. He seemed entirely unhappy on the court.
Off the court, he started doing weird stuff too — he cut ties with everyone who had worked with him through the years. His big-match guide Boris Becker: Gone. Coach Marin Vajda: Gone. Fitness coach Gebhard Phil-Gritsch: Gone. Trainer Miljan Amanovic: Gone. Those people had been with him for a decade or more, molding him, helping him develop, getting him into shape. There were apparently no hard feelings. It's just … something wasn't working.
"I am a hunter," Djokovic explained, "and my biggest goal is to find the winning spark on the court again."
All of which brings us to Saturday night, and Djokovic's utter destruction of Dominic Thiem. It was impossible tennis, just the way Djokovic used to play it. Thiem has been fantastic this year, and one day earlier he had beaten Nadal. But he had no answers for Novak. The harder he served, the harder Djokovic returned. The harder he hit his insanely hard ground strokes, the faster the ball came back at his feet. It was not just brilliant tennis, there was a sort of beautiful cruelty to it. Djokovic trapped Thiem, left him with no place to go. Thiem was game, but he was a broken player. After a set where Djokovic pounded him into oblivion, Thiem lost the second set all by himself. Djokovic won 6-1, 6-0.
"I couldn't really do anything against it," Thiem said, "because I was empty."
"It was my best performance of the year and maybe even longer," Djokovic said. "I'm overjoyed … I am so grateful to experience something like this because I have been waiting for it and working for it a long time."
Yes, he was back! This time Novak Djokovic really was back — and what a good time for it, with the French Open a week or so away. Sunday, he played in the tournament final against Alexander Zverev, everyone calls him Sascha, a 20-year-old German who many believe is tennis' next big thing. Zverev is a player with everything. Huge serve. Ridiculous forehand. Overpowering two-hand backhand. He moves well.
But this was also his first Masters 1000 final, and he had never played Djokovic before. Coming off the Thiem match, it seemed like this was a good setup for the Master teaching a few lessons to the Student.
Uh, no.
It will be hard to fully describe just how helpless Djokovic looked on Sunday. Give Zverev all the credit, if you like. He is a monster hitter from the baseline, his serve is a weapon, and he rarely showed any signs of nervousness, which is amazing considering the situation. He dominated the match from start to finish.
But Djokovic, well, it was clear from the first moment that he stepped on the court that he was not entirely sure why he had come. He double faulted the first point. He followed that with two dreadful unforced errors, looking like a weekend hacker on both. He was broken in the first game. And he never threatened to get the break back.
Sleepwalking. It was staggering. Sure, he hit some good shots. He had some good service games. He occasionally seemed on the brink of something good. But then he would have a couple of sleepwalking points where he sort of played aimlessly, hitting uninteresting and innocuous shots that seemed without purpose. He kept moving farther and farther back off the baseline, something Djokovic NEVER did before. He did not force a single break point. Zverev was serving well. He wasn't serving THAT well.
The second set was much worse. You wondered if Djokovic might dig in but he went the other way … it almost looked like he was perfectly content with what was happening, that he had already gotten what he came for with the great performance against Thiem. The first time he was broken, I called it before the game even began. You could just see him wilting before your eyes. On break point, he hit a nothing first serve and then slapped a nothing forehand into the net. It was hard to believe that this was the same guy.
The second time he was broken, anyone could predict it. It was the last game of the match. Djokovic had something of a meltdown the game before, gotten an obscenity warning, then followed it up with more obscenities that probably should have cost him a point. This wasn't screaming to fire himself up; this was screaming at the world. I think the man in the chair decided that taking away a point from Djokovic at that point wasn't worth the effort; he was going to take the points away from himself.
And Djokovic did. In the last game, Djokovic double-faulted to match point, then hit a groundstroke five feet long to mercifully end his uninspired day.
It was a banner day in tennis, a day when Sascha Zverev announced his presence. He should win a lot of tournaments in the years ahead. But for those of us who have thrilled to Djokovic's will and genius the last few years, it was, well, baffling. Is he bored? Drained? Burnt out? How could someone play such heavenly tennis and follow it up just a few hours later with that much of a dud?
After the match, Djokovic made an announcement: He is going to start working with Andre Agassi. It's unclear what sort of role Agassi will have. Will he be a coach? Guru? Mentor? Motivator? No one knows. In a way it does feel like an inspired choice because Agassi went through valleys in his glorious career too, valleys where he began to really hate tennis, valleys where he felt the weight of the world pulling him down, valleys where he sort of lost touch with the fighter inside.
On the other hand, who really knows? Agassi has made it clear he really doesn't want to be a full-time coach. Agassi and Djokovic are both smart guys, stubborn guys, and they might or might not click.
Whatever happens, this Djokovic thing is a mystery. Paul Annacone, a fantastic announcer on Tennis Channel, says what I think too: With Djokovic, it isn't about tennis. He's not hurt. He hasn't suddenly slowed down. The great tennis, it's still inside him. But to drill down and get to that great tennis, well, it takes confidence and commitment and a spark that apparently gets harder and harder to summon. On Saturday, Djokovic was able to drill down. On Sunday, he was not.
And it reminds me of a line that Tom Watson offered in the mid-1980s when his dominance in golf was beginning to subside. He had a good round, and a reporter said it must feel good to play like Tom Watson again.
"Yeah, I'm still Tom Watson," he said. "Just not every day."