The Mendoza Line
Mario Mendoza never hit .200 over a season. That might be a little bit surprising when you consider that his name is so deeply connected to that specific batting average of .200. But there's a lot that's interesting about the Mendoza Line, one of the most famous and fascinating ideas in sports (and a little bit outside of sports as well).
Mario Mendoza was a slick-fielding shortstop from Mexico. One story goes that a scout watched him field one ground ball and immediately knew -- from his grace, his arm, his presence -- that he was the real thing.
And his bat? Well, not to overstate things but: Who cared about his bat? Mendoza played in a time when slick-fielding shortstops played no matter WHAT they hit. They were just slightly better than pitchers at the plate. In Mendoza's first season in professional baseball, 1970, there were seven more-or-less everyday shortstops in baseball with an OPS+ of less than 60.
Hal Lanier, San Francisco .231/.265/.279, 47 OPS+

Jack Heidemann, Cleveland, .211/.265/.292, 51 OPS+

Mark Belanger, Baltimore, .218/.303/.259, 56 OPS+

Gene Michael, Yankees, .214/.292/.265, 56 OPS+

Larry Bowa, Philadelphia, .250/.277/.303, 58 OPS+

Cesar Gutierrez, Detroit, .243/.275/.299, 58 OPS+

Bobby Wine, Montreal, .232/..287/.303, 59 OPS+
I mean that's insane. It's to the point where you look at Bowa and Wine and think, "Oh, that's not bad, they did slug .300." But that's how it was then. In 1971, there were three regular shortstops with a sub-60 OPS+, the next year there were five, in 1973 there were five, etc.
In other words, nobody thought there was anything special about Mendoza. He fielded well. He couldn't hit. That was the story. Mendoza was a good enough fielder to get almost 700 games in the big leagues, and he wasn't notably worse at the plate in the 1970s and early 1980s than, say, Heidemann, Luis Alvarado, Luis Gomez, Dal Maxville, Pepe Frias or Jim Mason. The Mendoza Line could have been named for a dozen people.*
*In fact, Jim Mason seems to have a better claim to the line because: (1) His career batting average of .203 is much closer to the Mendoza Line than Mendoza's lifetime .215, and (2) His name is MASON. You're telling me they couldn't have done something clever with that name and a dividing line?
But Mendoza had the fortune or misfortune of playing in Seattle in 1979 with Tom Paciorek and Joe Simpson, two jokers who would go on to long broadcasting careers. That was Mendoza's first (and it turns out only) season as a semi-regular, and he hit .198, and Paciorek and Simpson made all kinds of jokes as ballplayers will. It's not clear that they specifically talked about the Mendoza Line, it seemed like it was more general "When are you going to hit your weight" kind of stuff.
Then, in mid-May, the Royals came to town, and George Brett was in a death-defying slump. For three weeks (April 20-May 11), Brett hit .195, dropping his season average to .244. He had a couple of two-hit games against the White Sox to bring his average up somewhat, but Paciorek was still ready.
"Man," he told Brett, "you keep going and you're going to drop below the Mendoza Line."
It's fair to say that Brett LOVED this concept of the Mendoza Line. Nobody had to explain it. Young people may find this concept to be entirely foreign and absurd, but back in the 1970s -- long before Baseball Reference or anything resembling it -- baseball fans (and players) used to wait impatiently for the Sunday paper, where you could read a list of the batting averages of players across the league. It looked like this: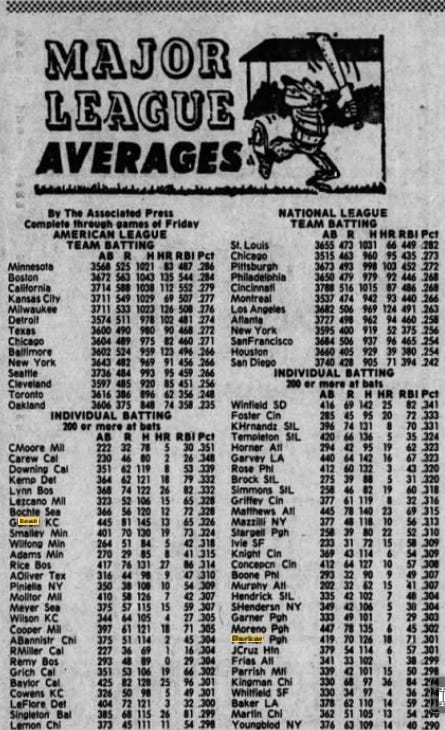 I cut that off at Chet Lemon (.298) and Joel Youngblood (.290) ... and I love that at this particular moment Charlie Moore is leading the American League in hitting*.
*One thing that is important to note was how INACCURATE these lists were. For instance, Charlie Moore was never 78 for 222 at any point in 1979. After the Aug. 3 game (and this is the Aug. 5 paper, just for an idea of how up-to-the-minute newspapers were back then) he was 78 for 224 and was hitting .348. The numbers never QUITE added up, which is why Bill James took to cutting out boxscores from The Sporting News and doing his own math.
Either way, Moore went into a horrific slump after this moment -- he hit .205/.250/.256 in his last 38 games and finished the year hitting exactly .300.
It's hard to relate just how important these batting average lists were to so many of us. I was one of a countless number who would pore over the charts, study them, memorize them, heck as you can tell by my Charlie Moore interlude, I'm still willing to do that now. And while we were intrigued by the top of the chart -- by the Carews, Lynns, Winfields and Roses -- we were mesmerized by the bottom of the list.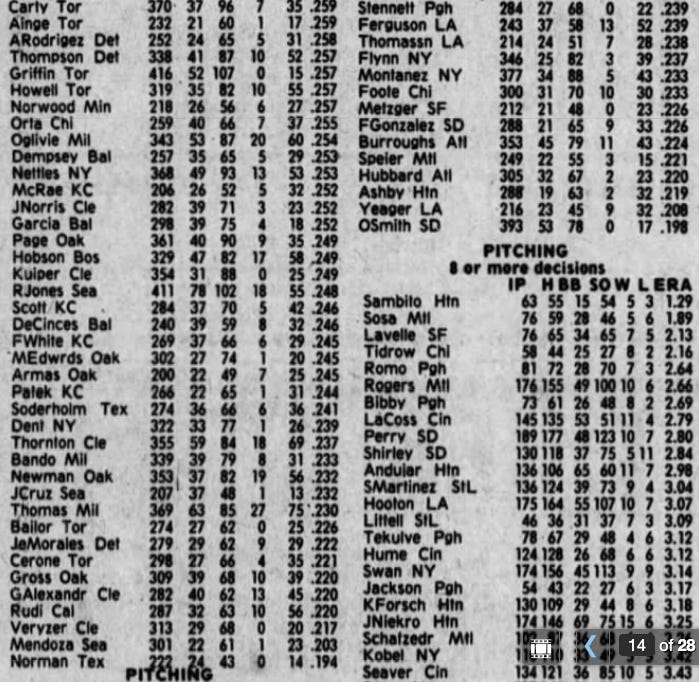 Oh, look at those names. Flynn! Veryzer! Speier! Foote! Dent! These players made up the lifeblood of baseball, they were proof of true baseball fanhood. Sure, everyone knew that Dave Winfield was hitting .341, but how many knew that Rick Cerone was down around .220? And in the National League, a couple of other catchers -- Alan Ashby and Steve Yeager -- were doing the same. And the kid in San Diego, extraordinary fielder, Ozzie Smith, he was hitting less than .200.
And there, standing out beautifully, was Mendoza, Sea., .203.
Only one player, the estimable Nelson Norman, was below Mendoza.
Or, to put it more lyrically, only one player was South of the Mendoza Line.*
*In this case, they did get Nelson Norman's numbers correct -- through Aug. 3, he was, in fact, 43 for 222 for a .194 batting average. But Norman got "hot," hitting .273 the rest of the way to raise his season average to .222, well above Mendoza.
Norman played just 28 more big league games, including. somewhat bizarrely, one game with Montreal in 1987. This was after a five-year absence from the big leagues. He had what the Montreal Gazette called a "nightmarish debut," went he went 0 for 4, didn't hit the ball out of the infield, and made a costly error when he failed to tag the bag on a double-play grounder. "He was just nervous," Expos manager Buck Rodgers said. "He's gotta be better than that." He didn't get the chance, he was immediately waived to make room for outfielder Razor Shines.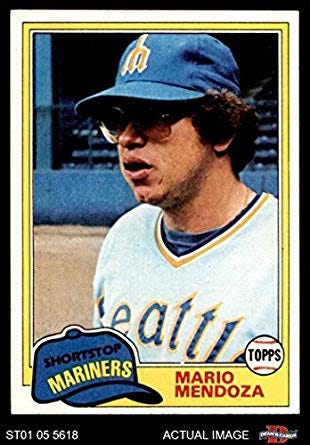 Brett began spreading the word about the Mendoza Line. Over the next couple of years, he shared it with two people who made it a thing. One, Brett shared it with Chris Berman, who was just beginning at a fledgling sports cable network called ESPN. Berman, as he did, played it to the hilt.
And perhaps even more influentially -- which just goes to show you how different the times were that a newspaper could be more influential than ESPN -- Brett shared the idea with Peter Gammons, who wrote about it in his famously epic Sunday baseball notebook on May 17, 1982:
"George Brett yesterday began reading names aloud to teammates. When asked what he was doing, he answered, 'I'm reading the Mendoza Line.' He then explained, 'There's the Fault Line, the International Dateline -- we read the names of the guys below the Mendoza Line: all the guys hitting below .200."
And the idea exploded. I think this happened for a couple of reasons. One, "The Mendoza Line" has a poetic feel. It SOUNDS like a dividing line, you can visualize it on a map in a way that you might not visualize the Belanger Line or Lanier Line. Something about those syllables rolls off the tongue.
Second, it's a compelling idea -- not just for batting averages, but for everything. One of the very first mentions of "Mendoza Line" in newspapers happened in San Francisco in 1982, where the writer talked about professional soccer ratings on ABC essentially being the television Mendoza Line. That's a pretty interesting concept -- what is the baseline in something, the line you simply cannot drop below.
Gammons wrote about the Mendoza Line many times, and soon after Jayson Stark began writing about the line at length in his Philadelphia baseball notebook. By the late 1980s, the Mendoza Line was a pretty established idea, and it just kept growing from there. Now, hardly a day goes by that the Mendoza Line isn't mentioned somewhere. It's been used in political contexts, in Treasury reports, in film and television criticism, etc.
In many ways, the Mendoza Line was the first public stab at the now famous measurement against replacement player. As you probably know, you'll get very different answers when measuring a player against nothing, measuring a player against replacement and measuring a player against average.
Omar Vizquel is probably the best example of this.
If you simply look at Vizquel's career without making any comparisons, well, he has almost 2,900 hits, 11 shortstop Gold Gloves, 400 stolen bases, a truckload of sacrifice hits, etc. This is the Total Vizquel, and it's why his Hall of Fame fan base is legion and passionate.
Then, you compare Vizquel against replacement players -- basically seeing how far he is above the Mendoza Line -- and he's 45/43 wins above replacement. That's a very good career, it puts him in a class with other very good players such as Vern Stephens, Rusty Staub, Gil Hodges, Lou Brock, Dale Murphy, Roy White, Rocky Colavito, George Foster, etc. Brock is in the Hall of Fame, Hodges and Murphy have passionate Hall of Fame supporters too, so that gives you a general idea.
But if you compare Vizquel against AVERAGE players, suddenly he's only 5.3 Wins Above Average. When you look at players with more than 12,000 plate appearances like Vizquel, well ...
Fewest Wins Above Average, 12,000+ Plate Appearances:
Vizquel, 5.3

Dave Winfield, 24.0

Eddie Murray, 27.4

Craig Biggio, 29.1

Pete Rose, 29.4
So that doesn't bode as well for Vizquel. It's all in how you want to look at him.
For a time, Mario Mendoza was offended and hurt by the Mendoza Line -- he didn't feel like he deserved it. He was right. There were worse hitters. Heck, Bob Uecker actually had a lifetime .200 batting average -- why wasn't it the Uecker Line?
---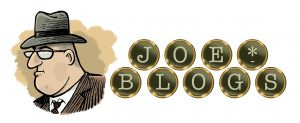 This is a free JoeBlogs preview. To become a member, click here.
---
But as time went on, he seemed to more or less embrace his place in the game's history. As George Brett himself said, it's better to be remembered for SOMETHING than not to be remembered. Brett himself, even as a Hall of Fame player, is probably best remembered across America for losing his mind and tearing out of the dugout after being called out in the pine tar game.
I don't know about you (assuming you're my age) -- but thinking again about the Mendoza Line makes me miss the Sunday baseball statistics. It's a dumb thing to miss, since we can now see up-to-the-minute statistics anytime we want (and more statistics than we could have even imagined then). That's obviously way better.
But -- nostalgia. It's so weird. It's like I'm nostalgic for scarcity -- and why would anyone of us feel wistful about having LESS? I often think about how nostalgic I am for things that I would loathe now. I'm nostalgic for the feeling of importance around the Saturday Baseball Game of the Week, but I wouldn't want there to be just one baseball game on TV in a week. I'm nostalgic for the excitement I would feel every time I saw This Week in Baseball -- just hearing the music gets me fired up -- but I wouldn't want to pass up the instant and extraordinary access we have to highlights now.*
*Imagine that extraordinary Jackie Bradley Jr. catch happening in 1979 -- I wouldn't see it for probably four weeks until a rain delay forced the network to put on a This Week in Baseball. As it is, I've now seen the play 1,048,583,271 times.
And I'm so nostalgic for having to wait until Sunday, getting a jumble of incomplete and often inaccurate statistics and poring through them to see just how many spots my favorite player was above Mario Mendoza. It doesn't make any sense at all, but I can't help but think that the most wonderful parts of baseball aren't supposed to make sense.