The King's Spieth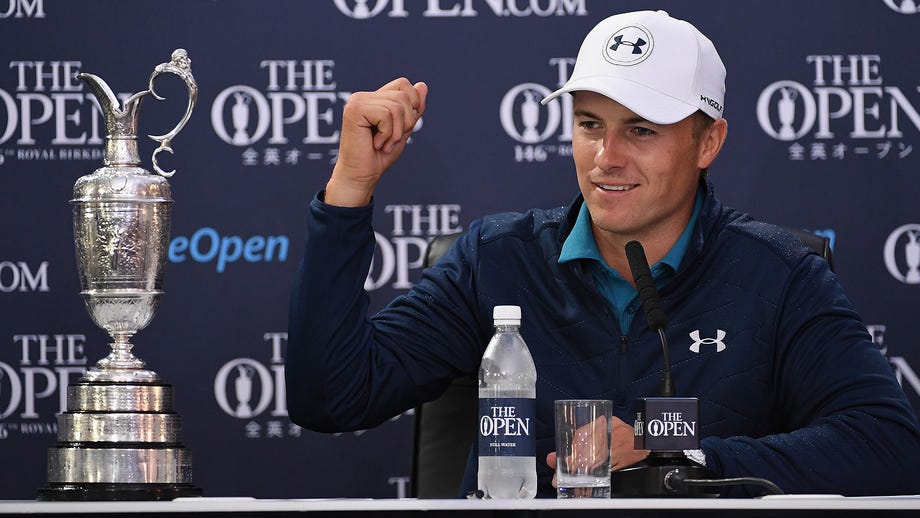 Reporter: You haven't missed a cut here in 25 years."
Jack Nicklaus: "Really? We're talking about missed cuts now?"
-- Exchange before the 1992 Masters
* * *
Yes, we're talking missed cuts now because there's a point to be made, a point about the sheer awesomeness of Jordan Spieth, the singular golfer of the post-Tiger Woods golf world. It seems people around golf cannot have any discussion about Spieth without including a "talent" comparison between him and Rory McIlroy or Jason Day or Dustin Johnson or Brooks Koepka, a comparison that Spieth never seems to fare well in.
He doesn't hit the ball as far as them, you know.
He doesn't hit the ball as high as them, you know.
He doesn't drive the ball particularly straight, you know.
And so on ... these sorts of component measurements remind me of Jack Hartman's definition of talent. Hartman coached Kansas State basketball for many years and had great success even though his players were famously untalented -- couldn't jump, couldn't run, etc. When asked about this lack of talent, Hartman grumped: "Talent is just being where you're supposed to be and doing what you're supposed to do."
Yes. This -- being where you're supposed to be and doing what you're supposed to do -- was the rare talent of Nicklaus in his prime, of Tiger in his prime, of Arnold Palmer and Tom Watson and Nick Faldo at their best. Sure, if you want to break down their games into slices of quote-unquote "talent," you can do that. Jack hit the ball longer and higher and made more clutch putts than anyone of his generation. Tiger was better than anyone at just about every single part of golf. And so on.
But those elements did not make Jack or Tiger what they were. Do you know how many cuts Jack Nicklaus missed at the Majors in the 1970s? One. He missed one cut in the whole decade, and he won eight major championships, and he finished top five in 17 more. That means in 25 of the 40 majors, he was a contender. He was always there.
Do you know how many cuts Tiger Woods at the Majors between his Masters breakthrough and his one-legged victory at the 2008 U.S. Open? One. He famously won 14 of those Majors -- 14 out of 46 -- and he finished top five in eleven others. He was always there.
Let's throw in Faldo? He won his The Open championship in 1987. For the next nine-plus years -- 37 major championships -- he missed just one major championship cut. He won three Masters, two more Opens, but was in contention in all of them repeatedly.
These are the rarest of players ... the ones you can count on. Golf, more than any other sport I think, is a sport of inconsistency, of erratic play, of good days and bad. This is why so many different players win major championships. Tiger Woods won his last major championships midway through 2008. In men's tennis, only seven have won grand slam tournaments since then. In women's tennis, which has been considerably more turbulent, 14 different players have won grand slams.
In men's golf, there have been 25 different winners. TWENTY-FIVE. And each one seems to set off unrealistic expectations; Every time a Charl Schwartzel, Keegan Bradley, Adam Scott or Henrik Stenson has a glorious week, we expect to see it again. "It's a new era!" we say hopefully. But new eras rarely come along. Great golf is hard to repeat. When even the celestially talented golfers show up at a major -- Rory, DJ, Jason -- we don't really know what we will get. They might blow our minds. Or they might just blow up. Rory has missed seven major championship cuts, DJ has missed six. Neither was really in contention at this major, or the last one, or the one before that, or the one before that.
Jordan Spieth has missed one major championship cut since announcing his presence with a second-place finish at the 2014 Masters. He has made 11 major cuts in a row.
Yes, of course, it's strange to talk about missed cuts on the day after Spieth's insane, incomprehensible, impossible Sunday at The Open. His collapse and revival was so out of the ordinary it did not even remind of golf; it brought to mind instead Kellen Winslow in that famous NFL playoff game, cramping up and then coming out to block a field goal, collapsing from dehydration and then returning to catch another of the 594,000 passes he caught that day.
Greg Norman is famous, sadly, for his collapse at Augusta in 1996. Arnold Palmer is famous for charging back when all seemed lost. Spieth was both on the same day.
But we are talking making cuts here because the stuff we saw from Spieth on Sunday has little to do with his specific golfing talents -- he is a magnificent iron player and a great long putter and so on -- and more to do with his clarity of thought. Talent is just being where you're supposed to be and doing what you are supposed to do. Spieth shows up at major championships and gets into them. If he's playing well, his game in tune, he will put himself in position to win -- the guy has led after 15 major championship rounds already, and he's not yet 24.
But if he's not playing especially well -- if others are hitting the ball better than him -- he still thinks his way through, gives himself chances, finds ways to get the ball into the hole and possibly work his way into contention. And if he's playing kind of lousy, he STILL works out there, shaving off a shot here and there, turning double-bogeys into bogeys or pars, hanging in there until the weekend when things might take a good turn.
This is rare brilliance, an aptitude worth way more than a 325-yard drive. The Hall of Fame pitcher Tom Seaver says he used to get his greatest kicks when his stuff was short, when his fastball was off and his slider was flat. "You've got nothing," his catcher or pitching coach would say to him, and he would smile and say, "Yeah, but THEY don't know that."
There was a little moment on Sunday that sticks out for me now; it meant nothing at the time but looking back it sort of tells the Spieth story. He was absolutely melting down. Spieth is not a machine like Tiger was at his height, he's an emotional player susceptible to the heat of the moment. We all saw him fall apart at No. 12 at August two years ago. He was like that the first 12 1/2 holes on Sunday. He made four bogeys those first 12 holes, missed short putts, hit a couple of shots that were jaw-droppingly bad. He had blown his lead and was tied with Matt Kuchar as they headed to the 13th.
And then came the 13th hole and the mother of all choke shots, a drive that was hit 100 yards right off the fairway, a duffer shot into the mush. At first it seemed like Spieth might not even find it even though several hundred spectators saw exactly where it landed. When they did find it, Spieth surveyed the situation and decided -- bizarrely, it seemed -- to go back 75 or so yards and drop his ball in a practice area by some golf trailers. Nobody seemed to know what he was doing; Johnny Miller all but pleaded with him on television to go back to the tee and start again.
But Spieth had made up his mind, and he stage directed everyone around him so that he would have an open path. He dropped his ball ... it was quite a scene. There, in front of him, was a Titleist trailer and a fence and, mostly, a giant hill -- beyond the hill was ... well, who even know what was beyond the hill? Spieth sent his caddy Michael Greller ahead, to the top of that hill like he was a cavalry scout searching to see where the enemy was hiding. "Try to give me a round number" Spieth shouted in the hopes of getting something to work with as he hit this crazy blind shot.
Then -- here was the moment -- just as he was about to hit, Spieth shouted out to Greller on top of that hill, "You cannot stand there Mike!" He was right: A caddy is not allowed to stand in the line of the golfer's shot. It was just the tiniest thing ... but in that moment, leading the Open Championship, knowing that it was slipping away, about to hit one of the weirdest recovery shots in major championship golf history, he still had the presence of mind to remember that somewhat obscure rule and remind Greller that he had to move (Greller knew the rule too). This is Spieth. He doesn't overpower a golf course the way Nicklaus or Tiger did. But he has their clarity of mind. And that's more important.
Spieth promptly hit a good (perhaps a bit lucky) recovery shot, a good approach, made the bogey putt ... and then went birdie, eagle, birdie, birdie over the next four holes, probably the greatest finishing stretch anyone has ever had at The Open Championship.
Golf really is the most unpredictable of sports. But if I was to bet, I'd bet on Spieth. There are so many talented golfer out there, and they undoubtedly will have fantastic weeks and will overpower golf courses and will make everyone else, Spieth included, look overmatched. But I'll bet on the guy who doesn't miss cuts, who always shows up, who doesn't give up on himself even when he's 100 yards off line, and the obituaries are being written, and he has to hit the ball over a hill into the great unknown.