The Infuriating Prediction
I just don't see the point of half-hearted, namby-pamby, well-I-can-see-it-both-ways sports predictions. Well, to be honest, I have never really understood the point of sports predictions at all. On television pregame shows, moments before the game starts, they will go around the room asking each and every analyst to offer a prediction. Then they will show us a Twitter poll of fans predicting who is going to win. Then they show video of a few celebrities telling us who is going to win. Then they ask various strangers who they think is going to win. Then they ...
We've gotten so used to this insanity that at some point we stopped asking, "Why do I need to know who Frank Thomas or anybody else thinks will win the game? I mean, it's starting RIGHT NOW. I'm about to find out who is actually going to win."
We just have this human urge, I suppose, to fill our heads with other people's predictions.
If you're going to do it, then, you might as well do it all out. After all, I know nothing. You know nothing. We all know nothing. None of these predictions mean a thing to you or me or anybody else. So, here you go, here's a fully-blasted, no-holding-back, all-out World Series prediction coming right at you,
The Red Sox are going to sweep the Dodgers.
I could give you a caveat here by saying that the Dodgers might sneak in a victory, thus forcing a fifth game. It's possible, I suppose, considering the Dodgers do have the best pitcher of our generation, Clayton Kershaw. And if he wins Game 1, he will pitch Game 5, and that could change …
No, I'm not going to do that. I'm not going to give myself an out here. It's a sweep. Red Sox over Dodgers. Four games.
The advantage of this prediction is that it's the rare kind that ticks off everybody. There's nobody who will see this prediction -- Red Sox sweep Dodgers -- and not get a little bit angry.
Dodgers fans will get angry because they will believe that their team is being royally disrespected. Sweep? Are you insane? This is the same team that took Houston to Game 7 in the World Series last year! You heard of Justin Turner? Manny Machado? Hello? The Dodgers led the National League in runs scored AND ERA! If you want to get all wonky about it, the Dodgers had basically the same Pythagorean record as the Red Sox -- this is the win percentage based on runs scored and allowed -- and they can put a lineup out there where all eight guys have power, and they have a better bullpen than the Red Sox and …
So, yeah, Dodgers fans will be ticked off.
But the prediction also has the special advantage of ticking off Boston fans too, because now I'm jinxing them. Sports fans hate jinxes. They don't want you to say anything nice about any player or team while the action is live. You can't say, "He's made 20 free throws in a row," or "he has a perfect game through six," or "this is just a smart team that doesn't make mistakes," without bringing down the wrath of twitchy and stressed fans who just KNOW that you have rearranged the luck molecules in the cosmos and now a free throw will clang, the next batter will homer, the team will make four errors in a row, and it will ALL BE YOUR FAULT.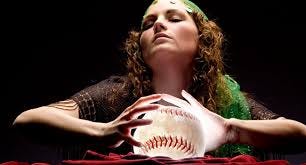 The more I talk about the Red Sox great defensive outfield*, how Mookie Betts is a baseball gift sent to the world by Zeus himself, how J.D. Martinez basically turned himself into a modern-day Henry Aaron, how amazing it is that the Red Sox won 108 games and then in the playoffs blasted through two 100-win teams with almost no drama, the more I say that stuff, the more anxious and angry Red Sox fans get.
*The best defensive outfield I've ever seen belonged to the back-to-back pennant winning Royals of 2014-2015. You look back at those teams, and they don't look all that great. Didn't hit much. Starting rotation was shaky. They had a great bullpen.
And that outfield: Alex Gordon, Lorenzo Cain and Jarrod Dyson. Those guys were insanely good, and with teams hitting the ball in the air more than ever, I think that gave them a huge and often overlooked advantage. John Dewan's defensive system estimates that outfield saved 76 runs over those two seasons, an astonishing total. This Red Sox team is much better overall than those Royals, but one part that's easy to miss is that Boston's outfield quietly wins games.
Baseball fans who don't like either the Red Sox or the Dodgers will hate my sweep prediction because they would like to actually see a competitive Series.
Non-baseball fans will hate the prediction because they hate life.
So, this Red Sox-sweep-of-the-Dodgers prediction is perfect in its own way, the pinnacle of our fetish for stupid forecasts when nobody has any idea what will actually happen.
And here's the best part: I actually do think the Red Sox will sweep the Dodgers. This has felt like the Red Sox' year more or less since Opening Day. They have this brilliantly constructed team with some stars -- Betts, Martinez, Chris Sale, etc. -- but, much more importantly, a whole bunch of really good and useful players who have a terrific approach to the game.
My pal and recently retired big league pitcher Brandon McCarthy talks about how tough this lineup is to face, because it's almost like they're one giant hitter. Every batter, one through nine, works you. It's body blow after body blow. The Yankees set a major league record for home runs in a season. The Astros have an insane lineup. But the Red Sox led the world in runs.
The Dodgers, meanwhile, have coughed and wheezed through this season, somehow overcoming injuries and inconsistencies and bizarre slumps. You give them all the credit in the world for that, but it feels like all that will end. The Hollywood ending obviously would have them winning it all, since half of Hollywood will be in the stands. But I'm not seeing Hollywood here. I'm seeing sweep. And you obviously should take this very seriously, because it's a prediction on the Internet.