The Greatest Living Yankee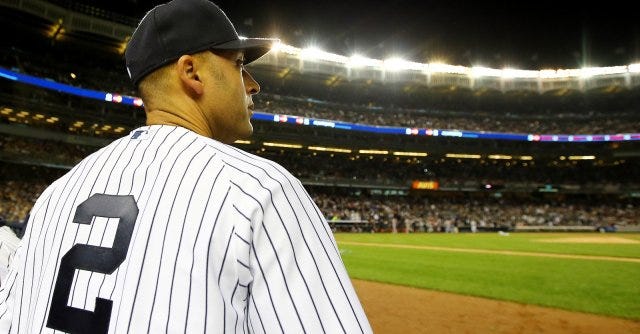 Over at SportsWorld, I play off George Vecsey's column in The New York Times naming Whitey Ford as the Greatest Living Yankee. I like George a lot but I find this to be silly. If Greatest Living Yankee is an actual title, then it belongs to Derek Jeter, and I don't think anyone else is particularly close.
Well, that's not exactly right: In the piece, I do say that Whitey Ford and Mariano Rivera have compelling arguments -- arguments that for me fall short.
I also make only a passing reference to Alex Rodriguez. Here's why: There's no point. For one thing, there's no way to have a viable discussion about A-Rod's value as a Yankee; there's way too much baggage there and no matter how a baseball argument begins it will end up not being about baseball. For another, if you are serious about Greatest Living Yankee -- as I think many Yankee fans are -- then it is obviously not Alex Rodriguez.
Of A-Rod's eight best seasons, two were with the Yankees. While he was a dazzling shortstop for Seattle and Texas, he was a pedestrian third baseman for New York -- you can blame that on Derek Jeter if you like, but it's how things turned out. A-Rod was a fantastic player for four or five years in New York, and then he declined into a less fantastic one, mostly a home run hitter who sparked a lot of controversy and boos. The Yankees won just one pennant and one World Series with A-Rod, and while you can't blame that on him, you can't just pretend it isn't so. He had one great postseason and a bunch of lousy ones. He so ticked off MLB with his persistent drug use and Herculean efforts to lie about it that he got himself suspended for a full year.
What does Greatest Living Yankee even mean? Even as a numbers geek, I understand it either means nothing or it means a lot more than which player had the most Wins Above Average. Derek Jeter grew up with the Yankees, played with them his whole career. He was the best player on the Yankee teams that won four World Series and six pennants from 1996 to 2003. He made numerous of the most iconic plays in team history. He was the player who, by all accounts, set the standard. He was The Captain, whatever that is worth, and he was beloved in New York and booed everywhere else, he was Jeterated beyond all reason but he was never given an MVP. He owns many of the most meaningful Yankee records -- hits, games played, etc. -- and he was a fabulous player for most of a very long career and he handled himself with a boring but majestic class. He represented his generation.
A-Rod offered none of this. He's one of the productive players in baseball history -- more productive over the whole career than Jeter. But when it comes to the Greatest Living Yankee, this isn't even worth discussing except maybe in a blog.