The Goose is Loose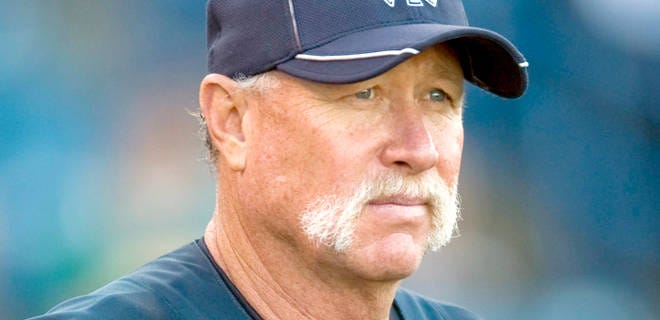 By now, we all know pretty much where Goose Gossage stands on just about everything.
-- He believes baseball used to be better.
-- Like ... way better.
-- Steroids and steroids and steroids and harumph and harumph.
-- He believes the kids today don't respect the game like they should.
-- He believes players in his day -- present company included -- were way tougher than players now ... and probably loved the game more too.
-- Check that: The old guys definitely loved the game more.
-- Money. Money. Money. I made $12,500 in my first ... money!
And, more than anything, the Goose seems to believe two things.
1. Closers today ain't worth a hill of beans 'cause they only pitch one inning.
2. The eggheads running baseball today with their slide-rulers and newfangled notions are a pox upon the game because they don't know diddlysquat.
Now, all of this was in the movie "Trouble With The Curve" so it's not new. Also, Gossage has been so consistent in these views that any time you want an "old guy screams at sun," quote, he will undoubtedly offer it.
But I'd like to point out something that the Goose probably didn't think about. First, though, let's review. Yes, again this week, Gossage chose to bash-not-bash Mariano Rivera. It is, by my count, the third or fourth straight year Gossage has chosen to bash-not-bash Mo.
"This is not a knock against Mo," he says.
And he also says: "I'd like to know how many inherited runners I came in with and a guy like Mo, how many inherited runners did he come in with?"
"I'm not taking anyway way from what Mo did," he says.
And he also says: "Don't compare me to him. It's insulting. It really is."
And so on. He's not here to say that Mariano Rivers is overrated, but Mariano Rivera is overrated. He's not here to say that Mo and others of his ilk are weak, but Mo and others of his ilk are weak. He's not here to say it was way harder in his time but ... actually, yeah, he is here to say it was way harder in his time.
It's funny that Gossage so thoroughly despises statistical analysis because it actually does back up what he says -- not so much about it being TOUGHER in his time but certainly about it being DIFFERENT. Guys like Gossage, Dan Quisenberry, Rollie Fingers, Bruce Sutter, Kent Tekulve and such were absolutely and unquestionably used differently than Mariano Rivera, Trevor Hoffman, Billy Wagner and the more recent closers.
Gossage gripes that most or Rivera's saves were one-inning saves. He's right.
Percentage of one-inning (or less) saves:
Gossage: 38% (117 out of 310) Rivera: 82% (533 out of 652)
Gossage gripes that a much higher percentage of Rivera's saves were cheap ones, with three-run leads. He's right again, though not quite AS right about that. It's tricky to figure, but looking at saves where the team ended up winning by three runs or more:
Gossage: 31% (95 out of 310) Rivera: 34% (219 out of 652)
Gossage gripes that Rivera didn't have to deal with nearly as many inherited runners as he and pitchers of his time did. Once again, the numbers show it to be true:
Gossage 832 inherited runners (277 scored -- 33%) Mariano Rivera: 367 inherited runners (107 scored -- 29%)
The trouble is: Gossage -- yes, this is a shocker -- tends to cherry pick the more difficult parts of his time and his career. "I wished I had pitched one inning," he says. "I might be still pitching at 65."
Yeah ... uh ... no.
In Gossage's career, he had 404 games -- roughly 40% of the times he pitched -- where he went one inning or less. Now, obviously, many of these were games when Gossage just didn't have it; this is why he got pulled after one inning or less. Still, those one-inning games make up more than 40% of his appearances -- that's a lot.
In his one-inning-or-less games, the league hit .297 against him, slugged .580, his WHIP was an abominable 1.71, his ERA approached 6.00 and so on. Much of this came late in Gossage's career, when he WAS largely used as a one-inning pitcher, Anyway, the whole pitching to 65 idea, um, that was never a thing.
And this is because of something Gossage misses about the Rivera era: Yes, it's true, closers are not asked to pitch multiple innings very often. You know why? Right: Because the very old school people who played and managed in Goose Gossage's era -- Pete Rose and Tony La Russa and Jeff Torborg and Joe Torre among them -- decided that those Gossage era closers were not getting the job done. They were blowing too many saves.
It's not EXACTLY true -- we can point out that the win percentages when leading per inning have not changed all that much through the years. But it is SORT OF true. You know who has the most blown saves in baseball history?
Right: Richard Michael "Goose" Gossage.
Most blown saves:
1. Goose Gossage, 112 2. Rollie Fingers, 109 3. Jeff Reardon, 106 4. Lee Smith, 103 5. Bruce Sutter, 101
Of course, as you can see by the Top 5 all pitching n the same time, those blown saves are mainly because of how the relievers were used -- multiple innings, came into games with runners on base, etc. Still, even by the standards of his day, Gossage blew a lot of saves. Quisenberry, who was used similarly and routinely pitched more innings than Gossage, blew 10 saves in a year just once. Gossage did it six times.
Well, the old school guys were tired of blown saves. They're the ones who created this new-fangled closer role -- it wasn't the slide-rule guys. They asked closers to pitch fewer innings. But they also expected these modern closers to be pretty much perfect.
Here are the save percentages for pitchers with 250 or more saves:
1. Craig Kimbrel, 91.1% 2. Joe Nathan, 89.1% 3. Mariano Rivera, 89.1% 4. Trevor Hoffman, 88.8%
Space bar
14. Dennis Eckersley, 84.6%
Space bar
20. Lee Smith, 82.3%
Space bar
35. Goose Gossage, 73.5%
There are no more space bars ... Gossage is dead last on this list.
This is what you get when you grumpily compare pitchers from different eras. For every Gossage argument about how his time was tougher, there are five arguments that show Rivera was better, his ERA, WHIP, strikeout-to-walk ratio, batting average against, slugging percentage against, postseason numbers and everything else are much better even though he pitched in a higher scoring era.
It's sad that we must pick at greatness. Gossage was overpowering in his time, Rivera overpowering in his. Isn't that enough?
No. It is not. We will compare generations. We always have. And the least surprising thing of all is that a pitcher like Goose Gossage will refuse to acknowledge that Rivera surpassed him ... that Joe Montana will refuse to call Tom Brady (or anyone else) the greatest quarterback ever ... that Michael Jordan will now and again leak out his feelings about LeBron James challenging what most consider MJ's spot on top of the basketball world.*
*If anything, it probably should surprise us more when legends DO acknowledge that they have been surpassed, when Jack Nicklaus talks about how Tiger Woods at his best was the best of all time, when Chris Evert rhapsodizes about Serena Williams.
After all, these were great players, legends ... and the fire never quite goes away. The ambition never quite goes away. Goose Gossage built a career on challenging hitters, any hitter. He believed (and expected) that he would throw his blazing fastball by anyone who ever came along. It takes a certain mindset, an attitude, to go for the best in the world, to go for the best of all time. And so it should not surprise us that the fury does not go away. It should not surprise us that Goose Gossage is still out there, competing his butt off.
"(Bleep!), he told NJ.com when it was suggested the Rivera was the greatest reliever of all time. "That's bull***. Do what I did and we'll compare apples to apples. Or Sutter or Rollie Fingers, the guys that set the bar. I'll tell you what, setup guys have a harder role today than closers."
Huh. Setup guys have a harder role today than closers? You know who else says that?
Right. Who knew that, in the end, Goose Gossage would sound like one of the Ivy League interlopers with their spreadsheets and silly computers?