The Elasticity of Numbers
In 1931, Lou Gehrig set the American League record with 184 RBIs. It was sort of a big deal … but not really. One year earlier, Hack Wilson set the Major League record with 190 RBIs so there was this sense (much like the late 1990s and early 2000s with the home run record) that there was no reason to get too excited because the RBI record was going to keep on falling, year after year.
Heck, LOTS of offensive records fell in in the early 1930s — and they are records that stand to this day. In 1931, Earl Webb hit 67 doubles. That's still a record. In 1930, Bill Terry had 254 hits — that's still a National League record. He also hit .400 that year, the last National Leaguer to do it. In 1931, Wes Ferrell hit nine home runs, that's a record for pitchers. In 1930, Chuck Klein had 445 total bases, which is not quite the NL record (Rogers Hornsby had 450 in 1922) but it hasn't really been challenged since then.
Quite a big deal was made of Gehrig and Babe Ruth combining for 347 RBIs in 1931. That is a record also.
The point in the moment was that offense was dominating the game. People had different feelings about it. There was (see if this sounds familiar) a lot of talk about the ball being juiced. There was a lot of talk about pitchers getting soft (though in 1931, Lefty Grove went 30-4, setting various records along the way). There was a lot of talk about the sheer awesomeness of these offensive numbers being put up by Ruth and Gehrig and Hornsby and Wilson and the like.
The point now is something different. I'll get to that in a minute.
First, some more history: Six years after Gehrig set the AL RBI record, Hank Greenberg went after it. Hard. A lot has been made of Greenberg challenging Babe Ruth's home run record in 1938, and that was fun. But for Greenberg himself, the home run chase was not a big deal. He did not see himself as a home run hitter.
He DID see himself as an RBI man, however. And, in 1937 he badly wanted to break Gehrig's record.
"It came down to the final series of the season with a chance for me to break the record," Greenberg wrote in his autobiography. "We were playing Cleveland in Detroit. In Game 153 of the season — the next to last — I came to bat with three men on base. I had at that point 181 runs batted in for the year. Mel Harder was pitching, the entire outfield had shifted to left field and right field was wide open."*
*This is a good reminder that shifting defenses have been around more or less forever. Yes, there have been crescendo moments — such as Lou Boudreau's shift and the recent pattern of using extreme defenses based on intricate study of hitting patterns — but all in all, the defense's goal has always been to put fielders where the hitter was most likely to hit the baseball.
Greenberg wrote that he blooped a ball down down the right-field line, which would have scored three runs and tied the American League record — but instead the ball plopped just foul. He hit a sac fly to get to 182 RBIs for the season, two shy of Gehrig. He had one more game, the last game of the 1937 season, to catch and even pass Lou Gehrig.
The game was meaningless as far as pennant chances went … but it turned out to be a fascinating game for a couple of individual reasons. Detroit was playing Cleveland. On one side, as you know, Greenberg was going for Gehrig's RBI record. On the other, Cleveland starter Johnny Allen was going for his own bit of history.
Allen was a good pitcher who had won 20 games for the Tribe in 1936. In 1937, he missed a whole bunch of time because of appendicitis and made just eight starts before August 14. He started that day against the White Sox, had a quality start, and won. It didn't seem like much of a deal.
But the next time out, he gave up a run against the Browns and won again.
Next time out he pitched 13 innings against Boston and won again.
Then again.
Then again.
He just kept winning, start after start. He entered the last game of the season against Detroit with a 15-0 record, which was a huge deal in those days. He had won 11 consecutive starts without a no-decision. He was going for a won-loss record and a consecutive wins record.
And on that day Allen pitched amazing baseball — he gave up just five hits. One of those hits, though, was a single to Greenberg in the first inning, one that scored Pete Fox. That gave Hank 183 RBIs, one shy of Gehrig. Greenberg was SURE at that moment that he would break the record.
Only he didn't. Allen pitched brilliantly the rest of the way; that was the only run he allowed in the game. Greenberg only came up three more times and there was nobody on base for any of them. He didn't hit the ball out of the infield.
As it turns out, Allen didn't break his record either. He lost 1-0, because Tigers starter Jake Wade quite literally pitched the game of his life, a complete game, one-hit shutout.
So much of baseball's wonder comes from anticlimax.
In any case, that's the story as everyone knew it for more than a half century. Gehrig had 184 RBIs. Greenberg had 183 RBIs ("That was the record I wanted," Greenberg said). And neither one of them approached Hack Wilson's 190 RBIs.
And here, finally, we get to the point.
None of those numbers are right. Not one of them.
Greenberg actually finished with 184 RBIs. The official scorers had missed one: On June 20 of that year in the second game of a doubleheader against Philadelphia, Greenberg came up with runners on first and third and nobody outs. He hit a ground ball to short and the ball was thrown away — two runs scored. The official scorer rightly did not give Greenberg an RBI for the second run, which only scored on the error. However, Greenberg should have gotten an RBI on the first run.
You can't blame people for missing stuff back then, pre-computers. That whole inning even now is hard to follow; it included two errors, a walk, a wild pitch. The Athletics were a terrible baseball team.
But they did miss it — and so, you can now say, Greenberg actually TIED Gehrig for the record.
Only, no, he didn't. See, they got Gehrig's RBI record wrong too. In fact, official scorers COMPLETELY botched Gehrig's RBI total. As SABR's Herm Karabbenhoft presented at a SABR conference a few years ago, scorers made SIX mistakes that season.
On April 21, they gave Babe Ruth an RBI that should have gone to Gehrig.
The next day, they gave Gehrig an RBI that should have gone to to Tony Lazerri.
In early May, they missed a Gehrig RBI on a ground ball.
In early June, on back-to-back days, they gave Gehrig two RBIs that should have individually gone to Ben Chapman and Jimmy Reese.
And a week later, the gave Sammy Byrd two RBIs that were actually Gehrig's.
Whew. Total it all up and, yes, Gehrig finished the 1931 season with 185 RBIs — STILL one more than Hank Greenberg in '37.
So, you know what's coming next: Scorers also blew it with Hack Wilson. If you look on his Hall of Fame plaque, you see that it is permanently written that he established Major League record of 190 Runs Batted In …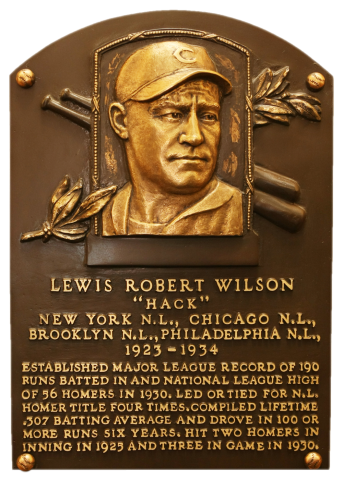 But, in fact, he had 191 RBIs. In the second game of a doubleheader against the Reds, Wilson came up with runners on second and third. He singled, scoring Kiki Cuyler. Two batters later, Charlie Grimm singled, scoring Wilson … but the official scorer mistakenly gave Grimm both RBIs instead of splitting them.
And, a fun but unrelated story, Wilson should have had another RBI because during that season he hit a ball into the seats in Cincinnati. But the ball bounced back on to the field, and the umpire missed the call, giving him a double when he should have had a homer.
All of which gets to the crux of the matter — they're just numbers. We forget that, I think. We as baseball fans sometimes see stats as living, breathing things, as magical, as sacred. Twenty wins. Forty homers. One hundred RBIs.
But they only have as much meaning as we infuse into them.
Many baseball fans, for instance, write sonnets to the number 755. It's a beautiful number because that's the number of home runs that Henry Aaron hit in his impeccable and joyous career.
Only, it isn't. Henry Aaron didn't hit 755 home runs; he hit 761. He hit 755 regular season home runs, three home runs in the World Series and three home runs in the National League Championship Series.
Why don't those postseason homers count?
Because we decided they don't count.
We celebrate individual moments based on how we count numbers. Everybody who cares to know does know that Pete Rose broke Ty Cobb's all-time hit record on Sept. 11, 1985. He singled off Eric Show. That was hit 4,192. Rose reached first base and, in his retelling, looked up to the heavens and saw Cobb up there along with his father Harry, side by side, looking as proud as could be.
None of this is real. We made it up. We made up the idea that only regular season hits count — Rose had 86 more hits in the postseason (Cobb had 17). We made up the concept of the hit vs. the error. Rose reached based 210 times after hitting the ball, and none of them count in his record because they were called errors. In fact, all 210 of those are tallied as outs in Rose's personal record even though he did not make an out on any of them.
Even granting all that, though, Rose STILL didn't break the record that day because baseball had miscounted Cobb's hit total. By 1985, thanks to the legendary Pete Palmer, we KNEW that they had miscounted Cobb's hit total. He had been given two extra hits in 1910— not by mistake, but in a concerted effort by the American League president to deceive the public about the batting title that year.
But Cobb's hit total had been 4,191 for so long — it had been the number Pete Rose had marked for years — that few people seemed all that interested in seeing it changed. That number 4,191, we decided, was a symbol even if it wasn't right.
And in so many ways, that gets to the heart of how so many of us love baseball. We believe deeply — perhaps too deeply, perhaps not — in the timelessness of the game, in the presumed perfection of its measurements, in the spellbinding power of its numbers.
To this day, Lou Gehrig's American League record for RBIs is officially 184, even if it is listed as 185 on Baseball Reference (it's 184 on Fangraphs). To this day, Hank Greenberg is not listed as the co-holder of the record, even though we know he really had 184 RBIs in 1937 (again, BR and Fangraphs have different numbers).
Does it matter?
It only matters if you believe it matters.