The Belichick Puzzle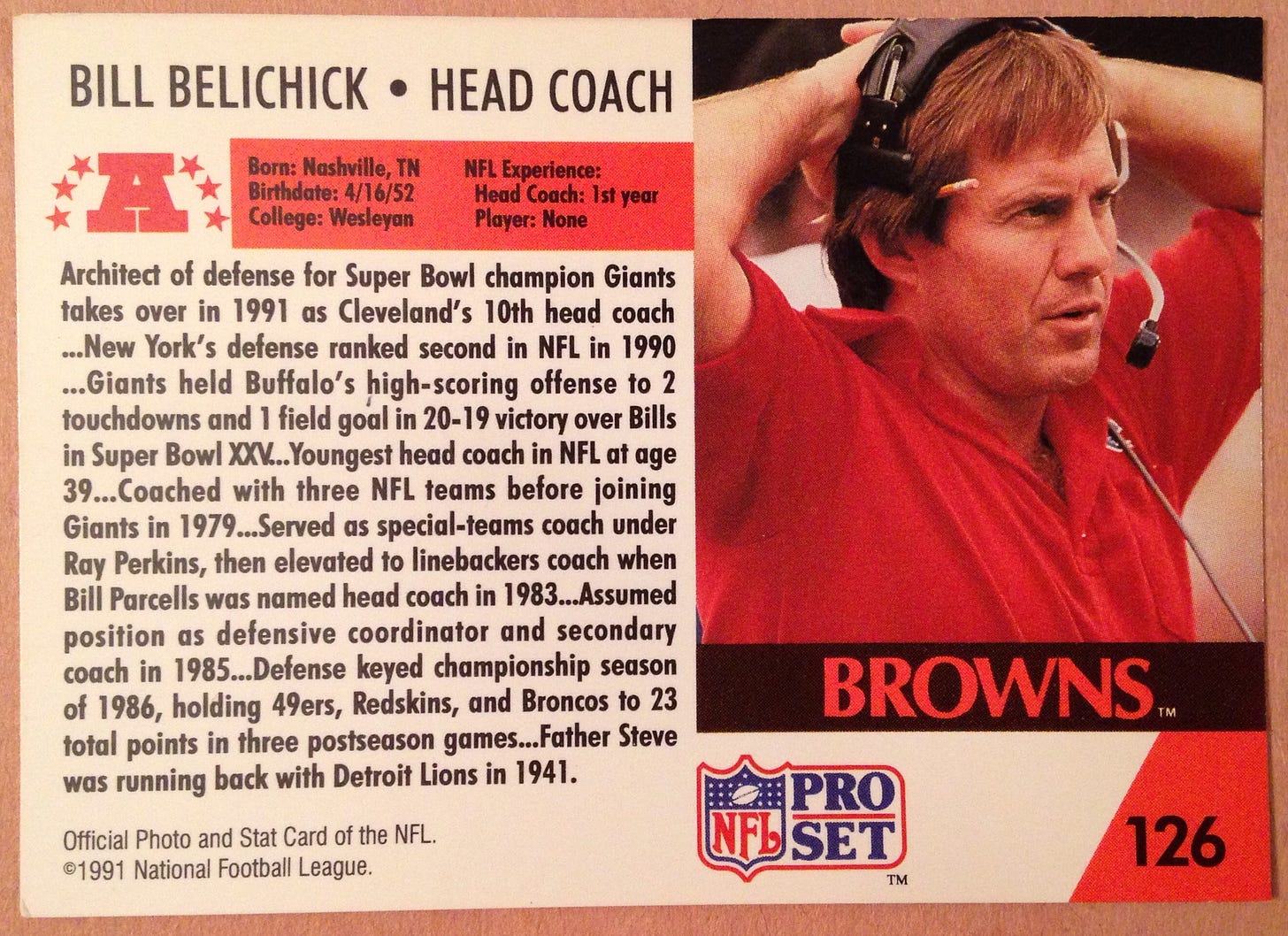 Bill Belichick became a defensive coordinator in 1985 with the New York Giants.
This will be the 32nd Super Bowl since that day.
Belichick will coach in his tenth one. TEN. He coached two as defensive coordinator for the Giants. He coached in one as defensive coordinator for the Patriots. And this will be his seventh as head coach of the Pats. That's 10. Think about that number for a minute. He has coached in almost one-third of all the Super Bowls that have been played since Ronald Reagan was just beginning his second term in office, since Madonna first went on tour, since Wrestlemania I.* The mind boggles.
*To give you an idea, Hulk Hogan was in seven Wrestlemania final matches. Bill Belichick will coach in his 10th Super Bowl. Ergo, Bill Belichick is greater at this than Hulk Hogan was at Wrestlemania.
There have been many, many, many, many, many, many attempts to explain what makes Bill Belichick so good at this coaching and winning business. It obviously cannot be summed up easily or else everyone would just do what he does. We live in a copycat world and always have. I don't know if I mentioned this, but I am writing a book about Harry Houdini. After Houdini began having great success with his handcuff escape act in the early 1900s, imitators showed up all over the world with handcuffs and comically similar names like "Oudini" and "Hourdene" and "Whodini."
This, you probably know, drove Houdini mad. He was a fighter — "Do others," he once wrote as his favorite motto, "or they will do you" — and he hated the imitators with the burning rage of a thousand suns. He would show up at the plagiarists' shows dressed as an old man and with specially designed handcuffs. When the faker called for volunteers, he would come on stage, lock them up so they could not escape, and then rip off his disguise.
"I am the one and only Houdini!" he would shout. "And you are a fraud."
Later, in order to squash the imitators, Houdini invented various new escapes — the milk can, the Chinese Water Torture cell, and so on — but in time (especially in the years after his death) others would do these too. The imitators always find a way.
In other words, if there was something easily copied in Bill Belichick's coaching style, people would have copied it. Yes, you could argue that people HAVE copied Belichick's coaching style and the reason they cannot catch him is because Belichick has Tom Brady, who is now making an almost indisputable case as the greatest quarterback who ever lived. There's something to that.
And yet, as Michael Schur suggests, look at the Patriots starting lineup on offense Sunday.
QB: Tom Brady — 6th round pick.
RB: LeGarrette Blount — Undrafted free agent came to Patriots for 7th round pick.
WR: Chris Hogan — Undrafted free agent who played lacrosse in college.
WR: Malcolm Mitchell: 4th round pick, rookie.
WR: Julian Edelman, 7th round pick, college quarterback.
TE: Martellus Bennett, 2nd round pick of Dallas in 2008, on fourth team, came to Patriots for 6th round pick.
LT: Nate Solder, first-round pick, All-American at Colorado.
LG: Joe Thuney, 3rd round pick, rookie.
C: David Andrews, undrafted free agent out of Georgia.
RG: Shaq Mason, 4th round pick, second year.
RT: Marcus Cannon, 5th round pick, recovered from non-Hodgkin lymphoma.
That is the offense that basically played a perfect game against Pittsburgh Sunday, an offense that scored 36 but probably could have scored 100 if necessary. It's impossible, right? You should not be able to take an Isle of Misfit Toys team like that and make them into a Super Bowl team. And yet, that's where we are.
The Patriots' defense (which led the league in fewest points allowed) has a few more high profile players, a few more high draft picks on it, but the defense also revolves around some impossibly wonderful discoveries like cornerback Malcolm Butler, an undrafted free agent out of West Alabama or Elandon Roberts, a 6th round rookie out of Houston.
How in the world do the Patriots do this? How do they KEEP doing it after everyone has had years to study and catch up? There is not one answer, but I do agree with my friend Dave Fleming, whose ESPN story on Belichick late last year was one of the best (it is also one of the "manys" linked above). Dave tweeted this:
https://twitter.com/FlemESPN/status/823360492467064840
I think there's a lot to that. For a while in college basketball, you might remember, a whole bunch of coaches tried to ape the 40-minutes of hell style of Nolan Richardson's Arkansas. It was becoming something of a joke; you would go to media days in the SEC or ACC or Big 10, and every single coach would talk about how "We're going to run!"
Well, we asked Richardson is he was worried that everyone would start playing like Arkansas and he just laughed and laughed. "Yeah, it's one thing to SAY you're going to run," he said. He didn't even need to finish the rest of the sentence.
And so it's one thing to SAY, "We're going to throw 70 times a game if that's what it takes." But it's another thing to do it.It's one thing to say, "We're going to play the best players regardless of their contract situation, regardless of where they were drafted." But it's another thing to do it.
It's one thing to say, "We're going to play the best players regardless of their contract situation, regardless of where they were drafted." But it's another thing to do it.
It's one thing to say, "We're going to take their best player out of the game even if it means giving up play after play after play to others. But it's another thing to do it.
It's one thing to say, "Our star player is now hurting the team more than he's helping" and just release him. But it's another thing to do it.
Belichick is probably the smartest coach out there, but I don't think his absurd success comes down to smarts. He's probably the hardest-working coach out there, but he might not be -- lots of coaches work insanely hard. He's probably the best evaluator of talent out there, but he's had his share of misses through the years too. And there are others who have done a nice job building teams.
The biggest thing with Belichick, I think, is that intense and utterly unshakeable focus he has on winning games. Nothing knocks him off course. He doesn't try to "establish the run," just because you're supposed to do that. He doesn't stick with the same gameplan, no matter how successful it might have been, because you're supposed to "dance with the one that brung ya." He doesn't ever draft a player because the so-called experts like him or because other teams have him projected to go in that spot. He speaks cliches but he doesn't follow them.
Instead, he looks at every situation -- in the draft, in preseason, in practice, in games and in the Super Bowl -- and asks the exact same question: "What, in my view, will give us the best chance to win?" And then, without exception, he does that thing. Sometimes it doesn't work. Most of the time, though, it does. Ten Super Bowls. The style can be imitated. It cannot, as the old line goes, be duplicated.
"You will notice that some of these tricks are very simple," Houdini himself wrote once. "But remember that it is not the trick that is to be considered but the style and manner in which is it presented."