The Beeg Mon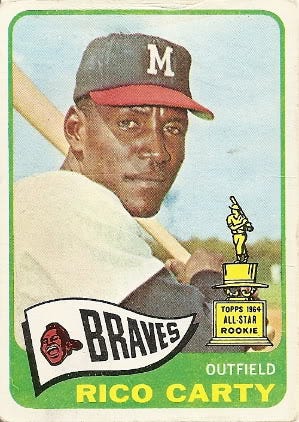 Sometimes you just have to follow the signs. For years now, I've had it on my list to do a deep dive about Rico Carty, one of my favorite childhood players and a player who would make a GREAT movie. It never seemed the right time, though. Then, a couple of days ago, Brilliant Reader Tom wrote in to say: "Hey, you need to write something about Rico Carty."
So here are 3,000-plus words on The Beeg Mon.
* * *
Ricardo Adolfo Jacobo Carty, called some combination of "Beeg Boy" and "Beeg Man" and "The Beeg Mon" by everyone, including himself, was the first great Major League Baseball player to be born in that fertile baseball land called San Pedro de Macoris in the Dominican Republic. In the years ahead, San Pedro de Macoris, despite crippling poverty (or perhaps in part because of it) would give the world many baseball wonders, superstars like Robinson Cano, slick fielding shortstops like Tony Fernandez, speedsters like Juan Samuel, sluggers like Sammy Sosa and Pedro Guerrero and George Bell, characters like Joaquin Andujar and Rafael Ramirez.
But there was never another Beeg Mon.
* * *
Rico Carty was one of 16 children in San Pedro de Macoris. His mother, Oliva, was a midwife; there is a street in the town named for her. His father, Leopoldo, cut sugar cane, like most fathers in San Pedro de Macoris. Rico Carty looked for an escape, like most sons. The Dominicans have a term they have used for players from the Alou Brothers to Pedro Guerrero to Manny Ramirez to David Ortiz: Nació para batear. It means, "born to bat." Those words have never fit anyone the way they fit Rico Carty.
The trouble was, in the 1950s, baseball was no escape for young Dominicans. The first Dominican Major Leaguer, Ozzie Virgil, did not make it up until Carty was 17. No, baseball was just a pastime then, not a dream. The dreamers in the Dominican Republic, yes, they boxed.
And so, Rico Carty boxed. His father badly wanted him to become a champion. The young Rico had a lethal right hand – interestingly, it was his arm, not his bat, that first caught the attention of Major League scouts – and the undaunted courage of a man who, as Junior Johnson once said of young race car driver, "ain't ever hit the wall yet." Rico won his first 17 fights, 12 of them by knockout.
Then came the 18th fight.
"I got hit and all of a sudden my head started spinning," Carty would say. "Nothing like that every happened to me before. Then I got hit on the nose, and I got sick right there in the ring, all over the ring, if you know what I mean. That fight had to be stopped and that was the end of my boxing."
The Beeg Mon made his mother happy when he quit boxing, but not his father. As Rico Carty told the story his father never quite forgave him … and never once saw him play ball.*
*Many of the details here come from the fascinating book "The Eastern Stars" by Mark Kurlansky.
Oliva wanted his son to become a doctor, but that was no more likely than boxing. He gravitated toward baseball, and, yes, he hit from the start. In later years, scouts would marvel at how hard Carty hit the ball up the middle. The Beeg Mon explained that he only hit the ball that way because he grew up playing ball in the street of San Pedro de Macoris, and if you didn't keep the ball in the street you were out.
His baseball break came in 1958, when he made the Dominican Republic Pan-American baseball team. The tournament that year was at Comiskey Park in Chicago and the Dominican team had high hopes – they had won the Pan American Gold in 1955 with a team featuring Felipe Alou and Julian Javier, among others. It turned out the hopes were unrealistic; the Dominican Republic team flopped, finishing eighth. But it was Rico Carty's party.
He hit. He threw. He dazzled. Carty was a catcher then, and he threw so hard and with such ferocity and velocity that some scouts immediately wanted to make him a pitcher. Then they saw him hit. Everyone wanted Rico Carty.
And this led to one of the most bizarre origin stories – team after team rushed at Carty to make him offers. "The scouts would see me in the street," Carty said later, "and they would say, 'Are you Rico?' I said, 'Yes.' And they would say, 'Come in here and let's talk.'"
And it wasn't only Major League teams; Venezuelan teams, Mexican teams, Dominican teams all came at Carty with offers. By conservative estimates, Carty got 10 offers but it was likely more. Carty was overwhelmed. It was his first time in the world, first time he had been more than a few miles from his San Pedro home. His English did not connect with American English, and his Spanish did connect with Mexican or Venezuelan Spanish, and he was a green as could be.
And so Rico Carty handled the many contract offers as equitably as he could.
"I signed with everybody," he said.
Yes, he signed with everybody. Just in the Majors, he signed with Milwaukee, Los Angeles, San Francisco, St. Louis, the Chicago Cubs and the New York Yankees. He also signed with four Dominican teams. He could not remember how many more.
The person running the minor leagues then, George Trautman, was handed this mess. The thing that struck him most, though, was that while Carty signed with all these teams, he didn't take a dime from any of them. It was not entirely clear if Carty even understood that these teams were offering him money. Trautman sent Carty a wire that asked him to pick one American team. It read: "Someday you will be a great ballplayer and make your country proud."
Carty decided to play for Milwaukee because he liked the people.
It was only later that he realized that Milwaukee's $2,000 offer paled compared to every other team. St. Louis had wanted him so badly they gave him a blank contract and told him to fill out the number.
* * *
It was a surreal beginning to what would be one of baseball's most surreal careers. There are two things from childhood that I always carry with me when it comes to Rico Carty's time in Cleveland and in my life. The first was that Carty would not slide. He'd had a bad history with slides. His knees were a wreck. But, as much as anything he did not want to slide because he always had his wallet in the back pocket of his uniform.
The other thing I remember – something my father pointed out to me one warm afternoon when we were at Cleveland Municipal Stadium – is that Rico Carty never swung at the first pitch. We do not have pitch splits from Carty's time; if we did I'm sure it would show that Carty probably DID swing at the first pitch every now and again just like Joe DiMaggio probably DID miss a cutoff man at least once or twice in his career I mean: It's never NEVER.
Still, I never saw Rico Carty swing at a first pitch. He did not need to swing at the first pitch. He was the best two-strike hitter in baseball, the best since Ted Williams. Jim Kaat once said that the best two-strike pitch with Rico Carty was a pickoff throw to first. Carty hit .533 against Kaat.
Yes, it was an extraordinary gift, Carty's ability to hit baseballs. I will say something bold now, something I hope you will agree with by the end of this: I think Rico Carty is one of the 25 greatest natural hitters in the history of baseball. I know that sounds crazy but I use that number conservatively. I'm pretty sure he's actually one of the 10 best.
* * *
Before we get to Rico Carty's wonderful hitting, let's talk about a few of his other, less productive qualities. The Beeg Mon couldn't stay healthy. The Beeg Mon had terrible timing. The Beeg Mon had started as a catcher and always regretted not staying one; in the outfield, he was unanimously considered a complete disaster.
Also, he sometimes found motivation to be a bit of a problem.
And, more than anything, the Beeg Mon was driven by various impulses and gravitational pulls that were foreign to most of the world, particularly baseball executives. He was irresistible and intolerable, wonderful and a troublemaker, the most popular and least popular player on every team.
"What do you like most about yourself?" Rico asked himself in a self-interview guided by Ira Berkow.
"That I like people," Rico answers to himself. "That I'm nice to people. That I talk to fans. I wave at the kids. I sign autographs. Some people call me a hot dog because of it. But Baby Ruth was the same way."
Yes, Baby Ruth and the Beeg Mon were both like that. Carty had this glorious smile and wonderful walk and he absolutely did always wave to kids. He waved at me once or twice. He always had this childlike quality about him; something unabashed and lovable. He called himself "Beeg Boy," until other black players made clear to Rico that they didn't appreciate him calling himself boy right in the heat of the civil rights movement. Only then, he became "Beeg Mon." But even then, he sometimes forgot.
"When the bell rings," Carty used to say, "the Beeg Boy will hit."
The Beeg Mon had a temper too. He once knocked out a heckler. He once shoved an umpire and often berated them. He was fined and benched and released for various acts of insubordination. He often apologized and the apologies were clearly sincere. He had meant nothing by it. His temper made him lose his mind.
The crescendo of Rico Being Rico came in in 1977 when he won the Cleveland Baseball Man of the Year Award. He had been fully-functional Beeg Mon in '76 – he hit .310, was fifth in the league in on-base percentage, sixth in the league in runs created, sixth in the league with a 143 OPS+. But he wasn't happy. And, as often was the case, his lack of happiness had something to do with the manager.
And so, he stepped up to the lectern for his acceptance speech and … ripped manager Frank Robinson.
"We need your help, Frank," he pleaded as he looked at Robinson. He'd stunned the whole crowd into silence by talking about how the team's problem was a lack of leadership.
"What do I read in the papers? I see where we hit into double plays. We don't score runs. Believe me, I'm telling you this with all my heart: Nobody wants to do that. If we could hit every time someone is on base, we would do that. I would about-about 200 RBIs. But nobody can be perfect in this game."
It was one of the craziest scenes imaginable – and even though Carty apologized again and again, it started a cold war between him and Robinson. The cold war exploded into a regular war a month later, in Oakland. Carty was on the disabled list again, but he insisted on going on the road with the team. Before a game, he refused to talk to Robinson. And then, during the game, he loudly second guessed every one of his manager's decisions. Robinson fined him a $1,000, but it was clear that one of them had to go.
And the one to go was … Frank Robinson. He was fired two weeks later. It probably wasn't because of Carty; everyone in the organization was beginning to turn on Robinson. That had become so bad that the team's play-by-play announcer, the great Joe Tait, actually said on the air: "I don't think Robinson has the mental or emotional capacity to manage well."
In any case, this was just one of many feuds in the Big Mon's tumultuous career.
"You have to make him think he's important," said Whitey Herzog, one of those managers he would feud with. "He knows he is, and so does everyone else, but you've got to keep telling him that."
Yeah, that didn't work either – Herzog and the Beeg Mon bust their team in half. Their band lasted only 83 games together, 83 horrendous games in what would be Carty's worst professional season.
"I think the guy must be practicing voodoo or something," Herzog told Mike Shropshire. "Check out his eyes. Rico's crazier than a peach orchard sow."
* * *
He could hit. Lord, he could hit. Line drives jumped off his bat with the enthusiasm of kids jumping into a pool on the first day after school ends. His first two seasons were about just learning the baseball world. That's when he started carrying his wallet in his uniform pocket; he didn't trust anyone. He ordered chicken every meal because it was the only word he felt confident about saying.
But when he was 22 years old, he went to Class B Yakima, Washington and hit .366. And he hit with power. The next year he went to Class AA Austin and hit .327 with 27 homers in 111 games. Scouts regularly compared him to Clemente and Cepeda. One called him the best hitting prospect in a decade.
He came up in 1964, and he had an absolutely fantastic rookie season, one of the best in years. He hit .330, the highest batting average for a rookie since Johnny Pesky during World War II. His .554 slugging percentage was the highest for a rookie since Frank Robinson eight years earlier. He had two five-hit games in the same week. He finished second in the batting race to Clemente, was fourth in the league in slugging ahead of his future nemesis Frank Robinson … and he did not win the Rookie of the Year Award.
That was the year that Dick Allen showed up and had his rookie season for the ages (including a slightly higher slugging percentage).
Yes, all his career Carty had the Artie Fufkin problem, no timing. He had come up at exactly the moment when baseball hitting went into a dark fog. And then came the injuries. In '65, he hurt his back trying to learn first base; he hit .310 in limited time. In the choppy years ahead, he would separate his shoulder four times, once by sliding (maybe it was the wallet), break his leg in three places, break his jaw when Pedro Borbon hit him with a pitch in the Winter Ball, break his hip and so on. And that wasn't even the worst of it.
He was already a riddle. Fans adored him. Teammates and managers decidedly did not. In '66, he hit .326. In '67, he played hurt, he flailed, and he even got into a nasty little argument with Henry Aaron (who argues with Henry Aaron?). Mostly, he clashed hard with manager Billy Hitchcock, who was fired with three games left in the season. "He loafs," Braves third baseman Clete Boyer said of Carty. "He doesn't give it 100 percent out there. And Hitchcock couldn't handle him."
"If I were the manager of this club," Boyer continued, "I'd put Felipe Alou in left center, Hank Aaron in right center, and Carty in the right-field bullpen where he can chase foul balls. … I understand they even tried to give him away and couldn't get any takers."
The Carty trade rumors persisted into 1968 spring training when suddenly … Carty was diagnosed with tuberculosis. See, this is one of those stories that never goes where you think it will go. At first, it seemed like Carty's life was in danger. Then it looked like he would never play baseball again. As it turned out he missed the entire '68 season, but all along he insisted: "The Beeg Boy will be back."
* * *
It's easy when putting together Rico Carty stories to miss the compelling charms of the man. In 1970, he was so popular that he made the All-Star team as a write-in candidate. When he returned to baseball in 1969, a throng of Atlanta fans created what they called, "Carty's Corner;" they came to games just to be close to him. They cheered every single play he made. His infectious smile was ever present, even when he struck out. Especially when he struck out. "I just smile to myself and say, 'Don't do that again,'" he said. "When I get mad, I can't control myself. And that is no good to anybody."
I wasn't the only kid who loved Rico Carty. Back then, just about every kid did.
Carty did return in 1969. Well, he actually came to the ballpark on his birthday, September 1, in 1968. He was just out of the hospital and had come just to tip his cap to the fans. But he had to pick up the bat and take a couple of his swings. On the first pitch, he hit a ball into the stands just foul. On his second, he the home run fair. "I'll be damned," he remembered the Braves new manager Lum Harris saying. "Rico, you were born to hit."
Yes. In 1970, playing about half the time because of health and defense, Carty hit .342. It was extraordinary. "We're using him as an example of what's possible," his tuberculosis doctor told reporters. Even future and past enemies had to admit that Carty was something else.
"Put a bat in that guy's hands," Boyer said. "And it's like he transforms."
"Rico," Frank Robinson said, "is amazing."
Carty did not win the Comeback Player of the Year Award, though. That went to Tommy Agee, who hit .271 with 26 homers after a down season. Even Carty's sometime nemesis Henry Aaron was baffled: "Agee is only coming back off a bad year. Rico is coming back after being laid up in a hospital with tuberculosis."
Ah, timing. In 1970, Carty had his year for the ages, the one that still stands out – he hit .366, the highest batting average for a National League since Stan Musial more than two decades earlier. Carty was hitting .400 well into June, which led people to wonder if he could do that impossible thing.
"A faster runner might do it," Carty said of hitting .400. "But I can't run that fast."
"Aw, he could do it," Ted Williams said when all the reporters called him. "One advantage he has is speed. I know he says he doesn't have much speed, but he's quick. I know. I've seen him."
That was Carty in all his glory, when he was healthy, when he was relatively happy with his manager and teammates ("They treat you decent … like a man," he said), when luck was on his side. "Anyone who doesn't believe in luck," he said, "doesn't believe in God."
"Rico was born to be a hitter," Orlando Cepeda said that year. "He just might be the best hitter ever."
"He'll fool you but that guy can really hit," Williams said.
"Everything is lovely!" Carty said. "Send the Beeg Boy to up to the plate, and he will hit."
When the magical season ended – the Beeg Mon led the league in batting average, on-base percentage, slugged .584, hit 25 homers, drove in 100 runs for the only time in his career, had a three-homer game and so on. "Wait til you see what's next!" he told reporters.
He played Winter Ball in the Dominican, broke his leg in three places, and missed the entire 1971 season.
* * *
When Carty missed the 1971 season, he was 31 years old, his career batting average was .322, his OPS+ was 146, he'd had the highest average season in forever … and he was basically done physically. "I've seen better knees on a camel," Whitey Herzog griped. Carty couldn't run, he couldn't field, he couldn't throw, he'd had tuberculosis, he'd waged wars with people throughout baseball, he'd seemed drained by it all. He also had his jaw broken by that pitch from Borbon. It was over. He had a disastrous 1973 season; he was traded, sold and finally released by a telegram from Charlie Finley himself. The next offers were so low that he went to play in Mexico. Over.
But Rico Carty, the Beeg Mon, had that gift.
So found his way back to Cleveland, where I was a 7-year-old kid looking for legends. In 33 games with Cleveland, he hit .363. The next year, he hit .308 and slugged .500. The next year he hit .310 and won the Cleveland Man of the Year Award that he used to club Frank Robinson. "I'm a very lucky fellow," he said often. I'd found my legend.
You can't find a player in baseball history who so persistently hit through so many battles, through so many injuries, though so many curious tales. Even after he left Cleveland, he was almost 39 and as done as done can be, but he mashed 31 homers for Toronto and Oakland anyway. "I'm not getting older," Carty said to the press. "I'm getting better."
The next year – the year he turned 40 – he finally stopped or at least stalled. He managed only a .256 average with 12 home runs. The fans sometimes booed him. "Why do they do that?" he asked. "I'm entitled to go bad sometimes."
And the final indignity: Rico Carty hit .219 in his last 19 games … that dropped his career average to .299.
With two more hits, he would have hit .300. Timing, one last time, got the Beeg Mon.
The next spring, Carty hit a game-winning spring training homer against Kansas City and followed it up the next day with an opposite-field home run against Cincinnati. Not long after he was released, and he became a Latin American scout for the Blue Jays. That was the end.
And, at the end, what is left to say?
There is this:
"If it hadn't been for the injuries he suffered," longtime baseball man Paul Richards said, "he might have rivaled Rogers Hornsby as the greatest right-handed hitter of all time."
And then there is this:
"A hitter," the Beeg Mon once said, "has to be a like a sportswriter. He cannot be bashful. When I pick up the bat in my hands, I'm bold with it. I walk up to every pitcher and I'm not scared of them. … I'm going to home plate. And I mean trouble."