The Ballot: Oliver, Pierre, Young
Darren Oliver
Pitching: 30 points
LOOGY bonus: 25 points
Darren and his father Bob played for 13 different teams combined (they only overlapped on one, the Angels, though Bob played for the California Angels, Darren for the L.A. Angels): 5 points.
Hall of Famers George Brett, Dave Winfield, Wade Boggs, Harold Baines, and Barry Larkin never got a hit off of him (0 for 13): 5 points.
Hall of Fame Race to 400 points: 65
* * *
Juan Pierre
Hitting: minus-100 points
Fielding: 5 points
Base running: 50 points
League leaders: 30 points (stolen bases three times, hits twice, triples once)
Incredible durability (played every game for six straight seasons, played every inning in 2004, got 2,000 hits and more than 600 stolen bases, scored 1,000 runs, etc.): 75 points
Saved Barry Bonds homer that briefly kept Bonds from passing Babe Ruth on all-time list: 5 points
Was named Juan after Juan Marichal: 10 points
Hall of Fame Race to 400 points: 75
* * *
Michael Young
Hitting: 75 points
Fielding: minus-50 points
Base running: 10 points
League leaders: 15 points (hits twice, batting average once)
Adored by teammates: 25 points
Two-time Marvin Miller Man of the Year: 10 points
Mike Schmidt once said he was "three Michael Young years away from being a first-ballot Hall of Famer": 5 points
Hall of Fame Race to 400 points: 80 points
* * *
Most of the fun of this Hall of Fame series comes from writing about the players who are just coming on the ballot. And I made a blunder this year. I decided to go in alphabetical order, and I started the thing a little bit late (always taking on too many projects), and suddenly we're less than a week away from the Hall of Fame announcement and I've got half the list left to do.
That means giving short shrift to the newcomers on the ballot, the ones who will fall off.
I will do it differently next year.
But we are where we are, so here goes.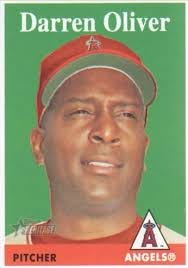 The thing about Darren Oliver that I like is that he made 537 relief appearances and had only seven saves. That's special. You probably know that he was a starter for much of his career, but he found that famed second life as a lefty specialist, and he hung on to that role until he was 42.
Back to the saves. He picked up his first save against the Yankees in 1994, when he was 23 years old. The Rangers didn't really have a closer that year (Tom Henke led the team with 15 saves), and it was a weird game. Rick Honeycutt started the ninth inning with a two-run lead, he hit the first batter and walked the next two to load the bases. Oliver was brought in to face Gerald Williams, got him to hit into a double play, and then got Bob Melvin to pop out in foul territory to get the save.
He got his sixth and seventh saves in 2011 after regular closer Neftali Feliz -- who was 5 years old back when Oliver got his first save -- went on the DL. Oliver's last save was against the Blue Jays; he was given a one-run lead and a series of fantastic right-handed hitters to get out. He got two outs quickly -- the second when Jose Bautista fouled out -- and then gave up back-to-back singles with Juan Encarnacion coming up. Under normal circumstances, you would NEVER let LOOGY Darren Oliver face Juan Encarnacion with the game on the line, but Oliver got the strikeout to finish off his last big-league save.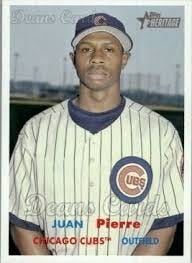 Juan Pierre, as mentioned above, played every single game from 2003 through 2007, and he played every inning of every game in 2004. He was really good in 2004. He hit .326, led the league in hits and triples, and stole 45 bases. The advanced stats were never kind to Pierre, because he didn't walk and he hit for no power. He was a fast but enigmatic outfielder, and while he stole a lot of bases, he was also caught stealing A LOT (he led the league in caught stealing seven times).
But there was something wonderfully 1970s about the way Pierre played ball. He played with abandon, unafraid to make mistakes. He played in the mold of Willie Wilson or Ralph Garr, a little bit Vince Coleman and a little bit Omar Moreno and just a touch of Lou Brock. The game had changed, though, and the Pierre way of playing baseball -- lots of speed, lots of aggression, lots of outs -- did not impress the masses like it once had. I was surprised to see that Pierre never made an All-Star team. For a guy who led the league in stolen bases three times and hits twice, that's a pretty startling fact.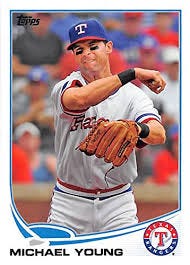 There are those who saw Michael Young as a Hall of Famer in his prime. Again, he was a 1970s type of star. He hit .300 every year from 2003 through 2007 (and finished with a .300 career average) and led the league in hitting once in that span. He was good for 200 hits pretty much every year. He hit with some power too, though a lot of that was that joyous hitters' ballpark in Texas, where for his career he hit .320/.368/.479 with 101 of his 185 home runs.
The advanced stats pummeled him at every turn, though. Like Pierre, he didn't walk much, and so his on-base percentages were never quite as impressive as his batting averages. Some of his hitting success was credited to the ballpark. He played second base, but not well -- the Gold Glove he won in 2008 was a weird one, and more representative of the high opinion that people had of him as a player and a leader than his actual fielding. By Baseball Reference numbers, he was 152 runs below average as a defender; FanGraphs has him 90-plus runs below average.
That esteem for Young, though, it was real. I remember pal Brandon McCarthy, certainly among the most forward-thinking and thoughtful of athletes, warning SABR types not to overlook the value that guys like Michael Young have in the clubhouse. I buy into that for various reasons, including the personal reason that, yes, I have worked with (and across from) many people who made me better as a writer. I don't know that you can quantify it. I don't even know that you WANT to quantify it.
But, let's just say that you can make your teammates even 1% better by being encouraging, by offering help, by being hard on them when they mess up, by making the rookies feel more at ease and by making struggling players feel important. Hey, that's something pretty special. I don't know how much value Young added that way -- maybe others didn't like him at all. As an outsider I'll never know. But his teammates will know, and they won't forget.