The Ballot: Lilly and Lowe
Ted Lilly
Pitching: 107 points
Official Crafty Lefty status: 25 points
Weirdly unhittable in 2003 ALDS against Boston: 5 points
Somehow avoided being called "Tiger" or any other nickname: minus-5 points
Made $80 million in his career: no points awarded; just wanted to mention that
Hall of Fame Race to 400 points: 137
* * *
Derek Lowe
Pitching: 100 points
League leaders: 10 points (saves and wins)
He and John Smoltz are only pitchers to lead league in wins and saves for a season: 25 points
Good golfer: 5 points
Had legitimate case to win Cy Young in 2002: 10 points
Made $111 million dollars in his career: No points awarded; just wanted to mention that
Hall of Fame Race to 400 points: 150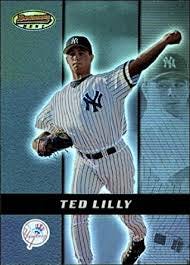 In 2003 -- so this really isn't that long ago -- Ted Lilly finished Top 10 in the league in strikeouts per nine innings. He actually finished eighth out of 40 qualifying starters. He struck out 7.4 batters per nine.
In 2018, this would have ranked him 21st out of 27 qualifying starting pitchers.
It's easy, even for those of us who try to stay on top of things, to miss just how much the game changes, not just over a half century or century, but over five or 10 years. In 2003, teams averaged 6.3 strikeouts per game. You see a game in which a team strikes out only six times now, and you wonder if the pitchers were sick.
* * *
Lilly made 331 starts in his career. He had five complete games.
Most starts with no complete games: Maro Estrada with 189
Most starts with one complete game: Erik Bedard with 230
Most starts with two complete games: Jason Hammel with 210
Most starts with three complete games: Francisco Liriano with 218
Most starts with four complete games: Edwin Jackson with 227
Most starts with five complete games: Lilly
* * *
There are six pitchers in baseball history in the 80-80 club -- that is those who saved 80 games and also won 80 games as a starter.
John Smoltz: 209 wins, 154 saves
Derek Lowe: 156 wins, 86 saves
Dennis Eckersley: 149 wins, 390 saves
Ryan Dempster: 124 wins, 87 saves
Ron Reed: 91 wins, 103 saves
Firpo Marberry: 92 wins, 87 saves
Marberry pitched long before saves were an official stat. But we'll put him in the club anyway.
* * *
I don't know if you can tell, but Ted Lilly and Derek Lowe are just not inspiring much excitement in me. So I'm going to get back to this absurdly involved post I'm writing about Aaron Nola's crazy 2018 season. Coming soon.