The Amazing Stan Lee
In 1997, for reasons that nobody could quite fathom at the time, Kansas City Chiefs wide receiver Andre Rison began calling himself "Spider-Man." The whole thing was kind of weird. You don't often see people give themselves a nickname and just expect everyone else to use it. But Rison was his own man.
Andre Rison had been a first-round pick by Indianapolis. He was traded a year later to Atlanta, and he quickly became a star for the Falcons. He was first-team All-Pro at 23, and he led the NFL in touchdown receptions a couple of years later. He was something back then; nobody in the NFL seemed to match his extraordinary body control. You couldn't cover him, really.
But he ran into trouble. Lots of trouble. He was called "Bad Moon Rison," a Chris Berman play on the Creedence Clearwater Revival song, but, even more, a description of the Rison life. In 1994, his girlfriend, the late Lisa "Left Eye" Lopes, accidentally burned down his house during one of their numerous fights. In 1995, he signed to play with Cleveland, in what would be the Browns' last season in the city, and before the year was out, he forever engraved his name in the city's Hall of Infamy. Browns owner Art Modell said that Rison's signing bonus just about broke him, before announcing that he was moving the team to Baltimore, forever linking Rison with the most heartbreaking defection in Cleveland sports history.
Rison did not help matters by gleefully saying, "Baltimore, here we come!"
Actually, he didn't go to Baltimore. The Browns got rid of him. He signed with Jacksonville, who also got rid of him. He went to Green Bay. They, too, got rid of him. He seemed finished.
[caption id="attachment_23599" align="aligncenter" width="388"] The Chiefs took a shot on Rison in '97, and it paid off.[/caption]
But something strange happened for Andre Rison in 1997. He was 30 years old, and presumed to be washed up. But he suddenly and somewhat inexplicably became awesome again. In his second game of the season against the Raiders, he caught eight passes for 162 yards, the last of them a spell-binding, 32-yard touchdown catch with seconds left, that gave the Chiefs a stunning 28-27 victory.
"The Bad Moon Era is over," Rison announced. "It's Spider-Man now. Hopefully, Spider-Man will be out there webbing people up."
As weird as it was for Rison to just make up a new nickname for himself, even stranger was: It kind of took off. The Chiefs played Spider-Man music when he caught passes. He celebrated touchdown receptions by pretending to shoot webs. Newspapers began referring to Rison as Spider-Man, and writing stories about how Rison had reinvented not only his nickname but his entire life.
"Spider-Man and Andre have more in common than you might think," Rison told reporters, deftly using his own name in the third person. "Spider-Man lets his actions speak for him. I like that. I like the way he moves. The mystique. His body movements. Just the smoothness to him."
Rison was fantastic in 1997. He caught 72 passes for more than 1,000 yards. He went to the Pro Bowl. He led the Chiefs to a 13-3 record, best in the AFC. He was … Spider-Man.
You might guess where all of this led. At some point, who catches wind of all this? Right: Stan Lee, co-creator of the Amazing Spider-Man and the man who would expand Marvel Comics into the world-shaking phenomenon that it is today. Lee died on Monday at age 95, and he's now a legend. But Rison began calling himself Spider-Man back in 1997, and that, believe it or not, was BEFORE THERE HAD EVER BEEN EVEN ONE SPIDER-MAN MOVIE.
---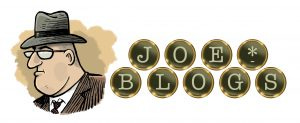 This is a free JoeBlogs preview. To become a member, click here.
---
This seems utterly impossible, as there have been approximately 859 different Spider-Man movies (actually seven, but it seems like a lot more). In 1997, Spider-Man was really more of an underground thing, only known for the comics, the short "Friendly Neighborhood Spider-Man" cartoons with that great theme song, plus Spider-Man's unforgettable recurring role on The Electric Company.
In any case, Andre Rison helped me meet Stan Lee. I was a columnist for The Kansas City Star then, and Lee decided to make a special, limited release Spider-Man comic book, to be given out at a Chiefs game. And to promote it -- few have ever had the promoting gene of Stan Lee -- he called me, and offered to send a few of these comic books (signed by Lee himself) to give away to readers. He also sent me one, which I still have.
The best part of the Stan Lee-Andre Rison comic book?
In the front, Lee wrote a little column -- a sports column! -- about Rison. I reprint that here in full.
Greetings, True Believers!
Everyone knows that Spider-Man does whatever a spider can. But didja know there's a football pro who's just as amazing, just as spectacular, just as sensational as ol' webhead himself?
Did I hear you say, "Who?" I thought you'd never ask, effendi!
It's awesome Andre Rison, that's who!
Andre Rison, the wondrous wide receiver for the cataclysmic Kansas City Chiefs, is not only a pulse-pounding power on the gridiron, he's also the biggest Spidey fan this side of the Rose Bowl! What other NFL ace has earned the nickname "Spider-Man?" What other rollickin' receiver does a heart-stopping "web-shooter dance" every time he scores a touchdown?
Only the amazing Andre Rison, that's who!
Andre has inspired a veritable Spider-Mania in Kansas City, a craze that has Chiefs fans crawling the walls for all things Spidey. I always said they had great taste!
For his devotion to Marvel above and beyond the call of sanity, it is therefore my honor, nay, my veritable duty, to name Andre Rison a Fearless Front-Facer in the hallowed ranks for Marveldom. That's a title reserved for the highest echelon, the elite, the true keepers of the Marvel flame. And if that doesn't describe Andre Rison to a "T," then I'll eat this very piece of paper -- and you know how yours truly feels about between-meal snacks!
So, here's to you, Andre, may thy web-shooters never run dry.
Excelsior!
Stan Lee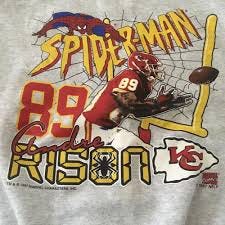 Rison does not appear in the actual comic book story, "The Spirit is Willing, The Flesh …" That's too bad. And Rison never did repeat his 1997 brilliance. He stayed in Kansas City for a couple more years, though they weren't too great, and then he tried to play with the Raiders -- where he did catch six touchdown passes -- but by then the Rison-Spider-Man thing was pretty much over. The Bad Moon had risen again. In time, he would be forced into bankruptcy and serve a short stint in jail for failing to pay child support. He would become one of the featured players in ESPN's 30-for-30 documentary, "Broke."
Stan Lee, meanwhile? He did OK for himself. I remember asking Lee if he was a sports fan. He said that when he was young, he loved playing stickball. I asked him if he was any good, and he laughed and said that if he had been any good, he wouldn't have dreamed of being a superhero.