The Age of Tiger Woods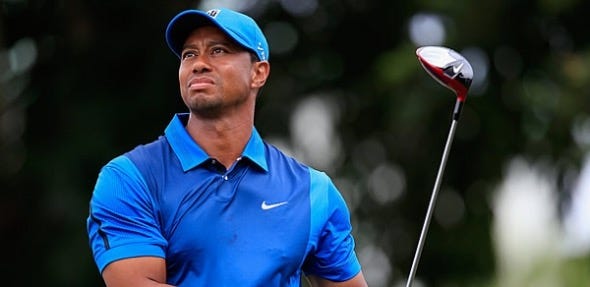 So I have a friend, a smart guy, who still thinks Tiger Woods will tie Jack Nicklaus' record. Well, I don't know if he STILL thinks that after Thursday's sad turn when Tiger once again withdrew from a tournament and said something about how he couldn't get his glutes activated. Yeah. But even after last week's fiasco, where Woods shot an 82 and chipped the golf ball like a weekend hacker, my friend insisted that Woods still had one more great run in him and that, before he was done, he would win four more major championships to give him 18, just like Nicklaus had.
I will concede that there has been some movement in my friends's position because until recently he'd been insisting that Woods would BREAK Nicklaus' record and now only thinks that Woods will TIE the record … but the point remains the same. The point is: My friend is delusional.
Then, we're all just a little bit delusional when it comes to age. I've written at length about how golfers age. It's not so different from how baseball players age. There's a temptation to believe golfers play great in their 40s because Phil Mickelson won a British Open at 43, and Nicklaus won a Masters at 46, and Ray Floyd, Lee Trevino, Darren Clark, Hale Irwin had moments of glory in their 40s, and because Fred Couples and Tom Watson and Sam Snead and others have contended even in their 50s. This is anecdotal stuff, though, much like thinking that pitchers must be good in their 40s because Roger Clemens, Phil Niekro, Jamie Moyer and Nolan Ryan had great seasons in their 40s. Meryl Streep and Helen Mirren still get good parts in their sixties. That doesn't mean it's like that for most actresses.
The golf numbers are plain — I put them in that story. Here are three statistics:
— The median age for major champion winners since 1960 is 32.
— Only 20 of the the 220 winners since 1960 (9%) were 40 or over.
— Since 2000, only four of 60 (7%) major winners were 40 or over, and three of those four won the Open Championship. No 40-year old has won the Masters or the U.S. Open in the 21st Century.
Tiger doesn't turn 40 until December — but let's just say he's 40. His body's 40 for sure.
Golfers don't age as obviously as, say, tennis players do. But the theme is the same. Roger Federer, after losing at the Australian Open, said he had a bad day. Chris Evert responded to that with one of the smartest things I've heard about athletes aging. She said that the thing about getting older is that you just have more bad days.
That's pretty profound, if you think about it. There are times when Federer, Derek Jeter, Peyton Manning, Tiger Woods are as great as they were young. No question. But then there's tomorrow. And the day after that. And the day after that. And while the bad days used to happen rarely, like a weird 24-hour virus that comes out of nowhere, the viruses pop up more and more often as you get old. Maybe you have one bad day for ever three good ones. Then it's one bad day for every two good ones. Then you have one bad day for every good one.
Woods career will always been divided in golf fans mind by the personal scandals. Before the scandal he won 14 major championships, one of those on a one leg, and probably played a more perfect golf than anyone including Nicklaus and Hogan and Jones ever played. After the scandal, of course, he won zero major championships, really never came all that close to winning one and went two and a half years without winning any tournaments. He did win three tournaments in 2012, five more in 2013 worked his way back up to No. 1 in the world … but golf greatness is measured in majors. Woods knows this better than anyone.
I don't think the scandal, though, is the right dividing line for Woods. I don't believe that it has been the decisive factor in his decline. I think injuries have been a bigger part of things. And I think age is a bigger part than most want to admit. Woods won his last major when he was 32. That's not really so out of line with other good golfers. Fred Couples won his only major at 32. Johnny Miller won his last at 29. Seve Ballesteros won his last at 31. Tom Watson was 33. Palmer was 34. Curtis Strange was 34. And so on.
Woods has been playing this game since he was a toddler. It's hard to imagine that anyone has swung the club as hard as often as he did. There was never a good reason to believe his body would hold up. There was never a particularly good reason to believe he would age well, just as there isn't really a reason to believe Miguel Cabrera will age well or LeBron James. We just want to believe it. We want to believe that their mental toughness will translate in longevity. We want to believe that will can overcome time. We always want to believe.
I have not believed for years that Tiger would break or tie Nicklaus' record, but I did believe that he would win another major championship or two. He certainly played well enough in the last couple of years to win one. And, sure, he might play well enough again. But right now we are seeing a 39-year-old man whose body cannot sustain the violence of a golf swing hit again and again. We are seeing a 39-year-old man whose swing is so far gone that even a know-nothing like me can look at him on the Minolta swing-whiz-fizz-les-miz-gryzz-showbiz-ol'-diz-pop-quiz-nothing-beats-the-wiz camera and say, "Yuck." We are seeing a remarkable athlete rage against the dying of the light — and like with all athletes, all people, the light dies anyway.
Dale Murphy, one of my favorite athletes and people, hit 398 home runs in his career. I think he probably wanted 400. That's a round number. That used to be a Hall of Fame qualifier too — until the 1980s, every player with 400 homers was elected to the Hall. I don't know how much that number 400 mattered to him, but I do know that in 1992, at age 36, he played 18 games with Philadelphia. He hit .161 with two home runs. He didn't want it to end like that so in 1993, he went to Colorado for its inaugural season and played for the minimum salary. Like I say, he needed only two home runs. He could not get even one of them. He got in 26 games, came to the plate 49 times, and hit .141 with one extra base hit. It had ended for him so suddenly. At 31, he hit 44 home runs and was an MVP candidate. At 37, he couldn't lift one fly ball into the mountain air and over the wall. That's not baseball. That's life.
And now, it's Tiger Woods. He was the No. 1 golfer in the world just months ago. Just last week, during his dreadful two days at the Phoenix Open, he managed to get his club-head speed up to almost 125 mph, which is remarkable stuff. Even as he walked to his Porsche in the Torey Pines parking lot, chased by cameras and reporters, the thought was plain: If only he can harness his swing again; if only he can get back to chipping with confidence; if only he can stay healthy, if only … the declining years have a lot of "if onlys." That's not Tiger Woods. That's life.