The 43-Inning Scoreless Streak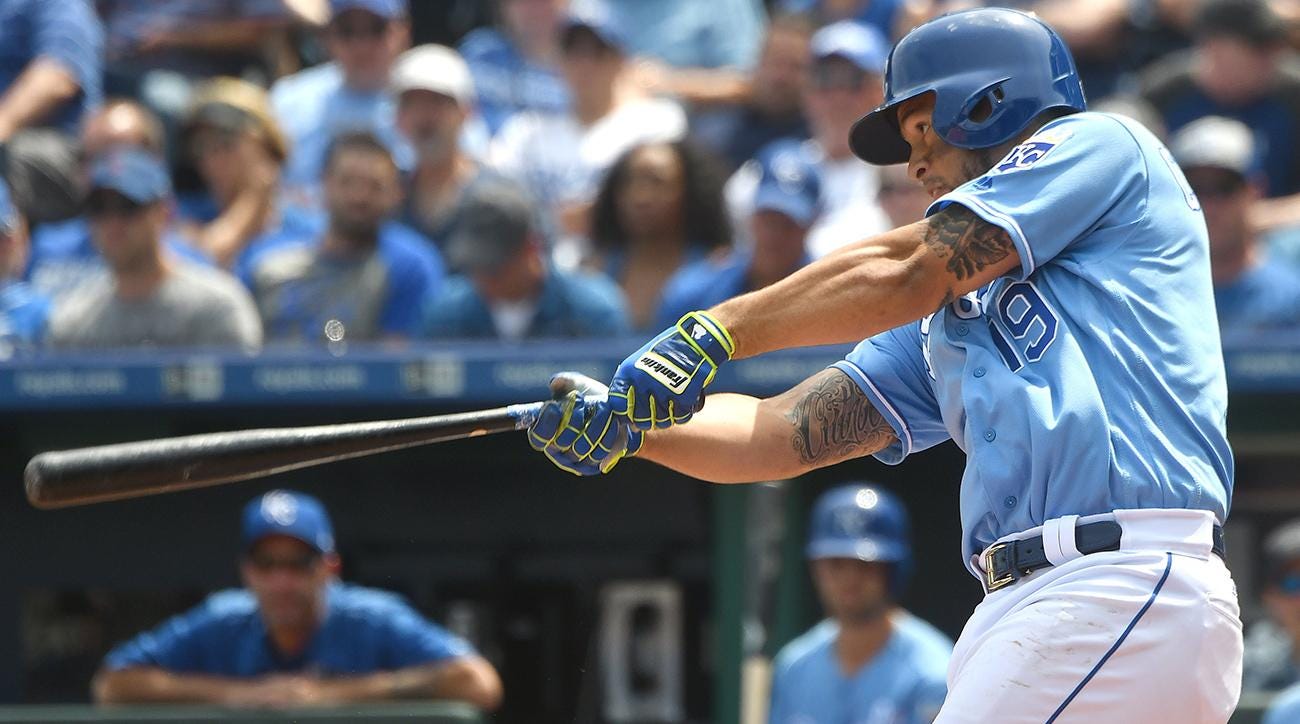 It is almost impossible, when you consider the whims of modern baseball, to go 43 consecutive innings without scoring a single run. The reason is obvious: SOMEONE will hit a home run. Someone. Anyone. This year, big league hitters will bash more home runs than ever before and, as a natural result, teams are on pace to be shut out the fewest times in a decade. It's simple math. You really can't go 43 consecutive innings in 2017 without hitting a home run and, so, you really can't go 43 consecutive innings without scoring a single run.
And yet, somehow, the Kansas City Royals are doing it.
This Royals team, whew, this has been one weird season in Kansas City. You might remember the Royals got off to an absolutely dreadful start. They were 24-32 and in last place on June 5, and the talk was about what they might get in trades for their core players -- most them become free agents at the end of the year. I remember talking at the time with Royals general manager Dayton Moore and he made it clear: The Royals were not selling. If anything, they were BUYING. He still believed in this team that had brought so much joy and life to Kansas City, and he wanted them to have one last Butch and Sundance ride.
And, like magic, the Royals started winning. It really was like magic; nobody knew how they were doing it. But they went 30-15 over a spectacular 45-game stretch and and put themselves a couple of games behind Cleveland in the American League Central and took a firm hold of one of the wildcard spots.
After that, they crested and plummeted, as you might expect from a team trying to keep things together with twine and duct tape and the royally named Whit Merrifield. As of last Wednesday, they were still over .500 and just a half game back in the wildcard standings. And then, well, you know.
Thursday began like any normal game might. The aforementioned Merrifield homered in the first inning against Colorado, and Brandon Moss homered in the second, and the Royals led 2-0. And that was it. It wasn't noticeable at first. The Royals put on a couple of runners in the fourth, but Drew Butera could not drive them in. The Royals got the leadoff hitter on in the eighth, But Eric Hosmer, Jorge Bonifacio and Moss all went down swinging. Cheslor Cuthbert and Mike Moustakas each hit fairly long fly balls in the ninth, but each stayed in the yard, and that was that.
Seven shutout innings.
We will talk about Moustakas in a minute.
The Royals then went to Cleveland, and Whit Merrifield -- that name -- reached on an error to lead off the game, he promptly stole second, things looked good. Only then Merrifield ran into an out, and Melky Cabrera hit into a double play to end the threat.
The next inning, Bonifacio singled but could not score on the following double by Alcides Escobar. So close. But no.
And that's the phrase: "But no." Alex Gordon led off an inning with a double. But no. Eric Hosmer doubled to set up Salvador Perez. But no. The Royals put a walk and single back-to-back ... but no.
The Royals lost 4-0 ... and that's 16 consecutive scoreless innings.
Saturday, against Cleveland's groovy Mike Clevinger, the Royals did load the bases in the fourth and fifth ... but no. The first of those bases-loaded threats brought up Alcides Escobar and so you know how that ended. The Royals play Alcides Escobar and Alex Gordon every day; they have OPS+ of 50 and 52 respectively (the bottom two OPS+ in baseball). Escobar has a rather astonishing .256 on-base percentage; Gordon a no-less impressive .286 slugging percentage. No team since the 1953 Cincinnati Reds has had two such unproductive hitters in the every day lineup.
Well, this is the what happens. When a team wins big, the way the Royals did, emotions become charged. Loyalties and realities clash. The Royals did the loyal and honorable thing by bringing back Gordon back, but it has been pretty disastrous. And the Royals continued insistence that Escobar remains a defensive maestro despite ample evidence to the contrary shows how winning can blind you.*
*If someone would ask me the biggest reason why Bill Belichick is so successful year after year, I would say it is probably his clear-eyed view of the world. He is like the guy from Momento, he doesn't even REMEMBER what happened yesterday, much less let it affect his decisions. It's a new day, every day, and the job today is to win. I was asked this fascinating question by an NFL guy: "If Tom Brady suddenly started to stink, how long do you think it would be before Belichick dumped him?" I mean this is TOM BRADY, the guy who basically made Belichick's Patriots career.
I don't know the answer, of course, but I suspect the dumping of Brady would happen a lot FASTER than we would expect. Six games. Maximum.
In any case, the Royals lost 4-0 on Saturday and the streak was at 25 straight.
Sunday, they ran into a good Carlos Carrasco, and a good Carlos Carrasco can shut down any lineup. Mike Moustakas went 0-for-4, though he did hit one ball on a line to left. Moustakas is the key to this thing. On August 15, he bashed hit 35th home run of the season -- one away from the most embarrassing team home run record in baseball. Steve Balboni hit 36 home runs in 1985, and no Royals player has even matched it since. Moustakas was finally going to put that record away ... and you have to figure he still will.
BUT ... he has hit .188 in the 10 games he has played since then and, of course, he has not hit a home run. You figure this Royals non-scoring madness will end with a home run, and Moustakas is the guy to do it. And the longer this goes on the more you have to think that there is some sort of Balboni hex on Kansas City baseball.
After the Carrasco destruction -- Cleveland won 12-0 -- the scoreless streak was at 34 straight innings.
Monday, at home against Tampa Bay, the Royals were spent. Lorenzo Cain hit two doubles and ... that was it. That was the entire Royals offense. Well, no, Brandon Moss also walked twice. It was a complete no-show against a Tampa Bay rookie pitcher, Austin Pruitt, who was making his seventh big league start -- the league was slugging .550 against the kid in the six previous starts.
And so the scoreless streak is still alive at 43, and that's already tied for the longest scoreless streak in American League history. But to say it's tied for the longest doesn't really do this streak justice -- the Royals are tied with the 1913 St. Louis Browns, who don't exist anymore, who played in Deadball, and who hit 18 home runs. That's AS A TEAM.
Sorry. You don't have to wait. You can already call this the longest, most ridiculous scoreless streak in baseball history. The official record of 48 straight scoreless innings is held by the 1968 Chicago Cubs and 1906 Philadelphia A's. The A's obviously were playing a whole different game, but really so were the Cubs -- that was the year of the pitcher, of course. But even more to the point, yes, the Cubs were shut out four straight games -- do you know the pitchers?
Game 1: Hall of Fame legend Phil Niekro
Game 2: Very good pitcher Nelson Briles.
Game 3: Hall of Fame legend Bob Gibson
Game 4: Hall of Fame legend Steve Carlton
So, yeah, you could sort of understand it.
The Royals, in the American League, with a designated hitter, in the year of the home run, against pitchers who will not be going to the Hall of Fame (they even issed Corey Kluber in Cleveland), going 43 straight innings without scoring? Inexplicable. Even the resourceful Ned Yost can't come up with anything.
"There's no explanation for it," Ned Yost says. "If there was, we would fix it. I can't even make something up."