The 1979 MVP Race
There will never again be an MVP vote quite like the AL in 1979. That much we know for sure.
Here's what I mean: If the 1979 MVP race were voted on today, Fred Lynn would win 100 out of 100 times. Lynn led the American League in hitting (.333), on-base percentage (.423) and slugging (.637). He was third in doubles, second in homers, fourth in RBIs and runs scored. He won a Gold Glove, and at that time was widely regarded as the best defensive outfielder in the league. It was Lynn's best season in a pretty spectacular early career.
He also led all of baseball in fWAR and bWAR. There would be no other possibility. Lynn would win the MVP, and he would win it going away.
But he didn't win it in 1979. More to the point: He didn't COME CLOSE to winning it in 1979. Lynn led the league in just about everything, and he did not get a single first-place MVP vote.
Why? If you reverse engineer the 1979 MVP vote, you can see that the vote was VERY different then. Was it different in a bad way? Well, that depends on how you look at things.
In 1979, the MVP was usually a storytelling device. By that, I mean that the MVP wasn't necessarily the best player in the league. Often he was the best, but even then being "the best" was sort of a secondary concern. The MVP was the player the voters saw as the one having the biggest IMPACT on baseball in that particular year.
The California Angels were the story of the league that year. They had been building up talent for years, slowly, slowly, slowly, and finally, in 1979 they broke through and made the playoffs for the very first time. It would have been very unlikely for the MVP to be from any team OTHER than the California Angels.
So who was the best player on the Angels? Again, we would see that differently now. Now, we would probably go with Bobby Grich. He hit .294/.364/.537 with 30 homers and 101 RBIs; second basemen simply didn't have those sorts of offensive seasons in those days. In fact, Grich became just the second American League second baseman EVER to hit 30 homers in a season (after Joe Gordon).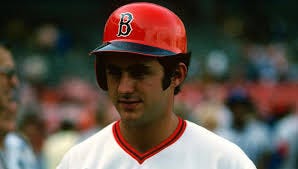 By pretty much any measure, Lynn was the AL's best player in '79.
If Grich had played in an era of advanced statistics, he would have been a saber-favorite. You can look at the year he became a free agent vs. another Baltimore infielder.
Grich: 127 OPS+, 36 WAR, 24.4 Wins Above Average.
Manny Machado: 121 OPS+, 33.8 WAR, 20.3 Wins Above Average.
Grich signed a five-year, $1.35 million deal (that's total, not per year) with a $600,000 bonus.
With inflation, that's $1,418,215.18 per year.
Machado, well, you know, 10 years, $300 million.
So it goes. Today's voters would have given Lynn the MVP, but if FORCED to choose someone on that Angels team, they probably would have gone with Grich.
Then again, the best player on the Angels might have been Brian Downing. He was a wonderful, self-made player -- he MADE himself into a catcher, MADE himself into one of the league's toughest outs, MADE himself into an All-Star against all odds. That year, he hit .326/.418/.462 and held his own behind the plate.
Rod Carew, who won the 1977 MVP, hit his typical .318 with a .419 on-base percentage, but he missed 50 games with nagging injuries and was not a factor.
But all of this was moot because in 1979, everyone KNEW who the Angels MVP candidate was: Don Baylor. He did have a fine season at the plate, hitting .296/.371/.530 with 36 home runs, but his MVP credentials were locked up by one stat: He led the American League with 120 RBIs. End of discussion. End of race. RBI is one of the great storytelling stats ever invented. And Baylor won the MVP award running away.
But, as you know, Lynn didn't finish second, either. Who did? Well, the second biggest story in the American League in 1979 was the Baltimore Orioles. Earl Weaver's squad had dominated the early 1970s, but then had gone into a little bit of a lull -- they were good every year, but had missed the postseason each year from 1975 to '78. They had been supplanted by the Yankees. It didn't sit well with Weaver or Orioles fans.
And so that 1979 team was almost unbeatable from the start. They won nine in a row in April, then six in a row in early May to get into first place. They stayed in first place every day for the rest of the season, at one point pushing their lead to 12 games.
And who was the MVP candidate for the Orioles? In this case, it was clear: Ken Singleton. By today's measures, he was clearly the team's best player (and for years had been one of the best and underappreciated players in the American League). He was also the best by 1979 standards. He hit .295/.405/.533 with 35 homers and 111 RBIs.
So Singleton finished second.
Third place? George Brett. Brett's 1979 season was ALMOST as good as Lynn's. He hit .329/.375/.563 with a league-leading 212 hits and 20 triples. Brett was a terrific third baseman then too, even if that was often missed because of his erratic arm.
So why did Brett finish ahead of Lynn? I'm not entirely sure, but I think it's because the Royals were in contention until the last week while the Red Sox (even with a better record) were not. I think it's because Brett was a relatively new story -- he had won a batting title before and been an All-Star, but in 1979 he stepped his game up, driving in 100 runs for the first time and hitting a career-high 23 homers. Lynn, meanwhile, was old hat.
So much about the 1979 MVP vote seems ridiculous to us now ... but that's because we see things differently. Most of us see the Most Valuable Player as the best player. That's how I see it. But they saw it more like, well, usually after we take the girls to a movie, I ask them: So who was your favorite character? It was kind of like that. The MVP was the writers' favorite character from the season.
Are we missing anything by turning our backs on that kind of voting? It's an interesting question. Most of you, I assume, would say, "No!" or "Hell no!" You would say there's nothing cute, fun or productive about giving the MVP to someone who is decidedly not the best player.
I'm mostly on that side. But I will say: I've long made the argument (to deaf ears, mostly) that by bowing to alter of "accuracy," we have lost some of the character and quirkiness of sports. As you no doubt know, I would personally rather get a few calls wrong in the flow of the game than throttle sports with overbearing replays that work off of the language and not the spirit of the rules. I'd rather they miss a dozen "too close to tell even on replay" calls than have one baserunner called out because once you slow it down to absurdity you can see that his shoe bounced a millimeter off the bag while the fielder kept on the tag.
That's just me. Almost everybody else, it seems, want it exact. They want it precise. And so they would get no joy at all from an MVP vote like 1979. They'd see Lynn as the automatic, perhaps unanimous, MVP choice, and there would be little room for argument, discussion or complaint.
I get that. But I will also say: I LIKE arguing, discussing and complaining.