That Daily Will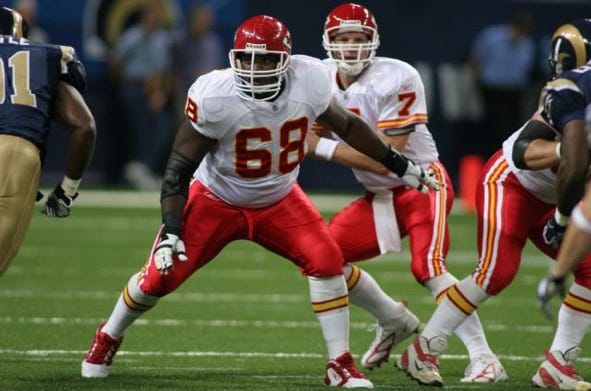 In my life as a sports columnist, I've had pretty good access to six players who either are in the Hall of Fame or will be someday soon. I learned from them. Well, maybe not all of them. I wrote a lot about Paul Pierce when he was at Kansas — he will be in the Basketball Hall of Fame soon — but I can't say I picked up much from him. His greatness came later. At Kansas, he was young, shy, gifted and still figuring out what he was all about.
I wrote some about Pro Football Hall of Fame offensive lineman Willie Roaf at the end of his career, he was with the Chiefs, and I picked up something about just how good a man could get at blocking people. That wasn't super helpful in my own life, but it was still fun to watch.
Former Kansas City linebacker Derrick Thomas is in the Pro Football Hall of Fame. He taught me something about commanding the moment. That was his specialty. Thomas was mercurial and erratic, both on the field and in his personal life, but when the moment arrived, when the crowd got loud, and the Chiefs needed a big play, and time beckoned, Derrick Thomas seemed to get larger somehow. He would jump so quickly on the snap that you swore he was offsides. He would blind side the quarterback and, with his right arm, chop the football free. The game would turn, the Chiefs would win, and you weren't even sure Derrick Thomas was on the field for the rest of the game. But he was there for the one play that mattered. And he was the difference. Barry Larkin is in the Baseball Hall of Fame; I wrote a lot about him when I was columnist at the Cincinnati Post. His excellence is harder to describe. There is an awareness certain players have, one that sportswriters have been trying to break down for generations. I like to think of it as an ability, in a millisecond, to make the right choice . That was Larkin's gift. He was as multitalented as just about anyone I've ever seen — hit, slug, run, throw, field, all with excellence — but at his best he played with that sixth tool, that ability to know when to take the extra base, when to try and throw out the lead runner, when to swing at the first pitch, how to cope with a pitcher on his game. Some of this was innate, some of it came from years of practice and study, but watching that kind of baseball day after day opened up my world a little bit.
Tony Gonzalez will be in the Pro Football Hall of Fame soon. To me he represented a quenchless ambition for greatness. Gonzalez could have cruised to a marvelous career without really trying. He was bigger, stronger, faster than almost anyone. He was a staggering athlete, a basketball player on the football field, a football player on the basketball court. Defenders were basically helpless against him. He would go to a spot, turn, and catch the ball no matter how poorly it was thrown. He had movie star looks and a ridiculous amount of charisma. He was the coolest guy in the room. Some players become stars. Tony Gonzalez was born a star.
But in his second season, he struggled some. He dropped some passes. He did not quite fit into the offense. Gonzalez had this decision to make: Did he want to be a good NFL player who made a lot of money, partied with the coolest people and graced magazine covers? Or did he want to become one of the greatest football players who ever lived (along with those other things)?
Starting the next year, Tony Gonzalez played a game a perpetual catch. I almost never saw Tony Gonzalez NOT catching a football. He would catch them during practice. He would catch them on the sideline between practice plays. He would catch an extra 100, 200, 400 extra balls every day after every practice. During games, he never seemed to sit down on the sidelines; instead he would plead to throw to him. I once asked him how many footballs he'd caught through the years. "A million?" he said. It might be a million. Greatness comes to the relentless.
Then, there's my favorite Hall of Famer of the bunch: Former Chiefs guard Will Shields. He was elected into the Hall on Saturday. What did I learn watching Will Shields excel and getting to know him just a bit? It's complicated. Well, Will Shields is complicated.
He was the Outland Trophy winner while in college at Nebraska — that's the award given to the best offensive or defensive college lineman — but NFL teams were skeptical. This was in the days when scouts didn't trust Nebraska linemen. Dean Steinkuhler, Dave Rimington, Mark Behning, Mark Traynowicz — these guys had been drafted high and they had been disappointments. A narrative was constructed: Nebraska linemen cannot pass block. Shields was not taken until the third round by Kansas City.
He was furious. Sure, he took the snub personally. It had taken him a long time to believe in himself, really believe in himself. "I was the soft, pudgy kid everyone made fun of," he told me once. He tells a great story about when he first started to find his confidence. He was in college facing freakish defensive lineman Steve Emtman (who would be the first overall pick in the draft). He had been told so often about Emtman's sheer awesomeness that for a half Shields felt like he was on unsteady ground. He was shoved around like he was Emtman's little brother. At halftime, Shields thrashed himself for allowing Emtman to get in his head. He promised the second half would be different. And it was: All second half, Shields hounded Emtman, pounded him, pancaked him, until finally Will saw something he never expected: He saw Emtman raise his hand toward the sideline. He wanted out of the game.
So Shields was outraged that the NFL did not believe in him, and from the start of his career he played with the rage of the discounted. He started his second game as a Chiefs player and then started every single game for the next fourteen years. He made the Pro Bowl for 12 straight years. He played through every variety of searing pain you or I can imaginable. I always thought it was fury that pulled him through; Will had a lot of it. He could turn people to stone with his looks and comments. Reporters were scared of him. Some days, his teammates said, he was approachable and fun. Others, he looked through right through them like they were nonexistent.
"There are days after games - lots of days, really - when I just don't want to talk," he told me once. "Football is a violent game. We are violent men."
The story of a football player driven to excellence by his anger is not unfamiliar … but this is where Will Shields story splits from that story. Of all the athletes I've written about through the years, Will Shields might have had the biggest heart. He and his wife Senia were (and still are) tireless, absolutely tireless, when it came to helping people. When the Chiefs nominated Will Shields for NFL Man of the Year, they were only allowed one typewritten page in their nomination letter. In order to chronicle Shields' goodness, they had to bump down the type size. Seriously. Here's what I wrote after he won the award:
Here are just a few things he has done in the last few years. He and his wife, Senia, have donated more than $300,000 of their own money to Operation Breakthrough, which provides day care for some of Kansas City's poorest families. Every year, they throw a Christmas party for the kids at the Marillac Center, an amazing place where children who have been sexually or physically abused or have had a terrible trauma in their lives can find hope. Senia personally buys all the presents. Their three children hand out the gifts.
Will donated 10,000 books to the Argentine Middle School, and he provided a computer lab for the abused children at The Children's Place, and he gave $200,000 to the Good Samaritan Boys Ranch that helps troubled boys. He and Senia started a flag football tournament that raises money for SAFEHOME, which offers sheltered to battered women and children. They bought a van so low-income families could get to the Electronic Learning Center. They created a library at St. Monica's School, and donated another $3,000 to the library at Brookridge Day School.
Wait. We're only getting started here. They gave kitchen equipment to the Niles Home for Children, and they are on the board of Reach Out and Read Kansas City, and Will runs low-cost football camps for kids, and they donated money to the KU Medical Center burn unit and the Hope House, and they started "Team Esteem" which inspires kids to write, and they fund numerous scholarships, and they sponsor "A Day of Beauty" where battered women are taken to spas around the city and treated like royalty, and they are working on a way through the Internet for people to donate clothes and items directly to the families who need them most, and, well, there's so much more. They buy shoes for children. They have provided eyeglasses. They give backpacks filled with school supplies. They sponsor kids who show an interest and talent in music (Will is a vocalist himself). They appear at almost every charitable function you can imagine.
It was all so personal for Will, so very personal, and sometimes I would go to his charitable events, and I would see this hulk of a man (6-foot-3, 315 pounds) who made a living smashing men physically transform. He would fold up somehow, make himself smaller, more approachable, the kids would rush up to him and want to play like he was one of them. In these moments, I would see Will Shields as one of the most caring and beautiful people I have ever known. Sometimes on those days we would have remarkable conversations, deep ones, about life and caring and the duty we all have to each other. Then, Sunday would come, he would smash away for hours and when the game ended he would glare angrily at me when I approached. It was such an extraordinary dichotomy. But then maybe it wasn't. Football is a violent game. And these are violent men.
I think this was the first thing I picked up from Will Shields, that people are not one thing, the best of us don't allow others to define them. Will and I would talk sometimes about the boxes people construct, and how he would not fit into any of them. He was a ferocious football player. He was a tender and kindhearted person. He was a difficult man to approach. He was as open as the state of Nebraska. He was all of these things at the same time.
But with Will Shields, there was something else that spoke to me deeply, a sturdiness, a consistency, a quiet resilience that was there all the time. The last few years of his career, he thought lot about quitting. Training camps wore on him. The pain was ever-present. And at some point, you run out of Pro Bowls, run out of honors. He wanted to win a Super Bowl, of course, but there's only so much a guard — even a Hall of Fame guard — can do about that. The Chiefs let him down on that front. Every year, he thought about retiring. But then he would decide to go one more year. And for another year, he would soundlessly go out there and do his job brilliantly while so few people noticed.
Of the many things I remember from childhood, the thing that stands out was seeing my father go off to the factory early in the morning. I would usually wake up just as he was leaving, paper bag in his hand containing the salami on rye sandwich he brought with him. Sometimes, if I didn't hit the snooze button a half dozen times, I would wake up early enough to sit at the kitchen table with him for a minute or two. We would talk about baseball or some test I had coming up or something from television the night before. What we never talked about was how hard his job was, how much he disliked it, how there really wasn't any chance that today would be any better than yesterday had been. If he had such thoughts, I didn't know about them.
I didn't think much about it then, not until I worked at the factory for a summer. The place was so hot, the walls sweated. It smelled of oil and yarn and dye and hopelessness. At the end of days there, I felt this unshakeable soreness — not like the soreness after working out but something that seemed much deeper and more permanent. And, of course, the limited amount of work I did was nothing compared to what my father did as he tangled with sweater machines and turned screws with his bare hands and moved heavy boxes of yarn like they were empty. I realized that for him, it really was a permanent soreness. I had never heard him complain about it.
He wasn't any different from countless Americans, countless people around the world, but he was different because he was my Dad, and I saw it up close. That defined my life. I've often said that I don't get writer's block because I never once saw my father get factory block. You do your job, and you do it every day, and you don't complain even if you feel like you've been treated lousy, and you remember what it is that really matters.
That's the thing I saw in Will Shields. I was much older by then — I'm actually four years older than Will — but seeing Shields go to work every day roused those same emotions. Of course it's different. Shields was paid many, many multiples of my father. Even though he played an anonymous position, he was still famous and my father was the very opposite of famous. But the single-mindedness was the same. The ethic was the same. And I saw it up close. Will Shields showed up for work. He played to win. He didn't complain. And he remembered, always remembered, what really matters.