Thankful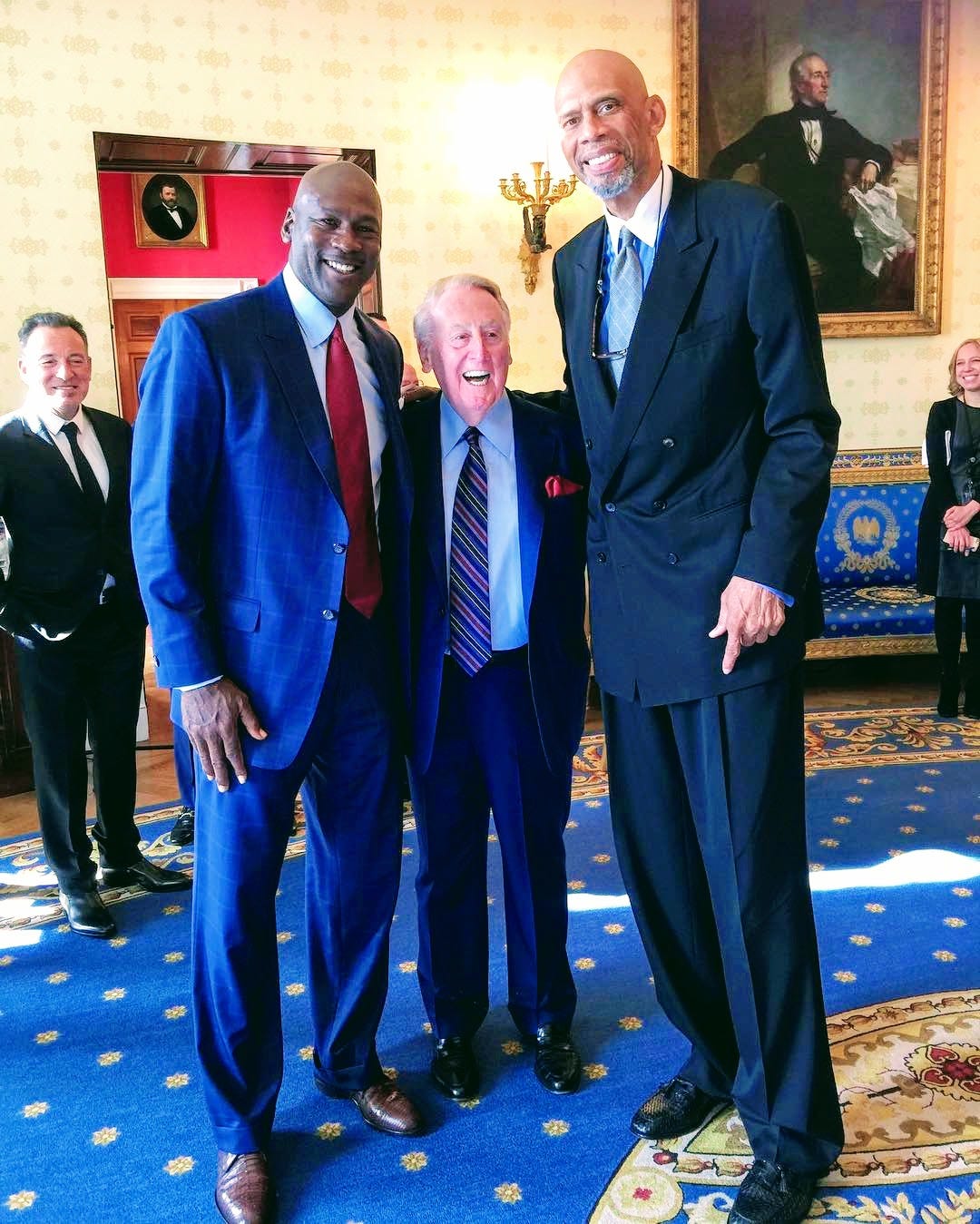 This photograph makes me so happy. It was taken at the White House, of course, on the day that 21 people received the Presidential Medal of Freedom. I first saw it on Vin Scully's Instagram page. I am thankful that Vin Scully has an Instagram page.
I have spent the last two days staring at this photograph more or less nonstop. It has everything. At the center, you have Vin Scully, a miracle. Look at the joy on his face. That's not one of those "OK, everybody smile," expressions -- that is the pure and runaway wonder of a child who cannot believe that life has been so good to him.
That was the wonder that Vin Scully brought to baseball. You can talk, of course, about the poetry. "In a year that has been so improbable, the impossible has happened." You can talk about his sense of rhythm and tempo and music, the way he watched Henry Aaron hit the home run that passed the Babe, declared it gone, and then stepped aside for 27 seconds to let people hear the crowd roar, the fireworks go off, the rapture everyone felt just being there.
And then, at exactly the right beat, he sang:
"What a marvelous moment for baseball. What a marvelous moment for Atlanta and the state of Georgia. What a marvelous moment for the country and the world. A black man is getting a standing ovation in the deep south for breaking the record of an all-time baseball idol."
You can talk about the stories, the interludes, the vivid descriptions, the way he would take the plainest of moments -- baseball's beauty is in all of its plain moments -- and turn it slightly magical: "So," he would say, "deuces wild, two balls, two strikes, two outs, two on and two runs in the game."
But it was his joy, above all, the way he could express his own sense of fortune at every game for more than a half century, that made him a miracle. Vin Scully's life has had great sadness in it. Personal tragedies. Long lives do. "In the silence you don't know, you must go on, I can't go on, I'll go on," Samuel Beckett wrote. Vin Scully went on, and somehow, through it all, conveyed that he still could not believe how wonderful it all is, a hitter, a pitcher, a beautiful day at Dodger Stadium. Pull up a chair and spend the afternoon with us.
To his right in the photograph, blocking the lower corner of he painting of John Tyler, that's Kareem Abdul-Jabbar, of course, and the smile on his face is a bit more forced, a bit wearier. That too fits. "Listen kid," he said to the boy in the cockpit in "Airplane," "I've been hearing that crap ever since I was at UCLA. I'm out there busting my buns every night. Tell your old man to drag Walton and Lanier up and down the court for 48 minutes."
Kareem's game was pure efficiency. In his later years and after he retired, people would write about the beauty and gracefulness of his signature move, The Skyhook, but it always seemed to me that the miracle of The Skyhook was how ungraceful and unbeautiful it was; The Skyhook was scoring refined and distilled down to a sort of clear basketball concentrate. You knew it was coming. You had seen it a thousand times before. But it was unstoppable as rain and as unavoidable as the wind.
To Vin's left in the photograph, with Ulysses S. Grant hovering over his shoulder, is Michael Jordan. He too has a camera-ready smile, though unsurprisingly, unlike Kareem's, it is perfect.
Somewhere on my computer, I keep a list not of the greatest athletes I've seen in my charmed career as a sportswriter but of the most wonderful to watch. There is a small but subtle difference. On there you would find Dwight Gooden for those two years when everyone chased the high fastball, and you would find Steph Curry, even when was he was a skinny kid at Davidson who no one else recruited. You would find John McEnroe on there when he could volley so softly that the tennis ball would not bounce, and Monica Seles when she grunted like an old car engine and hit nothing but lines. Barry Sanders is on there, and then he's gone, and then he's back again. Some of the greats are there -- Gretzky, Magic, Marino, Federer, Tiger, Messi. And some who never quite became great are there too -- John Daly, Michael Bishop, Tom Dodd, Deion Sanders but as a baseball player, Darren Sproles but in high school, Juan Martin Del Potro and, of course, Bo.
But no one ever was more wonderful than Michael Jordan. This is the part that can get lost when you consider Jordan's place in basketball history, his NBA record 30.1 points per game, his unquenchable thirst for winning, his impact on sports as a business, his uncertain political and social stances (though he has always denied that he said "Republicans buy sneakers too"), his role in helping Bugs Bunny and friends defeat the Monstars.
Jordan made basketball three-dimensional in the way a pop-up book can. This is not to diminish the sheer sensation of his basketball ancestors. of Dr. J and Elgin Baylor and Connie Hawkins and Pistol Pete Maravich and David Thompson and Earl the Pearl Monroe and Bob Cousy and all the rest, but Jordan was just slightly more miraculous than any of them. There was something about the way he moved, the way he faked, the way he jumped, the way he leaned and tilted and soared and fell, the way his tongue stuck out, all of it overloaded the senses and left your brain sending out a distress signal with a long series of exclamation points ("!!!!!! !!! !!!!!!!!!!").
And then, to the left of Jordan's arm, there's the photograph's Rosebud, the thing that makes it all so impossibly beautiful. That's Bruce Springsteen. And his smile is as real as a smile can be because he's not in the photograph. He's watching it with us.
A lot will change in 2017. I suppose that's true for all of us, but in this case I'm speaking personally. I turn 50 as the year begins. And I will start a new adventure, a couple of them actually, stuff I can't wait to tell you about. When I was a columnist in Kansas City, I used to write an annual Thanksgiving column where I listed off dozens of things I was thankful for -- Arthur Bryant's burnt ends, Hamilton, those who give out full-sized candy bars at Halloween, old Cubs fans who cried when the final out was made, card tricks, typewriters, the way leaves crunch under your feet, Usain Bolt in full stride, Louis CK in full stride, Jason Isbell in full stride, that song "Death of a Bachelor," the rare instances when I still understand my daughters' homework, people who give up their seats on planes so friends and family can sit together, Ward Parkway, Fifth Avenue, cloudy days in Burnley, the West Side Market, Skyline Chili 3-Ways, Adrian Beltre fielding a ground ball, Sidney Crosby powering through, Keira Knightley doing anything, Harry Houdini, The Great British Bake Off, all those mushy things about Margo and Elizabeth and Katie and all my friends that do not need to be said and the way that baseball fields look as you're flying over the city.
Finally, though, I'm thankful for those small but potent moments of joy that make just a tiny bit of sense of this crazy world and these crazy times we live in. Whenever it seems too much, whenever I get a little bit pessimistic about the world or feel a little bit stuck or wonder how and why and what's next, I try to go back to the things that give me hope, give me faith, to the music, to the compassion, to the humor, to the magic, and maybe too I'll go back to this picture and see that big smile on Vin Scully's face, and see just how tall Kareem really is, and see how perfectly Michael Jordan wears a suit. And then I'll see Bruce in the background and think, you know what? It ain't no sin to be glad you're alive.