Talkin' Some Hall of Fame
So, we're going to begin some Hall of Fame stuff this week, but first I want to catch you up a bit on the Baseball 100. It is now coming back to me why it has been such a struggle to finish these lists — I don't know why I keep forgetting. I suppose it's the same brain function that makes you forget how hard it is to take care of a baby. Without that forgetter gene, nobody would ever have a second one.
So it is with these Baseball 100s. You know, when I first came up with the idea of doing a Baseball 100, I was going to write just a paragraph or two on each player. That was enough, I figured. But that was when I thought that it was the RANKINGS that mattered. Very quickly I realized that the rankings are unimportant except as a device to keep things lively and contentious.
It's the stories that matter. That's the only thing I really bring to the table.
Here's what happens after figuring that out: The stories get harder and harder to write. For the first few, not too hard, but then I write a sweeping essay on Tony Gwynn. And if I'm going to do that, shouldn't I write an even MORE sweeping essay on Phil Niekro? And if I do that shouldn't I write an even MORE sweeping essay on Carlton Fisk. The expectations build on each other. If you're going to spend that much time writing the perfect Reggie Jackson piece, how can you not do something even more in depth on Mike Schmidt or Rickey Henderson. And then what do you dow when you get to the gods — to Ted Williams and Henry Aaron and Satchel Paige and Babe Ruth?
It's like that story about doubling the rice on the chess board.
So now is the time in the countdown where I am writing and writing and writing and thinking — "Oh no, how in the world am I going to finish this?"
I don't know. But I will finish it. Just don't be surprised if by the time I get to the greatest player ever, the entire essay goes like so: "He was good."
The Athletic
Picking up the Baseball 100:
No. 86: Gary Carter
No. 85: Sadaharu Oh
No. 84: Cool Papa Bell
No. 83: Phil Niekro
No. 82: Kid Nichols
No. 81: Fergie Jenkins
No. 80: Carlton Fisk
Oh, I wrote another Browns diary item after they fired GM John Dorsey. What a team. I can't wait to write about them blundering their coaching hire which they are 97.3% likely to do (margin of error +/- 2.7%).
The Soul of Baseball Audiobook!
The audiobook for Soul is finally coming! I got the cover. I'll give you a date for when it will actually come out and, yes, I suspect there will be a couple of cool events for it.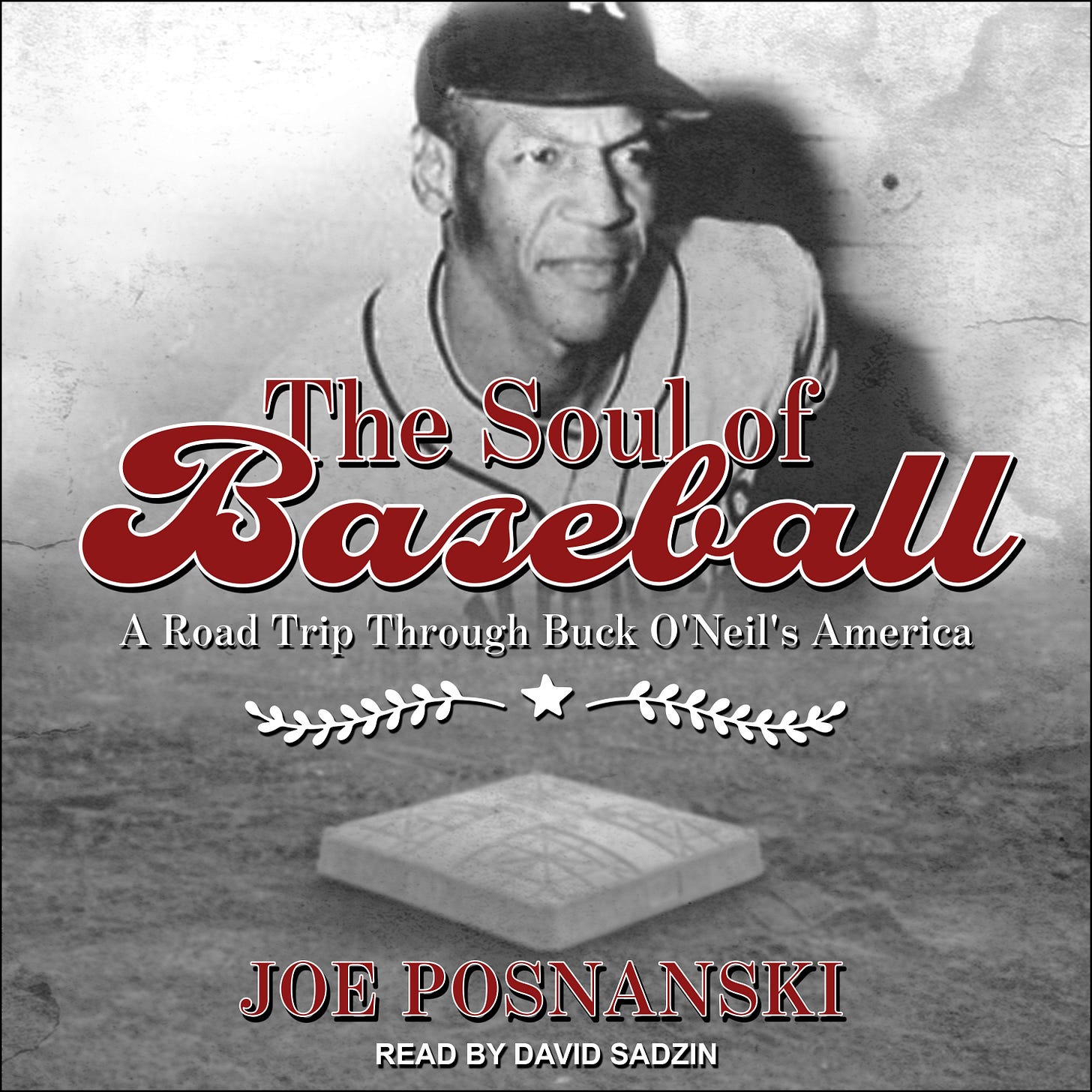 It's Hall of Fame Time!
Unfortunately, as you can tell from the top-line item on the newsletter, I simply don't have time to do my day-by-day profiles of every player on the Hall of Fame ballot. But I thought I'd give you a three-part roundup that matches my three-step voting process. First, I eliminate those players I know I will not vote for. Second, I eliminate players I think were pretty darned good but not good enough to make my finalist list. And then finally I cut my finalist list down to the players I actually vote for.
So today, first step, I'll give you a little the players who were good but not quite good enough to make it to the second round.
Josh Beckett: It was a fantastic career for Beckett. I mean, the guy beat the Yankees in the World Series. and he could have won the Cy Young Award in 2007 — who wouldn't take that career? But didn't it always feel short of his potential? Some guys are just cursed that way, cursed by the expectations. Beckett was the second pick in the 1999 draft after the star-crossed Josh Hamilton, and he had electrifying stuff. He was 23 when he shut out the Yankees in Game 6 of the 2003 World Series, and it looked for all the world like he would be the Tom Seaver of his generation. He did have his moments, particularly in 2007, when he looked like that. But there were injuries. There were lost seasons. And then, quite suddenly, the career was over.
Heath Bell: He was a 69th round draft pick of Tampa Bay — which looks like a misprint — and he did not sign. Instead, two years later, he wasn't drafted at all and signed with the Mets as an undrafted free agent. He didn't get a real chance to play until he was 29 when the Mets traded him to San Diego. He became the Padres closer at age 31, inheriting the job from Hall of Famer Trevor Hoffman, and for three years he was Hoffman-like. He saved 132 games with a 2.36 ERA and more than a strikeout per inning. He did this cool thing when he came in from the bullpen. He would run at full speed to the strains of Breaking Benjamins's "Blow Me Away," — which was kind of like Hoffman's "Hell's Bells" — and then he would slide right in front of the mound.
Eric Chavez: I'd say from 2001 to 2005 — right in the middle of the Moneyball Era — Chavez played at more or less a Hall of Fame level. He hit .278/.351/.506, averaged 30 homers and 100 RBIs per season and won five Gold Gloves at third base (and deserved most of them). He couldn't maintain that level, but not many have. Chavez had a bunch of injuries, but he stuck around for 17 years. Among Oakland Athletic players, only Rickey Henderson got more at-bats and only Mark McGwire hit more home runs.
Chone Figgins: In 2009, Chone Figgins was fabulous. I don't know exactly what happened, but that year he simply would not swing at a bad pitch. He had never walked more than 65 times in a season, but in 2009, he walked 101 times. He scored 114 runs, stole 42 bases, played a good second base, made the All-Star team and got some MVP consideration. He wasn't quite that good in any other year, but throughout Figgins was fast and versatile.
Rafael Furcal: There's quite a lot to like about Furcal's career. He won the Rookie of the Year Award in 2000, he was an often dazzling defensive shortstop, he led the league in triples one year, stole as many as 46 bases, hit .300 his first full season with the Los Angeles Dodgers and got a little MVP consideration. He was sort of on pace for 3,000 hits as he made it through his 20s. Furcal dealt with a plethora of injuries and couldn't overcome them but at his best, he was pretty sensational. Plus, he was devoted to his hometown of Loma de Cabrera in the Dominican Republic and once got the Los Angeles Fire Department to give the town a fire engine.
Carlos Peña: OK, so Carlos has become a friend from working together at MLB Network — and as such I will occasionally go back to his Baseball Reference page just to stare once again at his 2007 season. What an absurd year. He hit .282/.411/.627 with 46 home runs, 121 RBIs, 103 walks. I mean that was one incredible season. Two years later, he led the American League with 39 home runs, but it was not the same. He struck out 21 more times and walked 16 fewer times, and that's basically the difference between a legendary season and a very good one.
Brad Penny: He, like his teammate Josh Beckett, was fantastic in the 2003 World Series against the Yankees and there was the thought that he (like Beckett) would become a star. Penny was traded to the Dodgers the next year and had a couple of good seasons in LA, particularly his 2007 year when he allowed just nine homers in 208 innings. But then came the injuries and he finished his career playing for six different teams in his last six seasons.
J.J. Putz: He — like Peña and Penny — had by far his best season in 2007. He went 6-1, saved 40 games, had a 1.38 ERA and struck out 82 against just 13 walks. Most people liked having fun with his name — and it is a fantastic name — but he was a fine reliever. He had five or six good seasons, particularly during the comeback portion of his career with Arizona when he was in his mid-30s.
Brian Roberts: In my mind, I often confused Brian Roberts and Michael Young — I guess it's understandable since they were both good-hitting American League second basemen at precisely the same time. Young led the league in hits twice and batting average once, but Roberts led the league in doubles twice and stolen bases once. Young was the one with the personality that teammates like Brandon McCarthy swore by. Roberts was the one who switch-hit and was the better defensive player. Separately, Roberts was named in the Mitchell Report and then admitted that he once took steroids but immediately regretted it and never did again.
José Valverde: Papa Grande led the league in saves on three different occasions, twice got pretty serious Cy Young consideration and nobody celebrated outs quite the way he did. He would jump around, wave his arms, do little dances, take off his cap, kick the air, point to the sky, go to one knee, well, we could do this all day because it seemed like a slightly different celebration each time. He didn't exactly make friends celebrating the way he did, but it was pretty entertaining for the rest of us.