Super Joe Turns 60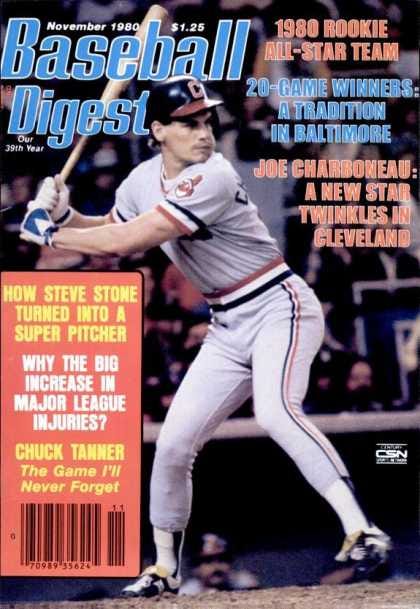 Is that a great Baseball Digest cover or what? How did Steve Stone turn into a super pitcher? What was the game Chuck Tanner would never forget. And most importantly: Did Joe Charboneau really twinkle? Of all the verbs to use, that one seems just about the least appropriate for the man.
Super Joe turns 60 today, and in his honor I revisited a story I wrote about him several years ago. In that one, I began by pointing out that the No. 1 comedy on television going into the 1980 baseball season was Three's Company, and that on March 25, 1980 it had an epic show called "The Goodbye Guy."
The summary: Jack, Janet and Chrissy think that Mr. Furley is going to kill himself and they show praise for him.
If there was ever a perfect 20-and-under word description for that impossible to explain show, this is it. The show, week after week, involved two things. One, it involves some irredeemably stupid misunderstanding that should have taken three seconds to clear up. Two, it involved John Ritter falling down. That was a winning formula in 1980 when gas lines were long and interest was high and tempers were short and everything seemed kind of bleak and hopeless, especially in Cleveland.
I don't need to tell you that 1980 was a bad year for Cleveland sports because, yeah, they all were bad. Ted Stepien owned the Cavaliers. The Browns were plunging into Red Right 88, which I still think of as the worst moment of my Cleveland sports life (other than the Browns actually leaving Cleveland). And the Indians had been blandly lousy for two decades.
Then, that March, we get word that in Mexico during spring training a lunatic fan stabbed an Indians rookie with a pen. The fan said he just hated Americans. The rookie he stabbed was promising too; he had hit .352 in Chattanooga. Now, his future was in doubt. Only in Cleveland, we thought, could a promising career be derailed by a Bic.
But we didn't know that rookie yet. You couldn't stop him a pen. Are you kidding? The reporters found the kid and asked him how he felt after the pen stab. He said he felt fine and that he now wanted to be a spokesman for Bic because he could prove, once and for all, that pens could write through blood.
That's how we were introduced to Super Joe Charboneau.
He was a phenom that spring. Well, OK, phenom is a strong word for a guy who didn't hit all that great. But for a team planning to go with Cliff Johnson at designated hitter, he was sort of a phenom. Indians president Gabe Paul did say, "We like what we see." That was just about as effusive as Gabe Paul got.
And we understood something. The Indians were not going to get a HERO that year. In other words, there wasn't going to be any one player who was going to, Roy Hobbs style, turn this team from blah to champion. I mean: Dan Spillner was the team's opening day starter. Spillner, you probably already know, is the third best baseball player from Casper, Wyoming — trailing only Mike Devereaux and Tom Browning. Yeah, those are the only three players who made the big leagues from Casper, Wyoming.
So, no, Cleveland wasn't going to get a HERO, all capital letters. But they sure could get use a lower-cased hero, someone who was interesting, someone would make the summer more interesting. And so we were certainly intrigued by a punk-rocker type ballplayer named Joe Charboneau who had already been stabbed with a pen by a crazy fan. It seemed promising.
Then, Charboneau homered in his first game in the big leagues. Hey, what do we have here? That was his only real highlight of the opening road trip, and he came home to Cleveland hitting .200. Still, that homer stuck in our minds. There were more than 60,000 people at Cleveland Municipal Stadium on Opening Day — even in the worst times, Opening Day in Cleveland was a celebration. This is absolutely true: In 1978, this is absolutely true, the Indians drew as many people on Opening Day as they drew for their next nine home games COMBINED. In those days, the only way a Cleveland Indians player would really get noticed was to do something on Opening Day.
Joe Charboneau did something. He got three hits including a double and a homer and, well, yeah, there was something of an overreaction. When you have a terrible team, you don't have the time or perspective or inclination to see if someone will actually turn out to be a good player. Why wait? Go crazy now. I remember being Cincinnati in 1994 when the Bengals started out 0-7 and were getting ready to play the Dallas Cowboys. Their starting quarterback, David Klingler, had been essentially bludgeoned to death in a Game of Thrones sort of way because of the team's offensive line, and so the Bengals went into the Cowboys game with an unknown kid from East Carolina named Jeff Blake. I believe Dallas was favored by 384,072,176 points, but I might not have the exact number right.
As it turned out, Blake came out and connected on two bombs right away, both to Darnay Scott, and the Bengals led 14-0. Of course they ended up losing, but those two touchdowns were enough to get people in town writing songs about Jeff Blake — seriously, songs, like "Shake 'N Blake."
At first I thought, "Shouldn't Cincinnati wait before writing paeans to Jeff Blake?" Then, like George Bailey, I thought: "Wait for what? Until their children grow up and leave them? Until they're so old and broken down that they ..." Don't wait. Write the song now.
That day in Cleveland, two fans — Don Kriss and Stan Bloch — were sitting in Section 36. A quick search tells me that Kriss was a song writer. band member who hung out with the legendary Cleveland punk band The Baloney Heads. And Bloch was a guitarist for The Baloney Heads. I love that The Baloney Heads have a capital T in "The" — not to be confused with any other Baloney Heads.
In any case, they were sitting there, and they saw Charboneau homer, and they were struck with that bit of inspiration that cannot be denied. They had to write a song. And boy did they write a song.
Go ahead: Sing along! You know what to!
OK, if you don't want to sing along, here's the heart of the song:
Who do we appreciate?
Go! Joe! Charboneau!
Fits right in with the other eight.
Go! Joe! Charboneau!
He didn't actually fit in at all, but those guys couldn't have known that yet. Nobody understood yet that Super Joe was a character all his own, a cult hero who didn't need a cult. All we knew early on was that he was kind of quirky and he could hit. By the end of April, he was among the league leaguers in hitting.
That's when the stories began to come out.
Super Joe story: He'd had his nose broken so many times he could drink beer through his nose. And he would … on command.
Super Joe story: When asked about the pen stabbing, he shrugged. "Oh I've been stabbed lots of times by lots of things," he said.
Super Joe story: He had once come very close to quitting baseball because he'd come into a pretty good job as an electrician.
Super Joe story: He had rid himself of a tattoo with a razor, pulled a tooth with a vice grip and stitched up his own wounds with a needle and thread.
Super Joe story: He could open beer bottles with his eyelids.
It was this last one that trumped all others, because, frankly, nothing sounds more stupid or needlessly painful than opening a beer bottle with your eyelid. How would you even find out that you had that skill?
The stories grew and grew, and as they did Super Joe Charboneau became our own. It didn't matter if he hit, and in truth he stopped hitting for a long while after his hot April. He was sent to the bench, which did not make him happy. But at that point we didn't care. He was Super Joe, man of myth, man of legend, and then we started hearing more stories about him, some clearly dubious — he had begun as a bare-fisted fighter in bars, he had saved a woman from muggers by throwing his shoe, he had once eaten an entire wall of drywall. The stories didn't matter, the hitting didn't matter ... at this point it didn't matter, the Indians were blah, the summer was boring, give us more Super Joe.
Super Joe did start hitting again. In a two week span leading into the fourth of July, he hit over .400. He banged two homers in the Astrodome and, two days later, homered in the second game of a doubleheader in Cleveland. He homered on back-to-back days against Oakland and Minnesota. He was beat up throughout the season, but they kept putting him in the lineup and he banged three homers in four games against the White Sox. So that was fun.
Then, finally, he couldn't play anymore, something with his pelvis, but the Indians would keep pinch-hitting him because, well, what the heck? On September 26, as a pinch-hitter, he launched his 23rd and last homer of the season off Mike Flanagan to lift the Indians to a victory over the Orioles. He finished the year hitting .289. He breezed to the Rookie of the Year award that almost certainly should have gone to Britt Burns. but let's face it -- how much fun would it have been to give to Britt Burns compared to Super Joe Charboneau? Anyway — like LeBron in the NBA Finals — Super Joe was bigger than awards.
It all ended for Super Joe that year; the next year he hurt his back he was almost instantly done. He would try a couple of different comebacks. Here's one for you — Super Joe Charboneau hit six home runs after his semi-magical 1980 season. All six were on the road. He never did homer in Cleveland again after 1980.
Charboneau turning 60 makes me feel old, of course, but in a way it doesn't matter because in my mind he will always be stuck in 1980, that year I turned 13, when Jack and Chrissy worried that Mister Furley was going to kill himself and the Olympics were boycotted and George Brett chased after .400. There have not been many grand victories for Cleveland in my lifetime and, after last night's loss by the Cavaliers, there are still no championships. But for a time we had Go! Joe! Charboneau! turning the town upside down.
Joe and I are now Facebook friends, and I wanted to think of just the right thing to post on his wall for his 60th birthday. I thought about it and finally gave up. I just wrote: "Happy birthday, Super Joe." What else needs to be said? Pop open an ice cold brew with your eyelid and celebrate.