Shadowball 97: Herb Score
Herb Score was my summer. He was the Cleveland baseball announcer of my childhood. From my earliest memories until my teenage years, Herb Score's voice played in my head more than anyone's ... I still hear it now. I still hear Herb tell us the weather -- "It's a beautiful day for baseball," was how he began every game, even the rainy ones. He broke the most important news ("Don't forget Sunday is Youth Jacket Day at the ballpark"). He even taught us math:
Score's partner, Nev Chandler: "That base hit makes Cecil Cooper 19 for 42."
Herb Score: "Even I know that's over .500."
He gave us an outlook on life, an outlook that I cling to even now.
"It's a long drive," he would say. "Is it fair? ... Is it foul? ... It is!"
It is. The one thing that Herb Score never told us, not in 30 years of broadcasting baseball games, is that he might have become the greatest pitcher who ever lived ... and he had the chance stolen from him. How would any of us deal with that? How would any of us survive the suffocating sadness of what might have been?
Could any of us have carried ourselves with the dignity of Herb Score?
Herb Score's middle name was Jude. He was named for St. Jude, the patron saint of lost causes. At 3, he was hit by a truck and nearly lost both legs. At 8, he had rheumatic fever. At 15, he needed an emergency appendectomy. In his first full minor league season, he separated his shoulder. At another point, he cracked his elbow simply through the violence of his follow-through.
Two remarkable blessings did fall upon Herbert Jude Score. First, he was blessed with a remarkable mother, Anne. "She worked while I played," Herb often said. Score's father was not often in his life, but his mother supported him and cared for him and prayed with him. Together they fought off Herb's Job-like trials and tribulations. Somehow they kept putting the pieces back together.
The second blessing: Herb Score was born with a left arm like no one on earth, not even a promising young pitcher about his age named Sandford Koufax.
Anne and Herb left New York when he was 15; she found a banking job in a place called Lake Worth, Fla., a little city bordering West Palm. It was a good place to settle. A guy named Cy Slapnicka lived in Lake Worth -- you might have heard of him. Slapnicka was an Iowan who had pitched briefly in the big leagues, and then he kicked around the game for another 50 years. He did a lot in baseball. Mostly, he signed Bob Feller.
And so the first time he saw Herb Score, Slapnicka just knew. He had found the left-handed Feller.
Slapnicka was hardly the only one to notice. Score was everything then. He was a basketball star. He was a power-hitting outfielder. But it was that arm -- he threw so many no-hitters that once, when he allowed four hits in a game, The Palm Beach Post wondered what was wrong with him. Score eventually got offers from 14 of the 16 big league teams. But Slapnicka wasn't going to let this one get away; he was a ruthless recruiter of talent (he almost lost Feller because of his overzealousness in the signing) and he saw Score as perhaps his last great chance to sign a pitcher who would change the course of baseball.
"A scout brought Hal Newhouser to me," Slapnicka said. "And I foolishly let him get away. This boy throws as hard, if not harder."
There were a lot of theories about how much Cleveland gave Herb Score. ("The Cleveland organization never discusses amounts paid to players," Slapnicka told a reporter. "It's not good for their morale.") At first, it was $50,000.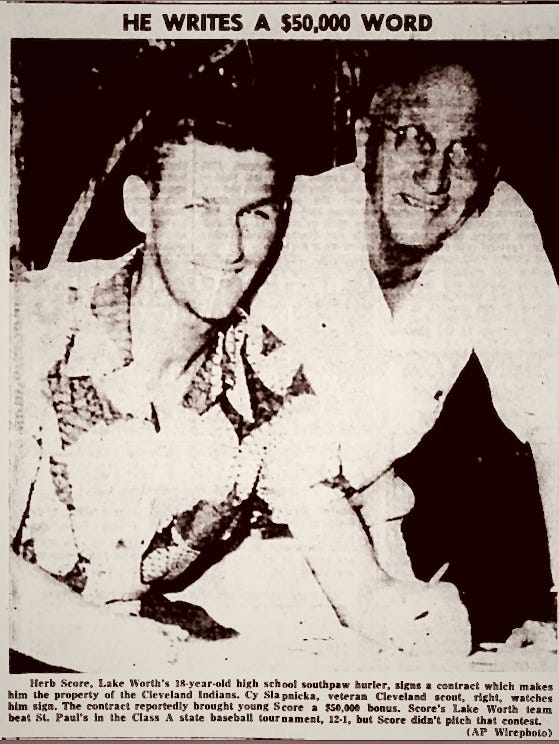 Later, newspapers adjusted their estimate to $75,000. (Score later said it was $60,000.) All anyone knew for sure was that it was one of the biggest signing bonuses ever given a player, and so everybody around America watched the kid closely. On June 27, 1952, Score made his professional debut in an exhibition game against the Cincinnati Reds. He struck out four of the first five batters he faced, but the bigger thing was the way everybody talked about his fastball. "I never caught anybody who throws like that," catcher Joe Tipton said. Cleveland manager Al Lopez said that he had seen only one pitcher throw that hard, and that was the poetically named Van Lingle Mungo.
He was fast, yes. But Herb Score was also wild. He walked 62 in 62 innings as a 19-year-old at Triple-A Indianapolis, and the next year, even though he went down to Class A Reading, he walked 126 in 98 innings. You never know for sure how a pitcher that wild will adapt -- some figure it out, most don't. In 1954, though, Indianapolis manager Kerby Farrell found a flaw in Score's delivery that could be fixed: He noticed that Score turned his head away from the plate just as he let go of the ball. "We're going to correct that in a jiffy," Farrell said. "I guarantee you he'll get the ball over the plate."
It worked. Score never fully solved his wildness -- he walked 140 in 251 innings for Indianapolis in '54 -- but he tightened things up enough. Plus, he threw the ball even harder. That year in Indianapolis, he struck out 330, finished 22-5 with a 2.62 ERA, and he was ready for the big leagues.
How good was a 22- and 23-year-old Herb Score? He led the major leagues in strikeouts both seasons. In 1955, he struck out 9.7 batters per nine innings. That looks pretty normal by today's standards, but in 1955 it was otherworldly, like an optical illusion. It was like one of those insane Wayne Gretzky scoring seasons. No starter in baseball history had ever averaged nine strikeouts per nine innings. None had ever even been close. Newhouser averaged 8.46 strikeouts per nine in 1946; that was the record. The greatest strikeout pitchers ever were not in the stratosphere.
Bob Feller's career high for a full season was 8.4 strikeouts per nine.
Walter Johnson's career high was 7.6 strikeouts per nine.
Lefty Grove's high had been 6.8 strikeouts per nine.
There was simply nothing to compare to Score. The league hit .194 against him in his rookie season of '55. They hit .184 against him the next year. In that season, Score led the league in shutouts, strikeouts, hits per nine, strikeouts per nine and what would later be known as FIP. But it was the awed way in which opponents talked about him that made you understand how special he was.
"Billy Martin was the only batter who WASN'T afraid of Score," Yankees manager Casey Stengel said after the lefty came within six outs of throwing a no-hitter against New York. "All the others were terrified."
The papers had started to call him "Man of the Future." I like that. It sounds very much like a 1950s thing, a Buck Rogers thing, and there was no doubt in anybody's mind that Score was baseball's future. "Herb's got it," one columnist wrote. "He's baseball's next hero." Boston Red Sox owner Tom Yawkey reportedly offered Cleveland $1 million for Score. The Tribe said no.
By 1957, the expectation was that Score would do impossible things, break Bob Feller's season strikeout record, maybe even strike out 400 in a season. In his first game in 1957, Score pitched 11 innings, struck out 10, walked 11 and somehow gave up just two earned runs. Next time out, he threw a more conventional shutout, and the time after that he allowed three hits and one run. He had a LaLoosh-like outing on May 1, going 6 1/3, striking out 12, walking eight and giving up five runs. The papers all over the country made a big deal about it, because after this game, Score was averaging 10 strikeouts per nine innings.
On May 7, 1957, this ad ran in newspapers across America, about a story that was coming out in The Saturday Evening Post: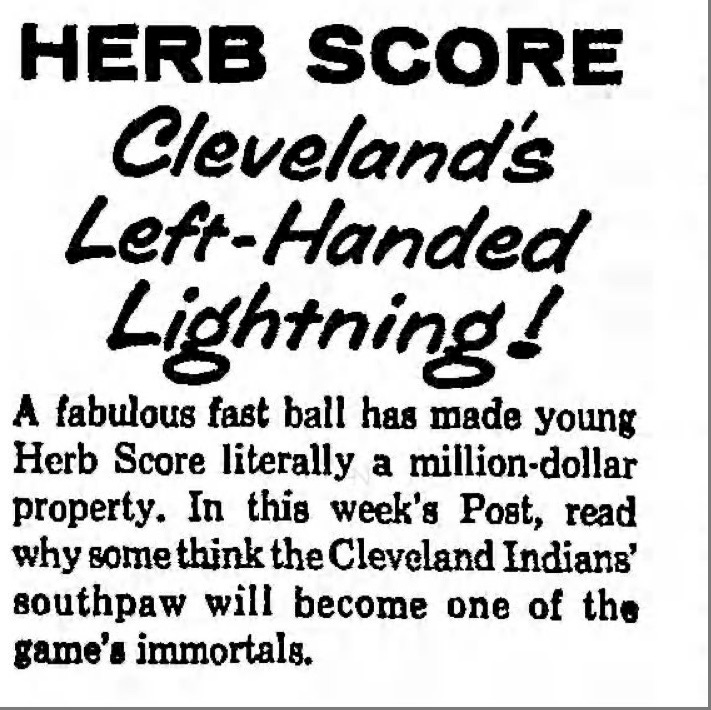 That very day, May 7, was the day that Gil McDougald hit the line drive that changed the course of Herb Score's life.
McDougald was the second batter in the Yankees-Tribe game played at Cleveland Municipal Stadium. About 18,000 were in the stands; it was a cool Tuesday evening. McDougald worked the count to 2-2, and then he ripped a Score fastball up the middle. Some writers made a point of mentioning that Score had a huge windup and he came off the mound off-balance -- but nothing could have changed what happened next. The ball came back too fast. The ball smashed Score's right eye. Those who were there would later call it the scariest scene they had ever seen at a baseball game. People around the stadium could hear the thud. There was blood everywhere. Score went to the ground, and everybody on both benches, it seemed, rushed to the mound. The first to get there was the aforementioned Kerby Farrell, the man who helped teach Score how to not turn his head as he released the ball.
"All we could think of doing," Farrell said, "was trying to save his life."
McDougald was so shocked by the scene that he did not run to first base -- Cleveland third baseman Al Smith picked up the ball and threw him out. The public address announcer asked in a frantic tone if there was a doctor in the stands. Score was conscious, thankfully. As they loaded him into the ambulance, he recalled Sugar Ray Robinson knocking out the famously tough boxer Gene Fulmer a couple of weeks earlier. "I wonder if Fulmer felt this way," Score said.
At this point, we should mention that the New York Daily News headline the next morning was: "Yanks Lose, 2-1; Injured Score May Lose Eye."
In baseball's grand retelling, the Herb Score story ends there, on that field, a bloodied Herb Score forever shattered by the experience. Junior Johnson once said that something happens to a driver after they hit the wall real hard for the first time; they're never quite the same. That's the enduring theory about Herb Score, that he was never the same, that he lost something -- confidence, nerve, boldness -- and he never quite recovered it.
But is that what really happened? I don't think so.
Herb Score did return in 1958. It took him three starts to get his feel back, but on April 23, against the White Sox, he was Herb Score again. He pitched a shutout, allowed three hits and struck out 13. "Memo to American League hitters," wrote the Associated Press. "Herb Score once again can fire that ball past you. ... His curve was breaking sharply, and his fastball really zipped, cracking loudly as it popped into catcher Dick Brown's mitt."
"That," Cleveland manager Bobby Bragan, "is the pitcher I've heard about and have been waiting to see,"
"This," another reporter wrote, "ends any question of his comeback."
But Herb Score's middle name was Jude. The very next outing, he hurt his elbow. "Trainer Wally Bock figured it may cause Score to miss at least one pitching turn," the papers reported. He ended up missing six weeks. And except for a couple of rare bursts of sunshine -- a shutout against Boston in '59, another in Kansas City in 1960, a 13-strikeout game against the Yankees -- Herb Score was finished as a great pitcher.
In other words, it was probably the arm, not the eye, that ended things. Of course, life is never that clear-cut. The world of might-have-been is filled with too many "mights." Score might have rushed back too fast after the eye injury. He might have changed his windup to adjust to his new reality. The layoff itself might have caused the problems. The elbow might have snapped anyway; after all, few had ever thrown a baseball as hard. Score might have thrown too many pitches. All we can say for sure is that Herb Score was a pitching sensation seemingly destined for Cooperstown and immortality, and then a line drive came back at him too fast, and then his elbow hurt, and then he spent a lifetime calling baseball games on the radio.
Is it fair? Is it foul? It is.
[caption id="attachment_23155" align="aligncenter" width="261"] Score, who died in 2008, was an Indians broadcaster from 1964 through '97.[/caption]
Herb often said that he lived a happy life. I vaguely remember the shock I felt when I first heard that Herb Score was a legendary pitcher who got hit in the face at the height of his powers ... how could he talk so happily about baseball night after night after night and never mention that? How could he talk so happily about baseball night after night at all?
"How can you beat that?" Herb used to say all the time. I love that line. He would be promoting Bat Day or Cap Day or Ball Day, and he would say, "Bring along the kids to an afternoon game on Sunday, and the first 5,000 will get a free T-shirt ... how can you beat that?" That was the old-fashioned joy he brought to every baseball game. It's a beautiful day for baseball. Bring the kids out. How can you beat that? I finally met him in 1997, at the World Series. That was his last year as a broadcaster. I was 30 years old, but felt like I was 9. I told him about listening to him on the transistor radio that I kept hidden under my pillow, exactly like the baseball cliché you might see in an old newspaper comic strip.
"You listened, really?" he asked. "That's wonderful."
It was wonderful. Herb Score was wonderful. He wasn't a poet behind the microphone. He wasn't Vin or Jack or Ernie or Harry or Marty. But he was ours. Herb Score was my summer. His life could have been very different, but, really, so could mine. If Herb Score had become one of the greatest pitchers ever, he probably wouldn't have been that voice on the transistor radio under the pillow. It would have been somebody else. And no matter how good an announcer that person might have been, he wouldn't have been Herb Score.
This ends with my favorite Herb Score story. Terry Pluto once asked Herb why he didn't talk more about strategy on the radio. Herb avoided that kind of talk. He never said, "This is a bunting situation." He never said, "The manager will probably intentionally walk the batter here." He never said, "You want to hit the ball to the right side on this one."
He never said any of that. Pluto asked him why.
"That's not for me to say," Herb explained. "That's a dad's job."
How can you beat that?