Royals vs. PECOTA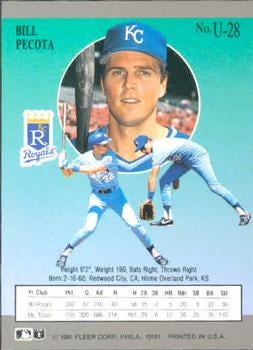 Let's start with Bill Snyder. In 1989, when he became football coach at Kansas State, nobody thought that the Wildcats could win. The team has not won a game in more than two years. But that was just the start of the issue: Kansas State had never won with any regularity. The Wildcats had been to one bowl game in their entire history. One. It was the Independence Bowl. They lost. When Snyder got to the school, one of the first things he did was have the school take that Independence Bowl trophy out of the case and hide it somewhere. He didn't want to celebrate THAT history.
There have been many stories – and there certainly could be another book or two – written about how Snyder turned things around at Kansas State. Some of it is obvious. He changed the mindset. He changed the culture. He changed the facilities. He changed the expectations. He changed the recruiting goals. He basically changed everything and slowly the team started winning, then winning some more, then – impossibly – becoming a national power. To me, it remains the greatest turnaround in the history of major American sports.
Something that miraculous doesn't happen without two things: A little bit of luck and a little bit of innovation. Kansas State got some of both. When the Wildcats began their ascent in the Big 8 conference, there was an uncharacteristic dip happening at Oklahoma. Those were the Gary Gibbs, Howard Schnellenberger, John Blake years. Missouri was scuffling along without any real direction. Oklahoma State was the same. This was an unusual lull in Midwestern football, an opportunity for a team to emerge. Then when the Big 8 became the Big 12, a sleeping Texas team entered, Baylor was a wreck, Texas A&M was finding its way. And Kansas State could fill the void.
The innovations – well, Snyder (in my opinion) was early to understand the heavy passing direction college football was going, and he and his coaches recruited very fast defensive backs to counter that. For the first few years, Kansas State won with good defenses and great defensive backs. Then, he recruited an amazing talent named Michael Bishop, who was this big, strong, fast quarterback with a huge arm – he and coaches designed a special shotgun offense around him featuring all sorts of zone reads. The Wildcat formation that took over college football for a while is, most agree, named after Kansas State.
With some innovation and a shift in the college football paradigm, Kansas State and Bill Snyder did incredible things. But this is not a story about Bill Snyder or the Wildcats. It's about the Kansas City Royals. As you no doubt know, the Royals have the best record in the American League and currently have an absurd 14 ½ game lead in the American League Central. There are still mathematical possibilities, but you would have to say the rest of the division is mostly dead.
On Tuesday, the Royals won their 73rd game of the season, which was a symbolic triumph. Before the season began, Baseball Prospectus' famed PECOTA system projected the Royals to win 72 games. The projection was somewhat controversial at the time (at least in Kansas City) because the Royals had just won the pennant. There was this sense that PECOTA represented all those more human doubters who were mocking the Royals hard-earned success. Nobody likes being called a fluke. There is now much dancing on PECOTA's failure.
But what interests me is why PECOTA got it so wrong. It's a fantastic system, and it has often been strikingly accurate. But even now, PECOTA projects the Royals to go 21-22 the rest of the season. PECOTA just cannot believe in the Royals, even if it is named after Royal Bill Pecota. Why not?
Well, Sam Miller of Baseball Prospectus exchanged emails with the Kansas City Stars Andy McCullough on this subject and explained it pretty well, I think. PECOTA, Miller wrote, seems to have a hard time valuing great bullpens, and it might have a hard time valuing great defense. Those are obviously two of the key reasons the Royals have played so well.
I suspect that's EXACTLY why PECOTA (and other systems) missed on the Royals. The Royals are winning in a way that, not too long ago, was no way to win. It seems to me that the Royals success, like Bill Snyder's success at Kansas State, but around a little bit of luck and little bit of innovation.
The luck part of my theory builds around this obvious fact: Baseball has fundamentally changed over the last few years. The steady elimination of steroids in the game is part of the reason. The effort for a more consistent (and slightly bigger) strike zone is part of the reason. The proliferation of strong-armed bullpens, with more and more pitchers throwing in the mid-to-high 90s, is part of the reason. The go-big-or-go-home hitting philosophy that emerged in the 1990s is part of the reason. Defensive shifts are part of the reason. We can keep going with this if you want …
… but the bottom line is we are back in the 1960s when it comes to the way pitching is dominating the game. Over the last three seasons, teams are averaging just 4.1 runs per game – that's a full run down from where the game was in 2000. It's the lowest three-year span of run-scoring since the run-drought of the early 1970s, which you might remember led directly to the addition of the designated hitter in the American League.
With scoring all around baseball down, the Royals were given an opportunity that just wasn't there before. Part of my theory here is that big offensive eras make it very hard for small-market teams to compete. It is no coincidence, in my opinion, that from 1995 to 2007, when teams averaged 4.8 runs per game, the era was mostly dominated by high-payroll teams – the Yankees, the Red Sox, the Braves, the Angels and so on. Yes, a few small-market teams did win some (one of them, you might recall, had a book written about it) but winning cheap was hard. Offense reigned and offense is very expensive. Effective starting pitching was rare, and effective starting is very expensive.
Moneyball is one of my favorite books, and I think Billy Beane is fantastic, but you could make a simpler argument that the A's won because they developed their own big hitters (Jason Giambi, Miguel Tejada, Eric Chavez, Nick Swisher …) and great starting pitchers (Tim Hudson, Barry Zito, Mark Mulder and Dan Haren, who came over for Mulder). When those guys priced out, the A's started losing again.
In the late 2000s, offense began to slow down, and you began to see some new kinds of teams emerging. Tampa Bay, with a nothing payroll , began to win. The Giants, with a big payroll but a relatively star-free team, began to win World Series. And, of course, Dayton Moore and his Royals staff revived one of sports more moribund franchises.
Could they have done it if baseball had not fundamentally shifted to a low-scoring league? I don't know but I would guess no. The Royals were never going to have guns to win a battle with the Yankees, Red Sox, Tigers, Angels and so on.
But now, it's not about guns … and that's where the innovation part comes in. I believe the Royals, like Bill Snyder, were way ahead of most other teams when it came to understanding just how baseball would be played in 2015. To me it comes down to three things that PECOTA, I suspect, greatly undervalues.
1. The Royals created a bullpen that has multiple closers.
-- For many years now, teams have been acutely aware of how many games they win when leading in the ninth inning. The number really hasn't shifted much – it has hovered around 95% for many years. But that has not prevented teams from spending hundreds of millions of dollars on closers, just to get the one or two extra wins a mediocre closer might blow.
The Royals turned the idea on its head last year, using three different closers for the seventh, eighth and ninth innings. They won 95% of the games they led going into the seventh inning. This year, with the effective additions of Ryan Madson and Franklin Morales and Luke Hochevar, they have taken 53 leads into the SIXTH INNING and won 50 of them.
It's a good thing to go 50-3 in games you lead entering the sixth inning. In the American League this year, teams win 82% of the games they lead going into the sixth. That is seven extra victories for the Royals, a huge difference.
2. They built a spectacular defensive team.
-- Dayton Moore always said that great defense was going to be a fundamental of the Royals resurgence, but it was a hard thing to see in the early years. From 2008-2010, the Royals were not only the worst defensive team in baseball according to Dewan's runs saved, they were one of the worst defensive teams in baseball history. They were terrible at more or less every position. That began to change in 2011 and by 2013 the Royals were clearly building a pretty special defensive team. Alex Gordon was a revelation in left field. Alcides Escobar was making great plays at shortstop. Young Salvador Perez was superb behind the plate. Lorenzo Cain was beginning to display his brilliance.
Now, the Royals are the best defensive team in the league by a pretty substantial margin. They have Gold Glove caliber fielders at six or seven positions and no weak fielders. This doesn't happen by accident. The Royals scouts have proven adept at finding great athletes who become great fielders. When the Royals traded Zack Greinke to the Brewers for Escobar and Cain, there were many people around baseball who told me that there were much better offers on the table. I wrote that then, and I still believe there were better offers for OFFENSIVE players. But you can't get much better defensively than Escobar and Cain, and that's the direction Moore and the Royals took. I give them a whole lot of credit for that.
The Royals picked the right era to build a defensive dynamo. You might remember that one of the tenets of Moneyball was that it is worth giving up a little defense in order to get efficient offensive players – they famously put Scott Hatteberg at first base ("It's incredibly hard," Ron Washington told Hatteberg in the movie). That philophy right for the time. The game was about getting on base, wearing down starters and hitting home runs. The percentage points you picked up on the defensive side were not enough to counter the big offenses of the day. The Yankees were an often terrible defensive team during their dynasty years. The Red Sox of 2004 were a dreadful defensive team.
But now, with scoring down, with balls staying in the ballpark, with strikeouts at all-time high – you can do an awful lot of winning by being the best defensive team in the game. The Royals anticipated that.
3. They built an offensive philosophy that went entirely against the Moneyball model.
The Royals don't walk. The Royals don't hit home runs. The Royals don't strike out. The Royals run. It's anti-moneyball in many ways. And, well, it's not an especially efficient offensive model. You can run the numbers any way you want and it will tell you the same thing: Putting a lot of balls in play is no way to score a lot of runs.
And the Royals don't score a lot of runs. They're eighth in the American League this year, they were ninth in the American League last year. But, and we're repeating ourselves: You don't HAVE to score a lot of runs now to win games. Take a look at the Royals records by runs scored:
0 runs: 0-9 1 run: 0-11 2 runs: 4-11 3 runs: 12-5 (3rd best in baseball) 4 runs: 13-2 (best in baseball) 5 runs: 8-4 6 runs: 8-2 7 or more: 28-1
Everybody wins games when they score five or more runs. Heck, the Phillies are 29-12 this year when scoring five or more. But as you can see, the Royals really excel when they score three or four runs a game. They are winning those games 78.1% of the time which is the best 3- and 4-run record in baseball since at least 2000.
And that's the key, this kind of put the ball in play and run like heck offense CAN score three and four runs a game. And the Royals do. They put the ball in play, the take the extra base, they move runners over. And once again – the Royals were ahead of the curve. From 1995-2007, that crazy run-scoring era, teams that scored 3 or 4 runs won just 40 percent of the time. It just didn't matter how good your pitching was, how good your defense was, if you had the Royals sort of scrappy offense, you just could not contend for titles in the American League. Look at the pennant winners:
1995: Cleveland, 5.83 runs per game. 1996: Yankees, 5.38 runs per game 1997: Cleveland, 5.39 runs per game 1998: Yankees, 5.96 runs per game 1999: Yankees, 5.56 runs per game 2000: Yankees, 5.41 runs per game 2001: Yankees: 4.99 runs per game 2002: Angels: 5.25 runs per game 2003: Yankees, 5.38 runs per game 2004: Red Sox, 5.86 runs per game 2005: White Sox, 4.57 runs per game 2006: Tigers, 5.07 runs per game 2007: Red Sox, 5.35 runs per game
Only the 2005 White Sox even come close to the 4.37 runs per game the Royals score now. And that White Sox team hit 200 home runs, almost double what the Royals will end up with this year. The Royals offense is fit for today's era – it's a 4-cylinder, multifaceted, energetic offense that can't go 90 mph but doesn't guzzle gas and will get you there most of the time.
And so this is how I think the Royals beat PECOTA, at least for this year. The game veered and they adjusted more quickly than perhaps any team in the league. I suspect they won't be the last team to try and build a hard-throwing bullpen, a defensive behemoth and a lineup that puts the ball in play. Thing is, by the time that happens, the game will undoubtedly shift again.