RIP Jane
https://twitter.com/jeffpearlman/status/873889412949696512
I never met Jane Bachman Wulf, but -- like Jeff -- she altered my life. When I was 18 years old and felt like every road was a dead end, I sent out a bunch of letters to a bunch of people who seemed to have answers. I wrote to people in radio, television and newspapers. I wrote to baseball announcers and talk show hosts and I wrote "To whom it may concern" letters to the magazines I loved.
The letters weren't much. They were basically: "Help. I have no idea what to do with my life. How could I work there?" Some people didn't write back but more people did than I ever could have imagined.
Jane Bachman Wulf was chief of reporters at Sports Illustrated, the biggest dream place of all, and she wrote back the most comprehensive letter of all.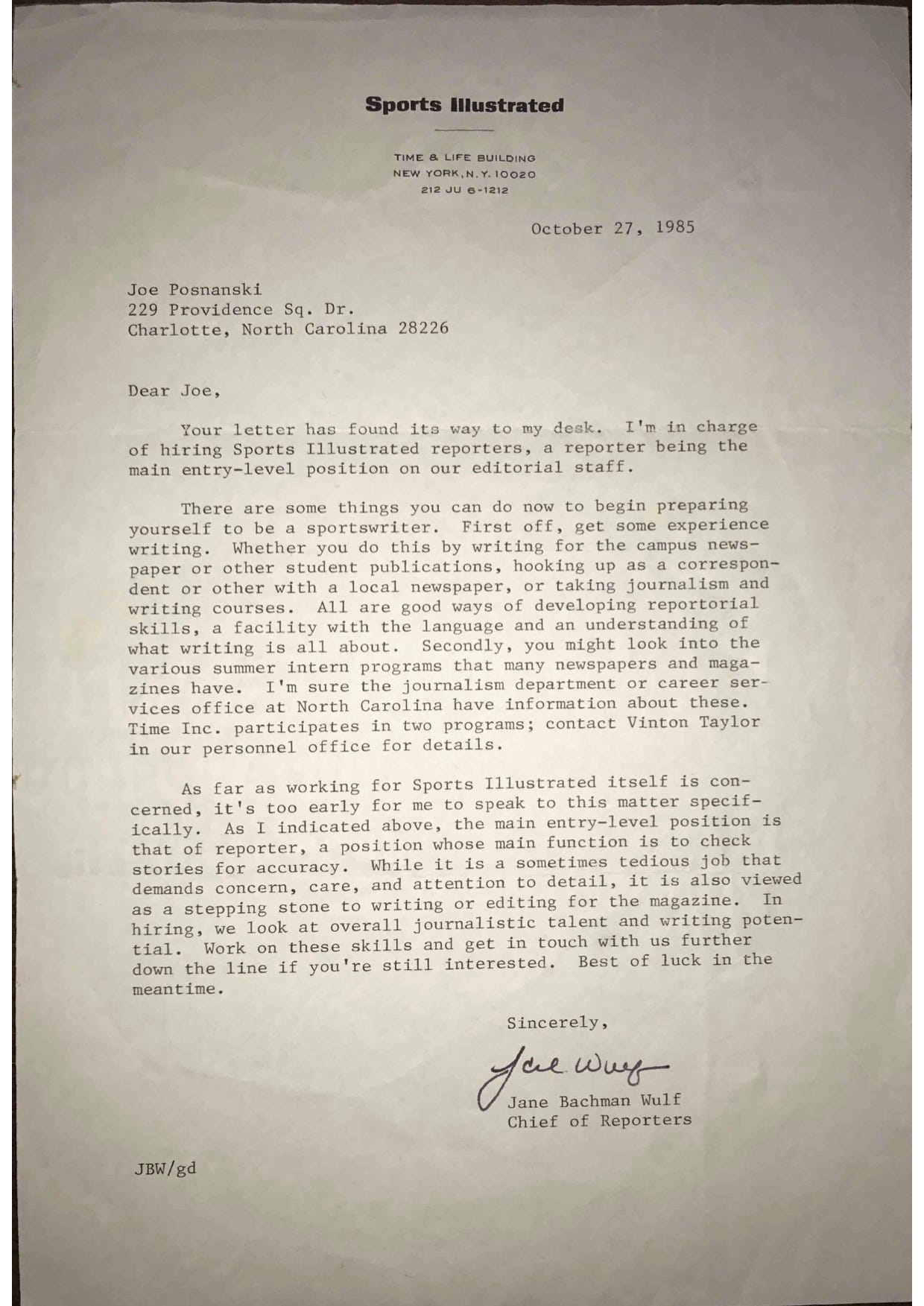 I'm sure Jane wrote similar letters -- maybe even precisely the same letter -- to many young people with crazy dreams of working at Sports Illustrated ... but that letter meant something special to me. It was a connection. It was a sign that, yes, this crazy life you dream about might actually be possible. I did write for the campus newspaper. I did hook up with the local Charlotte Observer. I did get a summer internship.
And many many years later, I wrote for Sports Illustrated.
Maybe these things would have happened anyway ... but maybe not.
I've said it many times ... you never know what small gesture might change someone's life. I obviously have kept Jane's letter for more than 30 years. When I read it now, the feelings of excitement I got when receiving it come back. I'm sad that I never got the chance to thank her. And even though I never spoke with her, I'll miss her terribly.