Ranking the Stadiums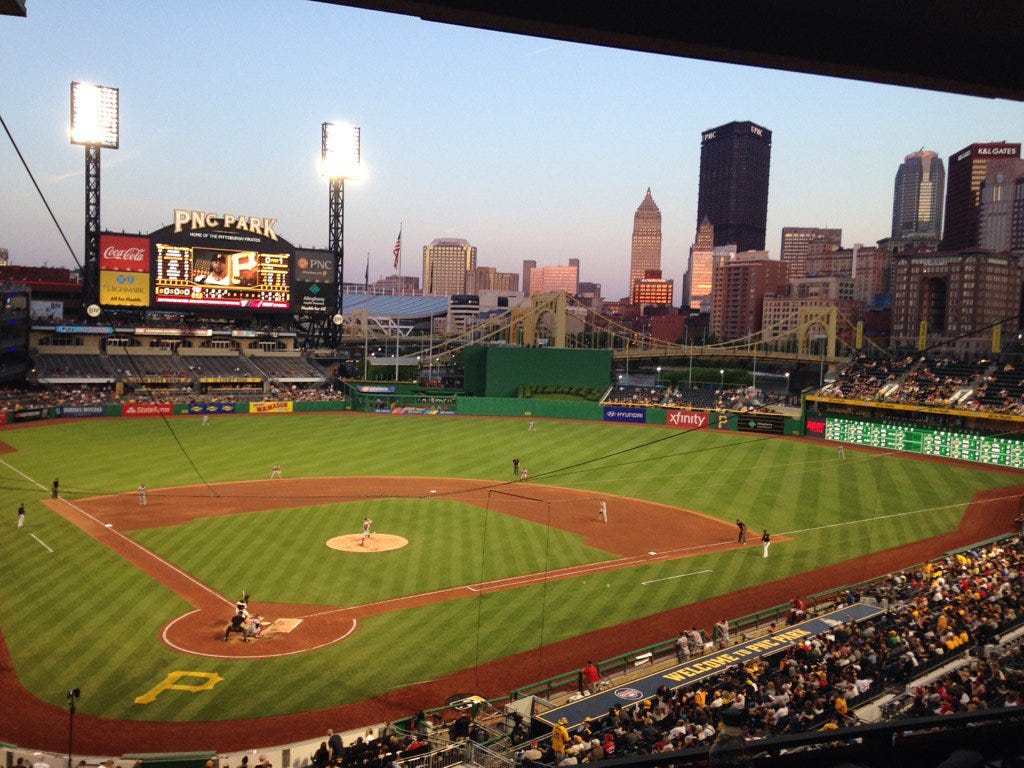 My pal Jon Hock, director of great sports documentaries like the 30 for 30 "The Best There Never Was" on Marcus Dupree and "Of Miracles and Men," on the 1980 Soviet hockey team, took the above photo of gorgeous PNC Park in Pittsburgh.
And it reminded me that I have not ranked the stadiums in a while. I've been to 29 of the 30 -- planning to see Atlanta soon. I don't want to rank them 1-29 because the difference between some of them is so slight that it's not worth mentioning. Instead, let's put them in different categories.
The Historic Parks: Dodger Stadium (Los Angeles); Fenway Park (Boston); Wrigley Field (Chicago).
The historic parks are their own category; it's not particularly useful to compare Fenway, for instance, with, say, AT&T Park in San Francisco. Fenway is cramped, difficult to get around, the bowels of the park are kind of scary, sort of a baseball version of Gotham City. But there's nothing quite like being inside Fenway for a game because of the history, because of the Green Monster, because it's the closest thing baseball has to a Cathedral.
Wrigley Field is similarly awesome only replace cathedral with Chicago bar where John Belushi serves Pepsi.
Dodger Stadium is decades newer than the other two, and I think it is the best park in baseball for combining the wonderful history of an old ballpark with a startlingly modern vibe. Plus: Dodger Dogs.
The Best Places to Watch a Game: AT&T Park (San Francisco); Kauffman Stadium (Kansas City); Oriole Park at Camden Yards (Baltimore); PNC Park (Pittsburgh); Petco Park (San Diego); Safeco Park (Seattle).
Four of these -- San Francisco and Pittsburgh, San Diego and Seattle -- are just georgeous in every conceivable way. Honestly, you don't have to like baseball at all to enjoy just going to the parks and taking it all in. The beauty is particularly compelling in Pittsburgh, maybe because people don't always appreciate how beautiful a city Pittsburgh is. My old friend, the late Skip Prosser, used to say that coming through the Fort Pitt tunnel and dumping into downtown Pittsburgh was the most beautiful site in the world.
"More beautiful than Paris?" I would ask him.
"Paris?" he said. "Give me a break.
Camden Yards remains a sort of magical place. From the day it opened -- can you believe it was 25 years ago? -- it has felt both ancient and new.
And I'm putting Kansas City on my list. The stadium is in the middle of nowhere. The background is a highway. It does not have the wonder of San Francisco by the bay, or San Diego squarely in downtown. But for watching baseball, purely watching baseball, you can't beat it. You'll notice it's called a stadium, not a park. It is named after Kansas City's beloved owner Ewing Kauffman and not a corporate sponsor. The fountains are perfect, the sightlines are perfect, this is all about baseball.
The Near Camden Experiences: Citizen's Bank Park (Philadelphia); Coors Field (Colorado); Globe Life Park (Texas); Progressive Field (Cleveland), Target Field (Minnesota).
After Camden Yards was built, there was a rush to replicate it -- or at least replicate the aforementioned magic -- in many cities. Some did it better than others. I'm not exactly sure why it feels more right in Cleveland and Denver than it does in Milwaukee and Cincinnati, but for me it just does.
Underrated ballparks: Citi Field (Mets); Comerica Park (Detroit); Angel Stadium of Anaheim (Angels).
I actually dont' know if Citi Field is underrated -- I suspect most people who have been there think it's a pretty great place. But there's something about the whole Mets persona that screams UNDERRATED ... Citi Field is a fun place to watch a baseball game; it is easily the best ballpark in New York.
On most of these "Best Stadium" lists, you will see Comerica and Angel Stadium on the bottom of the pile. I think Comerica is particularly underrated; I have been there many times through the years and it constantly grows on me. During day games, there's something marvelously bright and sunny about the place. And at night, with a Great City behind it, you feel like you are at the center of things.
Angel Stadium is quirky, a mishmash of a lot of things including a semi-bizarre reconfiguring, but I don't know: I just kind of like it.
Almost parks: Busch Stadium III (St. Louis); Great American Ballpark (Cincinnati); Miller Park (Milwaukee); Nationals Park (Washington); Yankee Stadium III (Yankees)
Let me be clear: All five are good ballparks. But there is just something missing in them, something that just doesn't quite spark. It's hard to say what it is. Busch Stadium has all the qualities of a great ballpark -- awesome downtown location, rabid fans, great baseball history. But somehow, it all feels kind of antiseptic. Weirdly, Busch Stadium II, which was one of those oval baseball/football artificial turf atrocities that they built in the 1970s, kind of felt more alive, especially after they spruced it up toward the end.
The Great American Ballpark and Miller Park are similar -- they should be fantastic. And they're just not quite fantastic.
Nationals Park should probably be in a different category -- make it an Almost Almost Park. It's is entirely unclear how they could have built a ballpark in the Nation's Capitol, with monuments and some of the most famous buildings on earth nearby, and with a whole lot of money, and made it as bland as they did.
And Yankee Stadium III is what it is -- a billion dollar Taj Mahal meant to evoke the grittiness of Yankee Stadium II. That's a tough double. I don't think it quite pulls off either end.
Weird Parks: Chase Field (Arizona); Marlins Park (Florida); Minute Maid Park (Houston).
I'm not exactly sure how to categorize any of these -- they're all just kind of offbeat. Chase Field is probably the most conventional of the three, but it never quite feels like baseball in there, more like a reasonable facsimile of the game.
Marlins Park is a circus. A lot of people like circuses.
And Minute Maid Park, well, I really like the place, a lot, but could they have just a few more things going on? You got those windows in the outfield and the train and the hill in center field and the roof and it's like, whoa, my the fuses in my brain are popping. I suppose that is a Houston tradition of over-the-topness going back to the Astrodome, so maybe that's why I like it so much. I like the authenticity of it all. If Minute Maid Park was in, say, Minneapolis, I'd probably really dislike it.
The Not-So Great: Guaranteed Rate Field (White Sox); Oakland-Alameda County Stadium (Oakland); Rogers Centre (Toronto); Tropicana Field (Tampa Bay),
So here's the punchline: I LOVE not-so-great ballparks. I love them because I grew up in a not-so-great ballpark, in Cleveland Municipal Stadium, where your shoes stuck to the floor and steal girders blocked your view and a cold wind howled in off the lake and the infield looked like a place where they buried old cars a few hours before gametime.
I loved it ... loved that sort of harsh and grim baseball, where the separation between the fans and players was almost non-existent. Of course, it was a different time, tickets were cheap, crowds were much smaller, we expected less from the game. The baseball experience has gotten so much better and deeper, and this is good.
But I still get a kick out of ballgames in Tampa Bay, which always feels dark and a little bit dangerous.
I get a kick out of Guaranteed Rate Field, that poor, unfortunate white elephant built about five minutes before mankind figured out how to build beautiful baseball stadiums.
I get a kick out of the Rogers Centre; I once got a room at that Marriott that is attached and watched a baseball game from the room. It was, like the Rogers Centre itself, one of those experiences that was at first reallky exciting and became less and less interesting the longer the game went on.
And I even get a kick out of Oakland-Alameda, a crumbling place that -- as PosCast partner Mike Schur says -- you feel might collapse on you at any time. Oakland-Alameda is probably the only thing left that really reminds of the Cleveland Stadium of my childhood. That's probably a good thing.
---
Look at those salaries
Speaking of old-school stuff, Super 70s Sports -- your must follow Twitter account of the day -- tweeted out this old Sports Illustrated:
https://twitter.com/Super70sSports/status/864649853489598467
So much joy to look at there -- see the young Terry Francona (making an outrageous $225,000 a year!). See the bearded Rick Sutcliffe (oh my gosh, he's making a MILLION dollars!). See poor B.J. Surhoff ($62 grand plus meal money).
---
Fun with Win Probability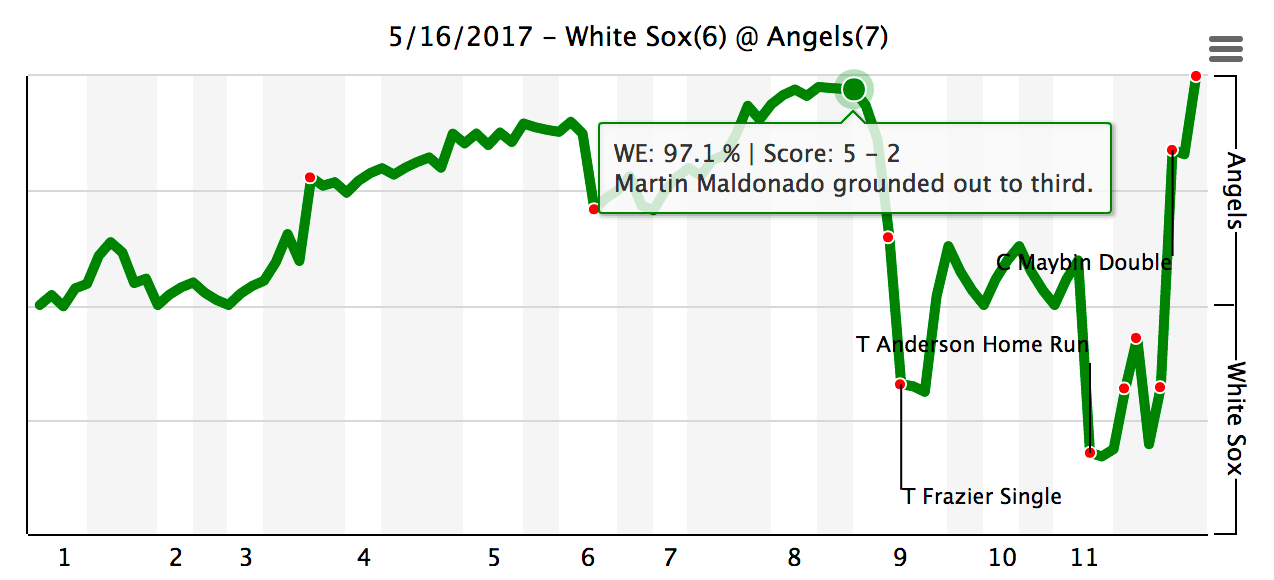 Yes, that was one crazy game between the White Sox and Angels on Tuesday night. You can follow along with the Fangraphs Win Probability chart. As you can see on top, when the Angels' Martin Maldonado grounded out to third to end the eighth inning, the Angels led 5-2 and their win probability was 97.1%.
Melky Cabrera singled to lead off the ninth, improving the White Sox chances by about three percent.
Jose Abreu singled too -- that added about sevent percentage points ot the White Sox chances.
Then Avisail Garcia doubled, scoring one run, and putting runners on second and third with nobody out. Suddenly, the White Sox chances of stealing this game were up to 35%.
And that's when Todd Frazier hit the weakest two run single you will ever see in your entire life. That tied the game and made the White Sox 67% likely to win the game.
And so it went, back and forth.. When Chicago's Tim Anderson homered in the 11th, the White Sox had a win probability of 83%.
And then, bottom of the inning. Cameron Maybin hit a pop-fly double to score the tying run, Albert Pujols singled for the 1,847th RBI of his career (he has now passed Carl Yastzemski on the all-time list) and that was the ballgame.
Win percentage isn't much fun in real time. But looking back on a game, it's a cool way to capture the emotions of the moment.