Quiz
I wrote and read a version of this at the last Dan Quisenberry charity golf tournament many years ago:
"There has never been a pitcher who made fewer mistakes than Dan Quisenberry."
– Bill James in The New Historical Baseball Abstract
Dan Quisenberry got the first double play of his big-league career right away. He entered his first game on July 8, 1979. It was the seventh inning, Royals beating the White Sox 5-1, and Quiz's future teammate Jorge Orta was on second base. History has failed to record the exact pitch, but I would like to believe he got Lamar Johnston to hit into the 5-4-3 double play on the first pitch he ever threw in the majors.
One inning later, after allowing a single, he coaxed Greg Pryor to hit into another 5-4-3 double play.
Quiz threw his first career wild pitch on a Saturday night in 1979. It was his 10th big league game. Who even thought Quiz would HAVE a 10th career big league game? Well, he did. He believed. That's the point.
Kansas City was playing Baltimore, and the Royals led by four runs. Quiz entered the game with Orioles' star Eddie Murray on second base. Quisenberry's wild pitch in the dirt moved Murray to third. A single by Lee May scored Murray. Quiz finished the game without much more trouble.
He would throw four more wild pitches in his career. Four.
Dan Quisenberry hit the first batter of his career on a Friday night in Chicago's Comiskey Park in 1980. Quiz was, by then, 27 years old and fully formed as a submarine-style pitcher. That was the first year he pitched underhand. He had been a mostly side-armed pitcher while at the University of La Verne. He was good there, successful, everybody loved him, but he was not a pro prospect. Nobody drafted him. Nobody thought about drafting him. His fastball was a contradiction in terms.
Quiz named his fastball "Peggy Lee" after her song, Is That All There Is?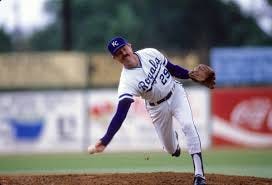 Quisenberry's Peggy Lee fastball turned out to be plenty good enough.
His college coach recommended him to Kansas City, called him the most thoughtful pitcher he'd ever seen, and in those days the Royals were on the cutting edge of scouting -- they'd sign anyone who seemed interesting. What did it cost them to try? Dan said he signed for $500 and a bag of chewing tobacco. He said that he wasn't joking.
And from the start, Quiz somehow got outs. His pitches had nothing on them, absolutely nothing. He grew used to hitters screaming at themselves, their teammates and their bats after making an out. "HOW??" they would scream, and they kicked the dirt and pounded their bats in frustration. How? Quiz had this karma thing. He told the great Roger Angell, "I've always felt that when I throw it, something wonderful is going to happen."
Quiz got 'em out in Jacksonville and Waterloo, then again in Jacksonville and Waterloo, then again in Jacksonville, then again in Jacksonville. The Royals saw the results, but they would not believe. "Do it again!" they told him. He would do it again.
"Again!" the Royals insisted.
Quiz loved to tell the story of the time in 1980 when the team's new manager, Jim Frey, checked him out in the bullpen during spring training. Frey asked Quiz to throw some fastballs, and he watched Quiz fling cotton ball pitches, and he grew madder and madder.
"Stop!" Frey shouted. "Show me the curve."
"I don't throw a curve." Dan said.
Oh, the cursewords flowed then; it was a volcano of ash and $&%&$#*# and Frey stomped off.
But Frey proved shrewder than Quiz expected. Instead of giving up on Quiz, he set up an introduction with a man named Kent Tekulve. Remember Tekulve. Big glasses. Thin as a peppermint stick. He was called "Kent," after the dealership where he parents bought their used car. If there was anyone in baseball who looked LESS like a pitcher than Quiz, it was Kent Tekulve, but one year earlier the guy had submarined the Pittsburgh Pirates to the World Series title.
Frey asked Tekulve to show Quiz how to throw the submarine pitch.
It didn't click overnight ... but pretty close. Quiz took the Tekulve style, added a few wrinkles of his own, and in 1980, he had a great season. He won 12 games, led the league with 33 saves, helped pitch the Royals to their first World Series. As mentioned, he hit his first batter on Aug. 1 — he came into the game with the Royals winning 4-3, and he plunked a White Sox hitter with the 1980s bad luck of sharing the name of the Doors' lead singer, Jim Morrison. How many "Break on through" jokes do you think he had to endure?

Quiz stranded Morrison.
He would hit only six more batters the rest of his career.
Quiz gave up his first home run on a Monday in August of 1979 ... fittingly, he gave it up to the man who would become a nemesis, Ben Oglivie. Many years later, after Quiz had stopped pitching and started writing poetry, he took some time to write what he called "An Ode to Ben Oglivie."
i heard you were a quiet man
could do a times crossword in 15 minutes
yet you seemed nervous at the plate
waving, wiggling that bat
a puppy's tail
held high by sinew-strong arms
Quiz would give up 59 homers in his career, including one to Reggie Jackson that he famously said was "still burrowing its way to Los Angeles." Still, 59 homers in more than 1,000 innings ... among the greatest relievers, only Mariano Rivera gave up fewer homers per nine innings.
One more of these ... Quiz walked his first batter on a July day in Comiskey Park in 1979. The batter he walked was Claudell Washington. But it was an intentional walk. His second walk came four days later, at home, to Baltimore's Ken Singleton. That too was intentional.
His third walk was his first unintentional one — against Toronto pinch-hitter Tony Solaita.
Over a long career, 1,043 innings worth, Quiz walked just 162 men. You have to go back to the Deadball days to find pitchers who walked so few per nine innings. But the control was even more amazing than that: Seventy of those 162 walks were intentional. Quiz unintentionally walked one batter per every 11 innings. We will never know for sure, because intentional-walk numbers are a relatively recent phenomenon, but it's safe to assume that Quiz was the greatest control pitcher of all time.
You see these numbers and you understand -- four wild pitches, seven hit batsman, 59 homers, lots of double plays and the fewest walks of any pitcher ever. Quiz couldn't do the Goose Gossage stuff, the Bruce Sutter stuff, the Mariano Rivera stuff.
So he did everything right. You couldn't steal a base on him. He was always watching. You couldn't bunt on him or sneak the ball past him; he fielded his position like a shortstop.
So where does this leave us? Four wild pitches. Seven hit batters. Fifty-nine homers. Fewer walks per inning than anyone ever. Quiz was never slow off the mound covering first base, he hit the catcher's mitt where it was held, and when he gave up his inevitable hits, he held those runners.
What does it all mean? Well, this will sound hopelessly corny, but I think it means that there's something impossible inside us. It isn't an easy thing to find. If you're a pitcher who throws 99 mph, everyone will tell you about your possibilities. But if you throw Peggy Lee fastballs, nobody will see it, and only the people who love you will believe.
Dan Quisenberry became the best pitching version of himself, and it was better than almost anybody in baseball history. Five times he led the league in saves. Four times he finished Top 3 in the Cy Young balloting. His 2.76 ERA, compared to the pitchers' ERAs of his time, is one of the best career totals in baseball history. He performed this magic by doing what others so often call the "little things." They're so much more than that.
"Have I told you about my agreement with the ball?" he asked Roger Angell. "Our deal is that I'm not going to throw you very hard as long as you promise to move around when you get near the plate. Because … I want you back."