Oscar Predictions 2015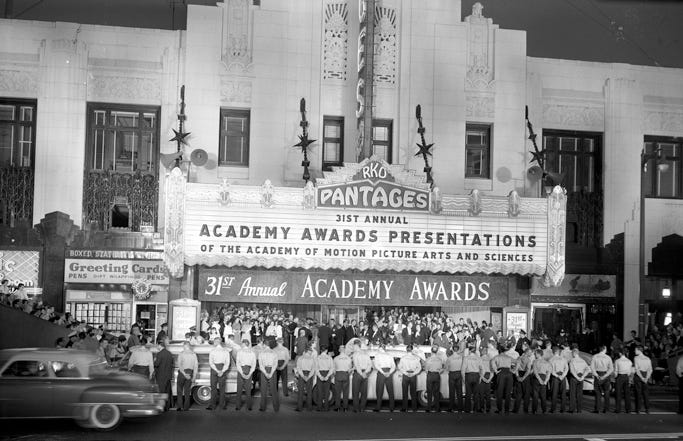 When our family began our annual Oscars predictions party -- I'm pretty sure it was 1977 -- it was pretty unique. Oh, I'm sure that there were Oscars predictions parties all over the country, and some of them go back to Wings and all that ... but in our little Cleveland world we didn't know anybody else who did it. In those days it was hard to find ballots that went beyond the five biggest categories -- Best Picture, Actor, Actress, Supporting Actor, Supporting Actress. In those days, even Best Director wasn't really a big deal -- forget about Best Live Action Short. At least that's how I remember it.
Over the years, Oscar predictions -- like the NFL Draft, college basketball recruiting and cooking shows -- have become this massive, overblown, towering industry complete with odds and systems and predictors and a million other things.
In some ways, it has made picking the Oscars better -- certainly more accurate. Last year, I picked 22 out of 24 categories correct and the two I missed (live action short and animated short) are obviously minor categories that somehow avoid getting stuck in the Scientific and Technical Achievement Oscars party that is usually hosted by the actor who for some reason accepts the task (this year it was Australian actress Margot Robbie) and tends to get approximately 48 seconds of airtime during the real Oscars.
So, yeah, last year I essentially got every category right. And -- eh. I mean it was nice to win the family contest; it had been too long since I had done that. But I just picked movies that I knew were going to win certain like Gravity for sound editing and mixing and Gatsby for Production and Costume Design. I still haven't actually SEEN Gravity and don't see any real chance that I will and I despised Gatsby with the contempt of a 1,000 suns. But I suspected they would win, they did win, and that's what it has become.
But that's now how it used to be: We used to pick movies we thought SHOULD win. That was kind of fun because we would have these great arguments about whether Unforgiven was a great movie (it was) or whether The Last Emperor was really better than Broadcast News (it wasn't). Now, those arguments aren't as fun. Two years ago, I picked Wreck It Ralph to beat out Brave for best animated feature even thought I figured Brave would probably win -- Wreck It Ralph was simply better. But when Brave won, all it meant was that I lost the Oscar pool by one.
This year, I have a very strong opinion about what movie should win Best Picture. I loved Boyhood. I realize that this puts me in direct opposition to my friend Bill James who wrote extensively about why he despised Boyhood and thought it was one of the worst movies he had seen in recent years. I would give a point-by-point counter to Bill's critique but it's probably just quicker to say that every single thing he wrote, I believe the opposite.
But I don't think Boyhood will win. From everything I've seen and heard, the wind is blowing at the back of Birdman, a movie I have not yet seen but based on reviews would seemingly qualify for my 10-year-old daughter's "artsy-fartsy" tag.
So now what? Do I vote for the move I think will win or the movie I would like to win?
Well let's just go to the predictions. This year I add what I call a "certainty score," which on a score of 1-10 (1 being a dart throw, 10 being super confident) I rank how certain I am about my prediction:
Documentaries and Animated things
Best Live Action Short: The Phone Call.
Certainty score 4
-- No idea as always. I guess its about a suicidal phone call and Jim Broadbent is supposed to be amazing. I never get these right.
Best Animated Short: Feast.
Certainty score: 5
-- This is the little Disney short that played before Big Hero 6 about a dog and food and love. Fantastic. Of course, I thought the little Disney short Get a Horse should have won last year and it was one of the two I missed.
Best Documentary Short: Crisis Hotline: Veteran's Press 1.
Certainty score: 4
-- About the trauma of veterans, I have seen this. Haunting.
Best Documentary: Citizenfour.
Certainty score: 6
-- About Snowden. Everyone seems to think this one's close to a lock. I'm actually rooting for Finding Vivian Maier, a fascinating story about a mysterious street photographer ... produced by my friend Jeff Garlin.
Best Animated Feature: The Lego Movie.
Certainty score: 10,000,000,000
-- It is not nominated but I still think it should win. It was significantly better, more original, funnier and better made than any of the five movies listed. It probably should have been one of the nominated movies. I am very upset about this. But ...
Real Best Animated Feature: How To Train Your Dragon 2.
Certainty score: 8
-- Big Hero 6 was better as was the not-nominated The Book of Life as was How To Train Your Dragon ... but this seems to be the one that will win.
Music
Best Sound Editing: American Sniper.
Certainty score: 8
Best Sound Mixing: Whiplash.
Certainty score: 7
-- Though these are different categories, they usually go to one movie. But this year, Whiplash was not nominated for Sound Editing for some reason and yet people seem gaga over the Sound Mixing. I say this like I have an idea about the difference, which I don't.
Best Score: The Theory of Everything.
Certainty score: 8
-- This was an enjoyable movie, though as an average movie-goer I don't really remember the score being all that interesting. I actually thought the music in The Imitation Game was more memorable. I also think that The Imitation Game, which was really excellent, could get shut out.
Best Song: Glory from Selma.
Certainty score: 9
-- Selma didn't nearly as many nominations as I expected. It's superb and the acting in it was tight and excellent. Anyway, Selma will get the song which is fine though Lost Stars from Begin Again is really a good song and that was really a fun movie.
Sets, costumes, special effects and all that stuff
Visual Effects: Interstellar
Certainty score: 8
-- Guardians of the Galaxy was really cool and I guess the real visual effects gurus can't get enough of Dawn of the Planet of the Apes. But they have to give Interstellar something.
Production design: The Grand Budapest Hotel.
Certainty score: 10
-- Seems to be one of the locks of the night.
Best Costume Design: The Grand Budapest Hotel.
Certainty score: 10
-- Seems to another one of the locks of the night.
Best Makeup and Hairstyle: The Grand Budapest Hotel
Certainty score: 8
-- Another shot for Guardians of the Galaxy but I have a feeling Grand Budapest Hotel will sweep all these awards so that the academy can feel good about snubbing it for anything too major.
Best cinematography: Birdman.
Certainty score: 10
-- I suspect the Academy will give this award to Chivo Lubezki every year from now on. He won last year for Gravity, will win this year for Birdman, will probably win next year for Last Days in the Desert and so on.
Best Film Editing: Boyhood.
Certainty score: 8.
-- Here's where things start getting shaky. I honestly don't see how Boyhood could lose editing -- they edited a movie filmed over TWELVE YEARS into something wonderful. It seems to an outsider one of the great editing achievements ever. But a lot of people think Whiplash could win this.
Writing
Best original screenplay: The Grand Budapest Hotel
Certainty score: 8
-- I think this is where the Academy gives Wes Anderson a pat on the back and a hearty handshake.
Best adapted screenplay: The Imitation Game
Certainly score: 5
-- I just have this feeling that the Academy will not give anything to The Imitation Game; I don't know exactly why I think that. Movies just seem to fall out of favor much in the same way that quarterbacks sometimes do at the NFL Draft. I loved The Imitation Game and believe it should win. Would not be at all surprised to see Whiplash or American Sniper here though.
Acting
Best Supporting Actor: J.K. Simmons, Whiplash.
Certainty score: 10
-- Lock. Ed Norton has been getting a little buzz lately but I think that's just to try and create even a little bit of drama here. I think Simmons is a guaranteed winner. And he should win something for the Farmers Insurance commercials too. Ba-ba-bum-bum Bum-bum-bum.
Best Supporting Actress: Patricia Arquette, Boyhood.
Certainty score: 10
-- Also a lock. Side note -- I would like to plead to the Academy once again as one of Meryl Streep's biggest fans: Stop nominating her for mediocre or lousy performances. She wasn't good at all in Into the Woods and nominating her for Oscars based on blah performances seems to me to cheapen just how wonderful an actress she is. It's like giving Gold Gloves to once-great defensive players who are clearly not good anymore.
Best Actress: Julianne Moore, Still Alice.
Certainly score: 10+
-- Lock of the night.
Best Actor: Eddie Redmayne, The Theory of Everything.
Certainty score: 6
-- Many people think Redmayne is a sure thing. I don't. I think the crazy momentum lately for Birdman makes Michael Keaton a very real threat and I almost think this is a tossup.
Movies and Director
Best Foreign Movie: Ida.
Certainty score: 8
-- Wild Tales from Argentina, I guess, is considered a potential spoiler as well as Russia's Leviathan which takes on Putin (and won the Golden Globe) but Ida is supposed to be a beautiful and haunting Holocaust story and that spells "Academy Award."
Best Director: Richard Linklater, Boyhood
Certainty score: 2
-- I don't think Linklater will win. I think Alejandro Gonzalez will win for Birdman. If you were asking me who to pick for your pool, and you're not emotionally attached, I would recommend you pick Gonzalez. But I'm picking Linklater even if it means losing the family pool; that's how much I love that movie.
Best movie: Boyhood
Certainty score: 2
-- Same thing. I think Birdman will win. I'm picking Boyhood. I saw it for the third time last night ... it was every bit as wonderful and life-affirming and touching as the first time. I'm picking Boyhood though I suspect in the end Birdman will fly.