Opening Day Pack!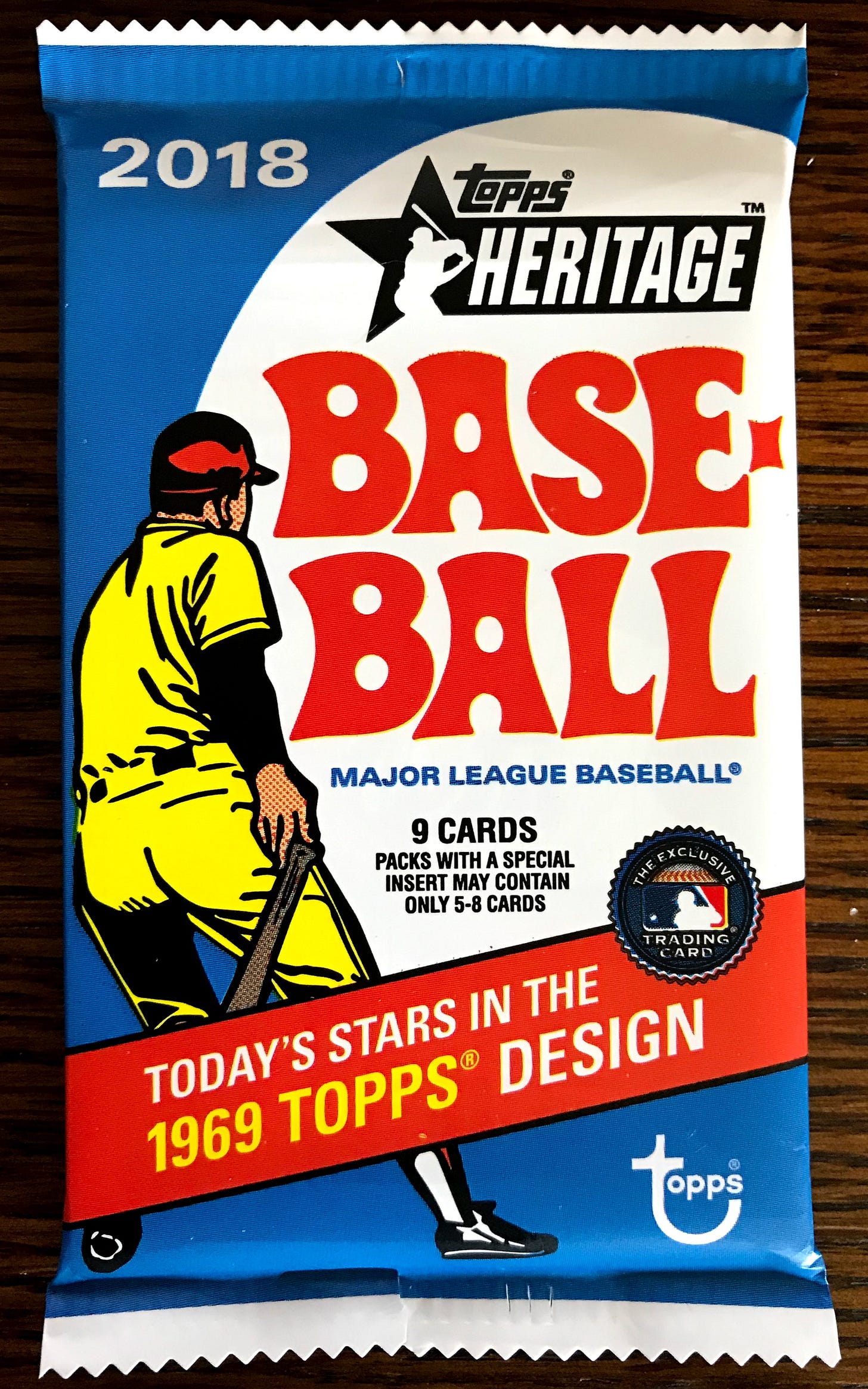 Every Opening Day, I buy a pack of baseball cards. I usually buy several packs of baseball cards because I have no self-control, but always at least one, and I open it slowly so I can try to feel what I used to feel as a kid.
To be honest, it's hard to recapture the feeling, in large part because when I was a kid, baseball cards were the most important thing in the entire world and now baseball cards are behind ... you know, my kids or whatever. So, no, the feeling isn't quite the same. But it's close enough.
I have been opening baseball cards the same way for 40 years -- I slide the top card up or down, depending on where the player's name is located, and try to guess the player behind it. Most of the time, the name is on the bottom so I will slide the card down, slowly, and try to guess who the player is before I get to the name. This year's pack of choice -- Topps Heritage cards which are in the design of 1969 Topps -- have the name on top. So I slide up.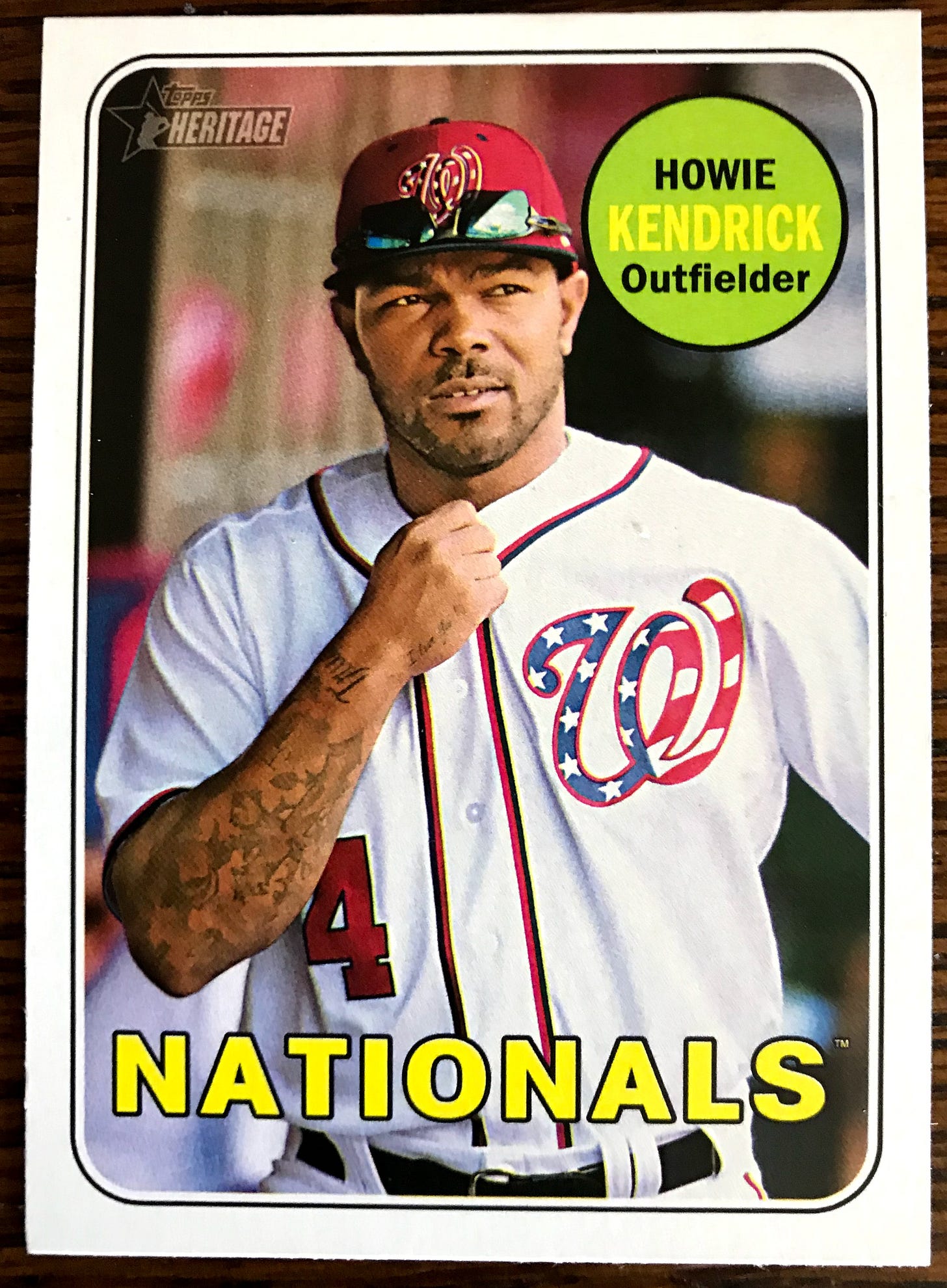 I did not guess card No. 1 in large part because I basically forgot that Howie Kendrick plays for the Nationals now. I should not have forgotten that because he's actually their starting second baseman until Daniel Murphy returns, which could be quite a while yet. Kendrick has had a nice career. He's a former All-Star, he got MVP votes one season, he has 1,500 hits for his career, he's a plus fielder, etc. He has 30 WAR for his career, which is a substantial career.
In fact, it's worth mentioning: There simply have not been that many players in recent baseball history who have been as good as Howie Kendrick. We talk about the elite, the Hall of Famers, but guys like Kendrick are rare birds too. How many players do you think have had a 30-WAR career since 1969, when divisional play began? Answer: 253, which is not a lot over 50 seasons.
Howie Kendrick is one of the 250 best players of the Expansion Era ... that's pretty darned good.
Plus, as his comic says on the back: "After being acquired on 7/28/17, Howie's 25 RBIs were third-most on the club." So he has that going for him too.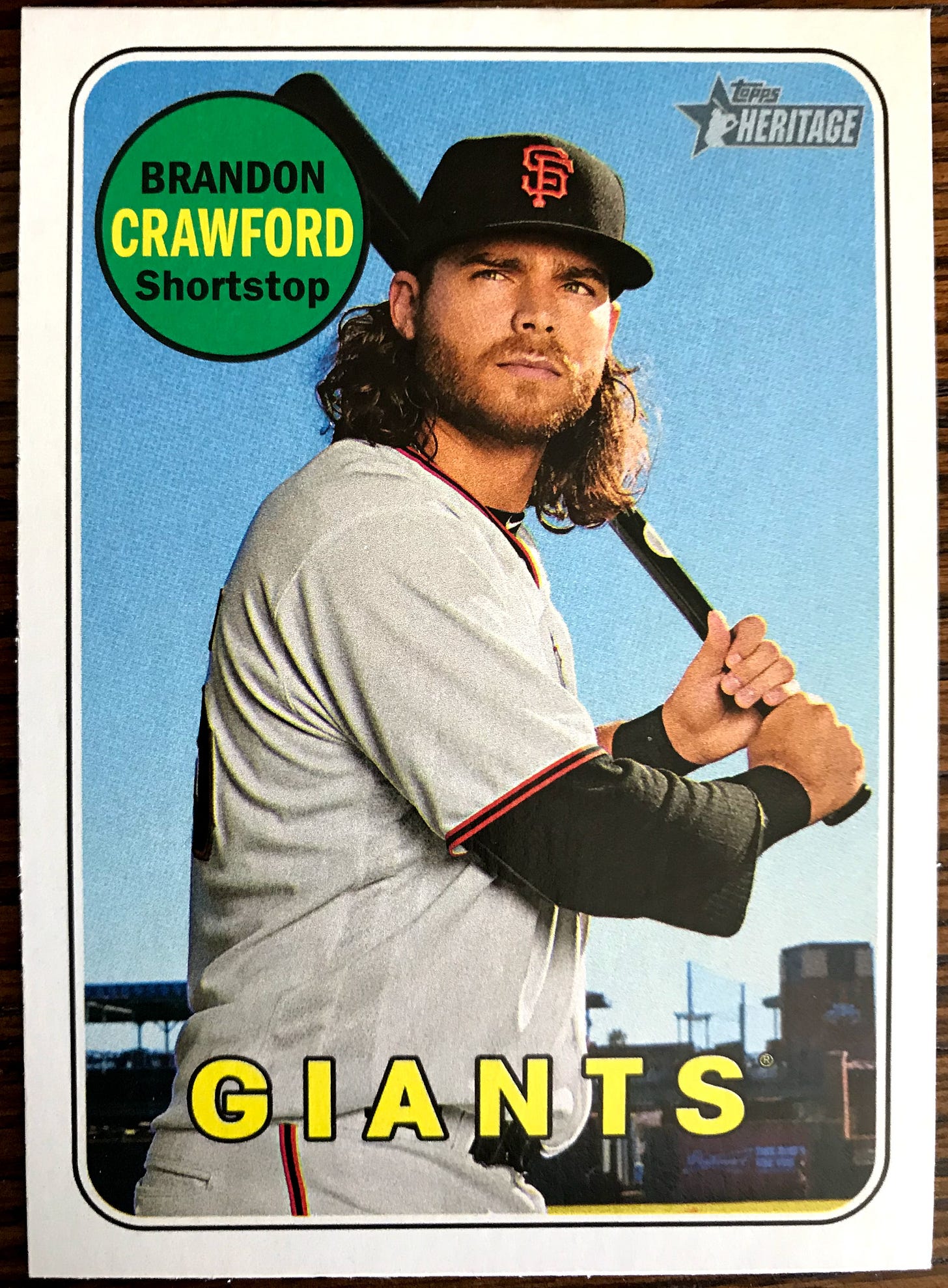 OK, 0-for-2 on the guessing game. I don't know why, but I can never get it in my head that Brandon Crawford is a left-handed batter. I KNOW that he is ... but I always seem to forget that little fact.
Crawford is a really a sensational player ... I'm not sure he gets enough credit for that. Whenever we think about the three-time World Series champion Giants, we think about Posey, about Bumgarner, but Crawford was a huge part of the last two champs. He's a dazzling defender with three Gold Gloves to show for it and -- last year aside -- he has become a good offensive player too. His through age 30 comps on Baseball Reference are guys like Shawon Dunston and Yuni Betancourt (!) which doesn't sound great, but that's because of how comps work. They measure traditional stats. If you go by WAR, he really matches up well with Omar Vizquel and Mark Belanger, two defensive legends.
Also, according to the comic on the back, Brandon led NL shortstops with 413 assists in 2016, which is good to know because it might be a topic of conversation on talk radio.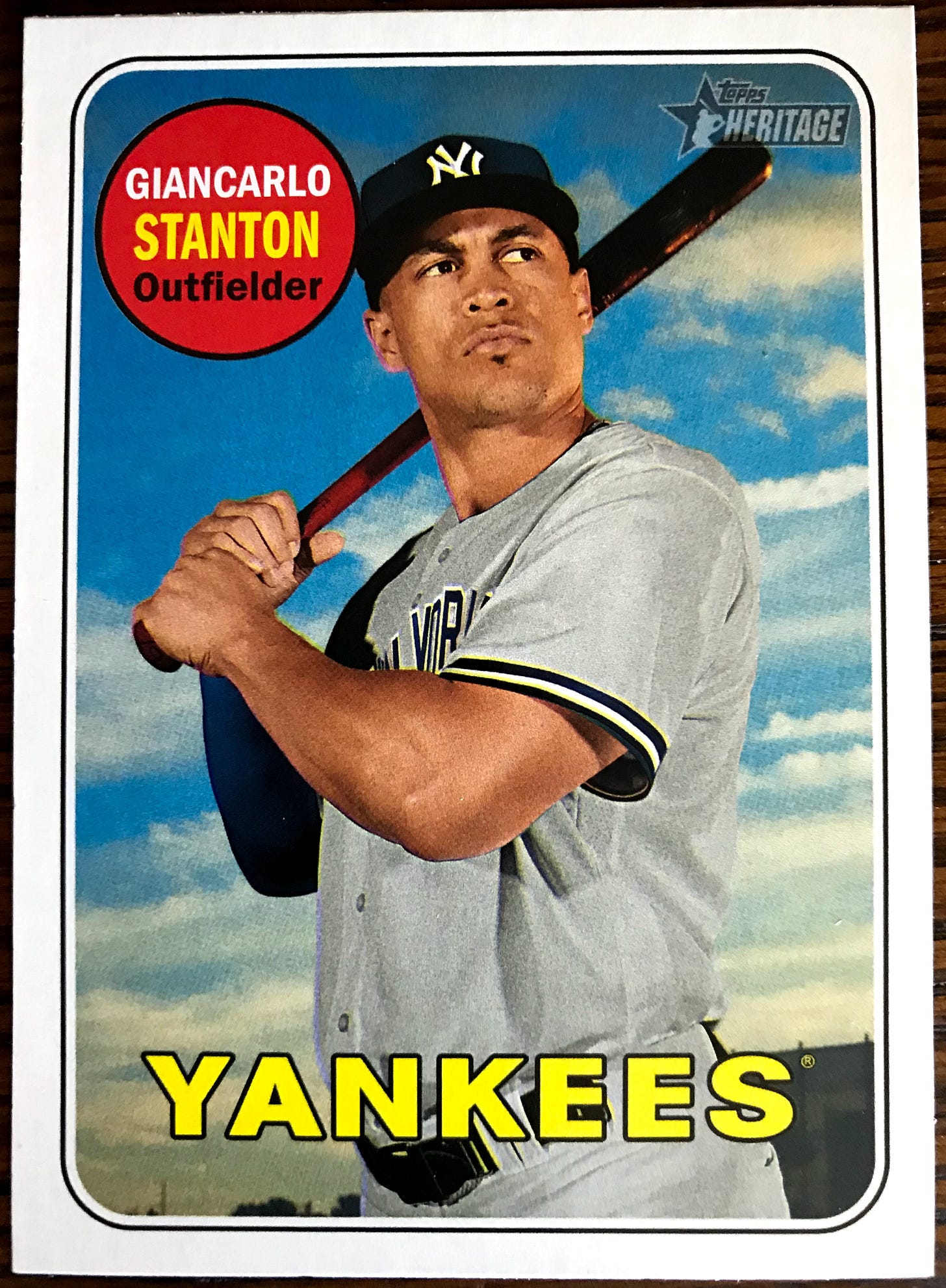 I did get this one eventually, though it probably took longer than it should have -- the Yankee loather in me is just unwilling to accept that this is really happening, I guess. You have to love the Stanton pose, right? That is classic. You can see the statue being chiseled already.
There's a certain special joy that comes with opening up a pack of baseball cards and then coming upon a true superstar. I can remember that feeling so vividly; going through the packs of Sixto Lezcanos and Frank Duffys and Dick Ruthvens and Tom Grieves -- not that there is anything wrong with these players -- and then coming upon Reggie or Johnny Bench or Tom Seaver. There's an electricity that runs through you, a jolt that says, "I won!" I wonder if there is a psychological connection between opening baseball cards and playing scratch-off lottery tickets.
Giancarlo's comic says, "Giancarlo's longest HR of 2017 soared 477 feet." And there's a drawing of a baseball with wings on it.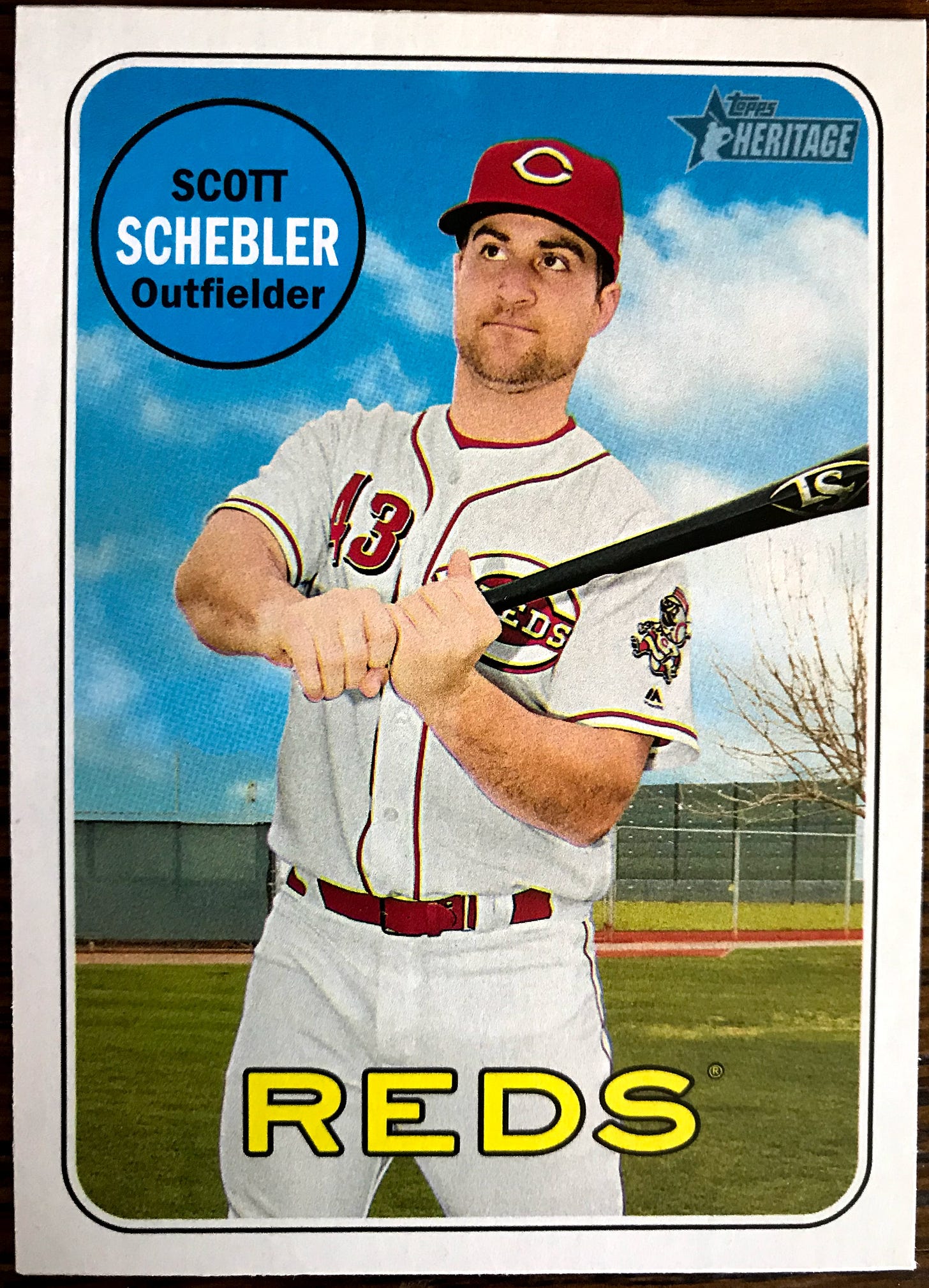 I did not come close to getting this -- I used to be better at the guessing game.
Did you know that Scott Schebler hit 30 home runs last year? I realize that home runs are flying out of the park like crazy but this does not in any way lessen the shock that Scott Schebler hit 30 home runs last year. It wasn't a great year by any means -- he hit just .233 and walked 39 times, but 30 homers is 30 homers. Different time and all, but George Brett hit 30 homers just once in his career.
The back of his card adds that fun fact that most of his 30 homers were "timely" -- 17 of them apparently came with the Reds trailing. That's interesting. Is it really more timely to hit home runs when your team is trailing?
Let's see:
On April 8, Schebler hit a two-run homer with the Reds down 9-1.
On April 15, Schebler hit a solo homer with the Reds down 2-0. They came back to win.
On April 25, Schebler hit a three-run homer with the Reds down 6-1.
On April 26, Schebler hit two solo homers -- one with the Reds down 8-1, the other with them down 9-3.
On May 14, Schebler hit a solo homer with the Reds down 2-0.
On May 20, Schebler hit a three-run homer with Reds down 8-7. Reds won.
On May 21, Schebler hit a solo homer with the Reds down 6-3.
On May 31, Schebler hit a solo homer in the top of the ninth with the Reds down 5-3.
On June 7, Schebler hit a solo homer with the Reds down 3-0. They came back to win.
On June 21, Schebler hit a solo homer with the Reds down 3-0.
On July 7, Schebler hit a solo homer with the Reds down 6-2.
On July 28, Schebler hit a solo homer with the Reds down 7-3.
On August 23, Schebler hit a solo homer with the Reds down 9-2.
On Sept. 21, he hit two solo home runs -- one with the Reds down 6-3, the other with them down 8-4.
On Sept. 26, he hit a two-run homer with the Reds down 4-0.
So, of the 15 games, the Reds won three. This is not to blame Schebler -- you hit homer runs anytime you can. But the only one that you could really call "timely" was the one he hit on May 20 against Colorado. Thanks, Topps for sending me down that rabbit hole. I was hoping I would find super clutchness from Scott Schebler.
The comic says that Scott robbed a homer on 06/28/17. So he is a double homer threat!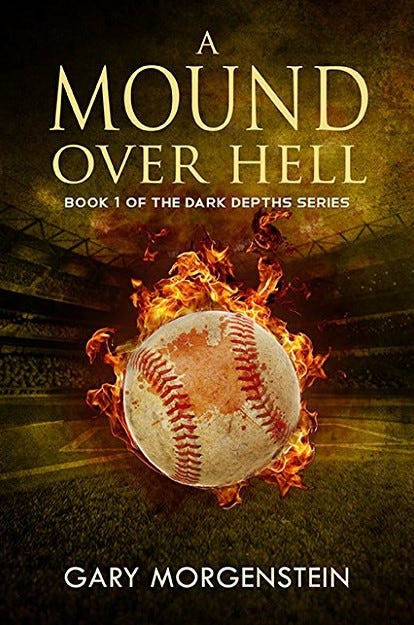 Let's pause for a quick moment on the cards ... baseball fiction is really hard. I've read a lot of it because I keep hoping to run across something awesome ... and because, to be honest, a lot of people send me their baseball novels. Some of them are good. But it's still hard. I've tried hard to figure out what makes so much of baseball fiction fall flat for me ... I think it's because baseball itself already has so many of the qualities of good fiction. I mean a good book about Satchel Paige or Ted Williams or Pete Rose already straddles the line of believable, the characters already punch at the deeper truths that great fiction seeks out, the names themselves soar -- Koufax! Clemente! Oliva! Cristobal Torriente! Fake baseball names rarely can do that; every now and again you get a Roy Hobbs, a Damon Rutherford. Mostly the names and the stories fall flat.
Anyway, it's hard -- you know the old Mel Brooks line about how comedy is like a red rubber ball; so you can't throw comedy against a soft, funny wall for it to work. You need a hard wall for the comedy to bounce off and be lively. Baseball just doesn't seem to me a hard enough wall for great fiction.
Gary Morgenstern went at this in a different way which is cool. His new book is not really about baseball. It's more of a dystopian thing, it's 80 years in the future, we're after World War III, etc. Yes, baseball is at the center of things. There's one baseball stadium left in the world; the rest have been destroyed. Baseball games are played by holograms. Baseball players of the past come back to play. There's a lot happening here, and baseball is used in a very different way from anything else I've read. It's fun stuff -- well as fun as a dystopian baseball novel can be.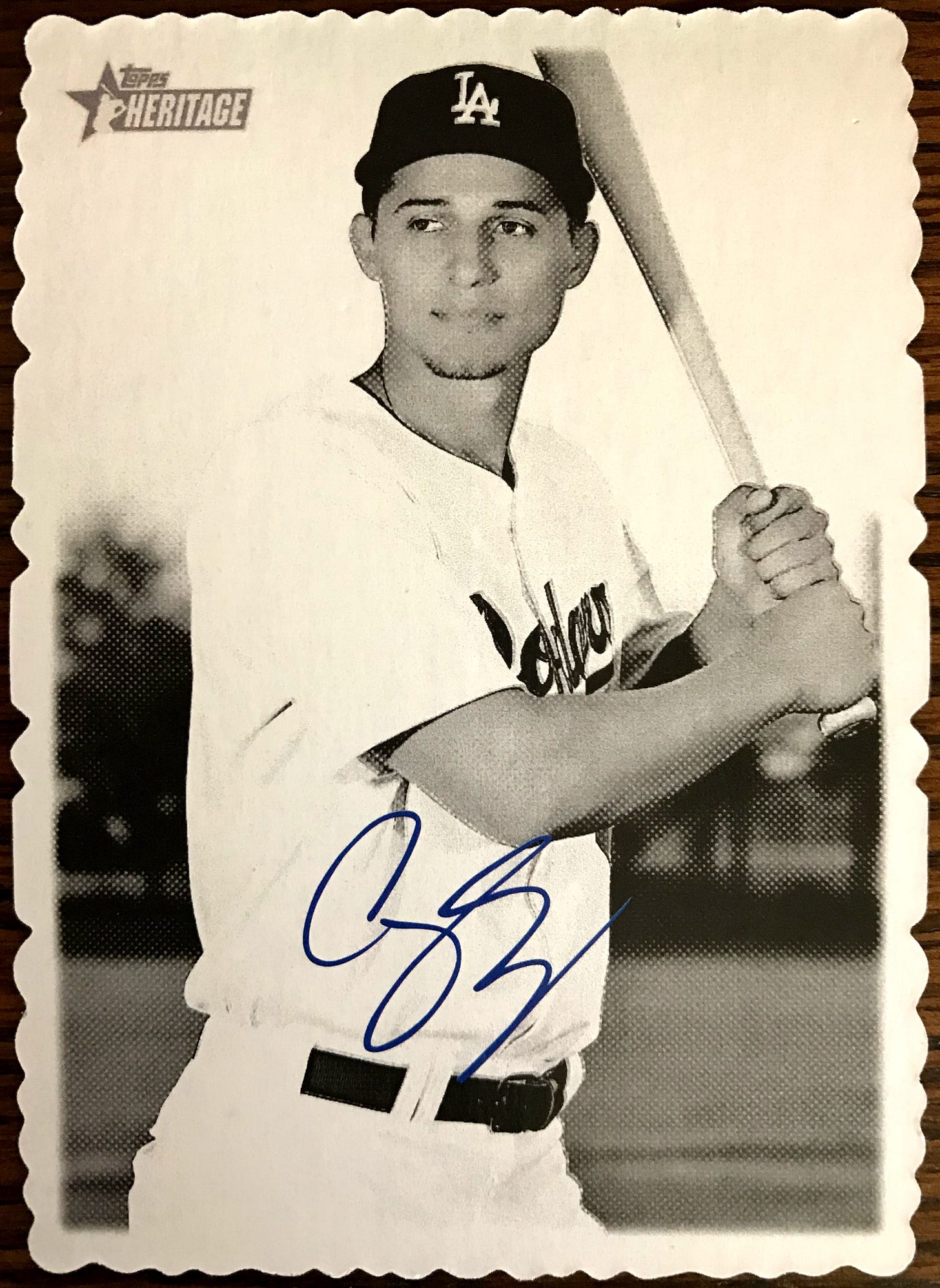 OK, seriously, what the hell is this? Why is there a frilly black and white photograph of Corey Seager in this pack? Is that his real autograph on there? Am I supposed to put this in my World War II photo album? What is going on here?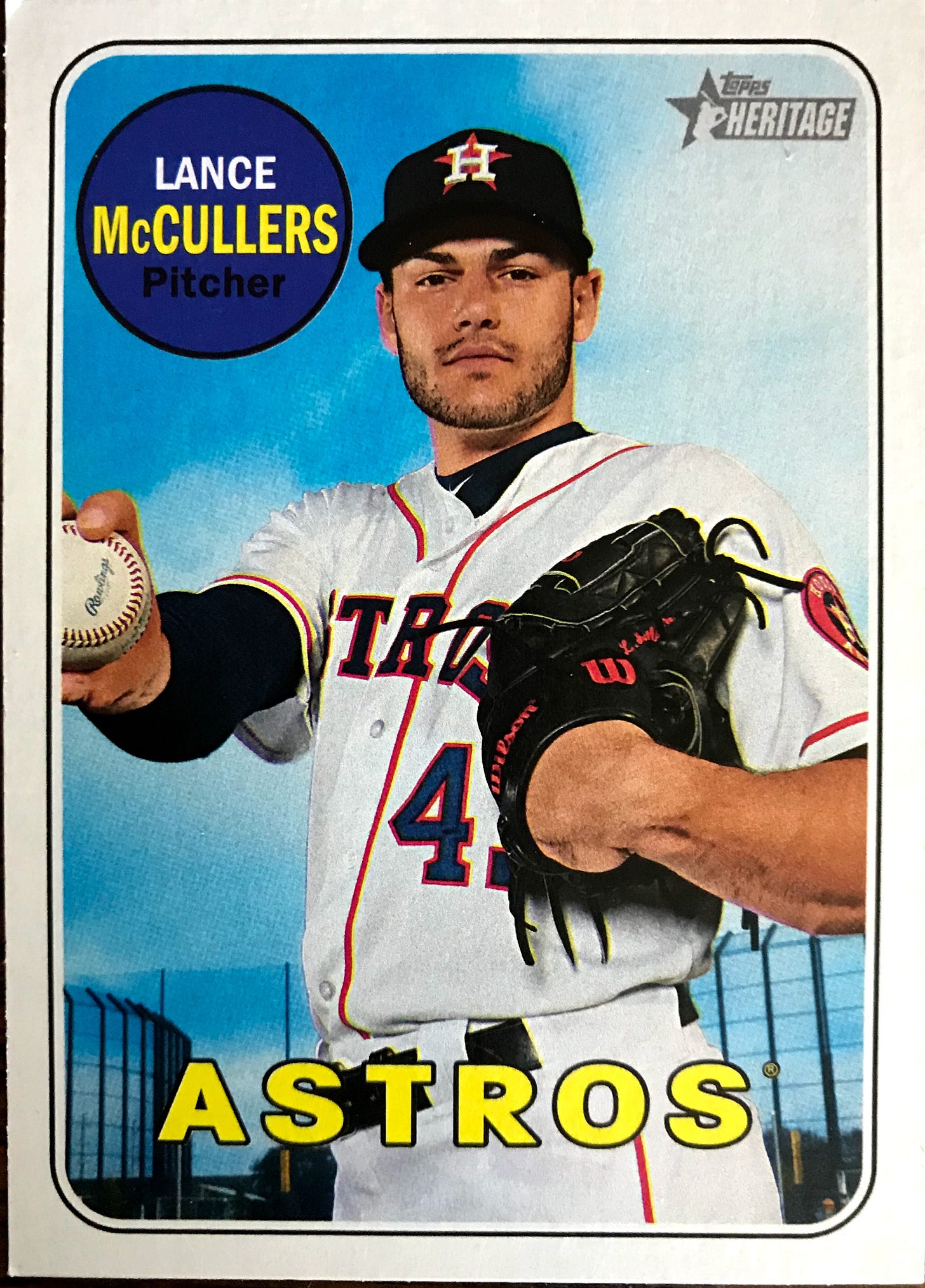 OK, now we're back on more solid baseball card ground -- I actually guessed this one as soon as I saw the ASTROS. I don't know why. I think it's because Lance McCullers has been on my mind lately. Remember Game 7 of the World Series? I've been thinking about that a lot lately. The Astros had scored two quick runs in the top of the first, it looked like they might run the Dodgers out of the place.
Then Chris Taylor led off the bottom of the first with a double, and the Dodgers seemed to be right back in it, especially with the aforementioned black-and-white heartthrob Corey Seager coming up.
Seager had a pretty good at-bat and worked the count to 3-2. At this point there was a 100 percent chance that Lance McCullers was going to throw a curveball. Everyone knew it. There was not a chance in the world that McCullers was going to challenge Seager at that point with a fastball. Seager knew this, had to know this, had to know that his best bet would be to lay off the curve and take the walk. But he swung anyway, missed. In the moment, I think, it's hard to be logical.
Then after Justin Turner was hit with a pitch, Cody Bellinger -- also knowing that there was no way McCullers would challenge him with a fastball -- swung over two curveballs and that was that.
Baseball is such a mental game.
McCullers' comic says that he notched a '17 ALCS Game 7 save. So he did!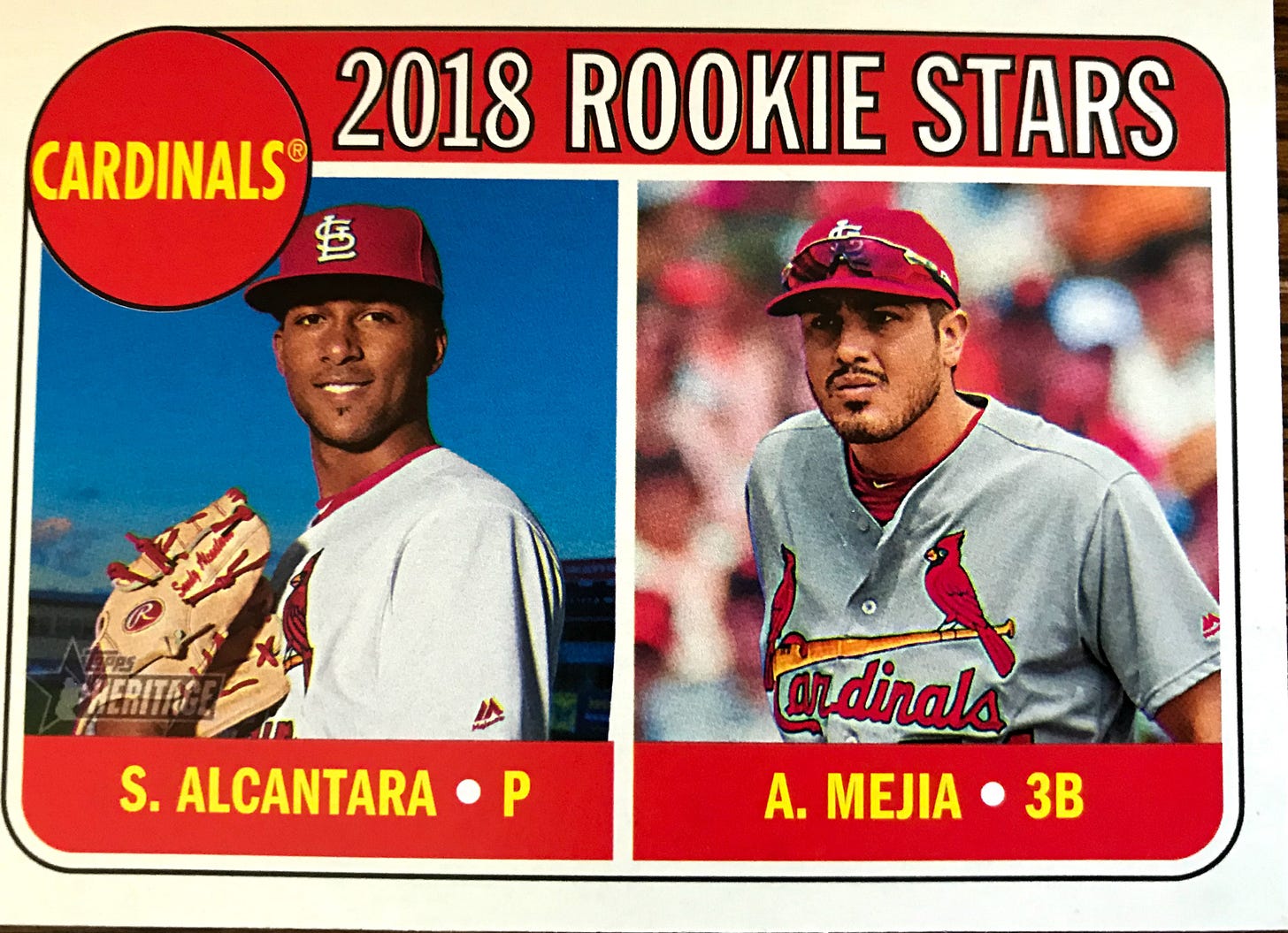 Woo hoo! Rookie Stars! Let's see what we have here!
Sandy Alcantara is a 21-year-old flamethrower who got a few innings in the big leagues last year and seems like he could be a part of the Cardinals bullpen at some point. He might even start, though it seems like his 100 mph fastball and lack of a complementing breaking ball spells bullpen.
Alex Mejia ... all right, I have to admit, I'm confused. Topps is famous for Rookie Stars who are not rookie stars. Alex Mejia is 27, he hit .109 in his brief call-up to the Majors last year and was then outrighted; he was dropped from the 40-man roster ... he does have a good glove and might be one of those guys who gets called up from Memphis to help out in the dog days.
Rookie Stars, guys. It's supposed to be Rookie Stars.(
*Anthony Castrovince points out something I should have known -- Alcantara went to the Marlins in the Marcell Ozuna deal. I don't know if this makes him more or less likely to be a Rookie Star!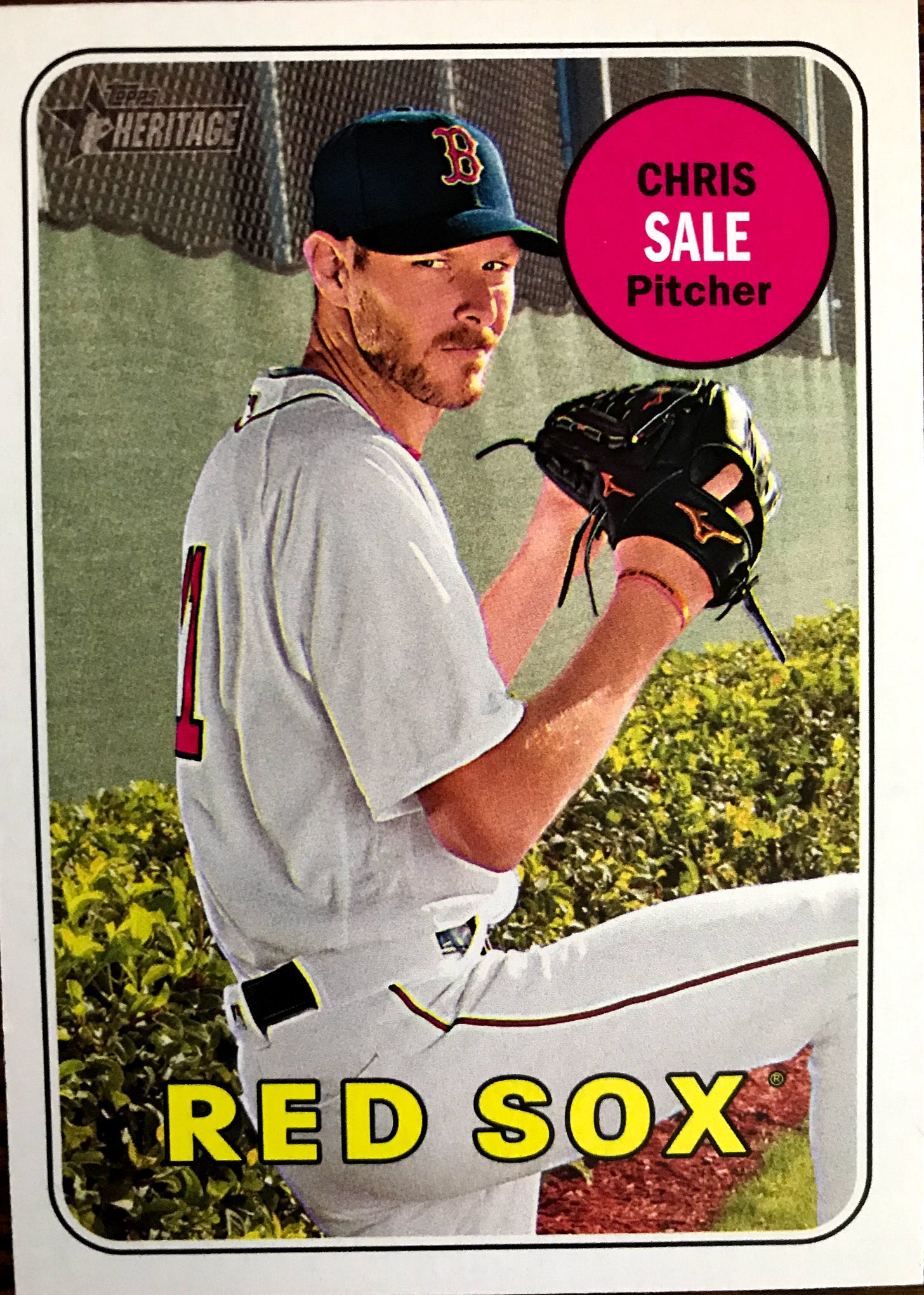 Chris Sale, guys! It's Chris Sale! It's a two-superstar pack, which makes it a very, very good pack. Look at Sale's eyes in the photo, by the way. That looks like a man who would not hesitate for one minute to throw the ball at your head. I'm not saying this is what is in his mind, I'm just saying he LOOKS like a very angry person.
Sale's comic says that he struck out 10-plus batters in eight-straight starts, which is the record. Well, it's tied for the record. Pedro Martinez did it in August and September of 1999. And Sale did it another time back in 2015.
But here's the cool one. Six pitchers have had a streak of six or more consecutive games with 10 strikeouts. Clayton Kershaw did it once as did Max Scherzer. Sale, as we know, did it twice. Nolan Ryan also did it twice. Pedro Martinez did it three times.
And Randy Johnson did it FIVE times. That's crazy. He did it in 1998, 1999, 2000, 2001 and 2002. I don't know that we fully appreciated what we were seeing when we were watching the Big Unit at his best.