Oh that Delpo forehand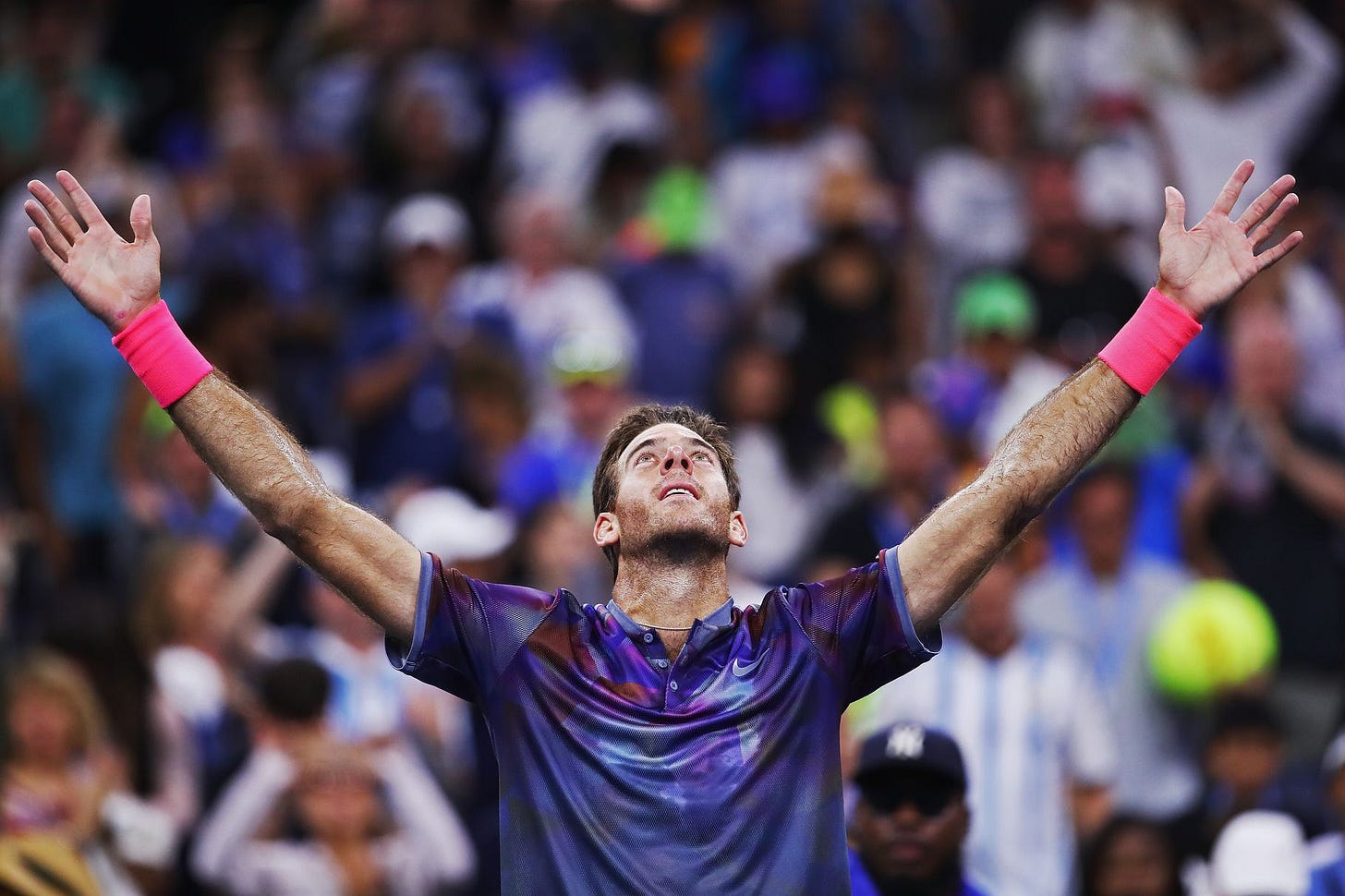 Sometime late in the fourth set of Monday's grueling, mesmerizing, intoxicating and, yes, agonizing match between Dominic Thiem and Juan Martin del Potro, my wife walked in -- she had heard me screaming relentlessly for at least an hour -- and she asked me a question:
"Who are you rooting for, anyway?"
In a lifetime of watching sports, I have never not had an answer for that question. Every single sporting event I have ever watched as a fan -- that is when I'm not working, when I'm at home watching on television -- I have had a rooting interest. And it isn't just sporting events. We watch "America's Got Talent," and I root for the little ventriliquist girl. Cooking shows, I root for the humble one. "Love it or List it," I always root for listing the house.
It's an involuntary thing. I cannot watch anything without at some point choosing a side. Just on Sunday, I sat down to watch the Maria Sharapova vs. Anastasija Sevastova match for only a few minutes; I actually told myself NOT to pick a side because I did not want to get emotionally attached -- I had work to do. Within 10 minutes, I was rooting hard for Sevastova not for any personal reason -- know nothing about her, have nothing against Sharapova -- but because it seemed to me she did not have the power to stay on the court with Sharapova. And yet she stayed out there anyway using guile, speed and marvelous variety of slices, drop shots, and "just get the ball back in the court" bloops. I watched the whole thing (Sevastova incredibly broke Sharapova down and won).
So, yes, I always am rooting for someone.
But Thiem and Delpo ...
I love Dominic Thiem. I'm not afraid to say it. I love his backhand -- I have spent hours trying to duplicate it. I love the easy way he moves on the court. I love his all-around game; in baseball he'd be a five-tool player. He has a great forehand, the aforementioned ridiculous backhand, a serve he can do just about anything with and then every now and again he goes to net and displays a jeweler's touch. Love the guy, want him to be the next big thing in tennis, root for him every match.
I love Delpo. I'm not afraid to say it. I was there in Rio, courtside, when he put on the most amazing display of tennis I have ever seen, when he beat Novak Djokovic with forehands that defy description. This is what Juan Martin does when he's right. He hits forehands that defy description. He has other skills. He moves pretty well for a big man. He has a big serve. His two-handed backhand is usually good enough to keep him in the point long enough to give him a crack at that forehand.
But yes, it is that incomparable forehand that defines him -- well, the forehand, and the series of injuries that have kept him from becoming one of the great players of his day. Love the guy. Root for him every match. Oh that Delpo forehand.
This didn't look like it would be much of a match. Delpo had some sort of nasty flu bug, and Thiem was on his game, and the first two sets were non-competitive. Delpo looked like he belonged in bed. You can always tell how much Delpo is in the match by how willing he is to run around his backhand and unleash the forehand that stops time. For the first two sets, he didn't run around his backhand at all. If I remember right, ESPN showed a graphic late in the second set which said that del Potro had ZERO winners. Zero. He obviously wasn't right.
But I would argue that it didn't matter much; Thiem was pretty great those first two sets too. He was hammering that beautiful backhand, attacking with the forehand, moving the ball beautifully side to side, running down everything. I'm not sure Delpo's condition mattered. Thiem won the first two sets 6-1, 6-2 and it looked like it would be a quick match.
Then, del Potro found his rhythm. Late in the second set, finally, he cracked one of those forehands that makes the crowd, all at once, shout "WOOO!" And everything changed. I keep going over this, yes, but there's just nothing in tennis, nothing, like that Delpo forehand when he gets hold of it. No other single shot in tennis regularly makes the crowd shout "Wooo!" in the middle of the point. That forehand looks, feels and is quantitatively different from even the best forehands in the world, even Federer's, even Nadal's. Anyway, del Potro found his rhythm, and Thiem made some errors, and the third set went 6-1 Delpo. It was not yet a great match.
Then came the fourth set. This was the set that got me screaming ... for both guys. Thiem would hit a backhand that made me go, "Yes!" Delpo would smash a forehand that would make me go, "Wow!" Thiem broke serve and went up 5-2 and seemed ready to win ... and yes, I was thrilled for him, I wanted him to win. But del Potro held his own serve and then dug in against the Thiem serve. Thiem's nerves rattled a bit, and Delpo broke. And I was thrilled for him. I wanted him to win.
Then came that 12th game. Delpo was serving to send the game into a tiebreaker, and this time he was shaky. He made a couple of forehand errors, and suddenly Thiem had two match points. I wanted him to win. Delpo cracked an ace down the middle ... and followed with an ace wide to wipe those match points away. He held on. And I wanted him to win.
I can't remember a match that so tore me apart. When Delpo beat Thiem in the fourth-set tiebreaker, I felt heartbroken for Thiem. And when Thiem seemed to be pushing del Potro around in the fifth set, I felt heartbroken for Delpo. It wasn't always great tennis. At times, Thiem seemed wild, out of control, rushing like he wanted to get things over with, hitting shots 10 feet long. At times, del Potro seemed to be just hanging on; after a while even his forehand lacked steam. It was as if he was almost out of strength.
In the penultimate game, Thiem had an easy forehand, short and middle of the court, to send the game to deuce. He reared back and hit the ball a foot wide. At that moment, I sensed that he was done for. He'd blown a two-set lead. He'd blown the fouth set, failed on match points, faltered when he was serving for the match. The crowd was massively against him, which couldn't have felt great. And then he missed a gimme with the match on the line.
Thiem is only 23, but already there have been a series of disappointments. He made it to the semifinals at the 2016 French Open, only to get blown off the court by Djokovic. He made it to the semifinals of this year's French Open, only to get blown off the court by Nadal. He is a breathtaking talent, and he has had some moments. He has reached at least the fourth round of the last five grand slams. But in four of those that's exactly where the tournament has ended for him. And this was the fourth round.
Thiem looked spent in the last game -- not physically (he still looked healthy enough) but mentally. He did battle, saving one match point. But at deuce, del Potro ripped one more forehand winner to give himself a second match point. And then Thiem, desperate to get the ball to Delpo's backhand, as any of us would be, double-faulted to lose the match.
I didn't know what to feel. Happy? Yes. Sad? Yes. The two had a heartfelt exchange at the net. Delpo was crying -- he has been through so much. Thiem's tears, I imagine, were shed out of view.