No Left Turn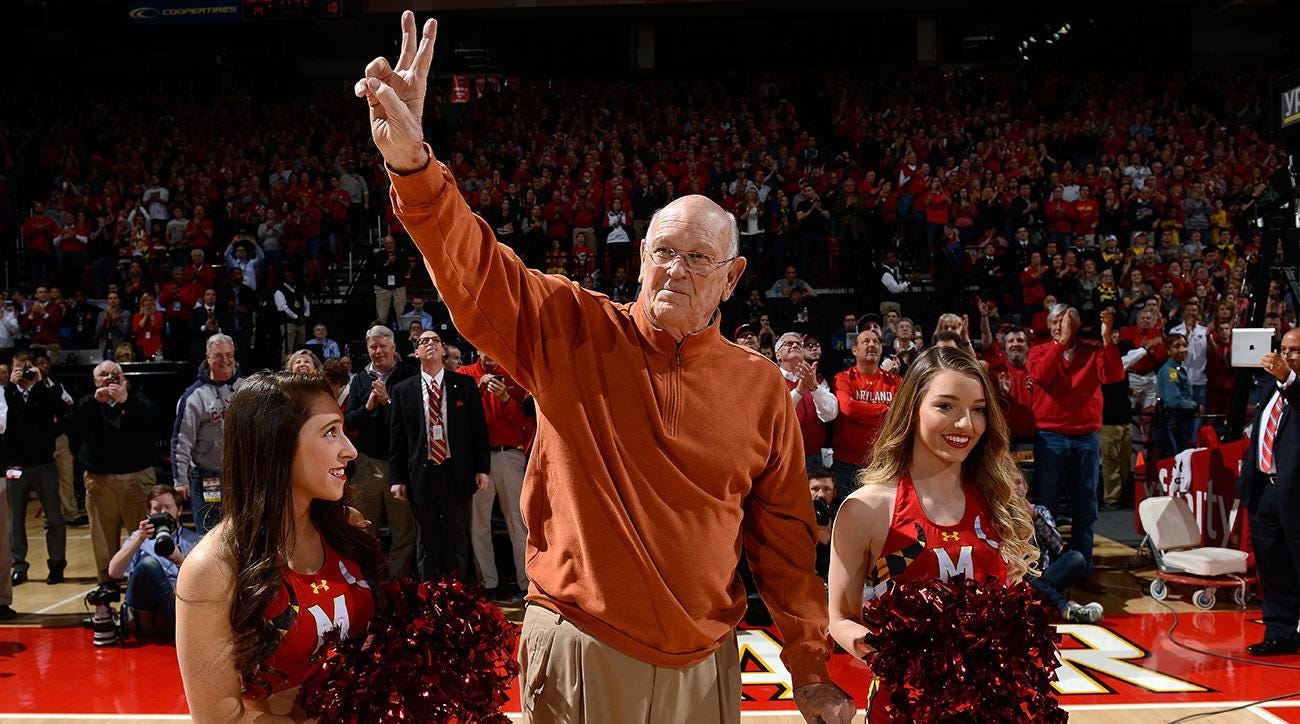 Well, it was sad to see that the Naismith Memorial Basketball Hall of Fame did not name Lefty Driesell as a finalist this year. It was a little bit more than sad, actually. It baffles the mind.
A couple of months ago, I wrote a bit Lefty's extraordinary basketball life.
The most common response I got was simply: "I had no idea that Lefty was NOT in the Hall of Fame."
You would think he would be, yes. You would think that a man who won 786 games -- still Top 10 all time even though teams played many fewer games then -- who won everywhere he went, who invented March Madness, who almost singlehandedly made Washington a college basketball town and so on would be in the Basketball Hall of Fame. You would think honoring coaches like Lefty Driesell is the very reason you have a Basketball Hall of Fame.
But there's something about Lefty Driesell that the Hall of Fame misses. I suspect it is Lefty's bad timing. He built one of the greatest teams in the country at Davidson -- DAVIDSON! -- but they could not quite overcome Dean Smith's North Carolina (mainly because Smith somehow took Charlie Scott away from Driesell).
He built one of the greatest teams in college basketball history at Maryland -- but they just so happened to be in the same conference as N.C. State when David Thompson played there. The two schools played what many still call the greatest basketball game ever played; N.C. State won and went on to become national champions. Maryland lost and went home. It was like that in those days.
He was on the brink of building a mind-blowing college basketball team when he successfully recruited a pretty good high school basketball player named Moses Malone. But his family needed the money, and so when he was drafted -- on something of the lark -- by the Utah Stars of the ABA, he turned pro.
And he built a magnificent team at Maryland in the mid-1980s, built around the great Len Bias, but that team lost 46-43 to a charmed Villanova team in the Sweet 16. Maryland had beaten Villanova just two months earlier, but this time Villanova played a plodding style, lots of switching defenses. "I thought we just shot bad," Lefty said after the game.
"This game, or more correctly a facsimile of such, was supposed to be played for keeps," wrote Tom Melody. " What it was, though, was awful. This one, sports fans, was played for sleeps."
I bring all this up because while Lefty Driesell did not make the finalist list, Villanova coach Rollie Massimino did. Massimino does not the career resume of Driesell, at least not at the Division I level. He has 481 Division I victories and 375 losses -- compare that to Driesell's 786-394 record. Lefty's teams won 16 regular season championships; Massimino's teams won five. Lefty won big at four different schools, taking all of them to the NCAA Tournament at some point. Massimino coached at three Division I schools but only took Villanova to the tournament.*
*He STILL coaches at NAIA Division II Keiser University in West Palm Beach, even at age 82.
BUT ... Massimino's team won that ugly game in 1985. They followed up by slowing down the game (it was one year before the shot clock) and playing great defense and beating a Dean Smith North Carolina team with Kenny Smith and Brad Daugherty. They knocked off Keith Lee and Memphis in the Final Four and then, of course, upset Georgetown in the final, one of the great upsets in college basketball history. It is a fantastic run.
And that's why Rollie Massimino is a finalist. He had that run. Lefty never did. Driesell's teams never quite made a Final Four. They made the Elite Eight twice. They won the NIT Tournament when it still meant something. But Lefty never quite had the timing down.
Bo Ryan, with 394 career Division I victories, is also a Hall of Fame finalist ... he, like Massimino, had success at lower levels. He also had a couple of terrific runs to the Final Four.
Bill Self, who is just 54 years old and still should have many more years as a coach, is also a finalist. I'm not sure the point of putting in an active coach like Self, long before he can ever appreciate it.
I should say: I would put Massimino, Ryan and Self (eventually) in the Hall of Fame. Absolutely. But Lefty should go first. His impact on the game, his genius as a coach, his ability to build winning teams ... all of it is so obvious that it just doesn't make sense that the Hall of Fame keeps missing it.