Ballot 34: Arthur Rhodes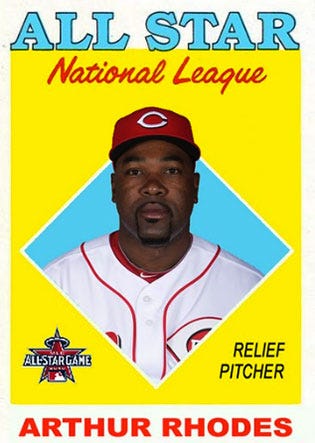 Arthur Rhodes
Pitched 20 years for nine different teams. 87-70 record, 4.08 ERA, 33 saves, 15.0 WAR, 3.1 WAA
Pro argument: The man pitched forever.
Con argument: Lefty specialists are to be cherished but not enshrined
Deserves to be in Hall?: No
Will get elected this year?: No
Will ever get elected?: No
So we begin. The plan is -- and yes, I hear you people in the back snickering about the Baseball 100 that (so far) has only gotten down to No. 32 -- to feature someone on the Hall of Fame ballot every day until the Hall of Fame announcement in January of 2017. That means we have to get through 34 different players in about 34 days (we might have to double up at some point).
Can we do it? No, probably not. But what the heck, let's give it a try.
We'll do it in order, from the No. 34 ballplayer on the list all the way up to the No. 1 ballplayer on the list. Not to offer any spoilers but as I look at the ballot it seems to me that there are 18 or 19 players on the ballot with VIABLE (though not necessarily persuasive) Hall of Fame arguments. And that leaves 15 or 16 wonderful players who, let's best honest, are fun to write about but do not belong in the Hall of Fame.
So yeah, it will be a couple of weeks before we get to the meat of the order.
But I think everyone on the Hall of Fame ballot deserves his own day, and that begins with the marvelous Arthur Lee Rhodes. It is one of
It is one of baseball's great bits of serendipity that Arthur Lee Rhodes of Waco, Texas and Lee Arthur Smith of Jamestown, Louisiana ran in from so many bullpens. They are mirrors of each other, Arthur Lee and Lee Arthur, both 220-pound relievers from the South, one left-handed, one right-handed, both throwing the best fastballs they could muster for as long as people would pay them. Combined, Arthur Lee and Lee Arthur pitched in 1,922 games.
And for fun, they were both second round picks out of high school and both were briefly tried as starting pitchers.
Rhodes actually had a reasonably lengthy tryout as a starter. He was a big-time prospect who dominated the minors as a 20-year old. Baltimore gave him 15 starts in 1992 and he pitched well, going 7-5 with a 3.63 ERA (3.22 FIP) and a 2-to-1 strikeout-to-walk ratio. That was enough to convince the Orioles to give him 17 starts in 1993; unfortunately in those he was impossibly bad, allowing the league to slug .509 against him. The Orioles gave him a few more chances to start, but by then it seemed like nobody's heart was really in it.
The Orioles then put him in the bullpen, and in 1997 he had his first real success. He pitched 95 innings, struck out 102 (against only 26 walks), won 10 games and had a 1.059 WHIP. It was a good enough season that he got some MVP love -- more MVP love, in fact, than his teammate Roberto Alomar who hit .333/.390/.500 in 112 games.
Then the Orioles decided in 1998 and 1999 to give him a chance to close. As Houdini famously said of growing up poor in Wisconsin, "The less said on the matter, the better."
At that point, he began his glorious and quixotic "Have Left Arm, Will Travel" career. Let's see if we can do this justice. He signed as a free agent with Seattle for the 2000 season and was pretty magnificent for the Mariners. In 2001, he went 8-0 with a 1.72 ERA in 68 innings. His 83-12 strikeout to walk ratio was fantastic. He more or less repeated that in 2002. Rhodes was one of the best setup men in baseball.
Then, let's see, he signed with Oakland and wasn't very good.
So after one year, the A's traded him to Pittsburgh for Jason Kendall, who had become too expensive for the Pirates. Pittsburgh waited a few days before trading him to Cleveland for Matt Lawton, who had become too expensive for the Tribe.
Rhodes was terrific for Cleveland for one year and so the Tribe, in a cost-cutting move, dealt him to Philadelphia for Jason Michaels. He was mostly ineffective in Philadelphia so they let him go to free agency, and Rhodes went back to Seattle where he'd had his greatest success. And then in spring training he blew out his arm and had to have Tommy John surgery.
At this point, Rhodes was 38 years old with a few hundred thousand miles on his arm. It looked to be over. But this is where he found that last bit of sublime worth in that left arm. He pitched well for Seattle for three months 2008 and was traded at the deadline to Florida, where he pitched even better. Yes, he pitched only 13 innings for the Marlins, but he allowed only one run.
The next offseason, Cincinnati signed him and he pitched well enough (he made his one and only All-Star Team!) that that after a couple of good seasons, Texas signed him. At that point, sadly, the arm really was shot though after the Rangers released him, the Cardinals picked him up and allowed him to have one final run of glory. He pitched eight innings for the Cardinals during the season but then became manager Tony La Russa's secret weapon in the postseason.
In Game 1 of the 2011 Division series against Philadelphia, he was brought in to face Ryan Howard. He got a weak groundout to second. Rhodes was pulled.
In Game 2, he was brought in to face Ryan Howard. He struck Howard out. Rhodes was pulled.
In Game 4, he was brought in to face Raul Ibanez. He struck out my old friend. And Rhodes was pulled.
So three games, three batters. Ten it was off to the National League Championship Series against Milwaukee.
In Game 2, he was brought in to face Prince Fielder. After an epic at-bat, he ended up walking Fielder. Pulled.000000
In Game 4, in something of an anomaly, he faced three batters, mainly because the batter he was brought in to face, George Kottaras, reached on an error. After a sacrifice bunt by the pitcher, Rhodes ended the inning by striking out Nyjer Morgan.
Then it was to the World Series against Texas.
In Game 1, he was brought in to face Josh Hamilton, who hit a fly ball to center. Pulled.
In Game 2, he was brought in to face Josh Hamilton, who hit a fly ball to right (though this one was a sacrifice fly). Pulled.
In Game 7 he was brought in to face Endy Chavez, who was then nixed for pinch-hitter Yorvit Torrealba. Rhodes got him to fly out to center.Pulled.
And that was it. Eight appearances. Ten batters faced. Eight outs, one walk, one reach on an error. One World Series ring. And then Arthur Rhodes retired. It was bizarre and wonderful and sort of the perfect summation of Rhodes' baseball career.
People argue about the purpose of the Baseball Hall of Fame -- is it a museum meant to feature the best baseball players ever or is it the ultimate reward for players who are a credit to the game or is it some foggy combination of the two?
Then, there are those who talk about the Hall of Very Good, an imaginary (but vibrant) place for those players who are not QUITE good enough to be in the Hall but should be remembered nonetheless.
Then there should be a place for the Arthur Lee Rhodes' of the world, not good enough for the Hall, not even quite good enough for the Hall of Very Good, but singular nonetheless. He never led
Rhodes never led the league in anything of note, was never an effective starter or closer, etc. But he just kept on going and going. Rhodes faced Jim Thome 26 times (he owned Thome, allowing just two hits) and A-Rod 22 times (A-Rod owned him, hitting .455 with a couple of homers). In all, he faced 1,006 different batters, from Abbott to Zupcic, from Jason Bay to Jon Jay to Ruben Gotay, from Bell to Reed to Sax, from Candy Maldonado to Darryl Strawberry, from Huff (Aubrey) and Huff (Mike) to Blowers (Man) Freeman (Freddie) Downing (Brian), from George Brett to Rickey Henderson to Albert Pujols, from Tony Gwynn to Tony Gwynn Jr.
He is second all-time to the redoubtable Mike Stanton with 254 holds in his career (Stanton had 266). Nobody really knows what exactly counts as a hold, so that's a great statistic for Rhodes.
And he was just plain fun, especially those last few years when he was a worn down left-hander coming out of the bullpen like an old gunslinger with one bullet in his gun and all the guile and guts you pick up from 1,000 survived gunfights.