National League East
First place: Washington Nationals
Record: 90-72
Wait, he's on the team?: Brian Dozier
Breakout?: Victor Robles. All the tools. Might be his time.
Not too sure about: Ryan Zimmerman
Let's talk for a minute about Stephen Strasburg. He was, I believe, the most hyped pitcher of my lifetime. Sports Illustrated sent me to Rochester back in 2010 to try and capture that moment in time, just before he came to the major leagues. I wrote these words:
This is what Stephen Strasburg does. He makes old baseball fans reminisce. He makes young fans dream. He makes scouts reach for ever grander words of praise. ... The biggest reason Strasburg makes everyone who sees him starry-eyed is this: He's as good as the hype. He might be even better.
Strasburg came to the big leagues on June 8, 2010, and his debut was an event, it was a scene, Bob Costas called the game for MLB Network, the kid struck out 14 and didn't walk anybody, it was one of those moments where WHILE YOU WERE WATCHING IT you knew it was history. This was the start of ... what? A Bob Feller career? A Tom Seaver career? A Roger Clemens career?
After his ninth start, his shoulder hurt and he was put on the disabled list. He returned three weeks later, but didn't look the same at all. Three more starts, and his elbow blew up. He had Tommy John surgery and was gone for a year.
But when he came back in 2012, wow, he was the Strasburg we all knew he could be. Fastball that raced 100. Curveball that could sit, roll over or play dead. Changeup that stopped halfway to the plate. His first five starts, he struck out 34, walked four, gave up a .195 batting average and had a 1.13 ERA. He did not allow a single home run. He was pitcher of the month, surely for the first month of many, and we settled in for the legendary career that was Stephen Strasburg's destiny.
Only ... something has held him back. What? There isn't a simple answer. Strasburg has been good, sometimes great. He's 94-52 with a lifetime 129 ERA+ and 2.91 FIP, I mean, that's good stuff. His age 29 comps include Max Scherzer, David Cone, Roy Halladay and Orel Hershiser, great pitchers.
But the Strasburg career feels ... short somehow. Unsatisfying. Maybe that's not fair. Injuries have slowed him down, certainly. He's had only one 200-inning season and that was way back in 2014.
But I still think there's something else, something more, something hard to pinpoint.
Obviously, I don't know what ticks inside Stephen Strasburg ... so let me tell you what it feels like as a fan watching him pitch: He makes me a little bit unhappy. I know that's a strange thing to say about a pitcher, but it's true. I excitedly settle in front of the TV to watch him pitch, and every single thing about his posture, his expression, his shoulders, his walk on and off the mound suggests that he would rather be somewhere else.
Every time I watch him pitch, I think of that great William Hurt line from Broadcast News: "I'm no good at what I'm being a success at."
Maybe that's a complete misread. I don't know. Maybe he's super-happy to be out there. Maybe he loves this and he just can't project that love. But as a fan of his, I don't get that at all. There's a bit in Roger Kahn's The Boys of Summer about Duke Snider hating the constant pressure that was placed on him because of his immense talent. "Why can't I be ordinary?" he asked Kahn, and I think of that quote too when I watch Strasburg pitch.
The Phillies, Mets, and Braves are all trendier picks than the Nationals to win the division, but I think Washington still has the most talent. I think the outfield will be BETTER than it was last year, which is a crazy thing to say considering they lost Bryce Harper. But Juan Soto, Victor Robles and Adam Eaton can be pretty special offensively and defensively. Anthony Rendon is one of the best players in the league. Max Scherzer is probably the best pitcher in the league, and Sean Doolittle is a fantastic closer (and great guy) and Patrick Corbin was one heck of a pickup for that rotation.
And Stephen Strasburg will continue to strike out hitters and get outs even while he looks ill-at-ease doing it. He might not ever become the legend, but maybe that was our dream, not his. Anyway, he's still awfully good.
The Nationals absolutely could win this division.
Second place: Atlanta Braves
Record: 89-73
Wait, he's on the team?: Josh Donaldson
Breakout?: Ozzie Albies -- the hope being that he's more the guy he was in the first half than in the second half.
Not too sure about: The way this team sat around this offseason.
My favorite quote from spring training came from Josh Donaldson, who was asked what exactly he would be bringing to this year's Braves.
"I don't know," he said. "Have you ever looked at the back of my baseball card?"
The back of Donaldson's baseball card is indeed smattered with goodness. You can imagine the cartoon with him wearing a crown and the words "JOSH WON THE MVP IN 2015!" You can imagine the numbers that stick out -- the 123 RBIs in 2015, the .301 batting average in 2013, the 37 homers from 2016, the .559 slugging percentage in 2017, etc.
Donaldson never won a Gold Glove, but the back of the card might point out that he was the Fielding Bible Award winner at third base in 2014 (meaning we on the panel ranked him the best third baseman in all of baseball, not just in his league).
And so on. If the back of my baseball card looked anything like Josh Donaldson's, I'd point to it all the time. I'd have a T-shirt made.
But it's probably worth mentioning that none of the awesome things on the back of that card happened in 2018. Donaldson was hurt in 2018, and he played in only 52 games, and he was traded for a player to be named later. It's probably worth mentioning that he's 33 years old, and his defensive value has been eroding for a while now, and he's showing all those familiar signs of decline that 30-somethings typically show.
That's not to say he will struggle in 2019. You could absolutely see him having a Nick Markakis reawakening (a Markakening?) -- Atlanta seems a good hitter's ballpark, a lot of players coming over from the American League perform brilliantly in the National League, the Braves have an exciting young offense that could bring the best out of Donaldson, etc.
It's just, while I love the baseball card line, it will take more than nostalgia.
And you kind of feel like right now the Braves are running on nostalgia -- nostalgia for the feel of the 2018 first half. Other than bringing in Donaldson and bringing back Brian McCann, the Braves did pretty much nothing in the offseason.
In particular, they did nothing to shore up that so-so rotation and bullpen. And I have to admit: I don't get it. There's so much momentum going with the Braves now, so much excitement built around Ronald Acuña and Albies and Freddie Freeman and the rest, that you sense this is the time to strike, this is the moment when the window is wide open.
And, instead, other than getting Josh Donaldson's baseball card and an old hero in Brian McCann, the Braves pretty much watched as everyone else in the division (sans Miami) hustled and got better.
Still, the Braves' young talent is sensational. They absolutely could win this division.
---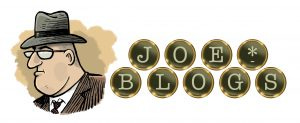 This is a free JoeBlogs preview. To become a member, click here.
---
Tied for second place: Philadelphia Phillies
Record: 89-73
Wait, he's on the team?: Andrew McCutchen. Jean Segura. And who's that guy in right field?
Breakout?: Vince Velasquez. I've been on the Vince Velasquez Breakout Bus for years now.
Not too sure about: Cutch. And it breaks my heart. I want him to stay young forever.
Philadelphia sports fans don't get nearly enough credit for their loyalty. There's a cliché about them that you no doubt know. They booed Santa Claus. They booed Mike Schmidt. They have verbally torn apart various quarterbacks, pitchers and goalies because Philly is a tough town, a mean town, a warm-your-hands from a fire in a garbage can town like in the Rocky movies. Like all clichés, there's a spark of truth in it all.
When Bryce Harper signed with the Phillies for, what, 600 years, there was this "Oh boy, he has NO IDEA what those fans are going to do when he struggles" vibe, and I admit walking down that road for a little bit myself because it was easy.
But the more I think about it, the less sure I am that it's right.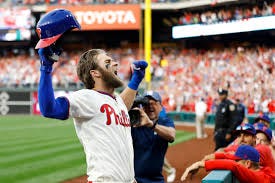 Harper and Philly could be a match made in heaven.
Philadelphia fans are, after all, the ones who stuck with Ryan Howard long after he stopped hitting. They're the ones who still cherish Dick Vermeil even though he only coached there for six-plus years and quit after burning out. They will line up to buy a beer for anyone who was anywhere near that 2008 World Series champion Phillies team, and I'll bet you could still get in a fight in town by besmirching the name of Bobby Clarke.
Point is, if Philadelphia fans think you're one of them -- that is to say tough, resilient, willing to fight and unwilling to back down -- they'll love you forever.
There's no telling how the Harper-Philadelphia romance will play out. Harper is too unpredictable a character. I thought FOR SURE he was going to put up a year for the ages last season with free agency approaching and his body finally healthy. The last thing in the world I expected was for him to go into a three-month freefall where he couldn't catch up to fastballs and played defense like he was still learning the rules. But that happened.
Then he turned it on for two months, hit .303/.437/.538, and looked like Bryce Harper again.
So who really knows? But I know this -- when Harper's right, he plays with the sort of force and energy you can feel in the stands. Philadelphia fans will love that, of course they will, because all fans love that.
When I was a kid, I saw Cleveland Browns fans throw snowballs at Terry Bradshaw as he was being taken off the field on a stretcher. That's way worse than booing Santa Claus. Every town has some of the Philadelphia sports cliché in them. And Philadelphia is a lot more than the cliché. Many people seem to feel like the Harper thing will end badly in Philadelphia, and that's certainly possible.
It's also possible that he becomes one of the all-time Philadelphia sports heroes and they'll name a cheesesteak after him. I think that's every bit as likely.
Philadelphia could absolutely win this division.
Tied for second place: New York Mets
Record: 89-73
Wait, he's on the team?: Robinson Cano
Breakout?: Jeff McNeil. A 12th-round pick, played in the minors forever, finally got his chance and wouldn't stop hitting, I love guys like this.
Not too sure about: Pitchers' health. Never too sure about Mets pitchers' health.
My favorite under-the-radar move of this offseason was the Mets signing Wilson Ramos. I don't know that it was totally under the radar, I mean, the papers covered it. But even then, the New York papers made Ramos sound a little bit like a consolation prize after they couldn't pry J.T. Realmuto from the Marlins (the Phillies got Realmuto a couple of months later).
Here are 10 things about Wilson Ramos.
He's nicknamed "the Buffalo." Sorry. That's awesome.

He's astonishingly slow. While Statcast has its "Sprint Speed," I have long measured player speed on the Molina scale, with one Molina being the speed of Bengie Molina. Ramos is a one-Molina player.

The guy is impossibly tough. He has torn his ACL, blown out his hamstring and broken his left hand, and he keeps coming back, keeps on hitting. Last year, he hit .306/.358/.487 for two clubs.

Along those lines, in 2017 he was hit with a broken bat and required six staples for the wound. Catchers take a beating. Ramos has taken a particular beating.

Pitchers love throwing to him. There's quote after quote to show that.

Ramos has caught three no-hitters in his career, along with Max Scherzer's 20-strikeout game.

This will seem out of place, but he was kidnapped by eight people in his home country of Venezuela in 2011. It was a harrowing experience that undoubtedly still haunts him. "I had just asked for God, at every moment, to get me back to my home," he told The Washington Post.

He has loved hitting against the Mets -- hit .370 against them last year and .301 with some power over his career.

His connection with Scherzer, Strasburg and company bodes well for how he will catch Jacob deGrom, Noah Snydergaard, et al.

Last year, the Mets catchers were ranked worst in baseball in defensive runs saved, and they hit a combined .208/.297/.355. There were many higher profile moves around baseball -- the Mets themselves made a couple more high-profile moves. But Wilson Ramos could be one of the true difference makers of 2019.
With the Mets, it will obviously come down to pitcher health, it always comes down to pitcher health. But that bullpen looks pretty stout, which -- if used right -- could help the Mets keep those awesome starters healthy.
The Mets absolutely could win this division.
Fifth place: Miami Marlins
Record: What difference does it make? As long as you remember the experience!
Wait, he's on the team?: Neil Walker! (And at first base, no less.)
Breakout?: Jorge Alfaro, maybe?
Not too sure about: Life. What does it all mean, anyway?
With J.T. Riddle already at shortstop, my most desperate wish is that the Marlins find a guy named Alan Mystery to play second and Andrew Enigma at first so that a double play would be Riddle flipped to A. Mystery flipped to An. Enigma.
This Marlins team looks SO familiar to me ... probably because I covered a dozen or so Kansas City Royals teams just like it.
-- Good veterans past their prime? Check! (Curtis Granderson, Walker, etc.)
-- Late 20s star who's wondering where he went wrong? Check! (Starlin Castro.)
-- One-time mega-prospect who might still work out but the odds grow slimmer by the minute? Check! (Lewis Brinson.)
-- 27-year-old minor league slugger finally getting a chance to prove himself on the big stage? Check! (Peter O'Brien.)
-- Longtime minor leaguer who's sort of the closer by default? Check! (Drew Steckenrider.)
-- Longtime reliever who's there to help the young kids learn how to become pitchers? Check! (Sergio Romo.)
-- Talented No. 1 pitcher who doesn't quite seem to be putting it together? Check! (Jose Ureña.)
-- Veteran manager who was a good player and wants to bring some of that professionalism to the team? Check! (Don Mattingly.)
Oh, it's all there, like the mid-2000s Royals reborn. The only big difference is that these Marlins also have Derek Jeter telling everybody that the fan experience is what it's all about and that it's impossible to win every single game. Derek Jeter said that. Yeah. This is like Night Ranger reforming and saying, "Actually, no, you can't still rock in America."
Jeter tried to clarify things in an interview with Harold Reynolds; he said that he was talking about the elevated food and beverage experience and certainly did not mean to suggest that he cared less about winning. "We're investing in our fans," he said.
The Marlins absolutely cannot win this division.