Missing Dexter

Baseball, like life, moves pretty fast. Nobody should know this better than Ferris Bueller's favorite team, the Chicago Cubs. Six weeks ago, the Cubs were considered all-but unbeatable, Las Vegas' darling for another World Series victory, a brash young team on the brink of a dynasty. Every other day, it seemed, they were celebrating themselves, raising banners, flashing rings, enjoying the king's life.
And now, let's be honest, they're kind of a mess.
You expect it to turn, of course. We're not even a quarter of the way into the season. You expect Kyle Schwarber to hit better than .179, and Anthony Rizzo to slug higher than .380. You expect Jake Arrieta to start getting people out again, and that the Cubs defense will start making a difference like it did last year. Baseball's long season, more often than not, does the trick of smoothing out small bumps and potholes.
BUT … you have to say that the Cubs are showing surprising but very real weaknesses at the moment. And if you had to pick one specific reason why, yep, it sure looks like it comes down to the loss of Dexter Fowler.
The Cubs were sad to see Fowler go, of course, but not sad enough to shell out $83 million. You couldn't blame them. Fowler is 31 with skills that probably will not age especially well. The Chicago brain trust — not without reason — felt pretty confident that they could replace Fowler's skills. They had young Albert Almora Jr. to play centerfield and replace Fowler's defense. And they had Kyle Schwarber to be an unconventional but awesome leadoff hitter, replacing Fowler's presence at the top of the lineup.
We're only 37 games in but so far … not too good. Almora's defense has been uninspiring so far. By Statcast™ numbers, he has only made one three-star catch so far this year (and no four- or five-star catches). He's solid and the Cubs defense is solid. But the defense last year wasn't just solid, it was spectacular. They took hits away. They saved a bunch of runs. Fowler was not the team's best defender or even the team's best outfielder. But he was good, he anchored the best defensive outfield in baseball. Almora is a gifted player but he's not changing games just yet.
And the Schwarber thing has been kind of a fiasco so far. Schwarber is an interesting case study. He has done amazing things in the big leagues — like just showing up for the World Series after missing the whole year and hitting .412 — but you wonder if that has confused people into thinking that Schwarber is an amazing player. You hear people, when talking about the Cubs, just mash Schwarber in there with Kris Bryant and Anthony Rizzo and such.
Well, he's not there yet, not even close to there. Kyle Schwarber has only played in 106 big league games, and he has a lifetime .219 batting average. He's a below average runner. He's a borderline unplayable outfielder. Yes, you fully expect him to be a force with the bat, but he isn't yet. The Cubs insist on continuing to lead him off but right now he's an out. He's zero for his last 16, and he hasn't had a three-hit game since August of 2015.
Nothing that Schwarber, Almora or the Cubs in general have done so far this year is necessarily predictive of the rest of the season. Let's just point out that the 1975 Cincinnati Reds, one or the greatest teams in baseball history, started the year 18–19, the precise record of the Cubs right now. The only real point is that last year, for the most part, things went right for the Cubs. They led the division more or less from start to finish. They had dominant pitching, and otherworldly defense, and plenty of offense. It was, by baseball standards, a pretty easy run.
But live moves pretty fast. And this year, it's trickier.
---
Tango Win Alert
Yes, that Washington Nationals bullpen is bad. In a Sunday doubleheader against Philadelphia, they flat blew the first game — the Nats led 3–1 going into the ninth inning when Shawn Kelley gave up a homer, back-to-back doubles and a walk. He then gave way to Koda Glover, who promptly gave up the go-ahead single. Kelley at this point has given up six home runs in 11 innings.
Then, in the second game, the bullpen tried to blow it again. Max Scherzer pitched six grueling innings. It wasn't easy — he gave up nine hits, struck out eight and took a line drive off the knee. This was yeoman's work as well as Floyd Youmans' work. Scherzer left the game with a 4–3 lead.
Now, as you know, leaving with a 4–3 lead guaranteed that Scherzer could not LOSE the game. That's already in the rules. But if you've been following along here, you might know that Tom Tango has suggested a subtle rule change stating that Scherzer would be GUARANTEED THE WIN if the Nationals went on to win the game. That is to say that even if the Nationals gave up the lead, took it back, gave it up again, took it back again, gave it up again and so on until finally winning, Scherzer would not be tangoed out of his victory. It's logical, simple and in every situation I can find justified.
In this game, the Nationals bullpen gave up Scherzer's lead. Well, of course they did. Matt Grace walked the leadoff hitter in the eighth on four pitches. He was replaced by Jacob Turner, who walked the first man he faced — though at least that was a tough eight-pitch at-bat. Turner then gave up a two-run triple to Freddy Galvis. That took the victory away from Scherzer.
The Nationals took the lead back on Michael Taylor's two-run homer.
That, yes, you guessed it, set up Jacob Turner to tango the victory.
Tom Tango's rule change does not solve all the problems of the pitcher win statistic, not by a long shot. But it does good, and it is so simple people would hardly know the difference. Well, Max Scherzer would know the difference.
---
A few words on Jeter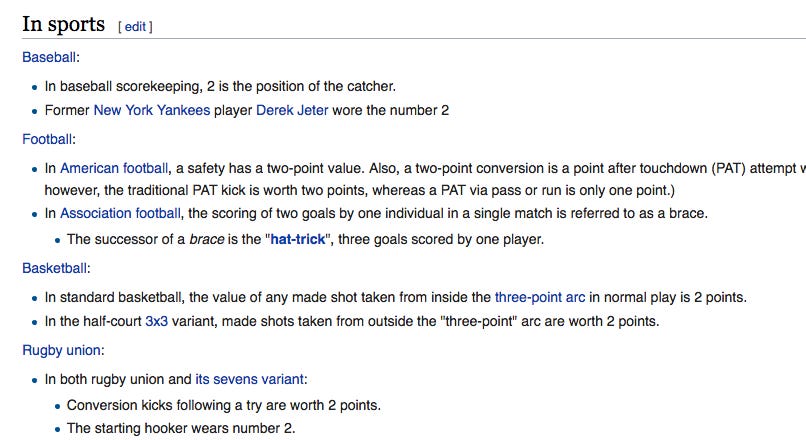 There's something weird about great New York athletes. They are, of course, hyped beyond all reason. For the last week or so, it was pretty much impossible to avoid the Derek Jeter retired jersey hype. It was so overbearing that at some point, I became convinced that society was actually retiring the number 2 from all walks of life. We will start going, "1, 3, 4, 5 …"
We will change the expression from "as simple as two plus two equals four" to "as simple as Jeter plus Jeter equals awesome double-Jeter."
Pooping from this point forward will be known as №3.
I mean, this is from the Wikipedia page about the Number 2*: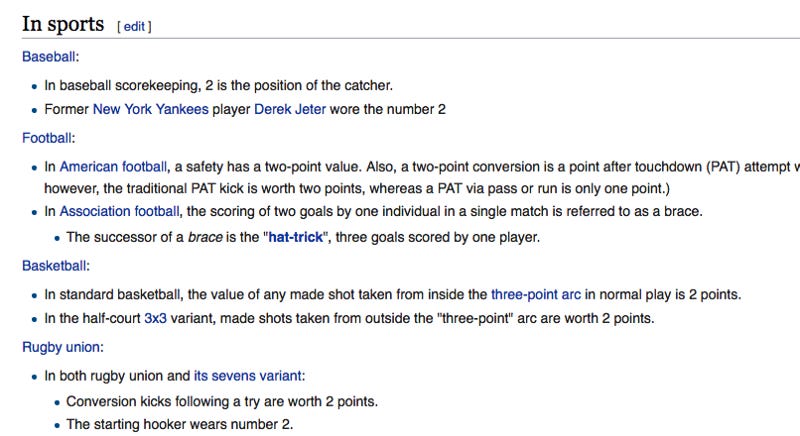 *I tweeted this out — apparently shortly after that some Jeter loather jumped into Wikipedia to take it out.
All this and yet … Derek Jeter never won an MVP award. It's really kind of a crazy thing because Jeter has been so celebrated, so absurdly canonized (It was the over-the-top Jeter love that, almost a decade ago, motivated me to coin the word "Jeterate."). And yet, the guy was jobbed out of THREE MVP awards by my count.
In 1998, he lost to the MVP vote to Juan Gonzalez and I have to say that I still don't understand it. Back then — and this continues somewhat now — voters chose players not only based on their own success but also based on how good their team was. Well, Derek Jeter was the best player on a Yankees team that won 114 games.
Not only that: Gonzalez had already won a dubious MVP award two years earlier — the voters have always spread things around.
Not only that: Jeter was a WAY MORE VALUABLE PLAYER than Gonzalez, whose entire case was home runs and RBIs. Jeter got on base more, was a much better base runner, was a dramatically better fielder at a more important position and so on and so on. That should not have been close. And it wasn't close. Gonzalez won the award going away. Heck Jeter finished third in the voting, behind Nomar Garciaparra.
The very next year, Jeter has the highest WAR among everyday players in the American League. He was crazy good — .349/.438/.552 splits with a league leading 219 hits, 134 runs scored, 102 RBIs, it was a ridiculously awesome season for a team that, yet again, ran away with the division. Jeter finished SIXTH in the MVP voting. Now, really, that MVP should have gone to Pedro Martinez. But it did not. It went to Pudge Rodriguez. There is no way Pudge — great as he was defensively and with 35 homers added on — was as valuable as Jeter in 1999.
And then, the most famous snub, 2006, he lost the MVP to Justin Morneau. Again: Kind of inexplicable. Jeter had 40 points of on-base percentage on Morneau, scored 20 more runs, was way better on the bases and, though he had a rough year defensively, he was still a shortstop to Morneau's first base.
Three times Jeter was demonstrably better than the guy who won the MVP award. Could it be that the guy who was basically given the number 2 by the world at last last week was actually UNDERRATED in his career?
---
RIP Steve Palermo
On Sunday, we lost a great man … and a great friend. Stevie was a true hero in a world that never has enough of them.