Miller and Hochevar
A Twitter thread last week reminded me of one of the strangest sportswriting experiences of my life. It doesn't really have anything to do with anything but then, that's part of the charm/annoyance of JoeBlogs, right?
Bryan went on to say that he remembered showing me how to get to the media room that day (I remember this too, actually) and that my old boss and buddy at MLB.com Matt Meyers was there as well (I have no recollection of this).
All this brought back what a strange and wild time that was in 2006.
Here are the three basic themes of that crazy time:
The Kansas City Royals had the first pick in the draft for the first time in team history.

The Royals fired general manager Allard Baird SIX DAYS before that draft. Yes, six days. Baird had been working with the scouting department for close to a year preparing for the draft, but the Royals got off to another terrible start and the team thought firing him just before the draft was the right thing to do.

The Royals hired new general manager Dayton Moore FIVE DAYS before that draft, but with a catch. Moore — because he had been working closely with Atlanta scouts on their draft preparation — publicly recused himself from the Royals draft. He didn't think it would be fair to take his scouting from the Braves with him to Kansas City. So he announced that he would not officially begin his work rebuilding the Royals until the draft was over.
These three factors led to what Vince Blight would call: "Chaos."
Think about it: The Royals were terrible, they had the No. 1 pick, the most important pick in team history, and nobody even knew who was in charge. The Royals did have a scouting director, Deric Ladnier, who was left over from the Baird regime. He would be responsible for making the pick. But he also knew that Moore was going to become his boss the day after the draft, so he obviously wanted to make a pick that would make Dayton happy. And he also knew that the Glass family had just fired Allard Baird, so he wanted to make a pick that would make them happy.
Yes. Chaos.
I was columnist for The Kansas City Star at the time, and so I was generally used to Royals chaos. But even for Kansas City, this draft fiasco was something new. I diligently worked my sources for months and months and figured out that there were four players who the Royals were targeting:
No. 1: Andrew Miller, a 6-foot-7 lefty fireballer at the University of North Carolina who reminded some of Randy Johnson.
No. 2: Brad Lincoln, a righty at the University of Houston who impressed Royals scouts with his feel for pitching. You heard them saying that Lincoln was "closest to the majors," a tag that is fraught with all kinds of baggage. Usually when you are talking about someone being "closest to the majors," you are also talking about a player who has a low ceiling, a player who has a good shot at making it but less of a shot at being great.
No. 3: Tim Lincecum, a 5-foot-11 whirlwind of a pitcher out of the University of Washington. Lincecum was widely viewed as a freak — or perhaps, more correctly, THE FREAK: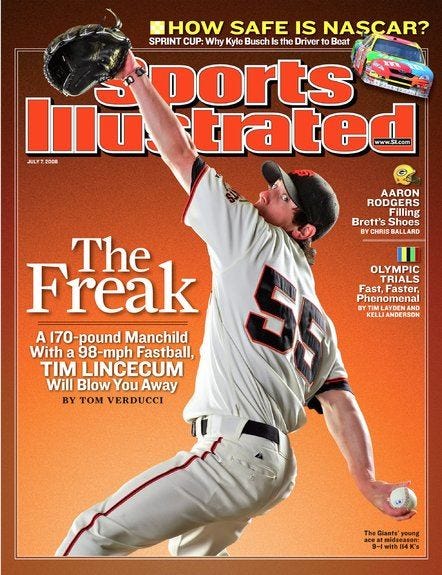 Even then, Lincecum had this crazy windup that looked like Tommy John surgery in human form. But nobody could hit him. Would he get hurt? Would he be a reliever? Would he be Sandy Koufax? Everything seemed on the table for Lincecum.
No. 4: Brandon Morrow, a pitcher at the University of California, seemed to be the choice of the scouting moderates, those scouts who thought Miller and Lincecum too risky and Lincoln too safe. Sort of the Sherrod Brown of prospects.
One thing that everyone agreed on — the Royals would DEFINITELY take a pitcher. The talk before the draft was that it was rich in pitching prospects. And, not to jump ahead, but this turned out to be true — the 2006 first round featured two of the greatest pitchers in baseball history.
Unfortunately, the Royals never talked about either one of them.
There was a Texas high school pitcher named Clayton Kershaw. The Royals were not interested in high school pitchers that year.
And, absurdly, there was a pitcher less than two hours from Kansas City pitching at the University of Missouri named Max Scherzer.
To be fair to the Royals, nobody saw Scherzer as the No. 1 overall pick. He was taken with the 11th pick, and that seemed to be about where he was projected to go. But to be unfair to the Royals — Max Scherzer was RIGHT UP THE ROAD. They failed to draft Albert Pujols, who went to high school and junior college in Kansas City. They failed to draft Max Scherzer, who went to the University of Missouri.
How much different would everything have been if they had taken those two guys?
Anyway, getting back to the moment: Once the firing and hiring happened, it was unclear who knew what. I still worked over my sources to get any information I could, and just days before the draft it became clear that Andrew Miller had moved into the lead. Mock drafts mostly had Miller going No. 1. My sources generally confirmed.
Still, I didn't have it locked down. The weekend before the draft, I was charged with finding out who the Royals were going to pick and then traveling to write a story about him. It sure looked like Miller. But I tried to get a confirmation by using a classic reporter tactic, a version of one that you might have seen in All the President's Men.
OK, it wasn't exactly like All the President's Men, but here's what I did: I called my best source with the Royals and I said something like this: "Look, I know you're not going to tell me who you are drafting. But I'm about to get on a plane to go see Andrew Miller pitch. So please just tell me: Am I wasting my time?"
And here's what he told me: "No. You are not wasting your time."
Looking back, I suppose I was a bit blind in thinking that he was actually telling me something. He might have simply meant, "Hey, you'll like watching Miller pitch, that won't be a waste of time."
Or: "You being there might throw people from other teams off the scent of who we are really picking, so that's certainly not a waste of time."
Or "I've read your stuff, I mean, you write like 10,000 word posts on infomercials so, uh, heading to Chapel Hill and watching Andrew Miller pitch seems as good a use of your time as anything else you do."
Or he could have meant nothing at all. But I took his meaning as, "Oh yeah, Miller is still our No. 1 target," and so I flew Chapel Hill to watch him pitch. I remember that the flight was seriously delayed, which stunk but it did allow me to do all sorts of research on Miller. I found out that he pattered himself after — well, you guess:
A. Randy Johnson
B. Sandy Koufax
C. Steve Carlton
D. NASCAR driver Tony Stewart
Correct, it's D, Miller saw himself as a hard-charging race-car driver as a pitcher, and I prepared to really dive in on that theme. The Royals were drafting a NASCAR pitcher! Whoo hoo!
I got to the ballpark late — plane issues, if I remember right. I sat down. And no kidding within two minutes of arriving, a scout I knew came up to me and said: "Hey, what are you doing here?"
And I said: "Um, I'm here to see Miller."
And he said: "Really? I hear the Royals are set on Luke Hochevar."
Two minutes after I got there, he told me that. TWO MINUTES.
So, yeah, I should have called HIM with the wasting time question rather than the Royals dude.
Hochevar was a crazy story himself. He was a Dodgers first-round pick in 2005 but his agent was Scott Boras, which tells you all you need to know. Hochevar held out for more money, the Dodgers refused to pay more money, and Boras/Hochevar decided to go pitch independent ball in order to showcase his stuff for the next draft.
The Royals went to see him pitch more or less at the last minute. And apparently, they had been blown away.
None of this sat well with me. Well, obviously it didn't sit well with me because I actually was wasting my time in Chapel Hill. But that was not really a big deal; there's a lot of wasted time in sportswriting. No, my big question was: Why would the Royals want to draft a guy with the first overall pick who had been taken with the 40th pick a year earlier and then sat out a whole year and was going to be a hassle to sign and, not insignificantly, was about to turn 23 years old? What were the chances THAT was going to work out?
It made no sense to me at all.
But it does now.
See, in the years that have passed, though, I've developed a theory about what happened in 2006 — it's a a theory I often apply to difficult decisions. I call it the Option J theory. I remember something Ladnier told me during the madness:
"I'd rather lose my job making the right choice than keep my job making a choice based on public opinion."
The Royals were TRYING to make the right decision under the most bizarre and extreme circumstances. And in that setting, I'm sure they went round and round and round on their choices, to the point where none of them sounded too good. My guess is that they had gone over each player so many times that they could only see the negatives. They could only the injury risk with Lincecum. They could only see the low ceiling with Lincoln. They could only see the inconsistent delivery of Miller. And so on. And so on.
And — haven't you been here when making a decision? — you finally get to the point where you're not excited about any of your choices. Option A? Blech. Option B? Worse. Option C? Gross. You need something totally different, something entirely out of the box … you need Option J.
And then … Luke Hochevar became available. Whoa! Who would have thought that? He was supposed to be on the Dodgers. He was supposed to be out of reach. And that idea started sounding pretty good. And then they went to see Hochevar pitch independent ball and … whoa! He looked good! Electric stuff!
And, suddenly, the Royals saw a way out of their mess. They could just take Option J.
Option J flopped because Option J always flops. The Royals rushed Hochevar to the big leagues even though he struggled in the minors. He went 13-25 with a 6.06 ERA his first two seasons with the Royals and sort of chugged along from there. He led the league in earned runs allowed in 2012. He was not the worst No. 1 overall pick, not by a long shot — he got almost 1,000 innings in the big leagues — but when you look back at what the Royals could have done with that first pick in 2006 … well, as Satchel Paige said, don't look back.
Speaking of Satchel Paige, here's a photo of the guy the Royals almost drafted, Andrew Miller, standing next to the Paige statue at the Negro Leagues Baseball Museum.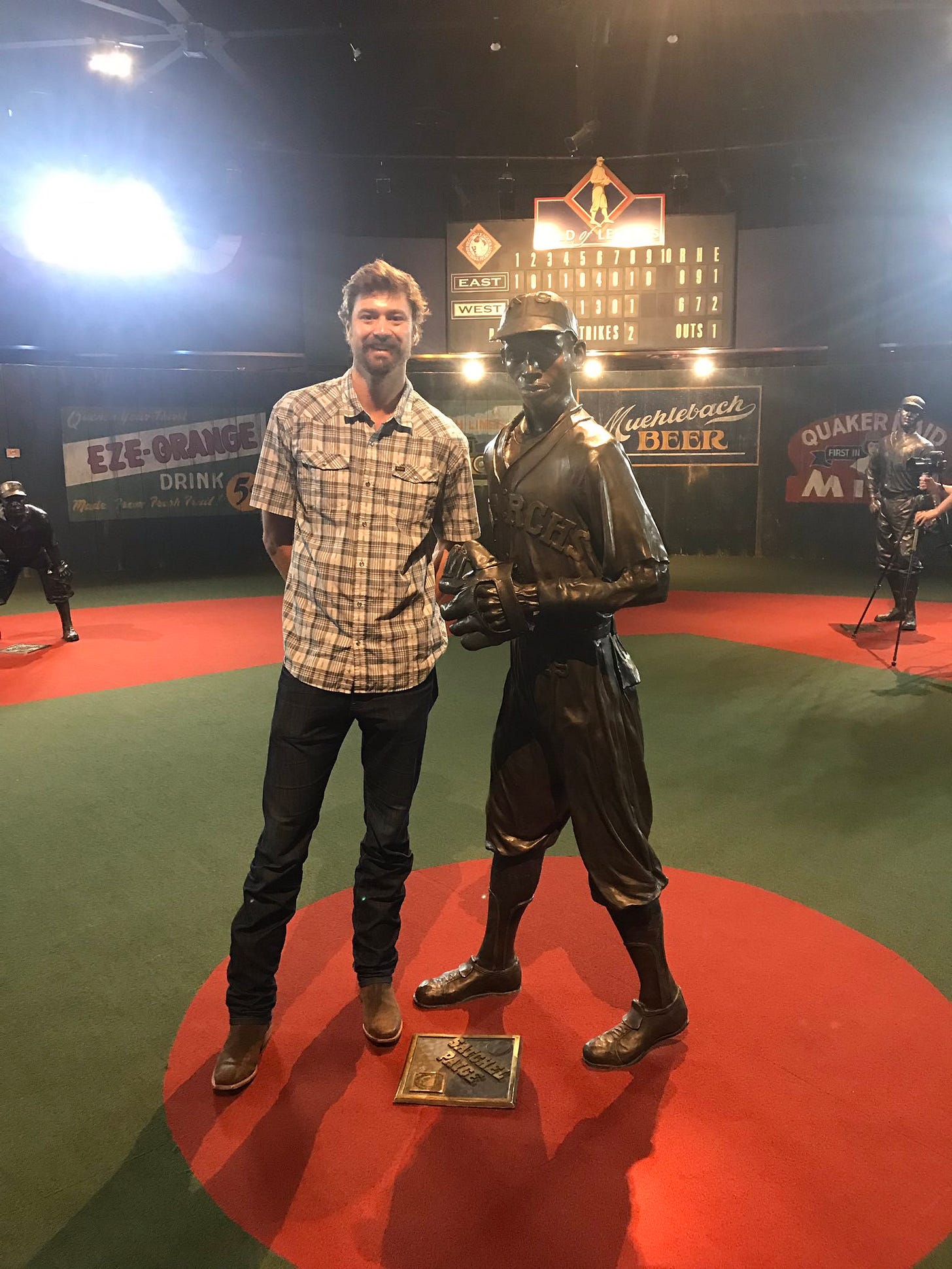 That's awesome You know that MIller has had an amazing career. He, like Hochevar, couldn't quite make it as a starter (21-29 with a 5.79 ERA his first six seasons, most of them as a starter). But then, Miller became a super-reliever and a bit of a legend. Since 2012, he has a 2.38 ERA, a .970 WHIP and has averaged 13.8 strikeouts per nine innings. I can't say he would have done that for the Royals and so cannot say the Royals made a mistake not drafting him — it's more the Scherzer and Kershaw misses that leave a mark.
But I can say that Miller, in the end, did become a NASCAR pitcher, and I can finally use that material in a story.