Managing A Food Store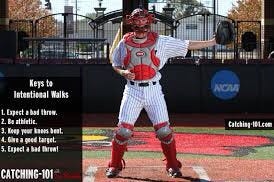 Buttermaker: "You're putting the tying run on first base, you imbecile!" Turner: "Couldn't even manage a food store, he's managing a baseball team." — The Bad News Bears
* * *
If you have spend much time here at the Ol' JoeBlogs, you might know that we're not too crazy about the intentional walk. There are two reasons for this. One is an overriding distaste for it. The intentional walk is anti-competitive. It drains the excitement and tension out of a game that, by its very nature, builds very deliberately toward excitement and tension. When Bryce Harper or Paul Goldschmidt or Mike Trout or Jose Altuve come up with two runners on in a tie game, we would like to actually SEE Joey Votto or Aaron Judge or or Carlos Correa or Andrew McCutchen hit.
The intentional walk is Mr. Toad's Wild Ride at Disney World. You wait in a six-hour line for Mr. Toad, your kids are screaming and pleading, the ice cream cone you got them at the start is long gone (and they are wearing most of it on their shirts), and then you finally get to the front, finally get on the ride ... and it's VVVVVVVPPPPPP, OK, ride's over, thanks for coming.
And you think — as the great philosophers and Peggy Lee have thought — "Is that all there is?"
In truth, though, my overall beef with the intentional walk has lost some of its steam because over the last five or six seasons it has all but disappeared. The IBB has ticked up ever so slightly this year, but we're talking about the difference of .19 IBBs per game to .20 IBBs, which is nothing. Teams issue intentional walks once every five games or so, and most of those are walks to get to the pitcher. So while, yes, every intentional walk is an abomination upon the earth, well, it's hard to build up much righteous anger for rare birds.
The second reason we here loathe the intentional walk, though, is strategic. The intentional walk is often a preposterously stupid strategy.
And so we take you to Los Angeles, California.
The Dodgers are ridiculously good. I mean RIDICULOUSLY good. I spent a couple of hours with GM Farhan Zaidi back in March — always a joy, by the way — and we went over the team piece and by piece and at some point I said, "Your team is ridiculously good, isn't it?" That was before I knew that Cody Bellinger would unload or that Alex Wood would decide to be Clayton Kershaw, but anyway the team is really good. I saw Dodgers president Stan Kasten at the Hall of Fame ceremony on Sunday, and let's just say he seemed pretty happy.
So the Dodgers and Giants played on Sunday at Dodger Stadium, rivals having very different seasons, and the Giants led 1-0 going into the bottom of the ninth. If you have followed the Giants the last couple of years you know, leading 1-0 going into the bottom of the ninth is not their favorite place to be ... to be honest, I suspect Giants fans were pleased that the Dodgers only scored one run to send the game into extra innings. The run, by the way, was scored by Chase Utley who led off with an infield single, stole second and scored on Yasiel Puig's single. This is noteworthy because Chase Utley is 483 years old.
Anyway, into the 10th ... into the 11th ... and the Giants scored a run when Joe Panik's ground ball single scored Kelby Tomlinson. Then came the bottom of the 11th — Giants in their favorite position, up one run going into the last — and with one out Corey Seager smashed a double because that's what Corey Seager does.
Up came Justin Turner. Now if you are an astute baseball fan, as I know you are, you realize that the Giants pitcher Alberto Suarez had created something of a pickle for himself. The tying run is on second base, in what many call "scoring position." And Justin Turner is one whiz-bang of a hitter; he currently has the highest batting average in the National League.
A pickle, indeed!
So what is there for Suarez and manager Bruce Bochy to do? Well, on the one hand they could try to get Turner out — as good as he is, most pitchers DO get him out. Or, well, sure, first base is open so he could intentionally walk Turner.
Intentionally walking Turner, though, puts the winning run on base.
You never put the winning run on base.
Never.
Never ever ever ever ever ever ever ever ever ...
No, wait a minute, stop (hammer time), there is one situation when you should purposely put the winning run on base. That situation is: If you are facing Roy Hobbs and Glenn Close wearing white stands up in the stands. Then it's OK. Otherwise, um, no.
Glenn Close did not stand up. Justin Turner is not Roy Hobbs. The Giants intentionally walked Turner anyway because the guy on deck was someone named Kyle Farmer, and he had come to the plate exactly zero times in his Major League career. Yes, this was his Major League debut and Bochy decided that "facing a rookie in his first at-bat" was as good a reason to intentionally walk the winning run as "Glenn Close standing up."
It is not. It most decidedly is not.
Kyle Farmer promptly doubled to win the game because the intentional walk has no honor ... and the baseball Gods were watching.