Koufax
When I was in my young 20s, I sold off my entire baseball card collection. I needed the money.* But, in addition, I had this powerful impulse that it was time to grow up. True, this impulse came to me later than it does to most people, but still the day arrived when I looked at my baseball cards -- legends, commons, minor stars, polypropylene page after polypropylene page of Cory Snyder and Mark McGwire and Don Mattingly and Jose Deleon rookie cards -- and I was sickened by them. I wasn't this nerdy kid anymore. I didn't even want to associate with that kid.
*Of course, I got about 1/20th of what I had expected to get and about 1/50th of what I had paid for them.
And so I sold them all, notebook after notebook of baseball cards, shoe box after shoe box, Topps, Donruss, Fleer, O-Pee-Chee, mini cards, 7-11 baseball coins, hockey cards, football cards, basketball cards, wacky packies, every last card. I never wanted to see another baseball card in my life.
Except: I kept a 1956 Sandy Koufax baseball card and I put it on my dresser so I could look at it every single day. I still consider it the most beautiful baseball card ever made.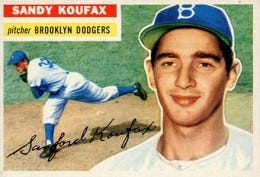 My version of this card was in terrible shape -- creases, worn corners some sort of discoloration above his head -- and it wasn't even his rookie card. A collector would not have given me ten cents for it. But I kept that card anyway because Sandy Koufax was, to me, something bigger than baseball, something bigger than life. I never saw him pitch; he retired a year before I was born. I had no emotional connection to the Dodgers and had never been to either Los Angeles or Brooklyn. But I loved the man with a different sort of depth from any athlete, even those I personally watched and idolized. I read every story about him I could find. I can remember, again and again, listening to Larry King's Sandy Koufax ice cream story (which he told, again and again, on his radio show). It's a hard thing to explain, but I had this strong connection to him, and I had this powerful feeling that every thing I loved about baseball was somehow expressed through Sanford Koufax.
So I say this with the deepest love I can muster.
Sandy Koufax ain't one of the four greatest living ballplayers.
You might know that Major League Baseball has a Greatest Living Players contest going on right now, and it's a pretty cool idea. They're looking for the Greatest Living Players for every franchise and, as shown in the link above, also the four greatest living players overall. They list off eight -- you can vote for four.
The eight listed:
-- Henry Aaron -- Johnny Bench -- Barry Bonds -- Rickey Henderson -- Sandy Koufax -- Pedro Martinez -- Willie Mays -- Tom Seaver
I'm not sure how they came up with this list. Aaron and Mays are obviously automatics. Glad to see Bonds on there. Rickey Henderson and Tom Seaver are both excellent choices.
The other three -- I don't know. Bench has his argument as the greatest catcher ever so I can see him being on here, but I think his teammate Joe Morgan was a significantly better player. I think Mike Schmidt was also a significantly better player. And, if we need a catcher on here, I think Yogi Berra has his case.
Pedro Martinez, I've said this before, is the pitcher I'd want pitching for my soul should the Devil ever come with an ultimatum and an All-Star Team. His peak -- unmatched. But I don't see how you can list him here over his contemporaries Roger Clemens, Greg Maddux or Randy Johnson. I simply don't see how you can do that.
And then there's Koufax. He is not only on that list, he is -- at last check -- one of the Final Four. It's a testament to the magnetism of Koufax and glamour of his time. Unfortunately, it has little to do with reality.
The mythology around Koufax is thick and wonderful. That mythology -- the classic windup, the high fastball and staggering curve, the no-hitters, the Vin Scully perfect game call, the World Series magic, the skipping a game for Yom Kippur, the Left Arm of God hype -- is at the core of my love of baseball. But when mythology starts crossing over into overkill like this, it seems less charming. Sandy Koufax is his own category of wonderful. But putting him on this list ahead of Gibson, Maddux, Big Unit, and especially Clemens is pretty ridiculous.
Let's look at it this way:
Sandy Koufax went 165-87 with an ERA+ of 131.
Now let's add in the career of Johan Santana. Just add the whole career.
Koufax + Santana: 304-165, .648 win pct., 2.97 ERA, 133 ERA+, 50 shutouts, 4,384 Ks, 5 Cy Youngs. Clemens alone: 354-184, .658 win pct., 3.12 ERA, 143 ERA, 46 shutouts, 4,672 Ks, 7 Cy Youngs.
Yeah, that's Roger Clemens vs. Koufax AND Johan Santana. Sure I know people would prefer to forget Roger Clemens because of his public fight over steroid accusations. But Clemens wasn't just a greater pitcher than Koufax. He was dramatically better.
If this was a serious effort to list off the four greatest living pitchers -- just pitchers -- I think any serious attempt would have, in alphabetical order: Roger Clemens, Randy Johnson, Greg Maddux and Tom Seaver. Then Bob Gibson. Then Pedro Martinez. Then, only then, would Koufax come into view (and Steve Carlton and Nolan Ryan have pretty strong arguments against Koufax too).
It doesn't feel right to point this out but that's because Koufax should be above such arguments. The point of Koufax was never to judge his career straight up against other pitchers. The point was romance. That's one of the wonderful things about baseball. What does Robert's Clemente's .359 on-base percentage really have to do with anything? Nothing. Does an only moderate OBP in any way detract from the wonder of watching him play? Of course not. Does it diminish the glory of that right arm? No. Does it in any way lessen the admiration we have for him as a player and a man? Unequivocally no. Clemente, for so many people who grew up watching him play, inspires feelings and emotions that no other player can match. That is exactly how it should be, and his .359 on-base percentage does not matter at all.
But if you tell me that Roberto Clemente was a better player than Barry Bonds, now we are not dealing with romance. Now we're in the real world. I'd have to point that Bonds' on-base percentage was 85 points higher -- and was much higher than Clemente's even before he was suspected of steroid use. Those are outs Clemente made that Bonds did not. That's tangible. That's reality. We can love Clemente more. That doesn't make him a better player.
So it goes with Koufax. The love for him is unique in baseball history, I think. Certainly it is unique among sportswriters. Koufax made only 314 stars in his major league career and yet he sailed into the Hall of Fame, first ballot, with about 87% of the vote. Nobody else did anything like that. Yes, another guy sportswriters romanticized, Dizzy Dean, was voted into the Hall of Fame with even FEWER starts than Koufax. But it took a few years and it was quite controversial. With Koufax the only controversy was with the 13% who did not vote for him.
Dazzy Vance and Bob Lemon both had about 350 starts and were eventually elected into the Hall of Fame, but not until 20 or so years after they retired. There were those who actually thought Pedro Martinez's career was short for a Hall of Famer, but Pedro made almost 100 more starts than Koufax. Sportswriters have not had much sympathy for players who were brilliant for a short period of time. Bret Saberhagen got seven votes. Dale Murphy, Don Mattingly, Dwight Gooden, Tony Oliva and many others did not get voted in.
It wasn't just that Koufax made only 314 starts ... he was only an average pitcher for the first 100 of those starts. Through the 1960 season, Koufax was 36-40 with a 4.10 ERA (a 100 ERA+), a lot of strikeouts, a lot of walks -- a bit too close to Oliver Perez for comfort.
Koufax was a very good pitcher in 1961 and 1962, though he gave up home runs in '61 and had some injury problems in '62.
Then, from 1963 to 1966, Sandy Koufax was otherworldly. It is these four years -- almost by themselves -- that got him into the Hall of Fame and got him on to this Greatest Living Players list. Four years. Four awesome years.
1963: 25-5, 1.88 ERA, 311 innings, 11 shutouts, 306 Ks. 1964: 19-5, 1.74 ERA, 223 innings, 7 shutouts, 223 Ks. 1965: 26-8, 2.04 ERA, 335 innings, 8 shutouts, 382 Ks. 1966: 27-9, 1.73 ERA, 323 innings, 5 shutouts, 317 Ks.
Look at those numbers. And then, like smoke, Koufax was gone.
Koufax threw four no-hitters between 1962-65 -- one per year -- the last a perfect game. He started six World Series games in those years and gave up one or fewer earned runs in five of them (he gave up two earned runs in the other). He was the rare sort of baseball player who defines his time. That's the romantic story. And it's a good story, one of my favorites.
But then ... there's reality. Koufax pitched half his games at Dodger Stadium, always one of the toughest hitting ballparks in baseball and, in those days, highlighted by a pitching mound that was roughly the height of a Volkswagen Beetle. Koufax's home splits tell a story.
1963: 11-1, 1.38 ERA, 6 shutouts, 143 innings, 144 Ks. 1964: 12-2, 0.85 ERA, 6 shutouts, 127 innings, 124 Ks. 1965: 14-3, 1.38 ERA, 6 shutouts, 170 innings, 208 Ks. 1966: 13-5, 1.52 ERA, 3 shutouts, 171 innings, 160 Ks.
So, he was significantly better at home. And his road numbers? Superb. But ... not the same.
1963: 14-4, 2.31 ERA, 5 shutouts. 1964: 7-3, 2.93 ERA, 1 shutout. 1965: 12-5, 2.72 ERA, 2 shutouts. 1966: 14-4, 1.96 ERA, s shutouts.
He was better -- often MUCH better -- at home every year.
Also teams were scoring very few runs during that time period. Baseball Reference has a tool that allows you to neutralize a player's performance to what they call an average season -- that would be a season where the average team scores 716 runs. In those four years, teams averaged just 656 runs a game. So basically, teams were scoring eight or nine percent less than they do in an average year. Here are Koufax's top five neutralized ERA's along with a Pitcher A's Top 5.
Koufax 1964: 2.14 Pitcher A: 2.17
Koufax 1966: 2.20 Pitcher A: 2.44
Koufax 1963: 2.26 Pitcher A: 2.46
Koufax 1965: 2.59 Pitcher A: 2.58
Koufax 1962: 2.89 Pitcher A: 2.62
Fairly comparable, no? Pitcher A? The aforementioned Johan Santana who with 139 career wins I suspect won't stay on the Hall of Fame ballot very long.
None of this changes how I or anyone else should feel about Koufax and his particular genius. If I was listing the four living players who best exemplify what baseball means to me, I would include Koufax, Mays, Aaron and Rose, those players who filled my imagination as a boy. If I was to list the four most thrilling players who are still living, I might include Koufax and Rickey, Bonds and Pedro (or Ryan). If I had to list the four most iconic players still living, I might say Yogi, Mays, Aaron and Koufax.
But four greatest living players? Realistically, Koufax just isn't on that list.