Judge and Jury
Baseball in the time of COVID …
(Writing time: 30 minutes)
OK, there are a couple of things I want to say about this video, only one of them having to do with the particular brilliance of Aaron Judge.
Let's start with the Judge stuff: The guy is an absurdity. He's simply the biggest man to ever play professional baseball — I'm talking a combination of height (6-foot-7) and weight (listed at 282 pounds) and muscle mass — and yet he has that explosive athleticism that can fool you into thinking he's much smaller than he really is. When you watched Adam Dunn or Ryan Howard or Frank Howard or David Ortiz play, you never forgot just how large they were.
With Judge, it's when you see him standing next to, say, Jose Altuve that you are reminded: The man is Gulliver.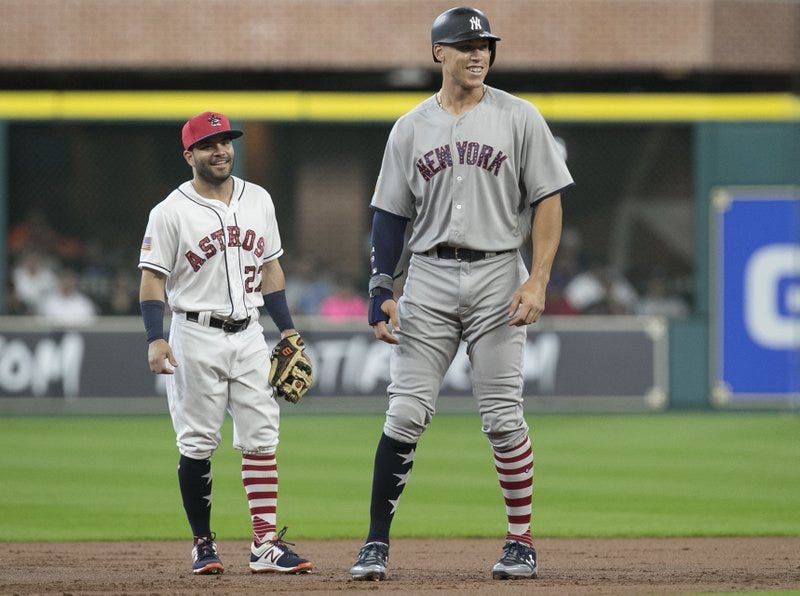 Because Judge is so gigantic and such a preposterous athlete, there was a sense three years ago that he had a chance to break baseball. That was his rookie season when he hit 52 home runs, many of them geometric absurdities. He also struck out 208 times that year — well, what do you expect, his strike zone is Wyoming. The possibility of a man striking out 250 times while also hitting 70 or 80 home runs seemed real.
The last two years, though, he has been hurt and so while he still struck out once every 3.2 plate appearances — that strikeout rate has been the one constant of his career — he stopped hitting home runs at the same zany pace. When he hit one, sure, it stayed hit but the injuries definitely stole away some of his cartoon superpowers.
And now, in this season that doesn't feel like a season, the cartoon Aaron Judge has reemerged. He's healthy and swinging free and if he hits a ball in the air, it's gone. Baseball, as we know, is a game that revolves around season numbers and, as such, there's a little bit missing from Judge's home runs. No matter how many he hits — six in eight games is pretty good — he has no chance of hitting 60, no chance of challenging the Babe or Sosa or McGwire or Bonds.
Still, the home runs are pretty thrilling in their own way.
OK, now let's talk about the announcing.
I have noticed myself getting much more annoyed by certain baseball announcers in 2020. Maybe it's because there's no crowd to distract us, and fake crowd noise serves as a constant reminder that what we're seeing isn't exactly real, and the Commissioner of Baseball seems to run the game into an iceberg every single day …
… but I have just noticed announcers more this year than before.
And, with a handful of exceptions, I find myself stupefied at how announcers are calling games. Where is the storytelling? Where is the humor? Where is the perspective? I know that announcers have been calling games more or less the same way for decades now, but in this strange and haunting environment, it feels entirely out of touch. I don't mean to pick on Matt Vasgersian, who I like very much, and Alex Rodriguez, who … well, I like Matt very much.
But I mean the exchange through this at-bat is just a perfect example of the stuff that's driving me nuts. It's the second inning of Boston-New York, and a red-hot Aaron Judge is coming to the plate with two on against an overmatched lefty named Matt Hall, and the place is eerily quiet for all the reasons we know, and I mean there's just so much to talk about here, so much to draw us in. How can you not build up the excitement and tension of that moment?
As a salesperson friend of mine likes to say, "If I can't sell that, I shouldn't be selling at all."
And Matt and A-Rod talk about how the home plate umpire has been consistent with the low strike but Aaron Judge is taller than other players. Ooh. Then they begin a conversation about whether Aaron Judge should be batting second rather than third as if that matters at all (A-Rod is opposed). Then A-Rod talks about his own experience coming up hitting third with guys like Johnny Damon and Derek Jeter hitting in front of him, and it is going absolutely nowhere — I mean, I'm not even sure now what the point is since Judge is up in the EXACT SITUATION that A-Rod is calling for — when suddenly, right in the middle, Hall grooves the pitch and Judge hammers it ….
And then Matt, with no warning at all, goes ABSOLUTELY CRAZY ("OH MY GOODNESS! AARON JUDGE HAS DONE IT AGAIN! HOMERS IN FIVE STRAIGHT!). Because there is no lead-up to this, it feels a bit hysterical.
And then he goes quiet and doesn't say anything as we watched Judge round the bases in almost complete silence.
It is just … so … weird.
Look, there's nothing Matt or anyone else can do about that part: Baseball is weird now. Sports are weird now. But I do think that the game needs to rethink how it is presented on television. The old play-by-play man with former baseball star format has felt outdated for a while … but it feels even more outdated with the way the game is going now. Give me some stuff that makes me smile, that makes me sigh, that makes me FEEL.
I've spent a lot of time listening to Vin Scully calls lately as part of my "60 Moments" series (No. 9 is Hank Aaron's 715th) and it occurs to me that part of what made him so great is that he realized, all along, that a game is a story, and that a great story must be told from beginning to end, with character development and plot and conflict and an arch and foreshadowing. That's what gets us to to the big ending. And I think in many ways the people telling baseball's story have forgotten that. Baseball needs great storytelling now more than ever.