Joe Thomas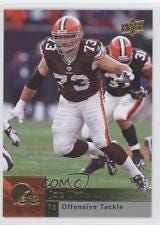 You might have noticed that the Cleveland Browns actually won a game last week … and I didn't even write about it. I think it was because the victory was a confusing experience. I was, of course, happy the Browns won … but they tried SO HARD to lose. They needed the San Diego Chargers (a doomed team playing out the string) to miss not one but two game-tying field goals in the final five minutes. It was, you know, kind of pitiable.
There's a story about Bill Snyder's first year at Kansas State when his Wildcats finally won a game, barely edging then I-AA North Texas, the students ran on the field and tore down the goal post. You couldn't blame them – Kansas State had not won in three years.
But watching that did make Bill Snyder feel sad – this was the job he had taken, a job where the students rushed the field, tore down the goalpost and walked it all over town when the football team barely edged a Division I-AA school. That's sort of the feeling I had watching that Chargers thing.
The happiness I felt, honestly, was for Joe Thomas. He is the Cleveland Browns left tackle, has been now for 10 seasons. Ten seasons. Ten horrendous seasons. He has never missed a start, which means he has played a prominent role in all 112 losses for the Browns over those 10 seasons – three fewer losses, by the way, than Bill Belichick has had in his entire career. Thomas has had six head coaches, eight offensive coordinators and, yes, eighteen different quarterbacks lined up behind him. The last few years, rumors that the Browns were going to trade him to get draft picks have swirled around him repeatedly.
And still, that guy is there, playing the hell out of left tackle.
Sunday, the Browns lost a football game as, really, only these Browns can. I have tried to place this Browns season in some sort of historical context, and I think it comes down to this: These Browns are not the worst team in NFL history They did not really have a game all year where they were pathetic. They were not shut out all year – in fact, they scored at least seven points in every game. The Houston Texans, who won the AFC South, only scored 15 more points than Cleveland.
And the Browns never gave up more than 35 points in a game. Terrible defenses like the Browns always seem to have that game where they give up 45, 49, 52 points but that didn't happen for these guys.
So, no, the Browns are not the worst team ever. But I think they displayed a greater talent for losing than any NFL team I ever saw. No team – not the 1990s Bengals, not the Marinelli Lions, not the McKay Buccaneers could steal a loss from the jaws of victory the way these Browns can. I'm pretty sure, in a tournament of horrors, with all the worst teams in recent NFL history on display, the Browns could find a way to lose it. They would be better than some of the teams. But they still could find a way to lose.
On Sunday in Pittsburgh that aptitude for the L was on full, glorious display. The Browns have not won a game in Pittsburgh since Facebook was founded. But this was no ordinary game. The Steelers made clear from the very start that they had no interest in winning. There were a couple of Cleveland fans who took offense when I made that point on Twitter – I don't know how you can say a team that sits its starting quarterback, star running back, world-class receiver and starting center is actually trying to win. "The guys PLAYING wanted to win," one of those Clevelanders on Twitter said gamely, and I suspect that is true because as Nuke Laloosh once said, "I love winning man, I f----- love winning. You know what I'm saying? It's better than losing?"
But if the individual players wanted to win (and they always do) the Steelers as an organization, well, eh, they could take it or leave it. Win, lose, they had the exact same playoff situation. There was absolutely nothing at stake, not even pride. The Browns jumped to a 14-0 lead.* Steelers' coach Mike Tomlin made a few faces that suggested he did not enjoy losing but, realistically, yeah, who cares?
*Robert Griffin III threw touchdown passes on both of those scores. Tell me if this surprises you – the touchdown pass he threw in the first quarter to tight end Gary Barnidge was his first touchdown pass since 2014. That blew my mind. I mean, he's started four games for Cleveland before this, I guess I just wasn't aware he didn't throw one touchdown pass in those games.
RGIII, in case you forgot, had a 102.4 quarterback rating his rookie year and, in addition, ran for 815 yards. He threw five interceptions all year, completed 66% of his passes, led Washington to the playoffs and was the star of his own Subway commercial. I mean, seriously, what the heck happened? He got hurt, yes, but the collapse came first.
Up 14-0 to a half-committed team, the Browns then started to do what they do so well: Find ways to lose anyway. RGIII was driving the Browns toward another touchdown, one that surely would have put the game away, and he moved the team to the Pittsburgh 17. He then threw one of those dreadful "Oh, yeah, I forgot that they have linebackers" passes that was intercepted by Ryan Shazier.
Seriously, what the heck happened?
But even that interception would not have been too damaging. The Browns defense held – Pittsburgh quarterback Landry Jones looked utterly overwhelmed -- and Cleveland got the ball back close to midfield with about two minutes left in the half. The Browns had numerous options here. They could try to score – a 17-0 or 21-0 halftime lead would surely have been enough against this anemic version of the Steelers offense. They could have run out the clock – a 14-0 lead ain't bad either.
Or their rookie center Anthony Fabiano (from Harvard!), making his first NFL start, could snap the ball over the head of RGIII, who did not seem especially ready for any kind of snap, and the Steelers could recover. So, yeah, that's what happened, and the Steelers scored to make it 14-7 at halftime.
Then came the second half and the Steelers seemed no more motivated to win than they did before. But two things happened in the second half, two Browns things:
With the Browns still leading 14-7, Landry Jones threw a pass that was picked off by Cleveland rookie Briean Boddy-Calhoun. I always think of "Catcher in the Rye" when I hear his name – if a Boddy catch a Boddy and all that. Boddy-Calhoun made a sweet return all the way back and appeared to score a touchdown, one that would undoubtedly have ended the Steelers' meager interest in the game.
Only … no. The replay showed that Boddy-Calhoun actually fumbled the ball as he was going in. He fumbled it into the end zone, it was recovered by Pittsburgh, and that became a touchback.
The Steelers at that point thought, "OK, look, we've tried to give this game to them a half dozen times. Enough already." Steelers backup running back Deangelo Williams began smashing through the Browns defenders, and Pittsburgh drove 80 yards to tie the game.
After an exchange of touchdowns – Isiah Crowell had made a spectacular 67 yard run to set up Cleveland's game-tying touchdown -- the Browns moved the ball to the Pittsburgh 5. It was first and goal in the last minute. All they had to do was kneel on the ball, kick the game-winning field goal, and end everybody's misery. Instead, Crowell – the hero of the game up to that point – took the ball and fumbled it and, well, yeah. All that was left was overtime and pain.
The Browns actually scored first in overtime and still lost the game, which is a fitting way for the season and the story to end. It was pointed out that by losing the Browns actually won because now they have the first pick in next year's draft. Having watched this team draft the last few years, I'll hold off on getting too excited about that.
All the while, watching the Browns do what they do better than anybody, I kept thinking about Joe Thomas. I don't know the ins and outs of offensive line play, of course, but it sure looked to me like he had another spectacular game. I would watch him match up one-on-on with the defensive lineman and he was just a wall. He would use various maneuvers to make the defender loop too far around the quarterback or come up just a little bit short. He would do these little hand fakes that seemed to mesmerize his opponent. He was like a bullfighter. If the Browns were smart they would figure out how to broadcast a game with the camera always focused on Joe Thomas. He's really a genius in his own way.
It's an obvious thing to say that Thomas deserves better than this Cleveland team … but that's not what I think about. Instead, I think about this: How many people in America do high quality work in tedious and unsatisfying conditions. I have thought a lot about watching an auto mechanic work in a tiny garage in Georgia, a construction guy sandblast paint off a brick house in Missouri, a truck driver park an 18-wheeler in Chicago, a chef who tried to make special food in a three-table restaurant in Kansas, a landscaper shop for the perfect plants for a job in North Carolina. I used to watch my Dad work on a busted-up knitting machine in a factory where the heat was unbearable, and he would find a way, no matter what was wrong, to get that thing going again.
It's that sort of competence that gives you a little bit of faith in the world. Joe Thomas had told the announcers before the game that ever since he came to the NFL, he had not played in a single meaningful game at the end of the season. The closest thing had been his rookie season, when the Browns beat San Francisco in their last game and then needed various things to happen in order to make the playoffs (those things did not happen). In the nine years since then, the Browns finished with a losing record every year.
But still he plays fiercely. Still he plays brilliantly. Jerry Seinfeld made the famous comment that we're all just rooting for laundry, and that's certainly true. But maybe we're also rooting for a bit of inspiration, a splash of talent or virtuosity or brilliance that makes us feel good. Joe Thomas somehow delivers it every week. Sure, it would be nice for Thomas (and for Cleveland fans in general) if the Browns put a team around him that could win games. But they haven't so far. I don't know if they ever will. At least we get to watch him play. He's a small miracle, really. Joe Thomas never disappoints.