Ballot 4: Jeff Bagwell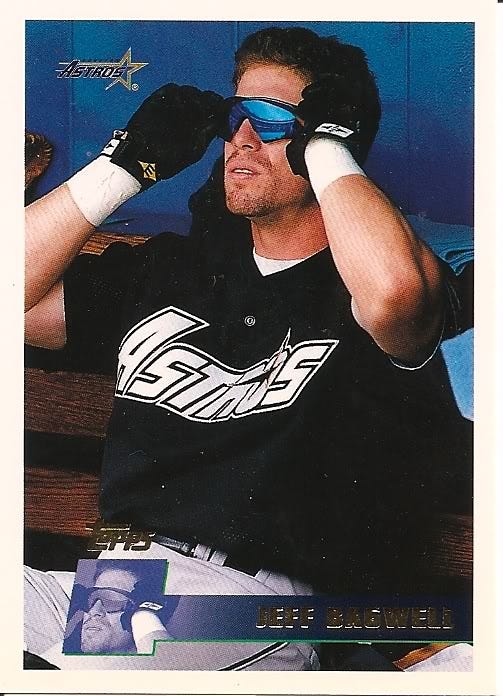 Jeff Bagwell
Played 15 years for one team
Four-time All-Star, MVP, hit 449 homers, Top 50 in runs created, slugging percentage and WAR. 79.6 WAR, 51.8 WAA
Pro argument: You could argue persuasively that he's baseball's best first baseman between Gehrig and Pujols.
Con argument: PED whispers and a shortish career have kept him out so far.
Deserves to be in Hall?: Yes.
Will get elected this year?: 95% chance
Will ever get elected?: 99%
* * *
Jeff Bagwell was a fantastic base runner. That's one of the surprising parts of his career. If you look at all the players who have hit 400 home runs, here are the ones who created the most value per game with their base running.
Willie Mays

Carlos Beltran

Mickey Mantle

Alex Rodriguez

Barry Bonds

Jeff Bagwell

Henry Aaron

Dave Winfield

Frank Robinson

Billy Williams
Bagwell doesn't seem to belong on that list, right? The others were well known for their athleticism – eight of them are outfielders and A-Rod was, well, A-Rod. Bagwell is the only first baseman on the list, and it's easy to tie him with other slugging first basemen/DHs like Frank Thomas (born on the same day) or Fred McGriff or Jim Thome. But he was different, more like an athletic third baseman -- Chipper Jones or Mike Schmidt or someone like that. He stole 200 bases in his career and was a net-positive base runner in all but one full season.
Bagwell ranks as the greatest base-running first baseman ever, though Paul Goldschmidt might someday catch him.
Then, Bagwell was a different kind of a player, someone whose aura did not always match his reality. I remember the first time I saw him standing next to Craig Biggio and being shocked that they are basically the same size. Biggio always had this scrappy-little-guy thing going while Bagwell seemed a menacing giant. It wasn't that way.
Bagwell was supposed to be a third baseman – he played third base his entire minor-league career with Boston. It was probably his inadequacy at third that prompted the Red Sox to trade him. In 1990, Bagwell made 34 errors in Class AA – "He has some work to do at third base," Red Sox manager Joe Morgan told the press -- and you could imagine the Red Sox brass having this conversation:
GM: "How bad is this guy as a third baseman?"
Scouting director: "He can't play third."
GM: "Is he going to hit for enough power to play first?"
Scouting director: "Doubtful."
GM: "That's all I need to know."
The GM was Lou Gorman and as everyone in Boston knows he traded Bagwell in the heat of the 1990 pennant race for Houston's 37-year-old reliever Larry Andersen. The Red Sox had apparently decided a few weeks earlier that Andersen was the one thing holding them back from a World Series championship. It's unclear why they thought this, especially when you consider that just three months earlier Gorman had traded reliever Lee Smith away to St. Louis for near-the-end slugger Tom Brunansky.
In any case, the Astros were playing hardball with Andersen. Again, it's unclear how the Astros even COULD play hardball with Andersen considering he was 37 and would become a free agent at the end of the season. But apparently in 1990, Larry Andersens were like tulips in 17th Century Holland, there was a mania, and the Red Sox kept offering different and more players, and the Astros kept turning down deals.
Finally, Gorman agreed to deal Bagwell, who was hitting .333 and crushing line drives everywhere. Bagwell was born in Boston, and he grew up in Middletown, Conn., the very heart of New England. He grew up idolizing Yaz. He was destined to become a gigantic hero to a whole generation of New Englanders -- could you even IMAGINE that guy hitting baseballs off the Green Monster? The Red Sox traded him for a relief pitcher with one month left in the season and when they were up 6½ games in the standings.
"I admire Jeff Bagwell, and I hope he goes on to have an outstanding career," Gorman said. "But right now my job is to help the Red Sox win a championship."
It won't surprise you to know that Andersen did not help the Red Sox win anything. The Red Sox were swept four straight by Oakland in the playoffs – Andersen took the loss in Game 1. He then left for San Diego.
I did like this line that appeared in the Los Angeles Daily News the day after the deal:
"Three weeks ago, the Houston Astros were evidently holding out for Babe Ruth for their 37-year-old reliever. So the Red Sox gave them Lou Gehrig. Well, not quite …"
Actually … quite.
Bagwell hit – and hit with some power – basically from the moment he arrived in Houston. The Astrodome was a tough ballpark on hitters, of course, and it probably cost Bagwell a few homers in the early days. By 1994, though, he was hitting the sorts of home runs that would be out of every park including, as the old joke goes, Yellowstone. He hit 39 homers in just 110 games in 1994. He also hit .373 in the Astrodome. It was the highest batting average for any Astros player ever at the Astrodome.
Highest Astrodome batting averages (min. 150 at-bats)
Jeff Bagwell, 1994: .373

Jose Cruz, 1978: .353

Jeff Bagwell, 1998: .347

Dave Magadan, 1995: .344

Craig Biggio, 1991: .343
Bagwell's 1994 season ended before the strike – he was hit by a pitch from Andy Benes and broke his left hand. You might remember that Bagwell crowded the plate and kept his hands almost over the inside corner of the plate; he broke that hand three straight seasons when getting hit by pitches.
We all know that you can't take the statistics at face value in the late 1990s and early 2000s – from a statistical viewpoint, they are like pitching numbers during Deadball or in the late 1960s or offensive numbers in the late 1920s and early 1930s. That said, Bagwell hit 39-plus homers six times, as many as Willie Mays, and scored 100 runs nine times, one fewer than Pete Rose.
Also: Bagwell's 152 runs in 2000 are the most scored by a player in the last 85 years. He scored more runs in 2000 than Rickey Henderson, Rose, Derek Jeter, Ted Williams, Willie Mays, Joe DiMaggio, Henry Aaron or Stan Musial ever scored in a season. He scored more runs in 2000 than Barry Bonds, Mark McGwire or Sammy Sosa did in their biggest home run seasons.
It certainly did not hurt having Ken Caminiti, Lance Bergman, Moises Alou and Richard Hidalgo hitting behind him.
Bagwell's power, his athleticism, his plate discipline, his base running probably make him the best eligible non-controversial player currently out of the Hall of Fame. Of course, he's not entirely non-controversial. There have been rumors that he used PEDs as a player, rumors he has denied. He has not been connected to steroids in any public way – he never had a positive test leaked, was not mentioned in baseball's Mitchell Report, was not even mentioned by Jose Canseco – but whispers persist.
Bagwell did speak about steroids with Mike Berardino back in 2001. I thought this was a fascinating quote about whether he ever considered taking PEDs:
"In my case, the temptation is always there. One thing I know is I can go home after my career is over and say, 'I did it myself.' … Now let me tell you, if I'm on the bubble, the amount of money that's in the game, I probably would already have a needle in my butt. There's too much money out there. If it does make you better, why wouldn't you at least give it a shot to hang on? All you have to do is have one big year. Next thing you know you're around for five or six more."
And then this, on his judgment of players who do use PEDs:
"Sometimes I don't blame them. Yeah, it might be kind of risky but they still have a family to feed. That's the big question. You have to go with yourself and determine what's more important to you."